You can also join me & me MADNess Mates every Fridee/Saturdee on Gabriel Morency's "SportsRage" The World Champs Inet & Montreal Radio, Fri 10.45pm Pacific CDN/US time, Sat 5.45pm EST Aussie time. I often talk NFL footy Click here " Myk Aussie


*****Hope you can tell your mates about Mates Club webWORLD? Invest In Mates Club TV, HARDBall Columns and Sexy Sports pic's! Mates Club Click here " Myk *****

Fri, Sept 30 05 "NFL week 4 games and my tips!" Myk Aussie

Some very interesting games this weekend. I'll be talking about some of these on SportsRage tonight from the Seattle airport on my way to Milwaukee for the US Nationals of Aussie Rules Footy.

Bengals who are not BenGirls at all this year over the Texans. Cardinals just over the 49ers in Mexico City in the 1st real NFL game to be played in another country. I'm a bit disappointed the NFL selected a "who cares" type game for our southern North American footy mates. I'm sure it will be a great day/night in the massive city that does love the NFL. I was lucky enough to meet and hang out with some great Mexico City NFL TV reporters at the Super Bowl in San Diego 3 years ago.

Eagles just over the Chiefs but don't be surprised to see the Chiefs bounce back and hit Donovan McNabb hard in the ribs and possibly win this game. Patriots over the Chargers but again this could be a upset in San Diego. Charger fans I'll be wearing my Darren Bennett jersey at times this weekend when interviewing for MYKwebTV Aussie Footy at the US Nationals but I just can't tip against the Patriots ever lately as was seen last week when I went for them against the Steelers.

Broncos over the Jaguars in what should be another rippa of a game. I was so happy that the Bronco's hammered arch rivals the Chiefs last Monday night that I stayed out in Vancouver walking around in my Terrell Davis jersey and I also just had to call Gabriel Morency to talk about the great win. Morency the NFL radio guru agreed it was a huge win for the Bronco's.

Colts over Tits. Buc's over Lions. Come on you Lions you have the Super Bowl this year! Saints at one of their new homes San Antonio over Morency's Bills. I think the emotion of playing at a new home may get the Saints a win. Morency was bagging the Bills new QB JP Losman Bigtime Monday night saying he looks terrible. Redskins over the Seahawks who are very average away from Bill Gate's Seattle. The Vancouver Aussie Footy team that I am part of this weekend will be heading past the magnificent stadium in Seattle tonight on the way to Milwaukee, I'm sure a few of the new Aussies here will be impressed with the "Rich" city.

Giants just over the Rams. Hmmmm, only because it is in New York. Falcons over the Vikings in another possible close game. Ravens over Jets. Where is QB Ricky Ray when the Jets need him? Oh that's right he is up here in Canada again starring for the famous Edmonton Eskimo's. Very unfortunate Ricky is not at the Jets this year as I still believe he would have cracked it in the NFL. Plus if he was in the NFL and not at the Eskimos it would make it a bit easier for my favorite CFL team the BC Lions.

Raiders to have their 1st win over the Cowboys. Panthers just over the Packers. Packers could be 4-0 after Sunday but again don't be surprised if the Packers win this one. Panthers should have a good year though. A very interesting NFL week 4. NFL mates good luck with ya tipping." Myk

For Aussie Rules Footy MYKwebTV in the USA along with CDN, BL&GFA, SANFL, AFL Footy, try it full screen Click here

"If you are here somehow Free I hope you decide to join us regularly in Mates Club Click here" Myk

Wed, Sept 28 05 "AFC and NFC Players of the week. I had great tipping in Week 3 after a slowish start." Myk Aussie

Wow! I tipped 11 out of 13 in week 3. Some of my gambles came off.

Players of the week excellent report below is direct from NFL Media.

AFC - CHARGERS RB LA DAINIAN TOMLINSON, DOLPHINS S LANCE SCHULTERS & PATRIOTS K ADAM VINATIERI NAMED AFC PLAYERS OF WEEK 3

Running back LA DAINIAN TOMLINSON of the San Diego Chargers, safety LANCE SCHULTERS of the Miami Dolphins and kicker ADAM VINATIERI of the New England Patriots are the AFC Offensive, Defensive and Special Teams Players of the Week for games played the third week of the 2005 season (September 25-26), the NFL announced today.

OFFENSE: RB LA DAINIAN TOMLINSON, SAN DIEGO CHARGERS
• San Diego running back LA DAINIAN TOMLINSON rushed for 192 yards and three touchdowns, caught six passes for 28 yards, and threw a 26-yard touchdown pass for good measure in a 45-23 win against the New York Giants Sunday night. Tomlinson's touchdowns marked the 15th consecutive game in which he scored one. The 5-10, 221-pound rusher's streak of consecutive games with a touchdown is the secondlongest in NFL history, trailing only Pro Football Hall of Famer LENNY MOORE (19 games). Tomlinson's 220 total scrimmage yards stand as the league's single-game high thus far in 2005. For the fifth-year veteran from TCU, this is his fourth career Player of the Week distinction.

DEFENSE: S LANCE SCHULTERS, MIAMI DOLPHINS
• Safety LANCE SCHULTERS of the Miami Dolphins recorded four tackles, 1.0 sack, a forced fumble and a game-changing interception which led to a late field goal for a 27-24 home victory against Carolina. With 2:00 remaining in regulation and the Panthers possessing the ball on Miami's 43-yard line with the score tied 24-24, Schulters stepped in front of a Carolina receiver to intercept a pass on the Dolphins' 38-yard line and returned it 37 yards to Carolina's 25. With seven ticks left on the clock, Miami's OLINDO MARE was successful on a 32-yard field goal try for the win. Miami (2-1) after three games has equaled half of its 2004 win total. In his eighth year from Hofstra, this is Schulter's first Player of the Week honor. He is the first Dolphins safety to win the award since BROCK MARION in Week 13 of 2001.

SPECIAL TEAMS: K ADAM VINATIERI, NEW ENGLAND PATRIOTS
• New England kicker ADAM VINATIERI made his 18th career game-winning field goal Sunday, splitting the uprights from 43 yards in Heinz Field to help lift the Patriots to a 23-20 victory and halt the Steelers' winning streak at 16 games. Vinatieri made his final kick with :01 left in regulation. The 1996 NFL Europe veteran made three field goals from 48, 35, and 43 yards, respectively. His only miss was a 53-yard try. The 6-0, 202-pounder from South Dakota State finished the game with 11 points. In his 10th season, this is Vinatieri's seventh-career Player of the Week honor and his second in 12 weeks (Week 9, 2004).

2005 AFC PLAYERS OF THE WEEK
Offense Defense Special Teams
Wk 1 RB Willie Parker, Pittsburgh LB Gary Brackett, Indianapolis K Josh Scobee, Jacksonville
Wk 2 QB Trent Dilfer, Cleveland CB Deltha O'Neal, Cincinnati P Hunter Smith, Indianapolis
Wk 3 RB LaDainian Tomlinson, SD S Lance Schulters, Miami K Adam Vinatieri, New England

Other nominees for AFC Offensive Player of Week 3 were:
• New England quarterback TOM BRADY, who threw for 372 yards on 31 of 41 passing (75.6 percent), including a 12-for-12 fourth quarter performance at Pittsburgh. The win was his 50th in only 65 career starts, the second-fewest games by a QB since 1970 to reach 50 victories (KEN STABLER, 62 games).
• Miami rookie running back RONNIE BROWN, who rushed for 132 yards and a touchdown on 32 carries against Carolina. Brown's rushing total was the fourth-highest by a rookie in franchise history.
• Indianapolis running back EDGERRIN JAMES, who rushed for 108 yards on 27 carries and a touchdown in a 13-6 win against Cleveland.
• Kansas City wide receiver EDDIE KENNISON, who caught eight passes for 112 yards in a 30-10 defeat at Denver.
• Buffalo running back WILLIS MC GAHEE, who rushed for a career-high 140 yards and a touchdown on 27 carries in a 24-16 loss to Tampa Bay.
• Cincinnati quarterback CARSON PALMER, who in a 24-7 win at Chicago threw three TDs without an interception on 16 of 23 passing (69.6 percent) for 169 yards and a 130.9 passer rating.
• Denver wide receiver ROD SMITH, who had seven receptions for 80 yards and a touchdown in a 30-10 win against Kansas City. Smith also became the 23rd player in NFL history to reach 10,000 career receiving yards.

Other nominees for AFC Defensive Player of Week 3 were:
• San Diego linebacker DONNIE EDWARDS, who led his team with 13 tackles along with notching 1.0 sack and a forced fumble against the Giants.
• Pittsburgh linebacker JAMES FARRIOR, who led his team with 15 tackles.
• Indianapolis defensive end DWIGHT FREENEY, who chalked-up 3.0 sacks for 14 yards lost and recorded seven total tackles. The Colts' defense is the NFL's sixth since post-World War II to limit its opponent to single-digit points in its first three games of the season.
• Pittsburgh linebacker CLARK HAGGANS, who registered 12 tackles, 1.0 sack, and forced two fumbles.
• Kansas City rookie linebacker DERRICK JOHNSON, who registered five tackles and a forced fumble.
• New England defensive tackle RICHARD SEYMOUR, who led the Patriots with nine tackles from his position in the trenches. Seymour's tackles included 2.0 sacks for 17 yards lost and also defensed a pass.
• Jacksonville defensive end PAUL SPICER, who totaled a career-high 3.0 sacks and eight tackles with a forced fumble in a 26-20 overtime win in New York against the Jets.

Other nominees for AFC Special Teams Player of Week 3 were:
• Jacksonville punter CHRIS HANSON, who averaged 47.2 yards on six punts. Four of Hanson's kicks traveled more than 50 yards. Of the three Hanson punts that were returned, Jacksonville's coverage unit stifled their opponent with -3 total return yards.
• Miami punter DONNIE JONES, who punted six times for a 44.7-yard average with three punts inside the 20 without a touchback. Thanks in part to Jones' foot, Carolina's average drive start on the day was its own 25-yard line.
• Buffalo kicker RIAN LINDELL, who was three-for-three on field goal tries from 36, 41, and 30 yards, respectively. Lindell has made all nine for his FG attempts on the season.

NFC - Running back SHAUN ALEXANDER of the Seattle Seahawks, defensive tackle ROD COLEMAN of the Atlanta Falcons and punter JOSH BIDWELL of the Tampa Bay Buccaneers are the NFC Offensive, Defensive and Special Teams Players of the Week for games played the third week of the 2005 season (September 25-26), the NFL announced today.

OFFENSE: RB SHAUN ALEXANDER, SEATTLE SEAHAWKS
• Alexander tied a career-high and franchise-record with four rushing touchdowns, leading the Seahawks to a 37-12 win over the Arizona Cardinals. Alexander scored on three one-yard touchdown runs and gave Seattle a 7-3 first-quarter lead with a 25-yard touchdown run. The former Alabama star rushed for 140 yards on 22 carries, averaging 6.4 yards per rush. The game marked his 24th-career 100-yard rushing performance, tying him with CHRIS WARREN for the most in franchise history. The Seahawks improved to 19-5 when Alexander rushes for 100 yards. In his sixth season from Alabama, this is Alexander's fifth-career Player of the Week award.

DEFENSE: DT ROD COLEMAN, ATLANTA FALCONS
• Coleman played a key role in the Falcons 24-16 road win over the Buffalo Bills, helping Atlanta improve to 2-1. The defensive tackle posted five tackles, 2.0 sacks, one forced fumble and one pass defensed for a defensive unit that surrendered just 36 passing yards on the day. Coleman's 3.0 sacks this season tie him for second-most in the NFL among defensive tackles. In his seventh season from East Carolina, this is Coleman's second-career Player of the Week honor.

SPECIAL TEAMS: P JOSH BIDWELL, TAMPA BAY BUCCANEERS
• Bidwell punted six times for 284 yards, averaging 47.3 yards per punt in the Buccaneers' 17-16 win over the Green Bay Packers at Lambeau Field. Bidwell was vital in helping the Bucs win the field position contest on the day, as his punts aided in Green Bay starting drives at their own 10-, 12-, 26- and 20-yard lines. Bidwell spent 2000-03 with Packers before joining the Bucs last season. In his sixth season from Oregon, this is Bidwell's first-career Player of the Week award.

2005 NFC PLAYERS OF THE WEEK
Offense Defense Special Teams
Wk 1 QB Drew Bledsoe, Dallas DT Bryant Young, San Francisco K John Carney, New Orleans
Wk 2 WR Santana Moss, Washington LB Shelton Quarles, Tampa Bay PR Bobby Wade, Chicago
Wk 3 RB Shaun Alexander, Seattle DT Rod Coleman, Atlanta P Josh Bidwell, Tampa Bay

Other nominees for NFC Offensive Player of Week 3 were:
• Dallas quarterback DREW BLEDSOE, who completed 24 of 38 attempts for 363 yards and two
touchdowns, helping the Cowboys to a come-from-behind 34-31 win over San Francisco.
• Minnesota quarterback DAUNTE CULPEPPER, who completed 21 of 29 attempts for 300 yards, three touchdowns and no interceptions, finishing with a 140.0 passer rating in a 33-16 win against New Orleans.
• Tampa Bay wide receiver JOEY GALLOWAY, who had touchdown receptions of five and 10 yards, posting five receptions for 53 yards.
• St. Louis wide receiver TORRY HOLT, who totaled nine receptions for 163 yards, including a 32-yard touchdown catch in a 31-27 win over Tennessee.
• San Francisco wide receiver BRANDON LLOYD, who posted a career-high 142 yards receiving on four catches, including touchdown receptions of 89 and 13 yards.
• Philadelphia running back BRIAN WESTBROOK, who had a career-high 208 yards from scrimmage and two touchdowns, rushing for 68 yards and adding six receptions for 140 yards in a 23-20 win over Oakland.
• Tampa Bay rookie CARNELL "CADILLAC" WILLIAMS, who rushed for his season-high 158 yards on 37 carries, becoming the first player in NFL history to begin his career with three consecutive 100-yard rushing games.

Other nominees for NFC Defensive Player of Week 3 were:
• Tampa Bay safety WILL ALLEN, who recorded four tackles and a career-best two interceptions.
• St. Louis safety ADAM ARCHULETA, who posted seven tackles and an 85-yard interception return for a touchdown.
• Dallas linebacker DAT NGUYEN, who finished with nine tackles, one interception and one fumble recovery.
• Philadelphia linebacker JEREMIAH TROTTER, who notched 13 tackles and one forced fumble
Other nominees for NFC Special Teams Player of Week 3 were:
• Philadelphia kicker DAVID AKERS, who kicked a game-winning 23-yard field goal with nine seconds remaining.
• Minnesota punter CHRIS KLUWE, who averaged 48.4 yards on five punts with a long punt of 59 yards.
• Arizona kicker NEIL RACKERS, who connected on four of four field goal attempts from 54, 39, 50 and 39 yards.

Compliments of NFL Media." Myk Aussie

"Myk Aussie is the best NFL Cheerleaders interviewer Click here" Joe

Sat, Sept 24 05 "NFL week 3 games and tips!" Myk Aussie

NFL week 3

Falcons over Bills. I hope Michael Vick plays. Panthers over Dolphins the Mammals not Fish. MADNess your Dolphins were 1 week wonders. Bengals over Bears. Colts over the Brown Shitta me Pants, Jets over Jags, Vikings just over Saints, Eagles over Raiders, Packers to get a win over Buc's, Rams over Tennessee Tit's.

Seahawks over Cardinals, Cowboys over 49ers. Great punting last week by Aussie Mat McBriar for the Cowboys, Patriots over Steelers in what should be a rippa of a game and could be Big Ben's 1st regular season loss, Chargers over Giants and Monday night the Bronco's over Chiefs I hope but I am definitely worried as a the Chiefs are looking very good." Myk Aussie

Thurs, Sept 22 05 "Moose's NFL week 2 scores and report!" Myk Aussie

NFL Update Scores, Week Two Game Balls, Week Three Picks.!
Week Two Scores:
Chicago 38, Detroit 6
Tennessee 25, Baltimore 10
Pittsburgh 27, Houston 7
Tampa Bay 19, Buffalo 10
Indianapolis 10, Jacksonville 3 (like watching paint dry!)
Cincinnati 37, Minnesota 8
Carolina 27, New England 17
Philadelphia 42, San Francisco 3
Seattle 21, Atlanta 18
Saint Louis 17, Arizona 12
New York Jets 17, Coachless Miami 7 (Or is it QB-less? Or clueless?)
Cleveland 26, Green Bay 24
Denver 20, San Diego 17
Kansas City 23, Oakland 17

WEEK Two Game Balls:
1) Ricky Proehl, WR, Carolina - Like old man river, keeps rolling along. Next
Stop: Another Super Bowl at the end of the year. Then Canton, in a few years.
2) Mushin Muhammad, WR, Chicago. Do the Panthers miss him? No really [see above] - not with a healthy Steve Smith and Proehl around.
3) Ellis Hobbs, rookie KR for the Patriots.
4) Cardell Williams, RB, Tampa Bay
5) Carson Palmer, QB, Cincinnati

Honorable Mention: Julius Peppers, DE/OE, Carolina and Kurt Warner, QB, Arizona - don't get on me about Kurt, anybody. He's averaged 300 yards per game in the first two weeks of the season. He can't help it if the Red 'Birds in the running game (rook JJ Arrington hurt) and Coaching Department. Milestones yesterday: Congratulations to the following players: Brett Favre (not really!), who became the eighth player in Pro Football history to pass for over 50,000+ yards in a career; the other seven(?): Warren Moon (NFL/CFL), Damon Allen (CFL), Dan Marino (NFL), Doug Flutie NFL/CFL/NFL/USFL), Danny McManus, (CFL/NFL), John Elway (NFL), and Ron Lancaster (CFL), who did before anybody ever did! To go with his whopping 396 INTs! [and six Grey Cup appearances, one win).

Ricky Proehl, 800 career catches, and this is a third rate League if HE doesn't make it into Canton's NFL Hall-of-Fame, before I die! Ben Roethlisberger, Pittsburgh QB for a 15-0 regular season start to a career in the NFL. He keeps pushing the record forward. Way to go Ben! Sorry to hear that, DEPT: Poor Jason Hanson - he missed what would have been his 210th career consecutive start - an all-time record for NFL kickers and still the Detroit record. More to come next week and a Profile of NFL great John Madden!

Three Former Arena League Kickers played well yesterday in the NFL - Mike Vangerjagt (Tampa Bay) for Indianapolis, Remy Hamilton (Los Angeles) for the Det. Lions - his only extra point was blocked but his booming kickoffs kept Chicago's Offence (too bad Det.'s Defence stunk!) deep in Windy City territory, and Rob Bironas (New York), who replaced Gary Anderson for Tennessee, was perfect and made all his kicks. Think the Arena League doesn't help the NFL (or CFL)? No. Think again!" Moose

"Myk Aussie is the best NFL Cheerleaders interviewer Click here" Joe

Sun, Sept 18 05 "NFL week 2 tips!"

I hope I can do better this week after a very average week 1.

NFL week 2. Pats over Panthers, Rams over Cardinals, Falcons over Seahawks, Ravens over Tits, Steelers over Texans, Colts over Jaguars, Lions over Bears, Vikings just over the Bengals, Eagles over 49ers, Buc's just over the Bills, Jets over the Dolphins, As I said on SportsRage last night Dolphins are not fish. They are Mammals. I won't be sucked in any more by calling them Fish like many other people do. Packers over the "Shitta me pants" Browns.

Broncos I hope over Chargers in what should be a rippa of a game in Denver, Chiefs over Raiders but go Raiders now with one of my favorite players Randy Moss, Giants over Saints but again good luck to the Saints, Cowboys over Redskins on Monday night. Refer to CFL FootywebWORLD for the great place that I will again be going to Monday night. CFL BC Lions cheerleaders in lingerie doing the 1/2 time show. Yeh! Click here " Myk Aussie

Wed, Sept 14 05 "Larry Csonka, the greatest FB in Pro Football History almost killed in boating Accident in Alaska."

For the Larry Csonka story on Hunting and fishing webWORLD Click here " Myk Aussie

"Myk Aussie is the best NFL Cheerleaders interviewer Click here" Joe

Tues Sept 13th, 05 "NFL week 1 results! Moose's week 1 review! Week 2 picks" Myk

1) NFL Week 1 results
New England 30, Oakland 20

,
Tampa Bay 24, Minnesota 13

,
Dallas 28, San Diego 24

,
San Francisco 28, Saint Louis 25


Indianapolis 24, Baltimore 7


Cincinnati 27, Cleveland 13


Jacksonville 26, Seattle 14


Kansas City 27, N.Y. Jets 7


Pittsburgh 34, Tennessee 7


Buffalo 22, Houston 7


Detroit 17, Green Bay 3


Washington 9, Chicago 7


New Orlean Saints 23, Carolina 20, O.T.


Atlanta OVER Philadelphia

WEEK One Game Balls (6): John Carney, K, Todd Bouman, H/QB, Saints (Bouman and Carney actually made the cover of the USA Today!), Ben Roethlisberger (now 14-0 as starter in the Regular season,

an NFL record), QB & Willie Parker, RB, Pittsburgh, Brian Griese, QB, Tampa Bay (boy, Denver and Miami shouldn't have given up on him!

NFL Week One Notes: Wow! What a finish to the San Antoino- Shreveport/ Carolina game! Jake Delhomme not really at his best, but don't worry Panther fans! The season is early. What was Dennis

Green, Arizona Coach thinking when he pulled Kurt Warner out of the game with "They would be Giants"? Dig: there's six minutes left in the third quarter, the Cards just scored a TD on Warner's TD

toss to WR Larry Fitzgerald. They trail, 21-19. Green signals to go for two. Warner huddles the troops. Then Green signals for backup- nobody, Josh (Tears of) McCown to go in. McCown, who's brother

is the backup for Tampa Bay, badly overthrows FB Brandon Adejbado, the ex-B.C. Lion. The Cards trail still: 21-19. On the nextoffencive series, Green send McCown back out there – McCown throws an INT and Manning throws a TD for the Giants, who are now up by nine points. Green sticks with McCown and he fumbles on the next series. The Giants score again to go up by 16. Then on the Cards last series of the fourth quarter, McCown fumbles the ball away and the Giants score another TD to win by 23. Huh?

[or as Steve McGarrett might have said on Hawai'i Five-0, "Hneh?"] Why did Green ostensibly bench Warner with one third of the game left? He passed for 268 yards, second most in the League in week

one (Miami's Gus Frerotte had 275, which is scary!), in one third of a game. He lead the Cards with 3 rushes for 11 yards and three first downs.

Rookie Phenom J.J. Arrington did next to nothing (8 carries for 5 yards? Shades of Larry Phillips)! In other words, who in their right mind (remember we're talking about Green here…) would take a red-hot quarterback like Warner out when he's passed for 278 yards in 2/3s of a game!? His career high is 411 yards with the Amsterdam Admirals of the NFL E league. I'm quite sure he could have broken that mark [he did hit 28,000+ on his career yesterday]. Did Birdbrain Bidwell call down to Green and tell him to yak Kurt so Warner wouldn't break the Cards top two leading game yardage passing leaders (Boomer Esiason, '96, 522 yards v. Washington, or Dave Krieg, 474 yards v. Atlanta in an O.T. win v. Atlanta in '95)?! LUNarcy! Mighty impressive win for Mike Nolan and the heartbroken 49ers who lost Olm Thomas Herrion, the ex-Cologne [not aftershave!] Centurian player who probably would have started at OG for the 48ers this year.

NFL Picks: Week Two


Tennessee OVER Baltimore


Tampa Bay OVER Buffalo


Detroit OVER Chicago


Jacksonville OVER Indianapolis


Cincinnati <Tie> Minnesota


Carolina OVER New England [Super Bowl LV Preview!]


Pittsburgh OVER Houston


Philadelphia OVER San Francisco


Seattle OVER Atlanta


Arizona OVER Saint Louis


Green Bay OVER Cleveland


Denver OVER San Diego


Kansas City OVER Oakland


San Antonio Saints OVER New York Giants" Moose

Sat Sept 10th, 05 "NFL week 1 picks! Moose's NFL 05 previews contd, Cowboys, Bills, Texans!" Myk Aussie

Yeh the NFL has started. My picks this week Patriots of course over Raiders, Redskins over Bears, Bengals over Browns, Broncos over Fish, Bills over Texans just, Panthers over Saints. A special good luck in 05 to the New Orlean Saints, Jets over Chiefs, Jaguars over Seahawks, Vikings over Buc's, Steelers over Tits, Giants over the Cardinals, Chargers over Cowboys, Packers over Lions. I'll see you Lions fans at Super Bowl, Rams over 49ers, Colts over Ravens in what should be a rippa of a Sunday night ESPN game and Eagles over Falcons on Monday night. NFL Sunday can't wait!

For Moose's Cowboys 05 preview Click here

For Moose's Bills 05 preview Click here

For Moose's Texans 05 preview Click here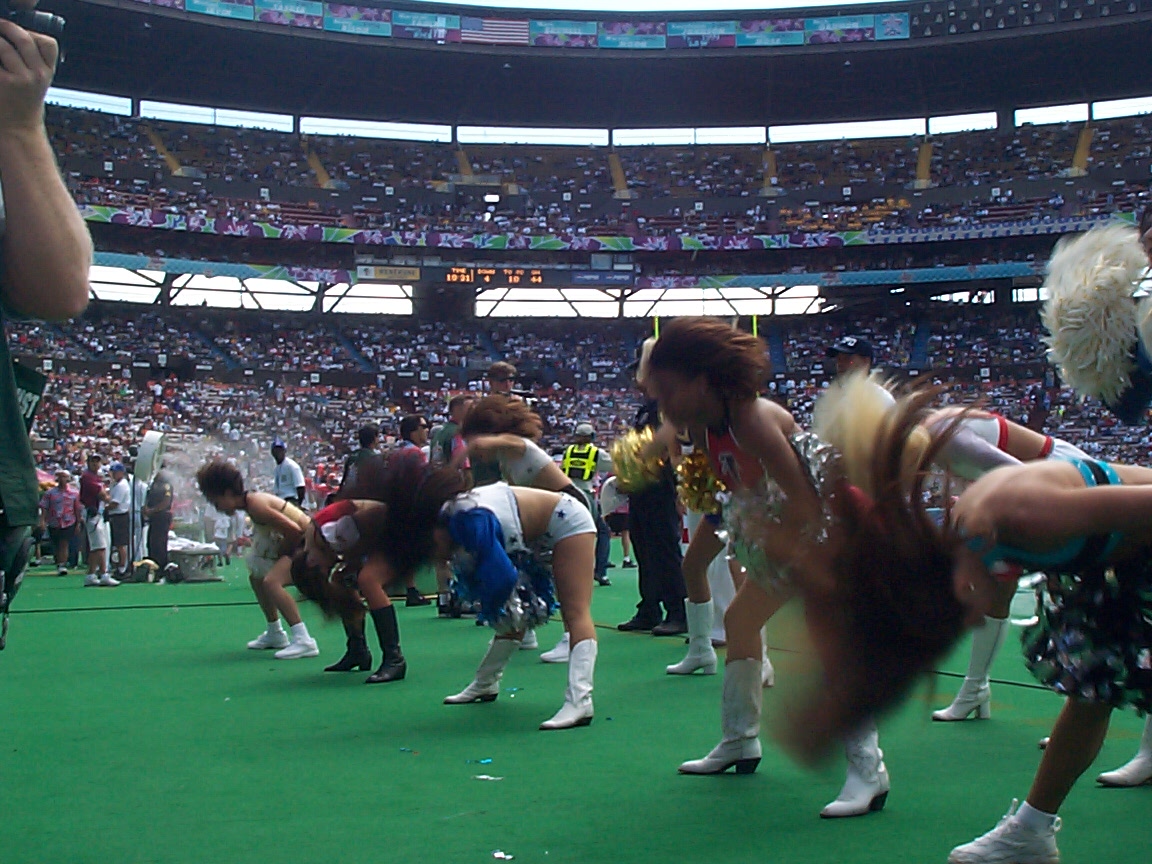 "There is definitely the Cowboys Cwoa cheerleader in this great picture of the beautiful cheerleaders from Pro Bowl. Are you new to MYKwebWORLD. A Cwoa is Click here " Myk
Thurs Sept 8th 05 "NFL starts tonight! Moose's excellent San Diego Chargers 05 preview! Scott's NFL Cleveland Browns excellent 05 preview and 2004 review!" Myk
The NFL season is finally here as the Raiders take on the Patriots tonight in the season opener. I especially wish Randy Moss all the best this season at the Raiders. The reigning Super Bowl champs the New England Patriots will be too strong and win this one! I like Tom Brady a lot and I have interviewed him several times but it would be great to see Doug Flutie get some playing time at QB this year as back up to Tom. Patriots should again have a big years led by Tom the Champ QB.
For Moose's Chargers 05 preview Click here
For Scott's extensive Browns 05 preview Click here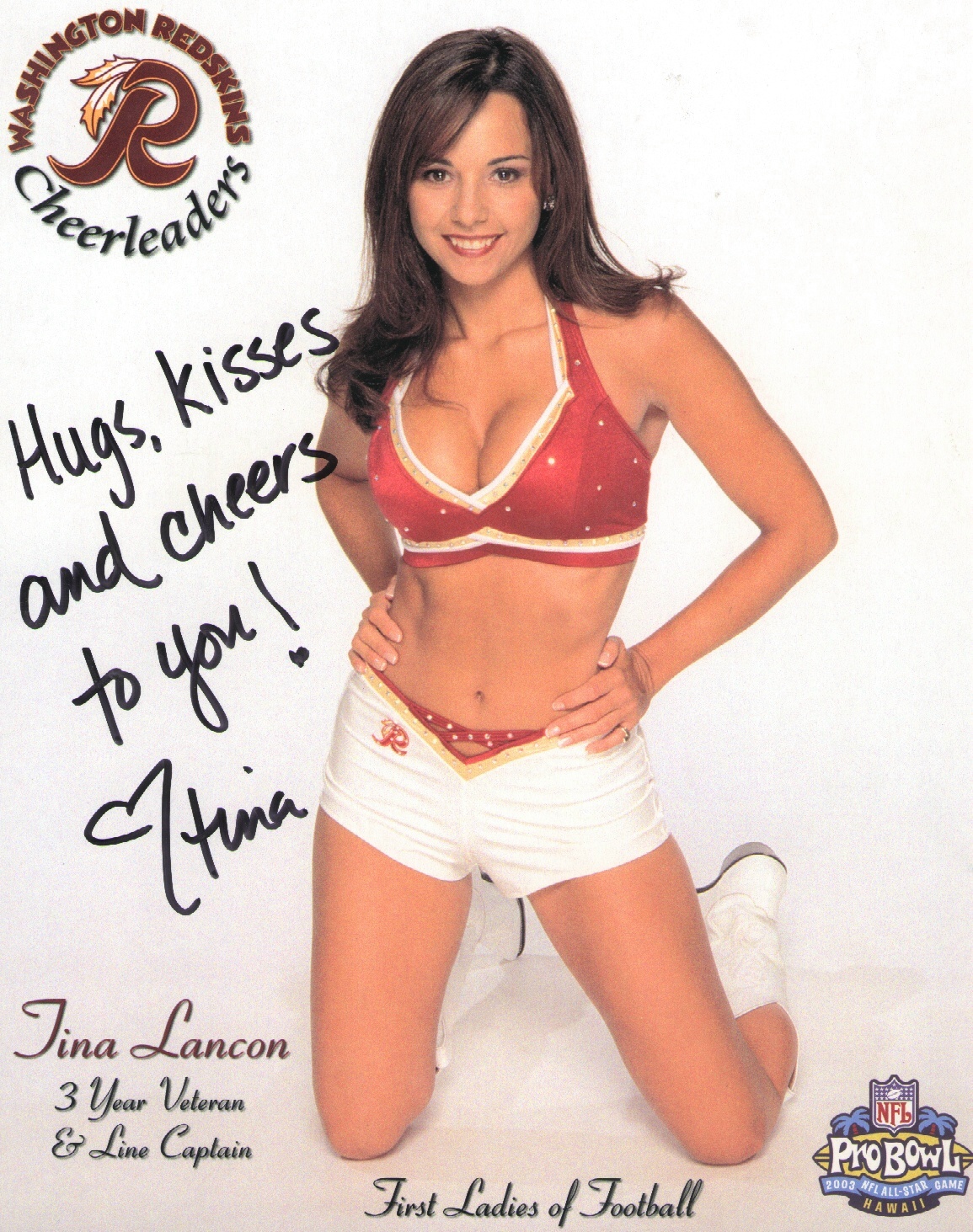 "Redskins Cwoa Tina who was voted the #1NFL Pro Bowl 03 cheerleader on NFL.com and a very favorite MYKwebTV star! The Redskins are Scott's favorite team" Myk Aussie
Updated Wed, Sept 7th 05 "Moose's NFL New Orlean Saints 05 preview! Darren Bennett cut from Vikings! Another Aussie Punter in the NFL!" Myk

It's a disastrous situation still at the moment in New Orleans. Very unfortunate news with 1,000's possibly dead from the cyclone storms. San Antonia is the place it is being reported that the Saints will base themselves this NFL 05 season. I wish all Saint's people the best in these hard times. For Moose's New Orlean Saints 05 report Click here
From Total-CFL.com Discussion. Hambone Lion thanks for the news re D Bennett, 1st I heard is on here. 2 Aussie Punters left now Matt McBriar from Aussie VFA & Uni Hawaii at Cowboys, new Ben Graham current Cats AFL star now at Jets. Darren should get picked up, 1 or 2 more years left in him I think! It'd like to see him in the CFL after his NFL career!!!!????
Another Aussie in the NFL. Former AFL Geelong Cat Ben Graham has displaced Micah Knorr and won the job as the New York Jets punter it was reported on Sunday. Good luck to Ben as he now joins Darren Bennett at the Vikings (but cut just now) and Mat McBriar at the Cowboys as the 3rd Aussie punter in the NFL. Aussie Rules footy is exploding in the USA and CDN. Check out AFL MYKwebTV Click here and my weekly reports Click here "Myk
"Do you want me to show you a demo/presentation/Live TV show with me as Myk Aussie? I have it all set up with a magnificent view of the Vancouver Harbor in the background! Clipstream Live Video to the web! Do you need to broadcast a sporting event, work conference etc, I have it Click here Call me to discuss 1 604 609-7736 ext 240" Myk
"Do you want me to show you a demo/presentation/Live TV show with me as Myk Aussie? I have it all set up with a magnificent view of the Vancouver Harbor in the background! Clipstream Live Video to the web! Do you need to broadcast a sporting event, work conference etc, I have it
Click here Call me to discuss 1 604 609-7736 ext 240" Myk
"Live Video to the web! Do you need to broadcast a sporting event, work conference etc, I have it Click here Call me to discuss 1 604 609-7736 ext 240" Myk
"If you are here somehow Free I hope you decide to join us regularly in Mates Club Click here" Myk

For Me & Moose's NFL Mates Club Footy webWORLD Aug 05 Click here
General Viewing NFL webWORLD past columns are below. The 05 season columns are now updated especially for NFL Mates Club. Previous to 05 NFL season will stay as General Viewing columns thus by clicking on below you will go out to General Viewing MYKwebWORLD.

For Me & Mooses NFL Footy webWORLD Mar - July05 Click here
For Me & Mooses NFL Footy webWORLD Jan 20-Mar 05 Click here
For Me & Mooses NFL Footy webWORLD Jan 7-20 05 Click here
For Me & Mooses NFL Footy webWORLD Dec 18-24 04 Click here
For Me & Mooses NFL Footy webWORLD Dec 18-24 04 Click here
For Me & Mooses NFL Footy webWORLD Dec 13-17 04 Click here
For Me & Mooses NFL Footy webWORLD Dec 1-11 04 Click here
For Me & Mooses NFL Footy webWORLD Nov 17-30 04 Click here
For Me & Mooses NFL Footy webWORLD Nov 10-16 04 Click here
For Me & Mooses NFL Footy webWORLD Nov 1-9 04 Click here
For Me & Mooses NFL Footy webWORLD Oct 16-30 04 Click here
For Me & Mooses NFL Footy webWORLD Oct 10-15 04 Click here
For Me & Mooses NFL Footy webWORLD Oct 1-10 04 Click here
For Me & Mooses NFL Footy webWORLD Sept 04 Click here
For Me & Mooses NFL Footy webWORLD August 04 Click here
For Me & Mooses NFL Footy webWORLD July 04 Click here
For Me & Mooses NFL Footy webWORLD April-June 04 Click here
For Me & Mooses NFL Footy webWORLD March 04 Click here
For Me & Mooses NFL Footy webWORLD Jan-Feb 04 Click here
For Me & Mooses NFL Footy webWORLD Dec Click here
For Me & Mooses NFL Footy webWORLD Sept-Nov Click here
For Me & Mooses NFL Footy webWORLD June-Aug Click here
For Me & Mooses NFL Footy webWORLD Mar-May Click here