You can also hear me often talking NFL many Friday nights on Gabriel Morency's Sports Rage now on morencysports.com. Fri 8-11pm Pacific CDN/US time. If you are new to MYKwebWORLD and you want to know what I do this is a great article Click here
May 06. I have finished the New Massive Mates Club webWORLD. I hope you can join me in Mates Club for hours of NFL Sports, Comedy, Babe TV, your existing email link will get you to the new Mates Club Massive Menu or Click here" Myk Aussie

Check out Myk at NFL MYKwebTV NFL Super Bowl NFL Pro Bowl MYKwebTV
If you are new to MYKwebWORLD and want to know what I do this is a great article Click here

Nov 2, 10. "Bills lose in overtime to the Chiefs! Bills play the Bears in Toronto Canada on Sunday! Friday night Sept 17, I was talking NFL on Sports Rage with Gabriel Morency, Listen and watch now! Listen now. I got on The Jim Rome radio show Wed July 7 which has approx 4 million listeners and talked sports! Talking sports and often NFL on 5AA South Australian radio many weeks with Jeff Burzacott. Listen Live on the web! 153 of my 175+ Sports MYKwebTV and TotalCFLwebTV shows including lots of NFL are now on my YouTube.com Directors Channel!" Myk Aussie


Check out the massive NFL webWORLD for the above stories Click here
Wed, Sept 11 07 "Moose's picture from his recent trip to the Pro Football Hall Of Fame!" Myk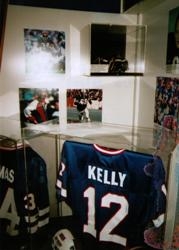 "The Buffalo Bills display at the Pro Football Hall Of Fame." Moose Salzer


Tues, Aug 15 06 "Moose's extensive Bills 06 preview! Lots of NFL MYKwebTV!" Myk

From Moose "Buffalo Bills, 47th season. Won Tow AFL titles with Chester Carleton 'Cookie' Gilchrist at FB back in 1964-5. Have Won Four straight AFC titles (1990-93), but then lost four Super Bowls in a row, BOTH records. *Note also: Gilchrist and Travis Henry set records by rushing for 2,000+ yds., in only 27 games. Last Year QB Kelly Holcomb set a Bills record with 67.4% completion % breaking Hall-of-Famer Jim Kelly's previous mark. Other QBs; J.P. LoSSman(sp?) and Craig Nall, F/A from Green Bay.

Key other players: RBs Willis McGahee, Damion Shelton, WRsPeerless Price, one of six Andre Davis' from Cleveland, S Matt Bowen, DLm Larry Triplett and OT Aaron Gibson, NFL E. A look back: I said it last year and I will shamelessly say it again - J.P.Losman isn't going to make it in the NFL as a starting QB and the Bills should have gotten his Hawai'i Bowl NCAA Bowl game opponent, Shawn Withy-Allen who has been tearing it up in the Af2 League the last three seasons. Lossman can run but not pass very well and just doesn't seem comfortable in the pocket. To help ancient vet Holcomb, who played very well when healthy last year, the Bills and 'new' [old] G.M. Marv Levy brought in Craig Nall, who got his walking papers from the Packers after trying of waiting for the legendary (but now slumping) Brett Favre to retire. Nall will challenge both Holcomb and Lossman for the starting job and will get a long look this year. Of course, the Bills may be looking llloooonmnnng by the time this season is over.

At RB, w/ new addition Anthony Thomas (New Orlean) here to help erratic McGahee and Shelton, a whopping 260+lb'r, the team will have handoff options aplenty in the backfield. They may lead the AFC East in rushing following a very good Offencive Line: Gibson, Matt Morgan, Dylan McFarland, Jason Peter (not the actor!) and Mike Schenk, the former Steeler who is the best KS in the AFC East. The WRs and TEs that will catch the passes from Holcomb/Nall/Losman are: Davis, Price, Josh Reed, Jon Smith and Rob Royal.

The Defence maybe made a mistake in letting German import Connie Ritzmann, the former Tennessee star go but they still have Linemen like: Chris Kelsay and Lauvale Sape at DEs and DTs: Aaron Schobel, who moves in from DE and Tai Tupai and Mark Word. Obviously after being ranked 29th in Offence and 30th last year in Defence there is room for improvement.

The Linebacking corps main star is: still London Feltcher. His main help comes from Takeo Spikes and Jeff Posey who is fading fast. Key backups include: Angelo Crowell, Liam Ezekiel, Mario Higgins and draft pick Keith Eliison. This group is both old (starters) and young (subs) so having a Defencive minded retread like Dick Jauron here as Coach will help. Obviously the last two Coaches since Marv retired as Coach were not Defencive minded enough! The Secondary will be one of the best with SsTroy Vincent and Bowen from Washington. Big, strong and coverage minded hitters - just like Jauron, once one the NFL's best S's likes.

The CBs could be trouble for opposing Offences this year with Eric King, James Bethea and Nate Clemons (no realtion to 'Pinball') onboard. Key subs are: Rob Lee and Coy Wire. Expect big improvement from the entore Defence this year. The Special Teams has the second or third best P in the NFL in Brian Moorman. He can throw, run or P, but not necessarily in that order. A very fine athlete. At K Rian Lindell tied two club records last year and the best is yet to come. On coverage the Bills were dead last in the loop last year and KR&PRs could be dicey now with McGahee only running the ball. This team let former Dallas/Detroit/Arizona RM Reggie Swinton (Winnipeg-CFL/Arkansas-Af2 vet) escape to Cincinnati and should have gotten him! Outlook: Welcome aboard Dick and welcome back Marv, I loved your book! Now comes the hard part. Bills fans are on edge and don't want to wait for the Bills (especially Montreal talk show host Gabe Morency!) to turn the corner in a few years. Obviously Levy, 81 and owner Wilson, 88 don't have much time left in their respective careers. Levy is under contract for three years.

The Offence isn't good enough to compete - yet, but the Special Teams and Defence can play with now - look around this Division. Besides New England, who else is going to keep them down. Miami was a fluke last year and the Jets, who will have a pretty good year, are under a youth-movement regime. Morency may not call me to go back on Montreal radio on his show if I really slam these guys for what they DIDN'T do right in the off-season, but getting ex-Alouettes/Blitz/Chiefs/Bills Coach Levy back, even at 81 will make these guys competitive right away. So will reacquiring Price at WR. Predicted Finish: Fourth AFC East, 7-9-0. Jauron may get votes for Coach of the year, but forget about Losman. If Holcomb can't get it done, go with Nall. Improved, yes. Playoffs, maybe in '08..." Moose

"If you would like to add your comments about how you think the Bills will go in 06 or comment on Moose's preview above please email me myk@mykaussie.com and I will add your report.

You can hear Moose weekly on Gabriel Morency's SportsRage Montreal Team 990 AM sports radio and on the Internet talking NFL Footy many Friday nights around 1am Eastern US and CDN time. I'm on late around 1.30-2am EST Friday or Monday nights as well talking sports in a comedy/crazy style. I think Gabriel Morency is the best sports radio guy in the World. To me he's like the Howard Stern of sports. I'm very confident you will like his show. To listen Click here

Massive amounts of NFL TV! Several weeks ago I finished the New Massive Mates Club webWORLD. I hope you can join me in Mates Club for hours of NFL Sports, Comedy, Babe TV, your existing email link will get you to the new Mates Club Massive Menu or Click here" Myk

Wed, May 17 06 "Moose's excellent detailed Doug Flutie Retirement Tribute and his Top 13 QBs in Pro Football History!" Myk Aussie

For a excellent very detailed report from Moose on Doug Flutie's great career check out "USA, Friends Of The CFL" Click here

I hope you can join me and Moose in the new Massive Mates Club for hours of Sports, Comedy Babe TV Click here" Myk Aussie

Sat Sept 10th, 05 "Moose's NFL Buffalo Bills 05 preview!"

"Moose I hope you wrote a good report about SportsRage's Gabriel Morency's favorite NFL team?" Myk

From Moose "Buffalo Bills, 46th year. Record 0-4 in Super Bowls. Coach: [And that's no crap!], Mike Mularky, ex-Nine year NFL TE. QBs: J.P. LOSSman, Kelly (Barcelona) Holcomb and Kevin (NFLE) Thompson. This team also won two AFL Championships in the 1960's with me and Myk's mate, Chester Charleton 'Cookie' Gilchrist at FB, the best running back in Bills history. His 243 yard rushing game back in the AFL still stands as a record. Put this man into the NFL or CFL Hall-of-Fame, somebody, please! Shane Matthews may still hang onto a job as a QB too, as the Bills open the year with 4 on their roster, the only team in the NFL to do so in 2005. They'll probably need them.

It's no secret that obsessive senile owner Ralph ("I hate Doug Flutie – WAH!!!!") Wilson wants Losman into the lineup, now, Damn It! And hell will be to pay if poor puppet Coach Mularky doesn't do it. It'll hurt. Losman, who missed most of his rookie season, isn't quite ready. TE Kev Everittt and RB Willis McGahee will be wasted in this offence, but fortunately the Defence is good enough, with outstanding pass rushers like Aaron Schoebel and Chris Kelsay to get by with. LB London (Calling) Fletcher, who makes a 'Clash' every time he tackles someone, is the only player here with a Super Bowl ring, something that aging Wilson wants badly. Too bad, he won't get one. Despite such Hall-of-Famer's as Jim Kelly, Flutie, Coach Marv Levy, Steve Tasker, the best ever at his position and the ever present WR Eric Moulds, Flutie's old favorite, who happens to be Wilson's favorite, too, the team just isn't strong to contend with the likes of the Jets and Patriots in the AFC East – yet.

Holcomb still has one or two 427 yard performances left in him and DB Nate Clemons could make the Pro Bowl this year. But Wilson and the Bills continue to be 'penny wise and dollar foolish'! And just to depelete the 'D' even more, they let Connie Ritzmann, DE from Tennesee go to recently. The Defence and Special Teams, especially with P Brian Moorman (formerly with Berlin), who is now the best running punter in the NFL, is solid. The Bills are a year or two away, and after an 0-5 start last year, the team turned everything around. But that was with ex-Super Bowl QB Drew Bledsoe at the helm. He's now in Medium sized 'D'[allas]. Predicted Finish: Third, 8-8-0, AFC East. Stay Patient, Ralph. And keep pumpin that geritol, Viagra and lipotor!" Moose

"Myk Aussie is the best NFL Cheerleaders interviewer Click here" Joe

Thurs Mar 17, 05 "Moose's report on Doug Flutie's release from the option 5th year of NFL San Diego Chargers contract!

For Moose's

"USA, Friends Of The CFL" footy Doug Flutie report Click here "Myk

Thurs, Nov 11 04 "Bills vs Pats week 10!" Myk Aussie

From NFL Media

BUFFALO BILLS (3-5) at NEW ENGLAND PATRIOTS (7-1) (Sunday night, ESPN, 8:30 PM ET): Watch out, Bills, for those tricky Pats!

Kickers throwing touchdown passes…linebackers catching touchdown passes…receivers playing defensive back. Those were some of the bag-of-tricks moves pulled by New England head coach BILL BELICHICK last week in a 40-22 victory in the dome in St. Louis. But this one's outdoors, at night, in the November cold. Might just be time for some good old smashmouth football! And both teams can deliver.

The Bills have won three of their last four. In each of those victories, new starting running back WILLIS MC GAHEE, the team's No. 1 pick in 2003, has run for 100-plus yards, including 132 (and a TD) last Sunday against the Jets. "We're all getting comfortable right now," says McGahee. "We know what it takes to win."

Of course, the Patriots – winners of 22 of their past 23 overall – certainly know what it takes to win, too. They added to that "knowledge" this year by trading for RB COREY DILLON, the AFC's No. 5 rusher (749 yards) and on pace (1,498 yards) to become New England's first 1,000-yard rusher in three seasons and second in the past six.

Matchups to watch: Buffalo's 650 pounds-plus DT combo of SAM ADAMS and PAT WILLIAMS vs. middle of Pats line. Who can forget Adams' 37-yard rumbling interception-TD return against New England on Kickoff '03 Weekend?

It is so cool to be the only Aussie that has regularly reported on the NFL for the past 5 years. Yep that's me, I have had NFL media passes at Super Bowl's, Pro Bowl's and other NFL games. Thus I am allowed into the NFL Media section and allowed to post their great reports on here. Much more coming over the coming weeks." Myk Aussie

Sept 18, 04 "Moose's Buffalo Bills 04 preview!" Myk Aussie

"Buffalo, Team's alltime record: 277 wins, 295 losses, 8 ties. Super Bowl Rec: 0-4, four years in a row in the '90's. Coach: Mike Malarky, a former 9 year NFL TE. QBs; Drew Bledsoe, J.P. Losman[I.R.'04], Travis Brown, Rob Van Dyke. The Bills signed one of the alltime best Af2 players in DB Kalil Carter, who had been slated to play for the Orlando Predators of the Arena League. He was one of the best DBs in NFL Europe in the spring. They'll need two more like him.

The biggest problem last year was the Defence giving up more points than the Offence can score. Bledsoe, who has had a fine career (two Super Bowl appearances; one win as #2 to Tom Brady) appears to be getting gun -shy. And the Bills decided not to re-sign Alex Van Pelt, who survived the Doug Flutie/Rob Johnson feud of four years ago. In preseason this past Aug. tragety struck as the Bills lost their first round pick, alledged QB of the future, J.P. Losman for the season with lower left leg surgery after a freak broken leg in practice. I will never forget that fourth quarter showdown between Hawai'i's Shawn Withy-Allen and Losman in the 2002 Hawai'i Bowl on Christ- mas Day. Man, how those two guys went back and forth. Losman was a Jr. for Tulane that season. Losman had the benefit of playing in a Pro set Off- ence then. His stock rose in the combines because he tests well (remind us of anybody, Tango MacCauley?).

With Losman shelfed for the season, Bledsoe better stay healty and Mularky's system better work! At RB the Bills have two good ones but a problem child in Louis Mcgahee who de- manded to start or be traded. Woah! Wait a min. there, bro. The Bills gave you big bucks to sit last year and rehab but you couldn't even play with your one broken leg! They are better off with the quiet, slower and better blocking and pass catching Travis Henry, who plays better with Travis Brown at QB. Whatever, eh? FB Damien Shelton is also a good one. If the Bills had no depth, they'd be 0-16 this season. The Offencive Line includes: Jonas Jennings, Larry Smith (not the ex-CFL Commissioner), Chris Villarial, Trey Teague and Mike Campbell. At TE & WRs are; Eric Moulds, who still misses Doug Flutie, Mark Campbell (no relation) and Josh Reed.

The Defence will start with the line, which has never replaced Ted Washington, Sam Adams, who once teamed witrh Tony Siragusa on the Ravens Super Bowl team and Aaron Schobel and a couple of question marks. The linebacking is average with Takeo Spikes being the best player on defence. Short London Fletcher, a hustler from the former Saint Louis Super Bowl team has been exposed and has several weaknesses like playing out of position and overrunning plays. The secondary is pretty solid with Carter, Iz Reece (Beasley's son), Nate Clemons and Troy Vincent. The Bills have never replaced Ontario's Steve Christie at K and P Brian Moorman's claim to semi-fame is that he once won an NFL ('AAA') Euro Bowl with Berlin. Prediction: 6-10-0, Fourth Place AFC East." Moose

Myk and Cwoa's Cool Women Of America!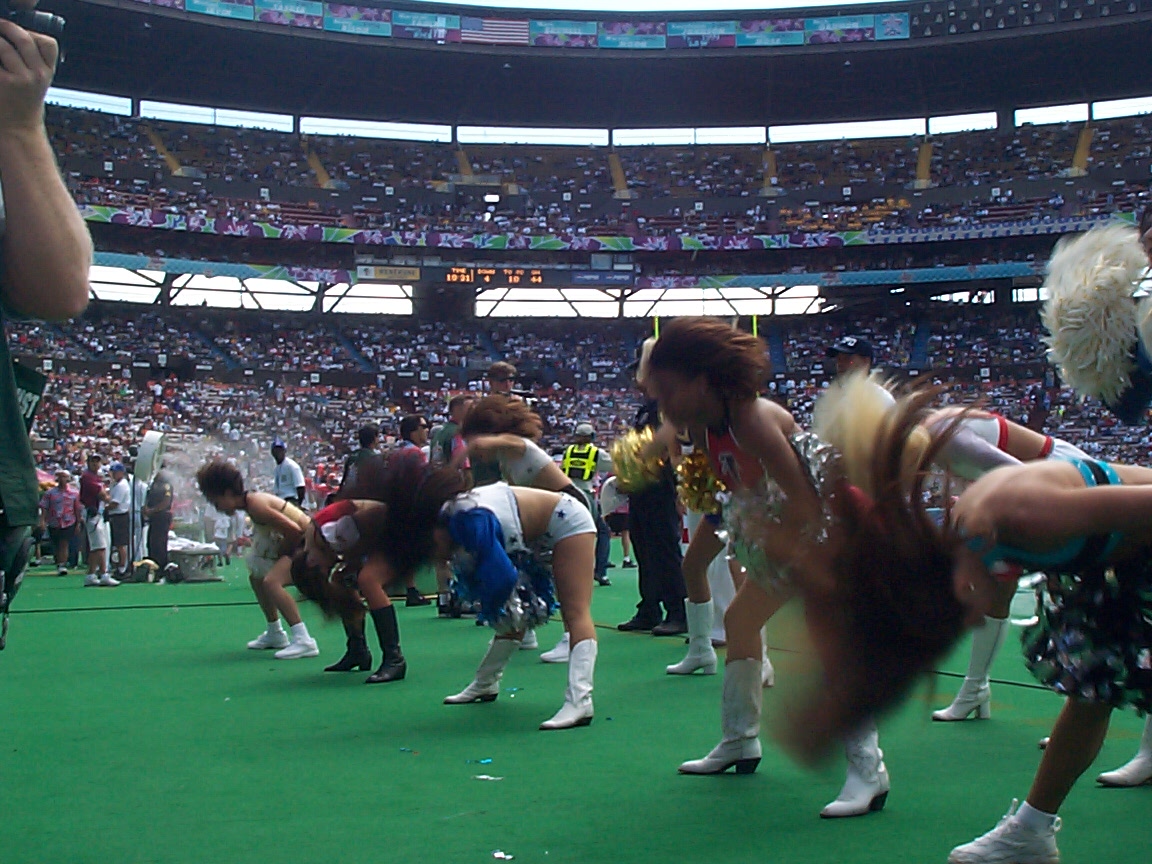 "Mates Melissa the Dallas Cowboys cheerleader in the Blue & White is my friend. The #1 Dallas Cowboys & Pro Bowl cheerleader Melissa came to Calgary for a tanning promotion not long after I met her at Pro Bowl 2002 week. I met up with Melissa briefly that day in Calgary. Melissa has been a "Myk's Mates Club member" for the past year enjoying my MYKwebTV & comedy webWORLD.
Myk and Cwoa's Click here
Lots more Myk and Cwoa's on Myk's Mates Club Click here
May 06. I have finished the New Massive Mates Club webWORLD. I hope you can join me in Mates Club for hours of NFL Sports, Comedy, Babe TV, your existing email link will get you to the new Mates Club Massive Menu or Click here" Myk