You can also hear me often talking NFL many Friday nights on Gabriel Morency's Sports Rage now on morencysports.com. Fri 8-11pm Pacific CDN/US time. If you are new to MYKwebWORLD and you want to know what I do this is a great article Click here" Myk Aussie

Check out NFL MYKwebTV NFL Super Bowl NFL Pro Bowl MYKwebTV

Tues Nov 2, 10. "Browns quarterback Jake Delhomme on my NFL Syper Bowl XVIII MYKwebTV! Friday night Sept 17, I was talking NFL on Sports Rage with Gabriel Morency, Listen and watch now! Listen now. I got on The Jim Rome radio show Wed July 7 which has approx 4 million listeners and talked sports! Talking sports and often NFL on 5AA South Australian radio many weeks with Jeff Burzacott. Listen Live on the web! 153 of my 175+ Sports MYKwebTV and TotalCFLwebTV shows including lots of NFL are now on my YouTube.com Directors Channel!" Myk Aussie

Browns quarterback Jake Delhomme on my NFL Super Bowl XVIII MYKwebTV!
This is from the Panthers Media Day at Super Bowl XVIII in Houston. The media guys and Jake laughed at my accent when I asked Jake a sensible question about his time in NFL Europe. Scroll down below the TV screen for the show Click here


Check out the massive NFL webWORLD for the above stories Click here
Tues, Dec 11 07 "Browns 2007 NFL Playoff scenario direct from NFL Media! New Sports jersey Frames. The 1st shipment ever to Nth America. Order now. Available now for
Christmas! Massive amounts of NFL MYKwebTV!" Myk Aussie

CLEVELAND BROWNS 2007 NFL Playoff scenario direct from NFL Media.
Cleveland clinches playoff berth: 1) CLE win + TEN loss + DEN loss or tie.

New Sports Jersey Frames! The 1st shipment ever to Nth America! Order now! Available now for Christmas! They are awesome! The jersey hangs great in these High quality Sports jersey display cases. For contact and ordering Click here
I hope you can join me and Moose in the new Massive Mates Club for hours of NFL, Sports, along with Comedy Babe TV Click here" Myk Aussie
Wed, Sept 11 07 "Charlie Frye sent packing to Seattle after starting in week 1! Brady Quinn to start at QB soon apparently! Picture from Moose's recent trip!" Myk Aussie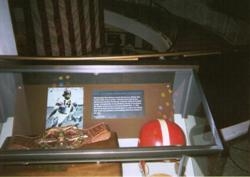 "The Cleveland Browns greatest QB ever, Otto Graham (1946 AFC- 1949 & 1950 - '55 NFL) 10 Straight Championship appearances, 7 Wins (3.3 IN NFL CHAMPIONSHIPS)" Moose
Sat, April 28 07 "Brady Quinn finally gets Drafted by the Cleveland Browns! Interview direct from the NFL Media!"
Myk Aussie

Brady Quinn dropping to the 22nd Draft pick was the Biggest story today so I thought I'd go into the NFL Media website that I have access to and add the interview with Brady to this section of MYKwebWORLD.
BRADY QUINN Cleveland Browns Anyone have any questions?
Q. Way to go Brady.
BRADY QUINN: Thank you.
Q. When you came out it looked like the weight of the world was off your shoulders.
BRADY QUINN: I mean, I guess it was, and only because when you play out the scenarios in your mind ahead of time ‑ I mean, I had been thrown all around the draft board so many different places ‑‑ you do have to play out the scenario, if I went here, here, here or here and I had an opportunity to go visit some of those places and then had an opportunity to work with some of those coaches. You can kind of see it, you can get a feel for what it would be like. At a certain point when you're past those teams that you've built some sort of relationship with, you're entering an unknown and you don't really know what's going to happen. You're going to be talking with coaches and people you haven't really had a chance to work with at all. So I guess just the opportunity to, you know, have Cleveland come backup, come back around and give me the opportunity to play there is something that I've always dreamed of doing. I felt like the weight of the world was lifted off my shoulders.
Q. Did anyone give you any advice during the wait?
BRADY QUINN: I got great advice beforehand, just to be patient. Like I said before, I was going to be open‑minded about it. That's the tough thing. I was open‑minded. I think in my head, I had a spot in which I didn't think I was going to go any further and obviously it exceeded that point. I think from there, I just ‑‑ it's kind of the waiting game. You don't know who was going to trade up or if you're going to end up dropping to a team that needs a quarterback.
Q. Did you have a chance to speak with Joe Thomas at any of the All‑Star games and how do you feel about your new teammate?
BRADY QUINN: You've got to be excited about a guy like that blocking for you when you're blindsided. I didn't have an opportunity to speak with him. The only time I've got a chance to meet Joe Thomas was actually coming out of high school when we played in the High School All‑American game down in San Antonio, Texas. I talked with him then and he just seemed like a great guy, great player. I think everyone knew at that point in time that he was going to be special.
Q. Do you see the similarity between what happened to you just now and Aaron Rodgers two years ago; that you have all of this talent and unfortunately you fell down this far and how it's going to affect the rest of your career?
BRADY QUINN: I don't know about that, I'm not sure how to address the last part of your question. When it comes to the draft, everyone knows that at a certain point, teams are going to stop needing requests, because if they are successful or a veteran or they have got somebody they picked the year before, that's where it all falls in and they have to start addressing other needs. I realized that and I realized that was a possibility. So really, I mean what can you do? You have to sit back and wait. Whether I was hear in New York or if I was hear in Columbus, one way or another it worked out this way.

Q. Why do you think there's a love/hate relationship for and do you use that as motivation on the field?
BRADY QUINN: I think the love/hate relationship comes from going to Notre Dame and it's kind of like the same feeling with the Yankees. Those are two teams that you either love them or you hate them. For some reason, that's just how it is. Obviously, I hated the wait and being there for a little longer than I expected. Maybe that's something to do with people being happy. You see how quickly the five guys went; the last one took a little while.
Q. Did you have any idea that Cleveland would pick you?
BRADY QUINN: Yes, it was ‑‑ just from everything that I had done beforehand, whether it was working with Terry Shea or Coach Cameron coming in and visiting, I guess I anticipated them having some sort of desire to make a pick.
Q. What did the Browns say to you when they picked you? Who did you talk to?
BRADY QUINN: I had a chance to talk with Phil Savage, the general manager and Mr. Lerner, the owner, and Coach Crennel. Baltimore had called before, trying to make some sort of trade, so I had just got off the phone and it rang again. So I had to click over and once I picked up, they said, "hey." It was the Cleveland Browns. "We made a trade, we are going to come get you right now." I was obviously taken aback by it because had just gotten off a long conversation with the Baltimore Ravens thinking, "All right, that's probably where I'm going to end up." I was trusting and turning all over.
Q. During the time Cleveland did not pick you and a couple of hours went by, is there any part that says, "I'm going to show them during my NFL career what they missed"?
BRADY QUINN: I'd be lying if I said no. (Laughter) You've got to feel that way, you've got to feel all of the teams that passed up on you, you have to come out with a chip on your shoulder. That just builds the motivation, all of the negative things that people say, all of the things that happened in college, all through this entire process, it's almost vacation. I'm already a hard worker, I'm just going to have to keep taking it up a notch with the things people are saying in this draft.

Q. And the fact that you're from Dublin, how weird is it that they pick you and you can't have that chip for them?
BRADY QUINN: You know, I wouldn't have a chip for them in that circumstance. I'm just happy that I have the opportunity to be playing for them. Obviously it was a dream scenario. After the third pick, you're kind of thinking, all right, you're looking on the other teams, other situations, and again, after you pass a certain point, you're thinking, "Man, where am I going to go now." So you never really envisioned that dream coming true.

Q. What about the money, the difference in money between where you could have been picked and where you had wound up?

BRADY QUINN: I never had the money before. People kept saying I was losing money ‑‑ I was sitting back there with my wallet, I have a dollar in cash and it's still in there. I didn't lose any money. It's all part of the process, people talk about money and this and that; if you're successful and you're going to win games in the NFL, you're going to make more money in your second contract but it's not about that anyways. It's about winning. It's about being successful.
Q. What's it going to be like playing with Braylon Edwards?
BRADY QUINN: I'm looking forward to it, I can tell you that much. To have an opportunity to throw to two talented players like that, I couldn't be any more thankful or excited.

Q. Do you feel like the Dolphins misled you leading up to the draft?
BRADY QUINN: No. I think everyone is misleading everyone, you could technically say that about the Browns. Who knew it was going to work out like this? (Laughing). That's just part of the draft, everyone is throwing up smoke screens and doing different things.
Q. Do you wish you had gone fishing like Joe?
BRADY QUINN: I was going to say, I might need to pick up another hobby. No, I made the decision to come here to New York City, it's a great place. To have the chance to come here, spend it with my family and friends, all the people that love you, it's fun. It's just unfortunate it worked out the way it did, but I guess I'm young, still learning lifelong lessons like patience, I guess.

Q. The first Browns game you saw, you were 7?
BRADY QUINN: Yeah.
Q. What do you remember about that day?
BRADY QUINN: It was a cold day. We bundled up, I went there with my dad and uncle and grandpa and sat up in the stands and actually ended up beating Pittsburgh. It's a rowdy crowd and they have a great following. It was a great experience.
Q. Have you followed them closely the last two seasons through your college career and everything?
BRADY QUINN: I have. I've been busy but you still follow those teams and still root for them. I think since Coach Weis got this there, there's even more focus on the NFL and how different teams do and their system.
Q. Did you hear from Charlie Weis at all during this process today?
BRADY QUINN: I did. I spoke with him early this morning and we just talked about some possible scenarios and just talked a little bit. I just had an opportunity to speak with him before I came here. He said, "Well, it ended up working out how we wanted to, not exactly, but how we wanted it to." I was like, "Yeah, it did, it has a funny way of working out." He said just, "Go out and prove everyone wrong." You.
Q. You didn't hear from him dropping down?

BRADY QUINN: No, this is something, it's my experience. Obviously he did a great deal to help me get here but I didn't want to bother him with the stuff that's going on now after the fact.
Q. Did he call you?
BRADY QUINN: Yeah, he did. Actually he beat me to the punch. I was going to give him a call when I was done with all of interviews but I think he was just excited to see how things worked out.
Q. Did any of the people you spoke to from Cleveland say anything about the strangeness of how you arrived at this?
BRADY QUINN: Yeah, I think everyone admitted to the fact that things didn't work out I think the way some people had projected it or anticipated it. Again, it worked out the way we wanted it to.

Q. Do you feel like you're ready to start right away?
BRADY QUINN: You know, I'm confident enough to say once I learn the system, once I get in there working with the guys, timing and all that, yeah, I think being a first round draft pick as a quarterback you have to have that ability to be able to play right away. Again, I've got to go in there, I've got to take some time to make sure I get to know my teammates and people I'm throwing to and the offense as well.
Q. Coming as an offensive quarterback to a defensive guy, will there be an adjustment period for you?BRADY QUINN: I don't think so, talking with the quarterback coach, I think we're going to have a great relationship, regardless of what the head coach is doing. As long as you're with the guy that's calling the plays and you've got a great relationship with him, everything is going to work out.
Q. You said you were talking to Baltimore but before the third pick had you spoken to Cleveland this afternoon?
BRADY QUINN: No, I had not spoken to any team. Obviously they are going to be calling my agent, Tom Condon. More than anything, I'm just sitting back and being a fan like anyone else.
Q. Do you feel like the relationship between Romeo and Coach Weis will help your transition at all?
BRADY QUINN: I'm not sure about that, if it has anything to do with it. My relationship from working with Coach Shea and the other coaches will help, knowing that I've met them before, I'm comfortable with them and have gone over film and talked over football terminology.
Q. What goes through your mind when you see teams that didn't have solid situations pass you?
BRADY QUINN: That's the thing, I think you've got to be a little bit disappointed; but, you always have to keep in mind, this is the draft. I mean, they are going to pick people based on what their needs are and how they feel. So even going through a situation like Miami and Minnesota after Cleveland, I'd be kind of thinking, well, they must feel comfortable with Jackson or Culpepper, they must feel comfortable with the quarterbacks in those situations.
Q. At a certain point you left the Green Room and you went to the Commissioner's Room. What were you doing in there; were you pacing or sitting?
BRADY QUINN: No, actually I was sitting. It's been a long week here. We've also been bussed around doing a lot of different things. I actually had gone back to go to the bathroom and as I came back out, you know, the Commissioner came out and I talked to him. He said, hey, you know, based on the situation, you're probably not going to be taken for a while. So if you want, feel free to come up here and sit down. There's no use putting your face on camera during teams that are picking when you're not going to be picked. You know, I said, "Hey, that's fine. I'll come and check it out for a little while." I didn't intend on being as long as they were. We made a commitment to come out here and I think sitting in the Green Room is part of it if you make that commitment. But again, we started talking to teams and trying to deal through some other teams and it ended up that the entire family was able to come and we stayed there.
Q. Besides Cleveland and Miami, who else did you think might pick you?
BRADY QUINN: That's the thing, you really have to keep an open mind about any team because you're told so many things throughout the process, you never want to rule out a certain team, any team in the top nine picks, I think with the exception of Arizona probably, you're thinking there's a possibility.
Q. When the Jets made the deal to move up and then they didn't pick you, were you a little disappointed?
BRADY QUINN: Not at all. I didn't think that move was to pick me. They have a great quarterback in Chad Pennington, so I didn't anticipate that at all.
Q. What did the Commissioner tell you on the stage?
BRADY QUINN: He obviously congratulated me. I think he was, you know, probably about as excited as I was. One, he probably wanted to have me out of his room, and two, get the last guy out. I think that weighs a heavy burden on everyone's shoulders.
Q. Do you plan to get an explanation from Terry Shea or do you just move on?
BRADY QUINN: You move on. Teams have their reasons for doing things and you have to realize it's all part of the proces I don't think when you're picking colleges, teams call and you say, hey, why didn't you come to Ohio State; because we're working on things and recruiting for next year. That's not how it works. You move on. Again you place that chip on your shoulder and you remember how this day went.
Q. Is there a chip on your shoulder about things you've heard in the last two or three months about your quarterbacking abilities that you now want to go out and say, I want to prove, you know, everybody wrong about something you've heard in the last couple of months?
BRADY QUINN: Always. They make knocks on everyone when they evaluate for the draft. Granted we may not watch TV or read it a lot but people come around and ask questions, like you guys asking about accuracy and things like that. Clearly there's some things and I feel confident in my ability and in how I throw the football and how I play the game, so, of course, you want to prove people wrong. But for me it's not about proving people wrong, it's about winning games; and doing that is going to prove people wrong.
Q. Before the season, you were a Heisman front runner and you were projected as a top‑five pick and you went 22. Looking back, what's your take? ; is it disappointing for you?

BRADY QUINN: Sounds that way, doesn't it? I always set my goals high and I'm always going to do that. I think you have to do that and coming into the season, wanting to win the Heisman, trying to get No. 1 in the draft, trying to win the National Championship, those are all things I want to accomplish. Some of those things are out of my control and some aren't. Yeah, things didn't work out in my favor but that just leaves me more to achieve in the NFL.

Q. At the end of the day, Cleveland did pay a pretty high price to come and get you; what's your reaction to that?
BRADY QUINN: You know, it's funny, there's something about when a team trades up to get you and especially the way they did it, knowing that they kind of come back around; that they took Joe at the third pick, but kind of didn't forget about me and ended up coming back to get me and it all worked out in the end. I think everyone wanted it to be a perfect scenario which probably would have been tough but for the Browns, I think everything worked out the way they wanted it to.

Q. Does that put pressure on you, the fact that they gave up a first round draft pick next year and now you have to succeed?
BRADY QUINN: I got drafted in the first round of the NFL, that's pressure enough. I don't think it matters how they got there to do it. We are now being paid for the sport we play which is a little different than college. So I think there's pressure on everyone in the NFL, not just myself being drafted and what it took to get there.
Wed, Aug 9 06 "Moose's extensive Browns 06 NFL preview! Lots of NFL MYKwebTV!" Myk
From Moose "Cleveland Browns, 61st season. [First four in AAFC, 57 more NFL]. 2005 Record: 6-10-0. One of five teams to have never been to a Super Bowl. Two NFL titles, 1964 & 1953. All Four AAFC titles, 1946-49. Coach: Roman Crenell. QBs: Ken Dorsey, Charlie Frye, Derek Anderson. Other Key players: LB-DE Willie McGinest, Centre LeCharles Bentley, WR Joe Jurivious who has been to three Super Bowls in the '00's with three different teams (1-2 mark), OLm Kevin Shaffer, P/H Dave Zastudill, DLm Ted Washington, Jr., TE Darnell Dinkins, Centre/KS Bob Hallen, who won the Super Bowl w/ Atlanta in '98 and rooks: DE Kamerlin Wimbley and LB D'Qwell Jackson.

Outlook: Not great. Not as long as the Brownnosers keep stocking the roster with local products just to keep stocking the roster with local products. The team made some very good moves in the offseason which should at least keep them at 6-10-0. But will still come in last in the very competitive AFC North simple because they have no real QB if they car still thinking about starting the-not-ready-for-prime-time Frye from nearby Akron St., at the starting pivot spot. Dorsey from San Francisco's loony bin would be a better choice, if he can stay healthy. Tren Dilfer got screwed out of his starting job and flew the coop to 'Frisco himself. He's better off. At TE the Browns have a good new free agent signee in Baltimore's Dinkins, a one- time NFL E QB.
Three Question marks elsewhere: underrated ex-Charger Steve Heiden, injury-prone Aaron Shea (hurt at some point in all of his first five seasons here) and a somewhat loser Kellen "m'f'n soldier" Winslow Jr., even more overrated than his short-timer dad, Sr. Last year Winslow missed the year with a motorcycle crash accident injuries. What next? The running game, with backs ex-Denver Ruben Droughns, Lee Suggs and William Green is one of the deepest in the League and the Browns finished fourth in the League in rushing yards one year ago. The much improved Offencive Line now includes: Joe Andruzzi, Hallen, Shaffer, rookie Isaac Sowells from Indiana, Atlas Herrion, who's brother died in 49ers camp two years ago, and ex-Saints Centre Bentley, who made his first Pro Bowl Last Year.

The Defence should be the best part of the Browns again as you would expect for Crenell who was the New England Patriots Defencive Coordinator on those three Super Bowl winners in four years recently. The Line is now comprised of: ex-Pats, Raidahs NG T. Washington, Jr., all 356 lbs. of him! He is surrounded by: Darnell Campbell, Nick Eason, Simon Fraser (not the CIS University!) and Orphues Roy once a very promising Steelers DL man. The Linebacking corps is: Andra Davis, McGinest, who played for Crenell at New England, Mason Unk (now that's a LB name!), a star for two years in NFL E and Dave McMillian. I would rate this group a 6.5 on a scale on 10-1. The secondary has to improve but has it's stars in: Brian Russell, who lead the NFL (along with then Washington's Matt Bowen, now at Buffalo) with 9 picks two years ago, backup Shawn Mayer, also from New England, CBs Leigh Bodden who could very well make his first Pro Bowl this year. He hits like a young John Lynch.

The other CB will be by committee until one of three candidates distinguishes himself: DeMario Minter, Carolina's Mike's little brother, Daylon (D-0) MCutcheon and Gary Baxter (no relation to MYKwbTV's Scott). The Special Teams are in good shape with KR-PR-WR Denny Northcutt, sort of their version of Tim Dwight, P Zastudill from Baltimore and K Phil Dawson. Backup Jeff Chandler will get cut in camp or have to go to NFL E next spring to stay in the game. Either that or the Ar.FL next spring. Prediction: Despite spending the second most money in the off-season on free agents, the Browns are on their way to another 6-10-0 season. There is no clear cut starting QB, one too many good running back (only one can carry the ball at a time) and not enough S depth. The Defence will keep the Browns in most games but it'll be too little too late. Still this team is making strides and will be good in' 07-'08." Moose
"If you would like to add your comments about how you think the Browns will go in 06 or comment on Moose's preview above please email me myk@mykaussie.com and I will add your report.
You can hear Moose weekly on Gabriel Morency's SportsRage Montreal Team 990 AM sports radio and on the Internet talking NFL Footy many Friday nights around 1am Eastern US and CDN time. I'm on late around 1.30-2am EST Friday or Monday nights as well talking sports in a comedy/crazy style. I think Gabriel Morency is the best sports radio guy in the World. To me he's like the Howard Stern of sports. I'm very confident you will like his show. To listen
Click here

Massive amounts of NFL TV! Several weeks ago I finished the New Massive Mates Club webWORLD. I hope you can join me in Mates Club for hours of NFL Sports, Comedy, Babe TV, your existing email link will get you to the new Mates Club Massive Menu or Click here" Myk
Thurs Sept 8th 05 "Scott's NFL Cleveland Browns excellent 05 preview and 2004 review!" Myk Aussie
From Scott Baxter.

Cleveland Browns Home stadium - Cleveland Browns Stadium
NFL championships - 4 (1950, 1954-55, 1964)
AAFC Champions - 4 (1946-49)
Coach: Romeo Crenell
2004 review: The Browns went through another bad season, climaxed by the resignation of now former coach/decision maker Butch Davis midway through the season. Since coming back to the NFL in 1999, the Browns have been plagued with bad drafts and bad decisions. Whether it was the Dwight Clark/Carmen Policy regime or the recent Butch Davis debacle, the Browns have averaged 11 losses per season since 1999.
The offense never, ever clicked with FA quaterback Jeff Garcia. Most of the time, he was asked to stand back in the pocket instead of creating on the run, which he is very good at doing. He was benched eventually for (now departed for Buffalo) Kelly Holcomb, then (now traded to Tampa Bay) Luke McCown, who was thrown in there as a rookie. When Davis abruptly left (mainly, he lost respect in the clubhouse), Terry Robiskie took over as interim coach. Robiskie, the offensive coordinator, did this previously in Washington in 2000 (Therby qualifying him for the Rick Venturi interim coach Hall of Fame). For the most part, except for the season ending win at Houston, the Browns were flat out awful.
New coach: Romeo Crennell
Crennell as an assistant for Bill Parcells with the Giants and later with Bill Belichick with the Patriots has accumulated 5 Super Bowl rings (2 w/the Giants and 3 w/the Pats). He was hired under new GM Phil Savage, who was an assistant GM under Ozzie Newsome in Baltimore. Their job, to restore the winning formula in Cleveland. Cleveland only has one winning season since returning to the NFL in 1999. Crennell was a very good defensive coordinator with the Pats, and at 58, he gets his first shot as a head coach.
Quarterback: Trent Dilfer spent the last 4 seasons backing up Matt Hasselback in Seattle. He will now get a chance to start the opener of the 2005 season. It will be Dilfer's first opening start since he was the starter for the Bucs in 99. Decent manager of a game, good arm, but will never be compared to any elite quarterback in the league. However, he is not as brutal when he was with Tampa (Called him Trent Reznor because like him, Dilfer's quarterbacking can be as depressing as a Nine Inch Nails song). 3rd round pick Charlie Frye from nearby Akron University may start at the end of the year. A lot of draft gurus believed that the Browns did real well picking Frye in the third round.
Running back: This will be a battle between three men: Lee Suggs, Ruben Droughns, and William Green. Suggs would be the starter and has the most star potential of all three. However, he is currently, and almost always injured. Suggs is big enough to handle the inside running, but speedy enough to handle the outside. The injury issues, and a tendency to fumble from time to time, has stunted his progress right now. Droughns benefited from the Denver 1000 RB system in 2004. He led the team in rushing in 2004, but was benched the latter half of the year because of his tendency to fumble the ball, and his below average speed. He was traded in the offseason for 1st round bust Gerard Warren. After a brief hint of a holdout, he entered camp and promptly injured his ankle. Which leads us too...
William Green. After gaining over 900 yards in his rookie season of 2002, he has had three separate off-field incidents that has jeopardized his career. Also his upright running style did not help matters. For most of the last two years, he was in Butch Davis's doghouse (no pun intended) and lost his job to Suggs. However, he has had a great camp, and with the injuries to Suggs and Droughns, look for him to start the year. However you will see all three perform this year.
Receivers are good. Dennis Northcutt is more suited as the third receiver, but he is their most reliable receiver, and he also specializes in punt and kickoff returns. Antonio Bryant is in a contract year and could potentially do very well. Bryant was banished by Bill Parcells from Dallas in a trade for now since released Quincy Morgan, has performed well in training camp. Bryant has the talent, but can be a malcontent and drop the occasional pass. The third of the group is 1st round pick (3rd overall) Braylon Edwards from Michigan. He has the flash to be a great receiver, make the acrobatic catch, but can also drop a pass due to lack of concentration. Cleveland hopes that this Michigan receiver fares better than the previous high pick from Michigan, David Terrell. Terrell ended up as a complete bust, and since released by New England.
Tight End: After Kellen "Evel Kineval" Winslow II failed in his attempt to become a motorcycle stuntman, the Browns will again have to use the two headed tight end combination of Aaron Shea and Steve Heiden. They were a surprisingly good duo, combining for 54 catches and 9 TDs in 2004. Heiden led the team in TDs in 2004 and Shea tied for second. I doubt that the production will be duplicated this year, but there isn't a significant drop off after K2.
Offensive Line: Good unit but thin. The Browns did improve at guard with the addition of Joe Andruzzi from the Patriots and at tackle of L.J. Shelton from the Cardinals. With Ryan Tucker at the other tackle position, the unit is pretty good, but there is a severe dropoff if either tackle suffers an injury.
Defense: The Browns are changing to a more 3-4 type defense after trading away their front line to the Broncos. Courtney Brown (1st overall disaster), Gerald Warren (another 1st round disaster), Mike Myers (somewhere in between Austin Powers and the Holloween character), and Ebenezer Ekuban (1st round bust from Dallas) all went to Denver. What is left is a collection of older veterans (Orpheus Roye and Jason Fisk) and rookies (Simon Fraser and David McMillan (the wife didn't come along)). Kenard Lang will man the hybrid position, a spot totally unfamiliar to him (played most of his career as a defensive tackle), but he is willing to perform because he believes in Crennell and his coaches. Look for this unit to have a hard time putting pressure on the quarterback and trouble stopping the run.
Linebackers: Weak unit. Andra Davis is their only decent linebacker in the bunch.
Secondary: 2nd round pick Sean Jones will start at strong safety. Big hitter in the mold of Roy Williams. Chris Crocker (from Chesapeake) will be in a rotation with two other players at free safety. Gary Baxter and Daylon McCutcheon will be the corners (both have been injured in the preseason) while veteran Ray Mickens and rookie Antonio Perkins will be the nickel backs. This is a new unit and will struggle with communication at times.
Special teams: Kicker Phil Dawson is very accurate (81.8%) and veteran Kyle Richardson is a little inconsistent, but is a good punter nonetheless. Northcutt, as mentioned, is a very good returner, and if he gets injured, the Browns can plug in Perkins as a returner. Perkins was outstanding as a returner at Oklahoma, setting an NCAA record for 3 punt returns for TDs in a game a couple of years ago.
Don't expect much from the Browns this year. The defense is weak, play is inconsistent, and the Browns play in a very good division (Baltimore, Cincy and Pittsburgh) in a strong conference. The key for Browns fans is are they playing better at the end of the year? If they are then this season is a somewhat successful one. A good foundation has started with GM Phil Savage and coach Romeo Crennell. They will be good in the future, but not now." Scotty Baxter, MYKwebWORLD Reporter
"Myk Aussie is the best NFL Cheerleaders interviewer Click here" Joe
"Do you want me to show you a demo/presentation/Live TV show with me as Myk Aussie? I have it all set up with a magnificent view of the Vancouver Harbor in the background! Clipstream Live Video to the web! Do you need to broadcast a sporting event, work conference etc, I have it Click here Call me to discuss 1 604 609-7736 ext 240" Myk
Thurs, Nov 11 04 "Steelers vs Browns "Shitta me pants" week 10!" Myk Aussie
From NFL Media
AFC'S OLDERST RIVALRY, clubs meet for 105th time, including 2 playoffs……

STEELERS: Club ranks No. 1 in NFL in both rush offense (160.8) & rush defense (81.0). Head coach BILL COWHER is 16-5 (.762) in career vs. Cle. Cowher is 7-1 (.875) vs. Browns' BUTCH DAVIS……Rookie QB BEN ROETHLISBERGER (No. 11) is native of Findlay, OH, 124 miles west of Cleveland. Rookie has 100.0+ pass rtg in 5 consecutive games w/ 8 TDs vs. 2 INTs in those 5. With win, sets record for most winning starts by rookie QB to begin career, surpassing MIKE KRUCZEK (Pitt., 6, 1976)……RB DUCE STALEY has 4 100s in past 5 games played. Rushed for 117 yds on 25 carries w/ 1 TD in Wk 5 meeting. RB JEROME BETTIS rushed for 149 yds vs. Phil. last week, his most since gaining 163 vs. Cle. on 11/11/01 (41 games ago). Bettis (12,631) needs 109 yds to surpass HOFer TONY DORSETT (12,739) to be NFL's 5th-leading rusher all-time…… Among players w/ 24+ catches, WR PLAXICO BURRESS has highest rec. avg. of 20.4 yards……Defense (261.6) tops in AFC. LB JAMES FARRIOR (3) tied for 2nd-most FRs by defensive player. Club tied w/ NE for AFC-high 24 sacks……

BROWNS: Club is 3-1 at home & aims for 1st 4-1 home start since 1994 when team was 11-5 & made playoffs. Offense has scored 21+ pts in 3 of past 4……In 4 home games, QB JEFF GARCIA has 7 TD passes & 2 rushing TDs vs. 3 INTs ……RBs WILLIAM GREEN & LEE SUGGS have combined for 134 & 142 rush yards in past 2 home games……In 1st 2 games w/ Browns after trade from Dallas, WR ANTONIO BRYANT has 6 catches for 69 yards (11.5 avg.). TEs AARON SHEA & STEVE HEIDEN combined for 138 receiving yards & 1 TD on 15 catches in past 2……In past 3, opponents' leading rusher averaging 62.0 yards/game. DE EBENEZER EKUBAN tied for 3rd among AFC DEs w/ 5.0 sacks. Club denying 1st down on 30.2 pct. of 3rd down tries, 2nd-best in AFC……K PHIL DAWSON has kicked club-record 26 FGs in row & is only kicker not to miss this season. Dawson has made 100 of 119 career FG tries, making him NFL's 2nd-most accurate of all-time, min. 100 FGs made. KR-WR RICHARD ALSTON recorded 93-yd KOR-TD last wk at Balt.

It is so cool to be the only Aussie that has regularly reported on the NFL for the past 5 years. Yep that's me, I have had NFL media passes at Super Bowl's, Pro Bowl's and other NFL games. Thus I am allowed into the NFL Media section and allowed to post their great reports on here. Much more coming over the coming weeks." Myk Aussie
Monday Nov 8, 04 "Moose's Cleveland Browns report" Myk Aussie
Cleveland, Team's alltime record: 421 wins, 270 losses, 13 ties. Coach: Butch
Davis. QBs: Red Garcia, Kelly Holcomb, Cade McCown. This team has never made the Super Bowl, but give Jeff Garcia a few years and they will. Davis is a good
Coach who solved one of his biggest headaches in the offseason by getting a REAL starting pivot (sorry, Kelly Holcomb). Holcomb give the Browns a very good backup and young Cade McCown, brother of the Arizona starter Josh, has the strongest
arm on the team and is considered by many inside the organization as - for now-
the QB of the future. In the backfield, William Green and Lee Suggs, from Virginia Tech give the Browns a very good 1-2-3 punch with the running game, along with scrambling QB Garcia. Kellen Winslow, Jr., the "soldier" as he calls himself looks to be, along with New York Giants 3rd string QB Eli Manning, one of the bigger (albiet injury-prone) duds in the draft.

The Browns have three other good TEs like: Aaron Shea, Steve Hei- den & Chad [Omaha Beef] Mustard, so it won't matter when Winslow follows his short-timer
father out the door. The Offensive Line and WRs could be the biggest problem.
Garcia is comfortable in the West Coast Offence but needs to get out of the pocket
to make things happen. Plus the Browns have undoubtedly the worst Offencive Coordinator in all of Pro Football in Terry Robiskie. He should be an Offencive
Backs or WRs Coach - no more. The Offencive Line is strong but not deep. They
need one or two kanakas like Detroit's Dominick Raole or Jacksonville's Vince Manuwai. The Defensive Line is held together by underrated Courtney Brown (good name to play here in Cleveland with). Joining him in QB hunting are: John Nix, a former Offensive Lineman, Orpheus Roye, a salary cut in Pittsburgh and Ebenezur Ekuban, who's name sounds like a cross between 'Shaft in Africa' and a diet shake
at Scrooge's house! The linebacking is average but fast. They overpursue a lot but that is because they are former backups.

Chris Spielman had to retire a few years ago and is now the Coach of the Arena League's Columbus Destroyers. Kevin Bentley, Sherrod Coates, Mason Unck and Andra Davis are still developing. The secondary is: Daylon McCutcheon, Rob Grifith, Earl Little (he ain't!) and Anthony Henry. The punter is Derrick Frost who is very
good as a passer and runner on trick plays and is a fine holder as well. The Special teams coverage is good but the returners need to improve for the Browns to get
back to the playoffs. K is: Phil Dawson. Dennis Northcutt is not as good playing five positions (RB/WR/KR/PR/S) as Dante Hall at Kansas City. It would help to get a Tim Dwight speed type back there with him. It would free him up to help Quincy Morgan and Andre Davis (one of three Andre Davis's on the team!) at WR. I look for the Browns to win at least 9 or 10 games and make the playoffs in a relatively weak division. The Bengals screwed up, I think, when they bench- ed Jon Kitna and won't be a factor this year." Moose
Myk and Cwoa's Cool Women Of America!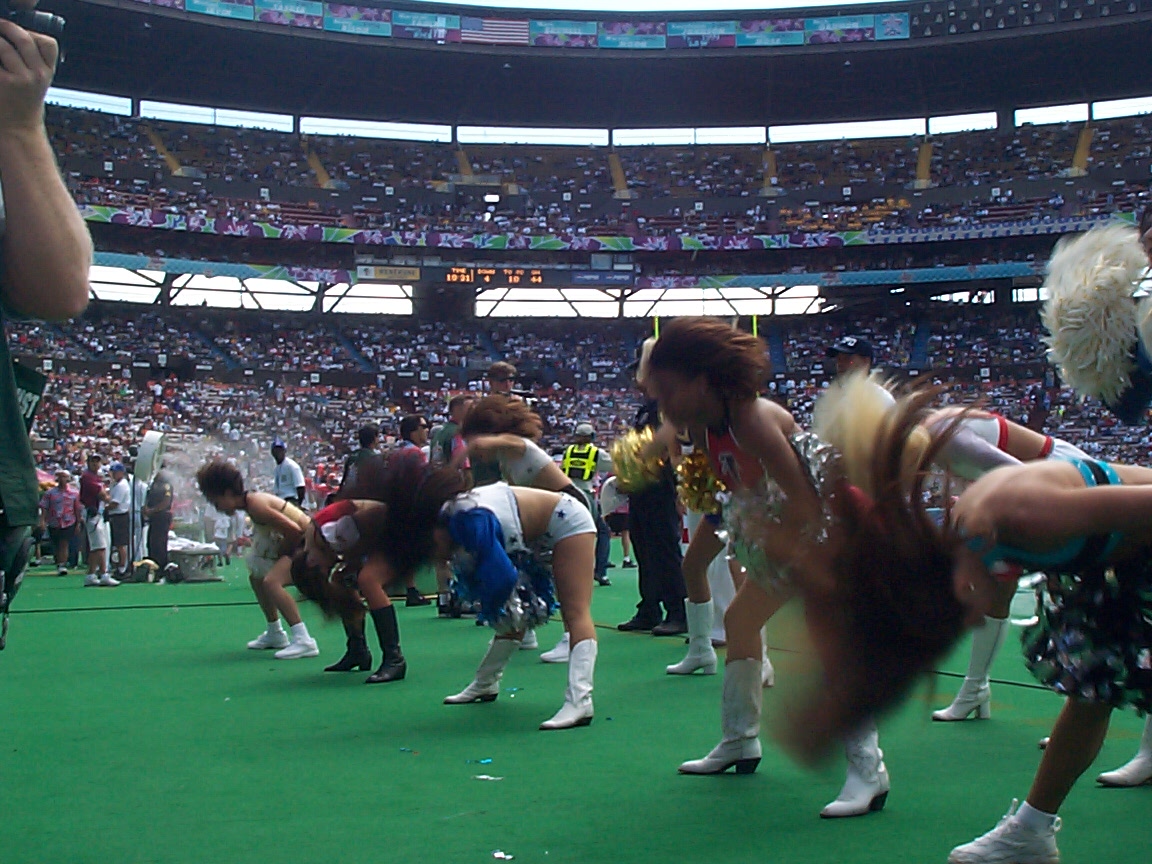 "Mates Melissa the Dallas Cowboys cheerleader in the Blue & White is my friend. The #1 Dallas Cowboys & Pro Bowl cheerleader Melissa came to Calgary for a tanning promotion not long after I met her at Pro Bowl 2002 week. I met up with Melissa briefly that day in Calgary. Melissa has been a "Myk's Mates Club member" for the past year enjoying my MYKwebTV & comedy webWORLD.
Myk and Cwoa's Click here
Lots more Myk and Cwoa's on Myk's Mates Club Click here

I hope you can join me in Mates Club for hours of Sports, Comedy, Babe TV Click here" Myk
Pro Football Weekly: NFL and Pro Football Video Picks with amazing coverage from Myk Aussie -The Pro Football Comedy Media Guy