You can hear me often talking NFL many Friday nights on Gabriel Morency's Sports Rage now on morencysports.com. Fri 8-11pm Pacific CDN/US time. If you are new to MYKwebWORLD and you want to know about what I do this is great article Click here" Myk Aussie

Check out NFL MYKwebTV NFL Super Bowl NFL Pro Bowl MYKwebTV

Updated Tues Nov 16, 10 "Sienna a star cohost on MYKwebTV at the Halloween Saints game! Saints win big over the Buc's! I tipped Saints for 8 points in week 6 in Nasty Nate's great NFL tipping contest! Recently on a Friday night I was talking NFL on Sports Rage with Gabriel Morency, Listen and watch now! My NFL week 2 bets! The Cowboys let me down in week 1 betting! Listen now. I got on The Jim Rome radio show Wed July 7 which has approx 4 million listeners and talked sports! Talking sports and often NFL on 5AA South Australian radio many weeks with Jeff Burzacott. Listen Live on the web! 153 of my 175+ Sports MYKwebTV and TotalCFLwebTV shows including lots of NFL are now on my YouTube.com Directors Channel!" Myk Aussie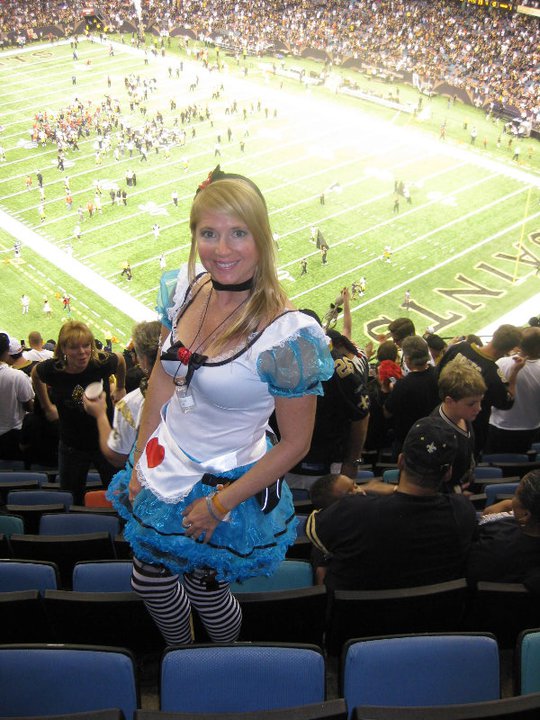 Sienna Kaczmar dressed up and looking great at the New Orleans Saints Halloween game in 2010. You can see Sienna cohosting in the 2009 CFL Grey Cup MYKwebTV shows and also 2009 Calgary Stampede MYKwebTV. For the 2009 Snow Bowl MYKwebTV with Sienna hosting the shows Click here

Check out the massive NFL webWORLD for the above stories Click here
From Sat Oct 16. My 2010 NFL week 6 picks in Nasty Nates 2010 Trans Canada Football Pool, a amazing NFL tipping contest coming Friday. I tipped Saints for 8 points in week 6 in Nasty Nate's great NFL tipping contest! Can I repeat in 2010 as the winner of this great competition, I've had a rough start. How to Play refer to Sat Sept 11 report below! Picks against the spread!

I had a terrible week 5 going 6-8 straight up. Against the spread I went a horrible 4-10. In this competition the team that I am most confident in winning, I give 14 points all the way down to the team I think will win, but am least confident about I give 1 point.

This weeks NFL picks are; 14 Pittsburgh Steelers, 13 New York Giants, 12 San Diego Chargers, 11 Chicago Bears, 10 Houston Texans, 9 Tennessee Titans, 8 New Orleans Saints, 7 Atlanta Falcons, 6 New York Jets, 5 Oakland Raiders, 4 Baltimore Ravens, 3 Washington Redskins, 2 Green Bay Packers, 1 Minnesota Vikings.

Against the spread. I used Sportsinteraction.com spreads this week. I will go for all of the above against the spread except I'll go for 1) Rams to cover the -9 against the Chargers, 2) Lions to cover the -10 against the Giants and 3) Dolphins to cover the -3.5 against the Packers. The Packers have several injuries, that game could go either way. " Myk Aussie
153 of my 175+ MYKwebTV and TotalCFLwebTV shows are now on my YouTube.com Directors Channel including lots of NFLMYKwebTV! I hope you can add some ratings and or comments to my shows and or subscribe. For my YouTube Directors Channel Click here " Myk Aussie
Mon Feb 8, 2010 he New Orleans Saints defeated the Indianapolis Colts 31-17 to win their 1st ever Super Bowl on Feb 7 in Miami!" Myk Aussie

Wow! What a great game it was. The 1st half was tight after the Saints seemed a bit nervous to start with. The Colts led at 1/2 time 10-6. The onside kick that the Saints did to start the 1/2 half was a gutsy call by coach Sean Payton that paid off for the Saints as they recovered the kick. In the dying minutes Colts star Quarterback Peyton Manning threw but Tracy Porter of the Saints read it superbly to intercept the pass and return it for a 74-yard Touchdown. This was the 4th longest Touchdown interception in Super Bowl history.

Drew Brees the star Saints Quarterback was named MVP after completing 82.1% of his passes, 32-39 for 288 yards and 2 Touchdowns. It was another great Super Bowl and a great story with the Saints winning their 1st ever Super Bowl" Myk Aussie.
Jan 15 2010 My NFL Playoff team in Nathan's (Nasty Nate) 2009 Trans Canada Football Pool, a amazing NFL tipping contest is the Saints!
By finishing 4th out of 39 at the end of the NFL regular season in this great NFL tipping contest I selected the Saints as my team for the playoffs. The Colts, Chargers and Vikings were selected by the top 3 guys. Wow, I'm in the $$$ and have bragging rights now for a year amongst the guys in this amazing NFL tipping contest.
Sun Feb 3, 08 "New Sports jersey Frames. The 1st shipment ever to Nth America. Order now! Massive amounts of NFL MYKwebTV!" Myk Aussie

Saints fans sorry about the Steelers jersey below.

New Sports Jersey Frames! The 1st shipment ever to Nth America! Order now! Available now for Christmas! They are awesome! The jersey hangs great in these High quality Sports jersey display cases. For contact and ordering Click here
I hope you can join me and Moose in the new Massive Mates Club for hours of NFL, Sports, along with Comedy Babe TV Click here" Myk Aussie
Wed Aug 9, 05 "Moose's extensive Saints 06 preview!" Myk Aussie
From Moose "New Orlean Saints, 2005 Record: 3-13-0. Happy Fortieth B-Day! New Coacd a 1st Yr. Pro Sean Payton another former Ar.FL player -QB. One of Five teams to have not yet made a Super Bowl QBs: Drew Brees San Diego, Todd Bouman newcomer: Jamie Martin (Four stints with the Rams franchise in 12 yrs. Other Newcomers to watch: RB Reggie Bush NCAA USC, RB Mike Bennett Minnesota, Centre Jeff Faine Cleveland Cadavers, LB Scott Fujita Dallas, FS Roman Harper, Safety Bryan Scott Atlanta, LB Anthony Simmons Seattle.

Outlook: Great compared to last year! Katrina caused these guys to become 'Travelin' Saints, journeying from the Jersey Meadowlands to Shreveport to Baton Rouge to San Antonio to play their 'home' games last year. Then Commissioner Paul Tagliabue (due to retire any day now) toured the Super Dome and talked to structural engineers who say it's ready to go by the Saints first home game, this Sept. '06. In the Offseason the Saints unloaded poor Coach Jim Haslett, who did everything in his power to keep this storm ravaged team competitive through the year. QB Aaron Brooks the worst starter in the division and many more hangers on who just didn't play with any gusto down the stretch of what had to be the most horrifying season an NFL team ever had to endure. The Saints kept QB Todd Bouman who started the last three games over Brooks but with Drew Brees from San Diego and vet Jamie Martin from Saint Louis both of whom had career years for their respective teams last year. Bouman will probably just be third string this go around. Other QB from last year, Ar.FL'r Adrian McPherson is moving in behind former CFL-USA'r Joe Horn at WR.

Other newcomers the Saints signed as free agents are: RB Bennett, Minnesota who will be the 2nd or 3rd RB behind either Duece McAlister or rookie Reggie Bush who should be Rookie-of-the-Year at either RB, WR or SB. Former Ar.FL'r Chris Horn who tore it up in NFL E and is from K.C. joins TEs Ernie Conwell and Shad Meier, from Tennessee and WRs: Mike Lewis another former Ar.FL'r and Nate Poole who was injured all last season.

The rest of the Offence is set with Faine joining rookie Jari Evans and vets: Augie Hoffman, Chad Setterstrom, Jammal Brown and Jermaine Mayberry on the Offencive Line. The Defencive Line is one of the best in the division and includes: Es Tony Bryant, Will (Gettin' jiggy with it) Smith and Charles Grant. The interrior D-Linmen are: John Sullivan, Brian Young, Rod Leisle and Howard Green. The LBing corps is the strength of the Defence with: Fujita, Colby Bockwoldt, Russ Rabe, Courtney Watson and Jamie Allen. Keep an eye especially on Fujita who was great with Dallas and K.C. The secondary is the third best in the NFC South after Carolina and Atlanta: Fred Booker, Bryan Scott, Jason Craft, Steve Gleason, Omar Stoutmire and Fred Thomas. They are young, can hit and cover pretty well. Their progress during the season will determine if and how far these new Saints will go in the playoffs. Outlook: Nowhere to go but up. New Coach Payton will adjust the Offence and it helps to have a stud like Bush onboard.

Other Offencive players that will contribute this year include KR/RB/WR Aaron Stecker and FB Mike Carney. Their time will depend on how much WR Bush plays. He could play there plenty, as well as RB in Payton's motion Offence. Payton almost got hired by Da Raidahs several years ago, but let Norv Turner take the beating out there the last couple years while putting up with Parcells temper and bad breath in Big 'D'. It was a wise move. With the talent on hand, the Saints will be the surprise team of the League. Brees and Martin were outstanding pickups at the pivot! Bush should be Rookie-of-the-Year, and gain 1,500-2,000 all purpose yards this year!

Horn should rebound as Brooks gave up on him last year and he had an NFL career low 37 catches. With the addition of McPherson and the other Horn, Chris to the WR corps, and with Poole back, the Saints have no excuse in not leading this division in passes and catches. Many will go to Bush also. If the Defence, particularly, and the Special Teams lead by K John Carney who Myk Aussie interviewed as a Charger and Canadian H/P/KOs Mitch Berger (Kamloops, B.C.) at least match last years totals, the Saints will cruise into the playoffs with a 9-7-0 or 10-6-0 mark and Payton may get Coach of the Year. Predicted Finish: Second NFC South, ahead of Atlanta and Tampa Bay." Moose
"If you would like to add your comments about how you think the Saints will go in 06 or comment on Moose's preview above please email me myk@mykaussie.com and I will add your report.
You can hear Moose weekly on Gabriel Morency's SportsRage Montreal Team 990 AM sports radio and on the Internet talking NFL Footy many Friday nights around 1am Eastern US and CDN time. I'm on late around 1.30-2am EST Friday or Monday nights as well talking sports in a comedy/crazy style. I think Gabriel Morency is the best sports radio guy in the World. To me he's like the Howard Stern of sports. I'm very confident you will like his show. To listen Click here

Massive amounts of NFL TV! Several weeks ago I finished the New Massive Mates Club webWORLD. I hope you can join me in Mates Club for hours of NFL Sports, Comedy, Babe TV, your existing email link will get you to the new Mates Club Massive Menu or Click here" Myk
Mon, June 19 06 "Former Saint Ricky Williams has a Huge last quarter to help the Toronto Argonauts defeat the Hamilton Tiger-Cats 27 to 17 in Rd 1 of the CFL, Canadian Football League! Ricky Williams on MYKwebTV! Mates Club NFL TV is Massive!" Myk Aussie

Ricky's 1st official game in the CFL was on Saturday in Toronto at the Skydome where the MLB Blue Jays also play. Ricky had a slow start to the game but his last quarter was very good. He ended up with 18 carries for 97 yards his longest being a 35 yard run in the last quarter. He also caught 2 passes for 24 yards which included a 18 yard run. I am very happy that Ricky had a great end to his 1st game after he struggled to break clear in the 1st half. He looked very happy in the last quarter and after the game as he chatted to his teammates on the sidelines.

One of my most popular MYKwebTV shows ever features Ricky Williams who is now playing at the Toronto Argonauts! For unreal MYKwebTV as I film Ricky Williams being presented with the MVP Award from a recent NFL Pro Bowl check out the small Java video TV screen on the side menu or for Full Screen in Media Player Click here

Massive amounts of NFL TV! Three weeks ago I finished the New Massive Mates Club webWORLD. I hope you can join me in Mates Club for hours of NFL Sports, Comedy, Babe TV, your existing email link will get you to the new Mates Club Massive Menu or Click here" Myk
Updated Sun, Sept 4th 05 "Moose's NFL New Orlean Saints 05 preview!" Myk
It's a disastrous situation at the moment in New Orleans. Very unfortunate news with 1,000's possibly dead from the cyclone storms. I wish all Saint's people the best in these hard times. San Antonia is the place it is being reported that the Saints will base themselves this NFL 05 season." Myk
From Moose " New Orlean Saints (Ar.FL team owned: New Orlean V's) Coach: Jim Haslett. QBs: Todd Bouman, Adrian McPherson, Aaron Brooks [for how much longer?] Other Key Players: WRs: Joe Horn (CFL), Donte Stallworth, Olm: Jermaine Mayberry, Wayne Gandy, Spencer Folau, DLm: Willie Whitehead (CFL), Will (Getting' Jiggy with it) Smith, Charles and Howard Grant (no relations), K Myk's buddy, John Carney, P/H/KOs Mitch Berger (Canadian), LBs: Derrick Rogers and Colby Bockwoldt, ST'r/FB/RB, ageless Fred McAfee, who came to Saints with the Louisiana Purchase (thanks, Tom Jefferson!), and is the oldest player to ever be a first time Pro Bowler (as in Hawai'I, not rolling black balls down an alley lane). It's not easy being a Saint's fan. But Tom Benson(boogie) has wasted too much time and money on his other 'pet' project the last couple years, his Ar.FL teams, which has made the playoffs once and won twenty games in 2 yrs.
Benson must make a hard decision this year and possible can both QB (?) Brooks, Mike Vick's second cousin and Coach Jim Haslett, who has been snowed under by him. Anybody with half a brain, especially after that backward pass last year that STRONGARMED Bouman or former Arena League (not N.O.'s) star Mc- Pherson are better QBs than Brooks, who is alternately very good or very bad. Bouman, who was traded here several years ago when he could win the job in his home town, Minneapolis, (oh yea. The Vikings had some kid named Culpepper), and he's rotted on the pines tha last few years as the waning fans have screamed for Brooks head, after one boneheaded play after another. Brooks had a helluva playoff games four years ago, ousting one of the alltime greats, Kurtis Eugene Warner and the Lambs, er, ah, Rams and has done virtually nothing since. Thus Haslett, who's Aint's slipped to 4-8 last year before rebounding to finish 8-8 and save Coach Jim's job for one more try this season.

Haslett is a likable guy, but boy, does he know zilch about picking a QB! Just think, they HAD HOMETOWNER Jake Delhomme once! CAN ANYBODY BELIEVE THEY STARTED MR. Backward pass over JAKE (the cajan snake) DELHOMME? Unfriggin' real… Ex-Arena League star Michael Lewis is the best Kick (but not Punt returner) in the NFC. Dante Hall is the best in the League! (And AFC. and Myk thinks Vick is the most exciting player in the League and that reject Randy Moss is the best WR in the League? That's unreal too…) The Saints will not finish with a winning record nor will they make the playoffs this year. And if Brooks goes more than five starts, Haslett is finished too. It's too bad if he's that stubborn. But it's hard to imagine Benson letting this team get bad again because of two individuals.

The Defence, lead by ex-CFL'r from Winnipeg, Rushend Whitehead is solid and Haslett is a good Defencive Coach. And the Special Teams, with Berger, Lewis and Carney can win three games by itself. But aside from ex-CFL'r Horn and His cellphones in the endzone and the great backfield of RBs Deuce McAlister and Aaron Stecker (Scotland – NFLE and Super Bowl KR for the Buccs a couple years Ago), the Saints only have parts of good elements here an there. Additions include:
ex-Titan Super Bowl'r TE Shad Meier (cousin of Jacksonville's Rob, the canuck), LB Levar Fisher, CB Jimmy Williams and S Dwight Smith, won't be enough. Predicted finish: Fourth in NFC South, 6-10-0. Haslett to be fired and Brooks to be cut once season is over. A fresh start for the Saints in '06!" Moose
"Myk Aussie is the best NFL Cheerleaders interviewer Click here" Joe
"Do you want me to show you a demo/presentation/Live TV show with me as Myk Aussie? I have it all set up with a magnificent view of the Vancouver Harbor in the background! Clipstream Live Video to the web! Do you need to broadcast a sporting event, work conference etc, I have it Click here Call me to discuss 1 604 609-7736 ext 240" Myk
Thurs, Nov 11 04 "Chiefs vs Saints week 10!" Myk Aussie
From NFL Media
CHIEFS: Head coach DICK VERMEIL is 9-2 (.818) in career vs. Saints……QB TRENT GREEN threw for 369 yards last week & needs 1 more 300-yd game to surpass BILL KENNEY (15) for most by KC QB. Green has posted passer rating of 100.0+ in 4 games in row & has compiled 99.0+ passer rating in each of past 3 on road. Club has 28 pass plays of 20+ yards, 7th-most in NFL……In 4 road games, RB PRIEST HOLMES has 410 rush yards (102.5 avg.) & 6 rush TDs. Holmes (892) is NFL's leading rusher & has 14 more points (90) than next-closest player, including kickers. Has 15 TDs (14 rush, 1 rec.) & next-closest AFC player has 8. RB LARRY JOHNSON had career-high 10 carries last week……WR EDDIE KENNISON (104) & TE TONY GONZALEZ (123) both registered 100+ rec. yards last week. Gonzalez (52) is tied with HOFer DAVE CASPER for 4th-most TD catches by TE in league history & needs 3 TDs to surpass WESLEY WALLS (54) for 3rd-most…...S ERIC WARFIELD (4) tied for 4th-most INTs in AFC……

SAINTS: Play 3rd of 4 games in row vs. AFC West (W 31-26 at Oak; L 43-17 at SD; vs. Den, 11/21)……Head coach JIM HASLETT has 38 wins & needs 2 to become 2nd Saint coach with 40 (JIM MORA, 93)……QB AARON BROOKS has 7 career 300-yard passing games, 2nd-most in club history (ARCHIE MANNING, 9). Has thrown 4 INTs in 281 atts for 1.4 INT pct, 4th-best among starters. Has 1,177 career completions & needs 26 & to pass BOBBY HEBERT (1,202) for 2nd-most in club annals……RB DEUCE MC ALLISTER rushed for 63 yards last week, giving him 3,463 career, passing RUEBEN MAYES (3,408) for 3rd-most in team history. Has club-best 18 career 100-yd rush games……WR JOE HORN spent 1st 4 NFL seasons with KC (1996-99), posting 53 receptions for 879 yds. Has 392 catches & 38 TDs with NO & needs 8 catches to become 2nd player in club annals with 400 (ERIC MARTIN, 532) & 2 TDs to become 3rd with 40 (DALTON HILLIARD, 53; Martin, 48). WR JEROME PATHON avgs. career-best 18.1 yds per catch (17 for 307)……DE CHARLES GRANT has 7.5 sacks & needs 2.5 for 2nd 10.0-sack year in row……K JOHN CARNEY has scored 1,490 points & needs 10 for 1,500.

It is so cool to be the only Aussie that has regularly reported on the NFL for the past 5 years. Yep that's me, I have had NFL media passes at Super Bowl's, Pro Bowl's and other NFL games. Thus I am allowed into the NFL Media section and allowed to post their great reports on here. Much more coming over the coming weeks." Myk Aussie
August 28, 04 "Moose's New Orlean Saints NFL 04 Preview!" Myk Aussie

New Orlean Saints, NFC South. Team's all time record: Coach: Jim Haslett. QBs: Aaron Brooks, Todd Bouman, T.J. O'Sullivan. New acquisitions: CB Jason Craft, WR Germaine Crowell, FB Sam Gash, G Jamar Nesbit, RB Aaron Stecker, DL Bryant Young. "No cell phone celebrations in the end zone this season, Saints. Yours truly, Paul Tag."
Aside from the theatrics, ex-CFL star Joe Horn has been to five consecutive Pro Bowls, four of which I saw. Also I've talked to WR/KR Mike Lewis, Tommy Maddox old buddy from New Jersey in the Arena League. He and Horn teamed up for one of the most entertaining and bizarre plays in NFL history last season. How did they know which end zone goal post to put cell phone at?! No matter, the same result will befall hard-working Jim Haslett's crew this year; No playoff appearance, despite one of the better 'O' Line's in all Pro Footie!

Simply put Aaron Brooks, Mike Vick's 2nd cousin isn't a big game pivot. His 24 TDs - 8 INTs ratio is great. Even for Arena Football! But he disappears in big games better than anyone this side of Peyton Manning. Ironic in that Manning's daddy stuck up the joint in the same city (28-72-1 career mark). he Saints are headed for a .500 season with an 8-8-0 mark just good enough to get Brooks and Haslett their walking papers. unless Bouman can beat Brooks out. Then they might scrape into the playoffs at 9-7-0 and save Haslett's Coaching job!
Pro Football Weekly: NFL and Pro Football Video Picks with amazing coverage from Myk Aussie -The Pro Football Comedy Media Guy
Myk and Cwoa's Click here
Lots more Myk and Cwoa's on Myk's Mates Club Click here

"Myk's Mates Club Total-CFL MYKwebTV"is massive Invest In Inet CFL MYKwebTV! Myk's Mates Club Click here