You can also join me & me MADNess Mates every Fridee/Saturdee on Gabriel Morency's "SportsRage" The World Champs Inet & Montreal Radio, Fri 10.45pm Pacific CDN/US time, Sat 5.45pm EST Aussie time. I often talk NFL footy Click here " Myk Aussie

*****Hope you can tell your mates about Mates Club webWORLD? Invest In Mates Club TV, HARDBall Columns and Sexy Sports pic's! Mates Club Click here " Myk *****

Sat Dec 31, "Happy New Year! My week 17 tips! Moose's NFL week 17, Playoffs preview!" Myk
My week 17 tips! Even though the Chargers are favorites I'm going with the Broncos over Chargers. Seems Bronco's will be resting some players but I can't pick against them. Giants over Raiders. Chiefs over Bengals in what could be the game of the round. Chiefs are a chance for the playoffs but thery need a Steelers loss against the Lions, Hmmm can't see that happening and a Chargers loss or tie apparently. Colts over Cardinals. Ravens over Brown Shitta Me Pants. Bills over Jets, just. Panthers over the Falcons. Important game for the Panthers, they control their own playoff destiny, a win and they are in. Steelers over Lions and the Steelers are in as well.

Pats over Dolphin Mammals. I can't see Bill the Super coach resting too many players. I just can't agree with the way players are rested, maybe the QB but I think some teams rest up to much. Wining momentum is very important going into the playoffs. Tampon Bay Buc's over Saints. Again the Buc's control their own destiny, a win and they are in. 49ers over Texans. Bears over Vikings but this could go either way. Vikings are out and the Bears secure a week off. Vikings are favoured so maybe the experts believe the Bears will rest some of their stars. Jags over Tits. What a great year the Jags have had making the playoffs.

Redskins over Eagles the now #1 Bird Flu's. Redskins win and they are in, amazing! Scotty a MYKwebWORLD reporter will be very happy if the Redskins make the playoffs and I'm sure Cwoa Tina the former Redskins Pro Bowl cheerleader and MYKwebTV star will be as well. Cowboys over New Zealand Ram Sheep. Cowboys are a still a chance but the they need some luck. Seahawks over Packers but Packers are favoured so maybe Mike the coach is resting players. Have a great NFL weekend, games on Saturday and Sunday Yeh!" Myk Aussie
From Moose

Playoff Teams - AFC
East - New England (clinched)
North - Cincinnati (clinched)
South (?) - Indianapolis [despite now losing two in a row], 13-2, clinched.
West - Denver (clinched) "You little Rippa! Giddy Up! What a great year! Good luck Bronco's. I'm really hoping/putting energy out there/praying that they keep it going in the Playoffs!" Myk Aussie
Wildcards: Jacksonville In; Kansas City or Pittsburgh (Moose's Pick: K.C.)
Playoff Teams - NFC
(L)East - N.Y. Giants (who have no QB and should be gone in 1st round)
North - Chicago (who switched QBs sucessfully) (clinched)
South - Carolina (or Tampa) , whoever wins this weekend Moose's Pick: Carolina
West - Seattle, who could make their first Super Bowl
Wildcards: Dallas &/or Washington (Minnesota and Atlanta gone)
Week 17 Picks:
San Diego OVER Denver, Oakland OVER N.Y. Giants, Buffalo OVER N.Y.Jets, Carolina OVER Atlanta
Detroit OVER Pittsburgh, Arizona OVER Indianapolis, Seattle OVER Green Bay (sorry, Brett!)
New England OVER Miami, Kansas City OVER Cincinnati, Baltimore OVER Cleveland
Saints OVER Tampa Bay, Houston OVER San Francisco, Jacksonville OVER Tennessee
Minnesota OVER Chicago, Philadelphia OVER Washington,
Saint Louis / Dallas, first tie of the year, mark it down!" Moose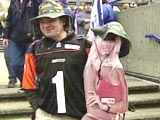 "New Cwoc Pammy and the real Pamela Grey Cup 05 Mates Club TV Click here" Myk

"If you are here somehow Free I hope you decide to join us regularly in Mates Club Click here" Myk
Updated Tues, Dec 27 05 "I hope you had a great Christmas, no doubt watching the great NFL games on TV! I crash and burn in week 16 tipping! Colts loose for the 1st time last week and James Dungy commits suicide! Aussie AFL Geelong star Ben Graham was on ABC's Monday Night Footy's last night for the Jets!" Myk Aussie
Updated Tues Dec 27. I tip my worse ever for the year a horrid 7 out of 16 to go to 167 straight up for the year.

Week 16 results: Monday Night it was the Pat's over the Jets 31 to 21. Former AFL Geelong Aussie punter Ben Graham now with the Jets punted well in very windy conditions, 4 punts for a average of 43.5 yards. One was a rippa with the strong wind of 59 yards. It was the last time ABC will produce Monday Night Footy is seems after 35 years. I had the pleasure of attending a great Monday Night Footy game a few years back in Minnesota as it was the Vikings taking on the Packers. I definitely need to reload this MYKwebTV show to Mates Club MYKwebTV as it was a fantastic night and a lot of fun. Opinion has it this footage is some of the best in my movie "Football Fan Frenzy" which is now available for select viewing by joining Myk's Mates Club Click here and more details Click here
Lions over Saints 13 to 12. Jags over Texans 38-20. Chiefs over Chargers 20 to 7. Chiefs are still in the running for a AFC Wild Card but the Chargers are now unfortunately gone for the year in my favourite NFC Division the AFC West. 49ers amazingly over the New Zealand Ram Sheep 24 to 20. Seems the 49ers decided to get serious for once and keep off the nest. Tampon Bay Buc's in OT over Falcons 27 to 24. Bills crazily over the Bengals 37 to 27. Cowboys over Panthers 24 to 20 and they are still a chance for the playoffs. Redskins shock the Giants 35 to 20 and are also alive for a NFC Wild Card Playoff berth. Steelers hammer the Brown Shitta Me Pants 41 to 0. Dolphin Mammals over Tit's 24 to 10. Former Aussie holiday beach bum but Champ running back Ricky Williams stars for the Dolphins.

Seahawks over Colts 28 to 13 and the Seahawks finish top in the NFC. Colts rested some star players. It now seems true that James Dungy the 18 year old son of Colts coach Tony Dungy did away with his life. The reports now coming out say he was having some depression problems back in October. So James had a girlfriend, obviously he had money so what could have been the reason why he took his own life? The Colts lost there 1st game of the year last weekend and then James commits suicide a few days later. Was that the reason? I suppose we will never know but I believe someone will one day find out why. James's funeral was today.

I definitely know that people that have crossed over to the "Energy/Spiritual/Heavenly World" (which is the best way I can think of of explaining afterlife) can see and some even use the Internet. Remember the film Ghost with Patrick Swayze as Sam Wheat and Cwoa Demi Moore as Molly Jensen? Sam now in the "Energy/Spiritual/Heavenly World" well Sam gets on the keyboard to scare the crap out of the guy that arranged his murder. It's true, this happens! Maybe James will contact someone via the web to explain why he didn't stay around to see the Colts in this years playoffs!

I'm the HARDBall NFL Aussie Guy that is not afraid to say what I think and definitely not now but I love the NFL and am 95% +ve promoting this great game to the World! There is two significant reasons why I'm going HARDBall on all MYKwebWORLD sections and especially "Mates Club" as well from now on. One of them is ABC in Australia get better NFL Super Bowl Media passes than me. Yeh they do have a larger viewership but it's also a load of crap as they do a report like once a year on the NFL. I remember the guy ABC Australia sent to the Super Bowl in San Diego didn't even know who the starting QB for the Tampon Bay Buc's was! Can you believe that yet he had a better seat than me and Moose. Worse still he treated me like a piece of dog turd the snobby Aussie Media "Prick with Ears". I felt like embarrassing him and his "No NFL Knowledge" in front of all the media guys in the magnificent Super Bowl media centre but I didn't as I felt privileged in many ways to be at my 1st Super Bowl but now I wish I did embarrass the loser. At least he could have read up about the Super Bowl on the long plane ride over! OK I'm loosing it we're going to .... Mates Club now for more on this and other Fighting stories. Click here

Cardinals over the Eagles 27 to 21. Thus the Eagles now have the title of the #1 Bird Flu's for this years NFL season. That is amazing they nearly win the Super Bowl last year and now they can't even beat The Cardinals. You gotta love the NFL though! Bronco's hammer the Raiders 22 to 3. You little rippa my #1 NFL team finishes 2nd in the AFC and gets the bye and then home field advantage. Go you Broncos! I think James Dungy a knowledgeable NFL man may now be a little worried about the Bronco's challenging the Colts in the AFC. The Colts have definitely had it over the Broncos of late in the playoffs thus the Colts are still favored to go to the Super Bowl for the AFC. If it's not the Bronco's I hope it is the Blue and white Colts representing the stronger AFC.
Bears over Packers 24 to 17 in a great game on Christmas day. Ravens over Vikings apparent Bad Boat Boys 30 to 23 on Christmas night. Disappointing as I like the Vikings and they are now out of the NFC playoff race. To the ABC Aussie Loser Media Guy it was Brad Johnson who was the victorious Tampon Bay Bucs QB in the San Diego Super Bowl. Brad had a great year at QB for the Vikings after replacing the injured and now in trouble Duante Culpepper. Duante was apparently one of the leaders on the famous Vikings apparent "Sex in public" Boat cruise and he and three of his Vikings mates are now in some trouble with the Cops.

From Mon Dec 26, Tonight it's the Pats vs the Jets. I'll be looking forward to watching Aussie AFL Geelong Champ Ben Graham punt for the Jets. Check out the chat I had with a Benny Graham recently at the US Aussie Rules Footy Nationals in Milwaukee. Click here " Myk Aussie

"Note: Myk Aussie loves the NFL and simply has some fun with some of the names of the teams along with bringing some comedy to his reports that many American's seem to enjoy." Andrew Harrison, MYKwebWORLD Manager.

"If you are here somehow Free I hope you decide to join us regularly in Mates Club Click here" Myk
Fri, Dec 23 05 "Merry Christmas to all NFL fans! Week 16 tips and report! Colts coach's son dies!" Myk Aussie
I hope you all have a great Christmas. We get to watch NFL Saturday, Sunday and Monday this weekend, Yeh! I know what I will be doing Saturday, watching NFL all day! I'll be keeping well clear of the rat race at the shopping centers here in Calgary with all the Mon - Fri 9-5er workers rushing around doing that last bit of Christmas shopping. It's called "shopping stress" that I don't want to be a part of at all.

NFL week 16 tips. I hope the Saints can get a much needed win over the horrid again in 05 Lions. Jags over the Texans. Jags have gone along very nicely this year and now look as though they will make the playoffs with a AFC wild card. I enjoyed the Super Bowl week immensely last year in Jacksonville while many other media guys complained like crazy at their "way out of town" accommodation and the "smallest city" ever to host a Super Bowl. Why did I enjoy it, mainly because I planned the week in a "Outback Aussie" type way. Check out the 1st Super Bowl MYKwebTV show if you don't get my drift. Click here

Chargers over Chiefs in possibly the game of the weekend. Amazingly the Chargers will struggle to get a playoff birth even with a win against a AFC West divisional rival. I rate the Chargers a very good team and if they do make the playoffs they are a big chance. New Zealand Ram's Sheep over the 49ers. As I said last week the 49ers have been playing as though they have been on the nest all year. If that is the case hopefully it was with members of the opposite sex their in San Francisco.

Tampon Bay Buc's over the Falcons, just. I've been thinking about this game a lot and I know Falcons Champ QB and Running Back Michael Vick has the ability to take total control of this game and get the Falcons a win. But seeing it is in Tampon Bay I'm sticking with the Tampon Bay Boys. It's a Huge game with playoff outcomes written all over it. Bengals over the very average Bills. What a great year the Bengals have had, about time!

Panthers over the Cowboys. Seems as though the Cowboys have blown their playoff chances with 3 loses in the past 4 weeks. Very disappointing as I have been a Big fan of the Cowboys this year especially with Aussie punter Mat McBriar playing. Panthers should win and hold on to top spot in the NFC South as the Tampon Boys are only one game behind. Giants over Redskins. I'm not a huge Giants fan but it seems they will hold onto top spot in the NFC East. Black and Yellow Steelers over the Brown Shitta me Pants and that's all I got to say about that game.

Dolphin Mammals over the Tit's. Colts over the Seahawks. Very sad news this week as James Dungy the 18 year old son of Colts coach Tony Dungy died, apparently deciding himself to not be on this planet anymore. Strange as I remember seeing James on the sidelines on TV awhile back enjoying footy and life. Apparently not! Sad news but I'm sure James will still be following the Colts from wherever he is now in his new spiritual life. This game is now even more interesting, will the Colts respond even more with their coach who it is reported will be absent and get a win against one of the strongest NFC teams or will this effect them in a somber way and they loose. I think the Colts will respond as they are a way better team than the Seahawks.

Eagle Bird Flu's over the Cardinal Bird Flu's. Wow it's the battle of the diseased bird flu's this weekend. The looser will end up with my #1 Bird Flu title in 05! Bronco's over Raiders. I'm hoping my #1 team the Bronco's can continue on their winning way and get the home playoff game or games.

On Christmas day it should be the Bears over the horrid Packers. Vikings and their apparent Bad Boat Boys over the Ravens. I'm hoping the Vikings get a win and keep their play off chances alive. On Monday night it' should be the in form reigning Super Bowl Champs the Pat's over the very average Jets. Have a great Christmas weekend." Myk Aussie

"If you are here somehow Free I hope you decide to join us regularly in Mates Club Click here" Myk

Updated Thurs, Dec 22 05 "Week 16 tips and report coming Friday! Ravens hammer the horrid Packers! Colts defeated for the 1st time in 05! Broncos continue winning! I crashed somewhat in this weeks tipping but luckily I did not crash yesterday! Cwoa Sue!" Myk Aussie

ABC's Monday Night Footy it was Ravens 48 to Packers 3. Wow! I go to 10 out of 15 straight up in Rd 15 for 160 total for the year. Sue in Milwaukee a fan of my NFL column and MYKwebTV loved my Tampon Bay comment below.
"just like a tampon shuts us out"......Now I'll be thinking of that all day and cracking up and people will keep asking me what's so funny." Sue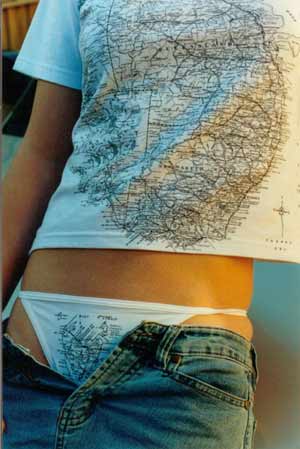 Cwoa Sue's Map of Tassie. For Sue on Myk and Mates Club Cwoa's Click here
From Mon Dec 19, I tip a average 9 out of 15 so far this week and advance to 159 straight up for the year. As I left Vancouver for Calgary I had the pleasure of arriving in Kamloops BC Canada at 5pm Saturday and got a hotel room especially to watched my #1 team the Bronco's take on the Buffalo Bills. The Bills got off to a great start with a touchdown but the Bronco's just kept at them to end up with a great win, 28 to 17. Bronco's have now set themselves up nicely for possible home games in the playoffs. The Big result this weekend was the Chargers defeating the Colts 26 to 17. A lose is probably a good thing for the Colts while the Chargers are definitely a very good team again this year after a slower start. Chargers should make the playoffs.

Other games included the Brown Shitta me Pants defeating the Raiders 9 to 7. The reigning Super Bowl Champs the Pats shutting out the Tampon Bay Buc's 28 to 0 just like a Tampon shuts us out. Giants defeating the Chiefs in New York 27 to 17. Jag's just defeating the 49ers 10 to 9. The Eagle Bird Flus defeat the New Zealand Rams Sheep 17 to 16. Texans get a win over the Cardinal Bird Flu's 30 to 19. Seahawks 28 over the Tits 24. Fanny Anny Thraxy's Steelers hammer the Vik's Bad Boat Boys 18 to 3. Dolphin Mammals defeat the Jets 28 to 24. Bengals hammer the Lions 41 to 17. Redskins upset one of my now favorite NFC teams the Cowboys 35 to 7.

The Bears defeat the Falcons 16 to 3 who now seen infected somewhat with the Bird Flu as well and may miss the playoffs. The Panthers continue to show they are NFC Super Bowl contenders with a 27 to 10 win over the Saints and that's all I got to say because I was on the road yesterday racing to Calgary through the magnificent mountains and thus missed watching the games. It was one the best drives I have had on this Wild road as it was sunny all the way.

Check out the great drive but in reverse in me Probe racing through the magnificent Canadian Rocky mountains! I was the crazy Aussie as I left the Massive Dump of White Stuff in Calgary and headed to Kelowna to web Sports Cast the "Ski 2 Sea". 15 cars and a bus in the ditch & a rolled over semi. Enjoy this great drive on MYKwebTV! Click here " Myk Aussie
"If you are here somehow Free I hope you decide to join us regularly in Mates Club Click here" Myk

Updated Sat, Dec 17 05 "Vikings apparent Boat Bad Boy players in trouble! My NFL week 15 picks and report! Cwoc Fanny Anny Thraxy a Huge Steeler fan! " Myk Aussie


Cwoc Fanny Anny Thraxy is a Huge Steelers fan. She will be hoping the Steelers can win this weekend. Anny was my main web sportscast co-host in the 2002 CFL season and again in 2003. Me and Fanny Anny had some amazing times at the CFL in Edmonton and Calgary along with great Rodeo events. Check out Cwoc Fanny Anny Thraxy on MYKwebTV. Click here

Vikings players charged! Well it's happened again. Because people are famous in the US they seem to not be allowed to get away with anything at all these days. Now I don't know what happened on the famous Vikings Boat cruise that apparently became some sexual activity in front of others but I bet if Champ Vikings QB Duante Culpepper and his mates weren't famous no charges would have been Laid but apparently some Cwoa's or were they Not Cwoa's not sure on that one, got Laid with spectators. Maybe these Cwoa's/Not Cwoa's just wanted to feel famous like the players and have spectators watch them perform! Where's Tommy Lee the famous boat filmer and his camera when we need him?
Posted Thurs Dec 16, My NFL week 15 picks and report! I finished week 14 at a very lucky 13 out of 16 straight up and 150 for the year. Wow! That's my best tipping ever over the past 7 NFL seasons.

Pats over the Tampon Bay Buc's especially seeing it is in New England. The Florida Tampon Bay guys may be a bit shocked at the cold especially as their are storms out East at the moment. Giants over Chiefs again only because it is in New York. I would not be at all surprised if the Chiefs win this won but seeing I'm a Bronco #1 I can't pick the Chiefs. Bronco's over Gabriel Morency's favorite team the Bills. I believe the Bronco's can continue winning and be the Colts main challenger in the AFC for the Super Bowl. I hope so as I aim to be in Detroit.

Vikings over the Steelers in possibly my roughie of the week. Why? Because it's in Minnesota and I have liked the Vikings ever since I reported on a Monday Night Football game against the Packers several years ago in Minnesota. Also as many of you know I'm no huge fan of Black and Yellow teams. Steeler fans it's the way it is for me, it goes back to my Aussie Rules Footy Blue and White South Gawler Lions vs the Black and Yellow Gawler Central Tigers days. Lets hope my star co host of many MYKwebTV and Total-CFLwebTV shows Cwoc Fanny Anny Thraxy doesn't read this as she loves the Black and Yellow Steelers.

Colts over Chargers. Hmm I should go for the Chargers but not quite. Colts seem to really want that undefeated record to continue but the Chargers need to keep winning to get a AFC Wild card. Jags over the horrid 49ers. I should call them the 69ers as they have been playing all year as if they have been "on the nest" all week. Looks like the players have no energy left for game day or is it not enough ability? It's a combination I believe! Football needs to be #1 to the 49er players as they are playing for a great traditional club. Maybe it is true what I heard that there are lots of single Cwoa's, Cool Women Of America in San Fran seeing there are many poofs there.
Seahawks over the very average Tit's. As I said on SportsRage with Gabriel Morency this week I'm not sure the Seahawks are as good as it appears in the weaker NFC. I rate the Seahawks behind 5 or 6 AFC teams but hey I've been here in Vancouver the past two years and real close to Billy's rich Seattle city so I do hope they go well in the playoffs. It's about time they did!
Oh no it's a toss of the coin on this one as it's the Cardinal Bird Flu's against the Texans in Houston. Came up Heads so I'll go for the Texans at home. I think Wayne Gretzky's Phoenix Coyote's NHL team has more fans than the Cardinals. Maybe Wayne should be at the Cardinals as a motivational speaker! Dolphin Mammals over the Jets in Miami. I wish I was in Miami this weekend on the beach with me Canuck mate Darryl and all his Cwoa's. Also to see Jets Aussie punter Ben Graham play and interview Ricky Williams about his Aussie trip. But I need to save me pennies for Detroit. Ben Graham is going well in his 1st year, he's currently 7th out of 16 in the AFC punting averages.

Panthers over the Saints. Panthers I am real keen on this year especially after meeting many of the guys at Super Bowl Media day in Houston and I think they can possibly go all the way in the NFC. Cowboys over Redskins in a great NFC rivalry. Now there is a NFC team looking good, the Cowboys another NFC team that's a real chance this year for the Super Bowl. Mat McBriar the Cowboy's Aussie punter is also currently 7th like Ben out of 16 in NFC punting averages. Bengals over the average Blue and White Lions. I was hoping this was the year for the Lions but it is not. I had fun talking with Gregg Henson who is formerly of Detroit radio about what happens in Detroit and about the average Lions on his Austin Texas radio show on Tuesday.

Here comes a coupe of tough unimportant games. Raiders just over the Brown Shitta me Pants only because it is in Oakland. New Zealand Ram's Sheep over the Eagle #1 Bird Flu's. Hmm Bears or the Falcons, Falcons. I just don't see the Bears being as good as their record shows and the Falcons definitely need to keep winning. Ravens just against the Packers. Wow, a definite tough week of tipping. It could be a crash and burn week for me, hope not as I've been kicking butt of late. As super Bowl approaches I hope you enjoy some of my past Super Bowl MYKwebTV shows Click here and from Jax in 05 Click here Have a great NFL weekend!" Myk
"If I confused any of you above with my Aussie Lingo, Cwoc's Click here Cwoa's Click here poofs Click here " Myk Aussie
"New Cwoc Pammy and the real Pamela Grey Cup 05 TV Click here" Myk
Wed, Dec 14 05 "I talk NFL on The Show With No Name, Austin Texas ESPN sports radio! Moose's QB ratings continued! Cwoc Pammy and I heard the real Pamela as well was impressed with the CFL and some future NFLers! Mooses report!" Myk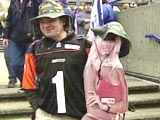 Cwoc Pammy loved the CFL Grey Cup 2 weeks ago. She was impressed with some future and former NFLers up here in Vancouver Canada. Refer to Thurs Dec 8 report below. The best 7 mins show including the real Pamela is now up on Mates Club TV.

It was a lot of fun on Tuesday to be a guest on " The Show With No Name" with Gregg Hensen and Dave Tepper, Austin Texas ESPN sports radio. We talked a lot about the NFL and the Aussie punters, the CFL Casey Printers and Pamela Anderson being here along with Aussie Rules Footy talk, Cwocodiles etc etc. Greg asked me on his show as I had been on his Detroit sports radio show several times in thee past. Here's the link to the show Click here

Tuesday night after I was lucky enough to be asked out by SSSonja the beautiful Cwoc model I called into Gabriel Morency's SportsRage late night radio show to ask him how Terrell Owen's Birthday Party was on Monday night. I was shocked to hear Morency did not get a invite!

Moose's QB ratings contd!

NFC Norris Division: The second worst in Pro Football

Minnesota: At the beginning of the year, I was curious to see / find out how much Brad Johnson had left. I also said Daunte Culpepper could be an M.V.P. candidate. Wow! We all found out how much Brad Johnson

Has left! He should be an M.V.P. candidate! But he's only played 6 games. But HE IS 6-0! Best Wishes to

Daunte Culpepper as he recovers from serious knee surgery (same to Import Bill Haddox)! Don't rush back, D. Brad's in charge now. Kinda reminiscent of when Boomer Esiason came back from Arizona to Cincinnati! Wow! I say again, Wow! Rating: B++++

Green Bay: Doug Pederson is back in Green and Gold as new Offencive Assistant and guess what? The Pack

won Monday night in O.T. v. Red Garcia (check him out in Detroit's profile) & NFL Lions. Think that doesn't matter to Brett Favre? Think again. If Peds and Coach Mike Sherman are back next year on the Coaching

Staff, then Brett is back. If they aren't, Brett retires. Your choice, Packers. Reserves Aaron Rodgers and Craig (Scotland) Nall are solid, if inexperienced. Rating: C+ without Brett and Doug; B+ with Favre playing!

Detroit: Red's game now. Garcia came from Cleveland, grew his hair back out, broke the tibia in his right leg, missed the first seven games, played and won one over overmatched Harrinton and then sat for two.

Coach Mariucci got fired by Matt (Awful) Millen, the worst G.M./V.P. in Pro Football history (now 26-53).

Harrington needs a change of scenery (or just to get away from Millen [see Bill Bidwell / Denny Green in Arizona]. Dan Orlovsky will be ready by NFL Euro Bowl XX (or ArenaBowl XXX)…Rating: C+

Chicago: OK beardboy, Orton. The Party's over. Take your nine-four record and sit down pls. Rex (Franchise QB) Grossman is back and healthy. Jeff [Eight teams] Blake? Please, I'm about to have dinner!

Rating: C++ (w/Grossman starting)[, D+ w/out him!]

NFC Southland (Yeehaw!!!!!!!!!!!!!)

Carolina: Jake, I love ya, you 'cajan snake' ya, but son, you're only the second best Jake in the League – again. That bearded Plummer in Mile High City has got ya by a (dare I say it?), a whisker [or a bunch of 'Em!] Chris Weinke is a very solid backup! Rating: A-

Atlanta: Until Michael Vick can stay healthy for a full season and until he starts learning to pick out third and fourth receivers, call me a skeptic. Backup Matt (U. VA) Schaub is still the best pure (or some say 'real' QB) on this team. Rating: With Schaub: A-, With Vick, B.

Tampa Bay: People gave me all kinds of grief when I said three playoff teams would come in NFC from the Southern Division. Don't look now, Yankees, but the South's gonna rise again! Atlanta, if Vick holds it together, Carolina and definitely Tampa, the Buccs, will ALL make the playoffs. No team in the League

has the Depth @ QB that Jonny and Jay Gruden have created, those brats, god love 'Em!

Dig: Injured Brian Griese is a career 66% passer and was 10-5 as a starter before being deepsixed by a blown hoof, er, ah knee…Lefty Chris [Lil'] Simms, who's been given tough-love by Jonny G., is now benefiting from a very good team around him and backups Josh McCown and Tim Rattay have started before with SOME success. Four pivots deep [don't count 'lil Griese out entirely this year; he could be back for the Super Bowl, the way his old man did in 'Jan. '73! Yikes, AFC!) Rating: A-

Saints: Call 'Em San Antonio, Shreveport, Meadowlands or Baton Rouge, just don't call 'Em N'Awlins, no

Mo'. Them days are over. Gotta feel bad for lame duck Coach Haslett; not only does this team suck bigtime, but just when he wants to bench awful Aaron Brooks, backup/holder Todd (Stud) Bouman

Now play badly (5 of 13, 1 INT, only start) but he now suffers from terminal benchitis! He wanted out

of his hometown, Minnesota so bad, for not wanting to sit FOREVER behind Daunte Culpepper, but N.O

Grabs him up and now he's rusty. Mr. Backward pass, it's hard to believe you and Myk Vick have the same loins! Rating: D+

NFC West:

Arizona: Boy am I mad at these jerks! Not only did I go out on a limb predicting they would challenge Carolina or Tampa for the NFC Championship but Bidwell and Green turn out to be the worst combination since, well…Bidwell and Buddy Ryan. Or Bidwell and Vince Tobin! Why did a great family /Christian-guy like Kurtis Eugene Warner, (or before him, Dave Krieg or Boomer Esiason?) have to end up in the Bermuda Triangle of the NFL? Green and Bidwell REALLY COULD screw up a wet dream! Bidwell is so well 'loved' (tough love in the desert anyone?) that all of 23,000 people showed up again yesterday to watch Warner play his guts out – again and the Offence broke down and they LOST 13-17 to a very average Washington team. Warner has been averaging well over 300+ yards passing a game for these jokes, they get what seems to be a very fine rookie running back like J.J. Arrington out of the draft and have all those talented WRs and a few good FBs/TEs and they still can't put together a decent Offencive package! One of

their players told me a month ago 'He (Green) is destroying us with his weirdness.' Must get it from his owner! The oldest franchise in the League and the worst. Nobody has lost more games in Pro Football history! Rating: C [only because of Kurt Warner and the WRs]

Seattle: Matt Hasselbeck was worth the wait. And Holmgren is being rewarded for being smart enough to bring in Super Bowl Dilfer for four years to tutor him! Seneca Wallace (NOT William!) is the new 'Slash'.

And Dave Green's time will come. Rating: A

Saint Louis: A funny thing happened to Joe Vitt and Co. on the way to redemption; Martz finally is gone and (with heart problems? I didn't know that atheist had one!) and Bulger, the INT machine deepsixed himself with another merciful injury. They got Jamie Martin back, but he got hurt after recording a 4-2 record. So in comes Harvard's Ryan Fitzpatrick who played like Kurt Warner last week and Eli Manning this week. At least when Eli throws a ton of INTs, the G-Men still somehow win (?!). Jeff Smoker (section)? Like I said about Blake, "Please, I'm about to eat dinner!" Rating: (W/ Martin starting: B / w/Bulger:C / w/ Fitzpatrick Or Smoker-section: D ) Overall: C-

San Francisco: Quick – Who's the only former P.B.R'r to ever play QB in the NFL? Cody Pickett, the number #4 pivot and Special Teamer and the Feel Good story of the year for 'Frisco. If the 2-12 47ers

have the feel good story of the year WITH A FOURTH STRING qb winning one of two games for them

(so far, this ano) you know things are bad in former Joe Montana-Steve Young-ville! Ken Dorsey, 37-2

@ the Univ. of Miami, keeps showing loads of potential then getting hurt. Starter Tim Rattay was stolen away by Tampa and the Bros. Gruden and Alex Smith just plain sucks! Seriously, I'd love to say something positive about him, but this friggin' guy struggles to pass for 80 yards a game! OK – He's young. The Batchelor was released two weeks ago to go back to the 47ers CFL number, the Ottawa-

Rough-Renegades and there's nobody else left to throw out there. Poor Mike Nolan. Rating: D-. Ride

';Em Cowboy!" Moose

"Moose can be heard most weeks normally on Thursday nights on Gabriel Morency's SportsRage talking lots of Footy. Click here " Myk Aussie

Updated Tues, Dec 13 05 "NFL week 14 results and report! I tip 13 out of 16 straight up and go to 150 for the year, Wow some luck and hunches! Jason Clermont a future NFLer in the CFL Grey Cup 05 Best 7 min's TV show! Moose's QB ratings!" Myk Aussie

Last night I enjoyed the game immensely as it was the 1st time I have seen the Saints all year. To the Aussies and others that don't follow the NFL closely the Saints are the New Orleans Saints. They have had a tough time since the massive floods as a result of Hurricane Catrina. It is believed they will be located in San Antonio in 2006 and then possibly permanently there or maybe Los Angeles. It seems the city of San Antonio is a nice fit for the team and their families. The Falcons 36 defeated the Saints 17.

Sundays results saw Jets 26 over Raiders 10, Colts 26 defeated Jags 18, Vikings 27 over New Zealand Ram's Sheep 13, Bengals 23 just over Brown Shitta me pants 20, Tampon Bat Buc's 20 shock the Panthers 10, Steelers 21 defeated the Bears 9, Giants 26 just over the Eagle Bird Flu's 23, On a snowy day the Pat's 37 now on a roll over Bills 7.

Tit's just over the unlucky Texans 10, Seahawks 41 hammer the woeful 49ers 3, Redskins 17 defeat the Cardinal's also with Bird Flu 13, Cowboys 31 Yeh defeat the Chiefs 28 in a rippa. That was my tip of the week without doubt. I like the Cowboys this year plus it helps the Bronco's when the Chiefs and Chargers loose.

Bronco's 12 just over Ravens 10. Now that is what you call lucky. The Bronco's just winning to now have a 2 game lead over Chiefs and Chargers. Packers 13 just over Lions 10. In a huge shock the Dolphin Mammals 23 defeat the Chargers 21. Tonight it's the Saints vs the Falcons. Falcons need to win to keep their playoff chances alive as they have slipped back in their division of late.

Updated Tues. I finished week 14 at a very lucky 13 out of 16 straight up and 150 for the year. From Monday I'm currently 12 out of 15 straight up in week 14 and 149 for the year, my best year ever in tipping. I need to see what the other media guys are tipping for the year, I bet I'm up there with the best. Is it luck? Sometimes luck but also alot of hunches that have been going right for me. Lots more coming this week to NFL webWORLD.

Dec 12, 05 "The Best 7 mins from Grey Cup 05 week! One of my best Footy, Comedy, Cwoc TV shows ever!" BC Lions Jason Clermont can make the NFL as a Tight End! Includes The Parade featuring the real Pamela Anderson, The BC Booze Brothers, many of the CFL cheerleaders, CFL stars Ed Hervey and Jason Clermont, Rider titty & nipple Cwoc, Wow!, Honest Mur, Bubbles The Green Bastard, Moose, ScottyDog Total-CFLer and lots more great CFL wild fans, This is Mates Club version, some viewer discretion is advised! Click here" Myk Aussie

From Moose "NFL Notes: Michael Vick hurt again…Yawn. Saints Coach Jim Haslett had no choice. He benched ineffective Aaron Brooks and will start studly Todd Bouman the rest of the year. Here's good luck to ya, Mr. Big Arms.

Congratulations to Jerome (Bus) Bettis for 13,000+ career Pro rushing yards. You earned it, kid. Question:

Does naybody REALLY want to win the NFC (L)East, the worst Division in Pro Football? The NFC Norris is the second worst! Cogratualtions to Buccs CB Ronde Barber, first player in NFL history to have at least 20

INTs and 20 sacks in a career! Oh – he's N.Y. G-men Tiki's twin bro. And from here in good 'ole Virginny, too. More next week! " Moose

Moose's QB ratings and report!

AFC EAST

New England: Tom Brady is still the best but several guys are gaining on him, namely Palmer, of Cincinnati. Doug Flutie Sightings this season: two: The 43 year-old wonder, who can still book around end has two appearances since wrestling the number two job back from Matt Cassel [Flute's stats thus far: 4 of 9 for 27 yards and 1 rush for a two-yard first down; Cassel, 4 of 8 in one game v. Da Raidahs for only 16 yards and a INT; one rush, minus one yard]. Rating: A

New York Jets: With Accurate Chad Pennington and in consistent Jay Fiedler out with injuries, Brooks Bollinger, so far, at best a #3 pivot, the results have been less than spectacular. Number #4, Klif Kingsbury has played some and Vinny Testeverde had to be brought out of retirement. Rating: C--...[Oppps, sorry, the rest in Word...]

Buffalo: J.P. LOSSMAN, has been a bust – except for one game. Why did Coach Mike Malarky bench consistent Kelly (Barcelona) Holcomb? After two games, Holcomb was 2-0 then lost two close ones to Kansas City and New England and then got hurt. Hey Mike; he's healthy again and Lossman sucks!

Third stringer Shane Matthews, who been around the League may play some yet. Things are that bad:

Rating: D

Miami: Surprisingly the Dolphins have actually won four of their last six games, including a stunning upset of the Chargers in San Diego yesterday. Dummy Rook College Coach Nick Saban, the worst in the League

Is a nice candy-ass who's job the players are trying to save since he won't yell at them. Gus Frerotte and

Sage Rosenfels, along with A.J. Feeley, who started the year but has since been traded to the Chargers,

The team Eli Manning's parental units didn't want him to play for, were all at once NFC (L)East pivots.

This team needs to draft a QB in the first round next ano! Rating: D++

AFC South (?)

Indianapolis: Anybody that knows me knows I can't stand Archie Manning and his ilk. (Folkes, an 'Ilk'

is not a big deer!) But I have to give Peyton credit (and his commercials are really good too!), he's become on of the best in the League the last few years. Backups, 'We don't need no stinkin' backups!"

Rating: B++

Houston: How about trading Joey Harrington to Houston for Dave Carr, GMs? Both these kids could be real good in a few years but they both need a change of scenery! Dave Ragone (L) and Tony (Small Hands) Banks ® are better than average backups who won't get any playing time – until the Coach gets fired.

Poor Dom Capers! Rating: C—

Jacksonville: The Jaguars have three clones at QB on the roster. The only way to tell these guys apart

is their numbers and names on the back of their jerseys. Garrard starts now since the injury to Mr. "Worst Looking Drop in Pro Football History", Byron (Overweight) Leftwich. The other 'troika'? Quinn Gray. Rating: C+

Tennessee: Myk caught me misspelling Tenne-s-s-e-e a few weeks back and suspended me from Total-CFL, so I have to do NFL team updates. Just kidding, Myk. Steve McNair, a real warrior like his older brother who played nine years in the Ar.FL and three more in two other Leagues, is still one of the best. Too bad the Tits, as Myk calls them aren't. Can anyone say 'Salary-Cap' dungeon? Backups Billy Volek,

Who's good when not hurt and Matt Mauck are better than average and won't play unless McNair is hurt – again. Rating: B

AFC North

Pittsburgh: If Big Ben, Roethisberger, that is, is healthy than Mr. Former Number 1 pick / Ar.FL /XFL'r Tommy Maalox, er, ah, Maddox and Charley Batch-of-Inconsistencies are toast. But being a reserve pivot in Pittsburgh isn't so bad. You get a first row seat to watch The Bus and Troy 'Hair-for-Days' Polamalu hit people on both sides of the ball! Rating: A-

Baltimore: The Curse of Trent (Super Bowl) Dilfer still haunts poor Brian Billick's guys. How many more times are they gonna pick up Chris Redman and stash him on the practice squad? How many more times will Kordell (Slush) Stewart and Anthony (Inconsistent) Wrong, er, ah, Wright gonna get chances to back up What's-his-name? Besides, who said Kyle Boller was all that anyway. Any Coach that mistreats Trent Dilfer gets burned in the long haul…(See Cleveland's profile)…Rating: D

Cleveland: Roman (Romeo) Crenell just screwed up. Now the Curse of Trent Dilfer is upon him. Charley

Frye will be ready in about 2008 and there currently is no third-stringer on the active roster…Let's see;

Dilfer was benched by Sam Wyche in Tampa – Wyche got fired and his replacement Casey Weldon had

His career ended in the XFL…Tony Dungy replaced Dilfer in Tampa several years later and he got fired!

Then Brian Billick released Dilfer AFTER Dilfer WON HIM & THE Ravens the Super Bowl ('01)! Then Dilfer

got plenty of miles in Seattle and left via free agency to Dog Pound City. Rating without 'Trint' playing,

C.

Cincinnati: Herrree'sss Carson (Palmer). Tom Brady's Heir Apparent. The best this side of Mr. Wonderful.

Capably backed up by the deepest trio in the League, or all of Pro Football for that matter: Jon Kitna, who could like start for nine other clubs off hand, Casey Bramlett and practice squad'r and hometowner,

Craig Krenzel. Rating: A.

AFC West

Denver: This is how much Coach Shanahan loves the bearded wonder, now the best Jake in the Loop

again – he cut last year's back-up, ex-Ar.FL'r Danny Kanell, and traded other reserve pivot Mauck

to Tennessee. Now only Bradlee Van Pelt, son of that #10(G-Men)&#91[Raidahs] guy, Brad Van Pelt,

former NFL LB is the ONLY backup on the active roster. And he just ran seven yards for his first

Career NFL TD the other day. Rating: A.

Kansas City: Ex-CFL'r Trent Green is a stud – still, just barely. If he got hurt, do we really believe

that Tod Collins, Damon Huard or Casey Clausen could carry this team? I don't. But in the meantime,

let's enjoy the Dick Vermeil / Trent Green show. Rating: A-

Oakland: Marques Tuiasosopo starting yesterday? Marques Friggin'T-U-I-A-S-O-S-O-P-O? Sorry, I always loved that name when his Kane Manu Tuiasosopo played NG for the Seattle 'S'Hawks and San Francisco

48ers, in the NFL. Seriously, they would have been better bringing back Rick Mirer! Kerry Collins has been on how many teams now? Will Andrew Green be another Rusty Hilger (like Tuiasosopo is)? Will Al Davis live long enough to see another winning season? Will Norvell Turner 'live' to Coach another season? Am

I asking too many questions? Can I get that cheeseburger without onions? Rating: D+

NFC East,

Washington: Mark Brunell, a truly good guy is having a renaissance of sorts this year…Or is it an epiphany? So much for the queen's American, eh? Colour Pat Ramsey (and inconsistent LaVar Arrington)

Gone next ano. Luke Campbell won't be ready until 2009…They shouldn't have released their best QB,

Tim Hasselbeck (more on in him in N.Y. G's profile) If, and that can be a big word, IF BRUNELL stays

Healthy, the R'Skins could maybe break even on the Year. Rating: C++

Dallas: If Coach Tuna loves Tony Romo (and not his ribs!) so much, how come he's only the holder?

Drew Henson should have stuck to baseball. That leaves the guy who lost Parcells the Super Bowl back in '97, Drew Bledsoe, who can be great one week and just plain weak the next. Rating: B—

Philadelphia: If Donovan McNabb is healthy, things are good in Philly Cheesesteaktown (MAKE THAT

WITHOUT ONIONS!). If either Mobile Mike McMahon or Sista-Holder Koy (OR IS IT Ty?) Detmer

Are playing, then they are in trouble. Rating, now: C--.With Donovan: A—

New York G-Men: (As big Chris Berman, ESPN says) Since Frye, Harrington, Ramsey, Tuiasosopo,

Et, al are still not only employed by NFL teams THEY'VE actually go teen significant playing time this

Year (Yikes!), Eli Manning is by default not the worst QB in the League anymore. Make no mistake

about it, he's till a bad QB, but not totally hopeless any more. The best QB here was the best QB w/

Washington last year; Tim Hasselbeck, since the 'Batchelor', Canadian Jessie Palmer has been waived

(by N.Y/ Ottawa [CFL] & SF this year]. Jared Lorenzen, a 280-lb lardass is number three, giving the

New York Football Giants the biggest clipboard carrier in Pro Football History. Rating: C--

More QB ratings coming tomorrow." Moose

"Myk Aussie is the best NFL Cheerleaders interviewer Click here" Joe

Sat, Dec 10 05 "My NFL week 14 picks and report!" Myk Aussie

Lets see if I can continue with my shockingly amazing tipping as I am 137 for the year straight up. Against the spread I have no idea!

NFL week 14 tips. Steelers over the Bears. I'm amazed at the Bears this year but I don't think they can beat the Steelers in Pittsburgh. Colts over the Jag's. I'm hoping the Colts continue winning for a bit longer and then suffer a let down just before the playoffs to give me Bronco's a better chance of going all the way to the Super Bowl. I like the Colts though. Panthers over the Tampon Bay Buc's in what could be a rippa of a game. I've said it for awhile now, the Panthers are looking very good this year and may go all the way in the weaker NFC.

Bengals over the Brown shitta me pants. Bengals continue to dominate, wow about time! The horrible Tit's over the horrible Texans. Is 2004 CFL MVP star Lions QB Casey Printers heading to the Texans in 06? Pats over the Bills. Looks like the Pat's will make the playoffs in a weakish division. With injured players coming back they could make a run for it again this year. Raiders over the horrid Jets. Seems former Aussie AFL star Ben Graham now a Jet picked a good team to go to getting lots of punts in his 1st year.

Vikings who are on fire after early season disasters over the NZ Rams sheep. Giants over the Eagle Bird Flu's. Yep the Eagles have now taken the Bird Flu title away from the Cardinal Bird Flu's. Will it be the "Red" jersey Giants this week? What's with that, their Red jerseys looked horrible last week. Seahawks over 49ers. Looks like I'm heading to a sports bar this Sunday as this is the game on TV. I'm thinking it will be a thrashing! Redskins over the Cardinals.

Bronco's over Ravens. Bronco's must win this game to stay ahead of the Chargers and the Chiefs in possibly the strongest division. Chargers over the Dolphin Mammals. Maybe I should toss a coin on this one, but I'll go for the horrid Packers over the average Lions only because it is in Green Bay on Sunday night. I believe Jeff Garcia who is starting for the Lions at QB could have a very good game. If this is the case the Lions may win and continue the Packers horrid season.

Falcons who have a touch of the Bird Flu of late over the Saints on Monday night. The Falcons will need to shake off the Bird Flu or else they will miss the playoffs. In a bit of a roughie I'm going for the Cowboys over the Chiefs but I wouldn't at all be surprised to see the Chiefs win. I'm hoping the Cowboys make the playoffs and the Chiefs fall behind a couple of games from the Bronco's. Chiefs are looking good though. Have a great NFL weekend!" Myk Aussie

"If you are here somehow Free I hope you decide to join us regularly in Mates Club Click here" Myk

Updated Thurs, Dec 8 05 "My NFL week 14 picks coming Friday! I pick 13 out of 16 straight up in week 13 and amaze myself to go to 137 straight up for the year, Wow! NFL week 13 results and my report! They are now the Eagle Bird Flu's! Aussie punter Mat McBriar gets drilled by Bill Parcells the Cowboys coach! The real Pamela Anderson was at last weeks Big CFL Grey Cup game in Vancouver! Mooses report!" Myk Aussie

Even though I'm still thinking of my MYKwebTV show with the real Pamela from last Saturdays CFL Grey Cup Parade Click here I will try and concentrate on these important NFL week 13 results. Wow!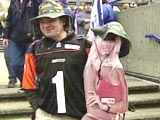 "100,000's of Canadians laughed as Myk appeared with Cwoc Pammy on the national news of CTV, CBC and Global News last week along with the CBC produced Grey Cup Parade. Myk also had a 1 on 1 interview with ET Canada at the Parade. This was Myk and Cwoc Pammy at the opening ceremony where he was interviewed by CTV and CBC. Myk bought Cwoc Pammy in 2000 and has done several Halloween MYKwebTV shows with Cwoc Pammy. She was a massive hit all weekend as many TV people and fans wanted pictures with Cwoc Pammy." Moose

Updated Tues Dec 6 NFL week 13 results and my report. What was that last night? Was it really the Eagles out there minus Donovan McNabb and Terrell Owens or was it their practice team! It was the only time that I have ever tuned off of Monday Night Football ever! Seahawks hammer the Eagles, who I will now call the "Eagle Bird Flu's" 42 to 0! I tipped 13 out of 16 straight up in week 13 to go to 137 for the year, my best year ever of tipping! Wow, 13 amazed myself as I was worried about week 13 as it did look really tough. I now firmly believe I am here in Nth America for a reason. It is my destiny! To continue to be the NFL Aussie Sports, Media, Comedy Guy!

Mon Dec 5th. What a great day Sunday it was as I got to watch four great games. Bengals amazingly over the Steelers, Chiefs unfortunately over the Bronco's, Giants disappointingly over the Cowboys and the Chargers hammer the Raiders. In the dying minutes of the 1st games I was 6-2 tipping but then the Texans were beating the Ravens and the Bills were up on the Dolphin Mammals. Minutes later I was in my hotel room laughing my head off as I was about to be 6-4 but Wow, the Ravens get up and the Dolphin Mammals come back from being way down to defeat the Bills. Thus at 1.30pm Pammy BC Lions time I was 8-2. I was extremely worried this week as the tipping did look tough. I ended up the day at a fortunate 12-3.

Mat McBriar the Aussie and former Uni of Hawaii punter for the Dallas Cowboys got drilled by Bill Parcells the Cowboys coach for a couple of average punts in the crucial game against the Giants. Mat was 7 punts for a average of 40 yards on the day. Let's hope Mat does keep improving in his 2nd year at the Cowboys and holds onto this great punting job for years to come. It was a great game between the Chiefs and the Broncos. Bronco's need to keep winning to hold onto top spot in this tough division with the Chargers and the Chiefs now only one game behind the 9-3 Bronco's at 8-4. Lots more coming this week to NFL webWORLD. I'll hear from Moose with his NFL HARDBall report as he is now back in the US after a great trip here for the CFL Grey Cup.

Seahawks 42, Eagle Bird Flu's 0. From Monday NFL week 13 results:
Bengals 38, Steelers 31, Colts 35 Tit's 3, Chiefs 31 Broncos 27, Giants 17 Cowboys 10, Dolphin Mammals 24 Bills 23, Panthers 24 Falcons 6, Jags 20 Brown Shitta me Pants 14, Vikings 21 Lions 16, Tampon Bay Buc's 16 Texans 15, Redskins 24 New Zealand Ram's Sheep 9, Pat's 16 Jets 3, Cardinal Bird Flu's 17 49ers 10, Bears 19 Packers 7, Chargers 34 Raiders 10. Tonight its the Battle of the Birds as the Seahawks take on the Eagles in Philly. We know one thing suspended star Eagle WR Terrell Owen's is a severely mentally wounded Bird at the moment. I as many others enjoy watching him play but I heard he'll be hiding tonight somewhere high in the mountains in his Eagles nest crying!" Myk Aussie

From Moose "NFL Notes – The K.C. Chiefs could be in the best position to go all the way…if they maintain their

momentum and beat the Cowpokes next weekend. I can't understand Rams Coach Joe Vitt starting

rook Ryan Fitzpatrick over the fine vet Jamie Martin – unless the Rams think their slim playoff hopes

are still alive and Jamies' injury is worse than they are letting on and are saving him for the playoffs.

Working his way ahead of deadbeat Jeff Smoker (section) was one thing, but Martin was 6th alltime in

NCAA passing yards @: 12,000+, right behind CFL star Dave Dickenson.

Milestones: Adam Vinatieri is now the leading scorer in Patriots alltime team history, breaking 10-yr.

AFL vet [1960-69] Kicker and OEnd Gino Cappaletti, who has been the Patriots radio play-by-play man for quite awhile. San Diego's Marty Schottenheimer is 11th in Pro Football history, right behind Jack Pardee in

career wins [Pardee Coached in five Pro Leagues, the only man to ever do that!]. Marty is also 8th alltime

in NFL history. More next week! " Moose

Fri, Dec 2 05 "My NFL week 13 tips and report! The New York Jets should have kept Ricky Ray the 05 CFL Grey Cup MVP from last weekend!" Myk Aussie

Their are some very interesting games this weekend and some tough picks no doubt about that! Here we go, see if I can keep up my best tipping year ever this week as I am 124 for the year straight up.

Week 13. Panthers just over Falcons Birds. I'm liking the Panthers this year but this game could either way especially if Champ Falcons QB Michael Vick is on fire. I can't believe this is happening, but I'm picking MADNesse's average Dolphin Mammals over Morency's Buffalo Bills but only because it is in Miami. I'll be stirring up Gabriel Morency tonight on the "Friday Night Freak Show" SportsRage Montreal and Internet radio about his very average Bills and how he will feel if they get beaten by the Dolphin Mammals, MADNess's favorite team.

Steelers just over the Bengals in one of the games of the week. Bears over the horrid Packers. The average Ravens over the very average Texans. Tampon Bat Buc's over Saints. Colts over the Tit's. Hmmm, lets toss a coin and go for the Cardinal Bird Flu's over the terrible 2-9 49ers. Redskins with Billy Cliton Portis playing better at RB just over the New Zealand Ram's Sheep.

Bronco's over arch rivals Chiefs in Kansas City. I can't wait to watch this game on Sunday at 1.00pm Pammy BC Lions West Coast time. Lets hope the Bronco's can keep their great form going and challenge the Colts for the AFC title in January. Sunday night it should be the

Chargers over the Raiders. Raiders are gone for the year. Pat's over Jets. If the Jets kept CFL Grey cup 05 MVP Ricky Ray on their roster this year they would have been a chance. Well done to Ricky winning a 2nd Grey Cup and a 2nd MVP after he spent 04 as 3rd or 4th string QB for the Jets. The inform Seahawks over the Eagles who are also now with the Bird Flu and are gone for the year. I still don't trust the Seahawks but they are going along nicely in the weaker NFC. Jag's even without QB Byron Leftwich just over the Brown Shitta me pants.

I'm going for the Vikings over the Lions but sometimes we see a new coach come in and the team wins. I'll stick with the Vikings though. The Big game between arch rivals the Cowboys and the Giants I'm going for the Cowboys. Only because I like them more now that they have a Aussie playing for them in punter Mat McBriar. This could go either way especially seeing it is in New York. "Crack pipe caught" Michael Irvin the former Cowboys star has now been let go by ESPN. It was his mates Crack pipe in his car "apparently". Have a great NFL weekend " Myk

"Do you want me to show you a demo/presentation/Live TV show with me as Myk Aussie? I have it all set up with a magnificent view of the Vancouver Harbor in the background! Clipstream Live Video to the web! Do you need to broadcast a sporting event, work conference etc, I have it Click here Call me to discuss 1 604 609-7736 ext 240" Myk

"Live Video to the web! Do you need to broadcast a sporting event, work conference etc, I have it Click here Call me to discuss 1 604 609-7736 ext 240" Myk

"If you are here somehow Free I hope you decide to join us regularly in Mates Club Click here" Myk

For Me & Moose's NFL Mates Club Footy webWORLD Nov 05 Click here

For Me & Moose's NFL Mates Club Footy webWORLD Oct 05 Click here

For Me & Moose's NFL Mates Club Footy webWORLD Sept 05 Click here
For Me & Moose's NFL Mates Club Footy webWORLD Aug 05 Click here

General Viewing NFL webWORLD past columns are below. The 05 season columns are now updated especially for NFL Mates Club. Previous to 05 NFL season will stay as General Viewing columns thus by clicking on below you will go out to General Viewing MYKwebWORLD.

For Me & Mooses NFL Footy webWORLD Mar - July05 Click here
For Me & Mooses NFL Footy webWORLD Jan 20-Mar 05 Click here
For Me & Mooses NFL Footy webWORLD Jan 7-20 05 Click here
For Me & Mooses NFL Footy webWORLD Dec 18-24 04 Click here
For Me & Mooses NFL Footy webWORLD Dec 18-24 04 Click here
For Me & Mooses NFL Footy webWORLD Dec 13-17 04 Click here
For Me & Mooses NFL Footy webWORLD Dec 1-11 04 Click here
For Me & Mooses NFL Footy webWORLD Nov 17-30 04 Click here
For Me & Mooses NFL Footy webWORLD Nov 10-16 04 Click here
For Me & Mooses NFL Footy webWORLD Nov 1-9 04 Click here
For Me & Mooses NFL Footy webWORLD Oct 16-30 04 Click here
For Me & Mooses NFL Footy webWORLD Oct 10-15 04 Click here
For Me & Mooses NFL Footy webWORLD Oct 1-10 04 Click here
For Me & Mooses NFL Footy webWORLD Sept 04 Click here
For Me & Mooses NFL Footy webWORLD August 04 Click here
For Me & Mooses NFL Footy webWORLD July 04 Click here
For Me & Mooses NFL Footy webWORLD April-June 04 Click here
For Me & Mooses NFL Footy webWORLD March 04 Click here
For Me & Mooses NFL Footy webWORLD Jan-Feb 04 Click here
For Me & Mooses NFL Footy webWORLD Dec Click here
For Me & Mooses NFL Footy webWORLD Sept-Nov Click here
For Me & Mooses NFL Footy webWORLD June-Aug Click here
For Me & Mooses NFL Footy webWORLD Mar-May Click here