You can also join me & me MADNess Mates every Fridee/Saturdee on Gabriel Morency's "SportsRage" The World Champs Inet & Montreal Radio, Fri 10.45pm Pacific CDN/US time, Sat 5.45pm EST Aussie time. I often talk NFL footy Click here " Myk Aussie


*****Hope you can tell your mates about Mates Club webWORLD? Invest In Mates Club TV, HARDBall Columns and Sexy Sports pic's! Mates Club Click here " Myk *****


Updated Wed, Nov 30 05 "Raiders are gone! NFL week 12 scores! Moose's NFL report! My tips total straight up!" Myk Aussie

As I said on SportsRage Montreal AM Team 990 and Internet radio with Gabriel Morency last night at the end of my CFL Grey Cup and Pamela report, Raiders are gone for the year after loosing MADNess's Dolphin Mammals. After a tough schedule at the start of the year the Raiders never really got it together. I am a Randy Moss fan and even though Bronco's are my #1 team I like the Raiders.

After picking 11 out of 16 this week and after 12 rounds I am 124 for the year, straight up. Against the spread? I have no idea. If anyone wants to add up my tips against the spread I will send you my movie "Football Fan Frenzy" Free. You can also be listed as a editor after watching the movie and offering any suggestions. I will be doing the 10th and final edit soon.

NFL Round 12 Scores:


Cincinnati 42, Baltimore 29


Chicago 13, Tampa Bay 10


Saints 21, N.Y. Jets 19


Miami 33, Oakland 21


Jacksonville 24, Arizona 17


Tennessee 33, San Francisco 22


Philadelphia 19, Green Bay 14


Carolina 13, Buffalo 9


Minnesota 24, Cleveland 12


Kansas City 26, New England 16


Saint Louis 33, Houston 27, O.T.


Seattle 24, N.Y. Giants 21, O.T.


Atlanta 27, Detroit 7


Denver 24, Dallas 21, O.T.
Indianapolis 23, Pittsburgh 7



I didn't get to see much NFL yesterday as it was a huge CFL Grey Cup day here in Vancouver. I hope some of the US footy fans got to see one of the best ever CFL Grey Cups. For my CFL Grey Cup report Click here

From Moose "Despite the outstanding play of two kanakas from Polynesian descent, DE-NG Kimo VonOelhoffen (Big Island, HI.,Kona High School) and USC's Troy Polamalu (1 INT, 3 PBUs), the Pittsburgh Steelers fell to Indianapolis in the RCA Dome in Monday night football, NFL action, 23-7. The Colts had good performances from all players but did suffer a couple of minor injuries to two Linemen. Former Winnipeg Blue Bomber DB Nick Harper, Colts broke up three crucial passes intended from Pittsburgh QB Ben Roethlisberger, just back after missing five games with a non-surgical kneee injury (Steelers went 2-3

without him), intended for WR/KR/RB/QB Antwann Randall El, who was visibly upset with the three no calls as he stormed off the field.

The Colts recovered a crucial tactical error by the Steelers to start the

second half, as Pittsburgh Coach Bill Cowher, formerly 6-0 v. the Colts lifetime as NFL Coach, elected to go for an onside kick to start the second half. Oopps! A rusty Roethlisberger, 22-3 now lifetime threw twice as many INTs as Colts Peyton Manning. Pittsburgh is now two full games behind AFC North leading Cincinnati. Game Balls to (1) All three Colts TEs, (2) Nick Harper, DB, Colts, (3)Mike Vanderjagt, K, Colts

(4) Kimo VonOelhoffen, Dlm, Pittsburgh & (5) Troy Polamalu, Pittsburgh, S, on the cvoer of SI this week.

Mark it down: Ladainian Tomlinson will be M.V.P. Or at least should be. Well the ax fell in Super Bowl (XL) City. Detroit fired one-time Hamilton Tiger-Cat reserve pivot, Coach Steve 'Mooch' Mariucci. The hometowner was 15-28 in two-and-a-half seasons at the NFL Lions helm. In six years @

San Francisco, Coach Mooch 57-39 and came within the Super Bowl twice.

The final straw that broke the proverbial camel's back, was the devastating loss on Thursday, U.S. Thanksgiving day last week. But who's to balme for the Lion's mess? Answer: Inept G.M./Pres. Matt Millen. Millen once said on an NFL E broadcast that NFL Euro great, and ex-Lions full training camp participant, Werner Hippler was in adequate as a blocker! Hippler, an ex-Charger and XFL'r is the best European player in NFL E history! Not good as a blocker?That showed me right there that William Clay Ford was nuts to hire the inexperienced Millen as in his present position. Remember ex-ArenaBowl I QB Marty Mornhingweg? He was not even an Ar.FL H.Coach, went 5-27 and Millen guaranteed he was safe – then Mariucci was let go by San Fran and Millen stabbed Marty in the back and fired him and hired Mooch. Now it's Mooch's turn. Millen is never wrong, eh, William? Bullbleep! He's was a wrong choice from the beginning.

Game Balls For Top Performances LaDainian Tomlinson, RB, San Diego, Jake Delhomme, QB, Carolina, game winning TD throw, Kyle Boller, QB, Baltimore, 3 TDs in loss, Joe Jurivicious, WR, Seattle

, David Carr, QB, Houston

Top AFC Teams now: (1) Indianapolis, 10-0, (2) Denver 9-2-0, (3) Cincy, 8-3-0


NFC Top Teams: (1) Seattle, 9-2-0, (2) Carolina, 8-3-0, Chicago, 8-3-0 (for now)" Moose

Updated Fri, Nov 25 05 "All my week 12 tips! Broncos defeat the Cowboys! Happy thanksgiving day to my USA Footy mates for Thursday! Moose's Terrell Owens report! The real Cwoc Pammy Anderson is here for the CFL Grey Cup, there are former and definite future NFLers in the CFL!" Myk Aussie

I am just finishing adding up my tips total this season and I know I am doing unbelievable! Yep it's true, hope I can continue.

Friday my tips continued. I have to rush to the CFL Grey cup celebrations.

Colts over Steelers, Jets just over the Saints, Seahawks over the Giants. Bengals over Ravens. Panthers over Bills, Tampon Bay Bucs over Bears, Vikings & their Boat Babes over the Brown shitta me pants, Patriots over Chiefs. I find it hard to ever pick against the Pats and seeing I'm a Bronco I got to go for the Pats. I would not be surprised if Chiefs did win this one at their home field.

Chargers over Redskins, Tit's over 49ers, New Zealand Ram Sheep over Texans, Jags over Cardinal Bird Flu's, Raiders over Dolphin Mammals. MADNess you're Dolphins are horrible this year.

Monday night Hmmm , Eagles or Packers. Oh my, I think I have to go for the Packers. Eagles are gone, gone, gone. Have a great NFL weekend and hope you can catch the CFL Grey Cup action.

Wed, Nov 23rd, The start of Rd 12 tips. Broncos my favorite NFL team over Cowboys in what should be a great game. Falcons over Lions. Moose who is now here for the CFL Grey Cup says the Lions often win thanksgiving games. Hmmm if Jeff Garcia is back playing at QB they could be a chance but I'm sticking with the Falcons.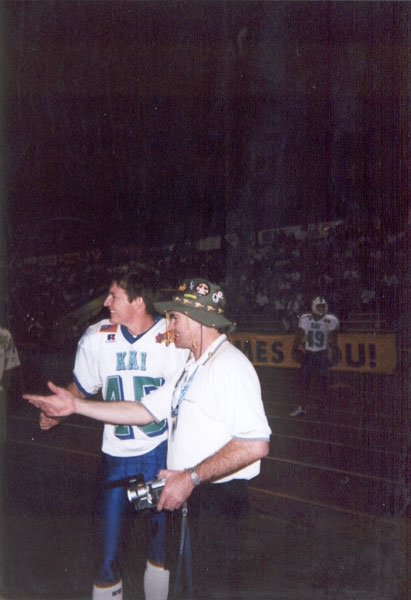 "Myk with his new Aussie Mate star NCAA punter Mat McBriar now playing in his 2nd season as the #1 Dallas Cowboys punter. Check out Myk interviewing Mat at the Hula Bowl
Click here" Moose

I like to often highlight this picture above. It is simply unbelievable that Mat McBriar and now New Your Jets Aussie punter Ben Graham are following in legend Darren Bennett's steps and playing well in the NFL. Today if Mat punts lots for the Cowboys that could be a good thing. Sorry Mat I can't hope the Cowboys win this week but I do now like the Cowboys more than when I got here in North America for the 1998 NFL season.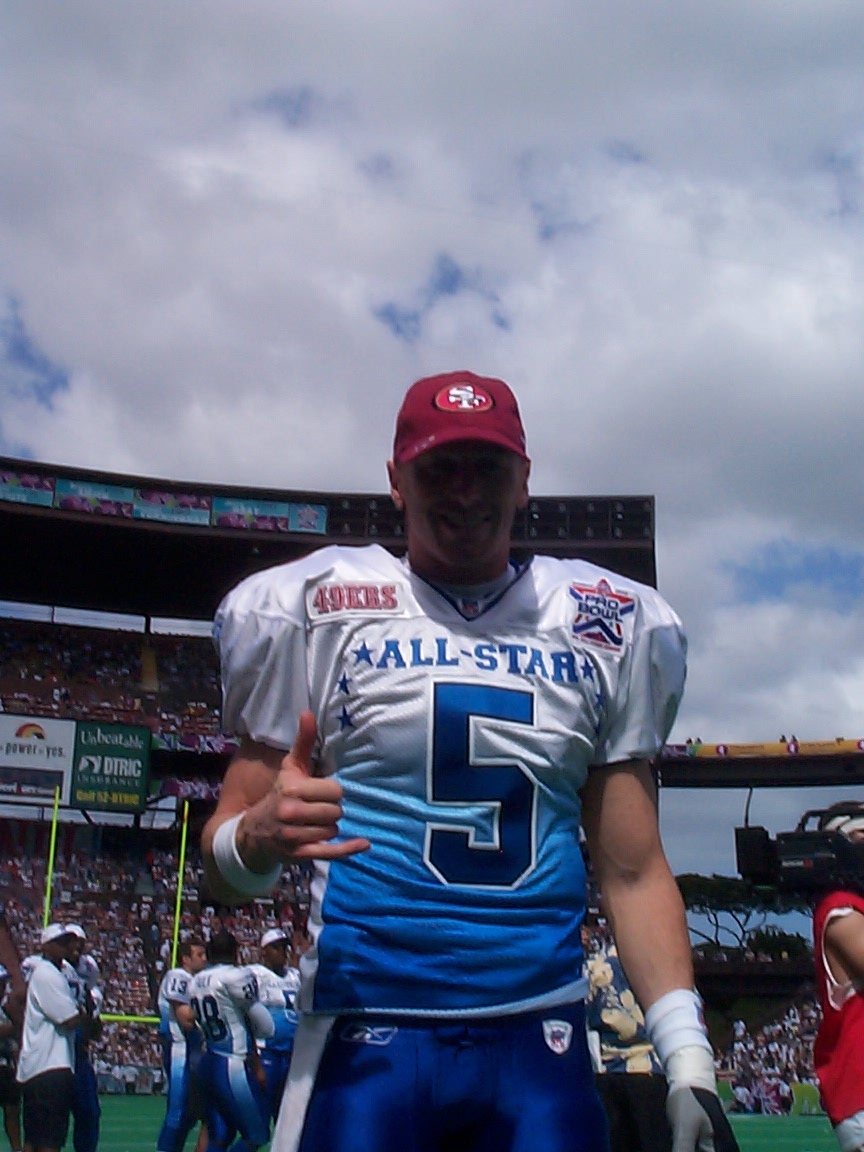 A great picture taken by my Cwoa camera lady Merideth that was working for me took of Jeff Garcia right on the sidelines during a recent Pro Bowl. Jeff has been playing well again for the Lions when he is not injured. For amazing close up NFL player, cheerleader and fan MYKwebTV from Pro Bowls Click here

NFL Update - Terrell Owens, two Opinions – Gabe Morency / Rich 'Moose' Salzer


Last night as I was waiting to be brought up on Gabriel Morency's Sportsrage, the best damn Sports talk

radio show in Montreal, Q.C. history, Gabriel took two calls from two Montrealers and the main topic of talk was the season ending suspension of Eagles WR Terrell Owens. Both Morency and I believe that Arbitrator

Rich Bloch's decision was too harsh. As Morency said, and I agree with him, Coach Andy Reid needs to learn to work the Media better and publicly criticize his players FIRST before they go off and disrupt the

team in an unprofessional manner. where Morency and I differ is on the point of Owens criticisms.

I think

Owens is wrong to worry about the classless way the team 'forgot' about his 100 career TDs mark. Morency is right that Philly should have known that his 100th career TD was up coming. And I agree with Gabe that yelling at Coaches and disagreeing with the play calls CAN disrupt the team but also, Reid has

been too 'politically stupid' in the way he soft peddles issues. Look whats' happened to Roy Shivers, who I

think HAS to go with the CFL's Pro Saskatchewan Roughriders, and the deal with Trevis Smith this year and two years ago the Ray Jacobs crack house deal. Roy told me himself, he cares not what the players do off the field. I think that plus Andy Reid's nice-guy/politics are a recipe for disaster. Jon Gruden took out Keyshawn Johnson when things went sour the year after the Buccs won Super Bowl XXXVII and his team has emerged the bettor for it. Think it over Andy. This ain't BYU!" Moose

It's a Huge week here in Vancouver as the CFL Grey Cup festivities has started. I know many American states now get CFL games on TV!

Pammy Lee Anderson Harrison was also recently sighted out and about in Vancouver

in during the Halloween 05 weekend in readiness for her upcoming Grey Cup 05 appearances. Pammy was again not only very popular with the guys but also the ladies. Wow! For Pammy webWORLD
Click here

For lots of the latest news including the real Cwoc Pammy Anderson attending this years event Click here "Myk Aussie

"Myk Aussie is the best NFL Cheerleaders interviewer Click here" Joe

Tues, Nov 22 05 "NFL week 11 scores! Moose's as always HARDBall NFL report!" Myk Aussie

I tipped 10 out of 16 in week 11. My Raiders roughie tip came off while there were shocks in some of the games and as per each week there are several games where it is tough to pick.

Scores:


Minnesota Vikings 20, Green Bay Packers 17
Denver 27, N.Y. Jets 0


Dallas 20, Detroit 7


Jacksonville 31, Tennessee 28


Baltimore (2nd year in-a-row) 16, Pittsburgh 13, O.T.


New England 24, San Antonio 17


Oakland 16, Washington 13


N.Y. Giants 27, Philadelphia 17


Cleveland 22, Miami 0


Chicago Bears 13, Carolina 3


Tampa Bay 30, Atlanta 27


Arizona 38, Saint Louis 28


Kansas City 45, Houston 17


Indianapolis 45, Cincinnati 37


San Diego 48, Buffalo 10


Seattle 27, San Francisco 25

From Moose "Week 11 Game Balls:


1) N.Y. Giants P, Jeff Feagles, ties the alltime NFL record of 282 consecutive games played.


2) Kyle Orton, Chicago QB, 6 straight wins / Chicago Coaches and Defence – team effort


3) Steve Smith, Carolina WR with 12 catches in a loss.


4) Larry Johnson, a phenomenal 211 yard rushing game – Well, it was v. Houston, though


5) Shaun Alexander, RB, Seattle, another 100+ yd rushing game + now, 19 TDs on season/

Tie: Reuben Droughns, RB, Cleveland for 166 yards rushing in the Browns win over pathetic Miami

Is it still too late to Bring back Coach Shula and Larry Csonka?.Honourable Mention: Mike Vrabel, LB/TE-FB, New England, six catches now on his career, 6 TDs. The Indianapolis Colts for reaching the 10-0 mark FOR THE FIRST TIME in their club history. Is it now abundantly clear that Nick Saban belongs back in the NCAA's? Dig: He trades the Dolphins best QB to San Diego, A.J. Feeley (well hey – he's better than Gus Frerotte and Sage(brush) Rosenfels!) and the team is awful. Not that Sage or Gus would be bad in a two-QB system, but by themselves, not good.

Here's an Ironic accomplishment; Aaron Brooks breaks awful Archie Manning's club record for career TDs (tied with the venerable USFL/Saints star Bobby Hebert, the poor guy); do we laugh or cry. At least Joe (CFL-USA) Horn was laughing in the picture in the USA Yesterday. Gutsy performances in losses yesterday by Jamie Martin (11 of 15 for 169, 1 TD, 1 2-pt conv.) & Ken Dorsey (37-2 @ University Miami/Fla.) in the close loss to Seattle. That Chad Johnson, wr, Cincinnati, of some kind of funny guy! What a performance yesterday even in the loss to Indy. If only sourpuss Randy (Whoops) Moss and strange Terrell Owens would be more like C.J.!

Notes: Several Milestones yesterday in the NFL: San Diego (finally) retired the #19 & #'s 21 Jerseys of AFL greats Lance (Bambi) Alworth and John Hadl, respectively. Two great players and guys. Kurt Warner was great again yesterday, even with 295 yards, 3 TDs. His first non- three-hundred yard game in a month, though. Revenge v. the Rams, er, ah Lambs, who kicked him out of town? You bet! Amen, brudder! Back from the Dead: How about Skip Hicks 83 yards for San Francisco. He started for Washington back in the Norv Turner Era and played NFL E the last two years! Way to go, kid! More next week" Moose





"If you are here somehow Free I hope you decide to join us regularly in Mates Club Click here" Myk

Sat, Nov 19 05 "NFL week 11 tips and report! The two cheerleaders caught in a dunny, I hope you enjoy my "Aussie" style report below, Sat Nov 12!" Myk Aussie


"The beautiful Jessica Bengals 2002 Pro Bowl cheerleader in the front of this great picture we took. Can the BenGirl cheerleaders help the Bengals guys this weekend in what is tipped as the game of the week against the undefeated Colts?"
NFL week 11 tips. Patriots over Saints. Giants over the horrid, troubled and gone for the year Eagles. What a bad year it has been for the team that nearly won the Super Bowl last year. Brown shitta me pants over the Dolphin Mammals no they are not Fish, Dolphins are Mammals just. Nothing too exciting will happen in this game I wouldn't think. Hmm maybe it's the Dolphins, a tough one to pick.

The Ram Kiwi Sheep over the horrid Arizona Bird Flu's. Panthers minus their 2 famous licker cheerleaders over the Bears. Cowboys over Lions. I actually now like the Cowboys after disliking them somewhat 8 years ago when I arrived here in Nth America. Mainly due to Mat McBriar the Aussie Punter, they have great receivers and a coach that I admire. I think the Cowboys can continue their excellent form in the tough NFC division that they are in. Jags over Tits. Tennessee Tits are horrid this year, Jags are going along nicely.
Falcon birds over Tampon Bay Buc's in what could be a very close game. Colts over the Bengals in the possible game of the week. This should be a great game. Oh my about time the Bengals are now not paying like "Ben girls" and are having a great year. I like their new outfits, I know the beautiful Cwoa Jessica Pro Bowl cheerleader and Maxim star so it wouldn't worry me too much if the Colts lost this one. Jessica is a star in my Pro Bowl 02 Mates Club TV as I'm right on the sidelines with the #1 NFL cheerleaders from each team. Click here

Steelers over Ravens even though the Steelers are struggling at QB. They will run, run, run the ball all day long so don't get too excited watching this game. Seahawks my neighbors over the 49ers. Are the Seahawks as good as their record? Maybe they are, all I know is the AFC is stronger again this year than the NFC so the Seahawks a NFC team are a big chance to get to the Super Bowl if they continue their good form lead by RB Alexander. Lightening Bolt Chargers over Gabriel Morency's favorite team the Buffalo Bills.

Broncos over Jets. My favorite team the Broncos are going along very nicely. I hope they can continue their great form. I hope Jets Aussie Ben Graham gets to punt all day long as the Jets hopefully struggle to get 1st downs in the Mile High Denver city. I think Ben will have some fun getting lots of punts maybe even as many as he gets in a Aussie footy game, like 15 punts!!! Ahhhhhhh!!!!! go Broncos!!! Chiefs over the horrid but somewhat improving Texans from Houston Texas.
Raiders over Redskins in my roughie of the week. It's in Washington but the Raiders are not as bad as their record says. I'm tipping Kerry Collins to finally throw more to Randy Moss and Randy breaks out for his game of the year. Maybe, maybe not but I just wanted to built up the star who it seems has so far behaved himself very well in Oakland on and off the field, simply playing as a team member, getting a TD or 2 most weeks.

Packers but only just over the Vikings in the cold at Green Bay in a great divisional rivalry on Monday night. Wow! the Vikings vs Packers on a Monday night. A few years ago I was lucky enough to attend this rivalry on a Monday night in Minneapolis. Some of the funniest great MYKwebTV that I have can been seen on my movie now on DVD from this great night. I didn't even get to sleep as I was invited to a hotel room party with some great Viking fans after the game. One of the greatest funnest nights I have ever had. Have a great NFL weekend and also try and catch the CFL Western and Eastern Finals action on TV is you can." Myk Aussie

"If you are here somehow Free I hope you decide to join us regularly in Mates Club Click here" Myk
Updated Fri, Nov 18 05 "NFL week 11 tips coming! The two cheerleaders caught in a dunny, I hope you enjoy my "Aussie" style report below! NFL week 10 scores! Moose's as always HARDBall report!" Myk Aussie

Coming later today my NFL week 11 tips and reports!

I went 10 out of 14 in week 10 tipping. What a amazing comeback by the Cowboys Monday night against the Eagles to win 22-21 who are now gone, gone, gone for the year I believe. It was excellent to again see Cowboys Aussie punter Mat McBriar punt well.
I need to add up my yearly tipping total score as I know I'm doing good and I want to compare my score to some of the guys on TV that reckon they are the best! Unfortunately I missed some of the NFL yesterday as it is CFL semi finals up here so I had to watch most of the East and West CFL games. Disappointed I didn't get to see the Bronco's hammer the Raiders. The Brown shitta me pants game against the Steelers was definitely not one of the most exciting NFL games ever but I still watched it to the very end not like many of the Steeler fans at the game. I can never understand people leaving games early? Why would anyone do that after paying good money to go and there only being 9 or so times a year you get to see your NFL team at home.

Refer to last weeks detailed HARDBall and comedic style reports on Angela and Renee the ex Panther cheerleaders that got caught apparently "having sex" in the dunny. Having "sex" isn't sex penetration between a male and a female? I am confused!
NFL week 10 Scores:
Chicago 17, San Francisco 9
Denver 31, Oakland 17
Minnesota 24, New Jersey G´s 21
Green Bay 33, Atlanta 25
Carolina 30, N.Y. Jet´s 3
Tampa Bay 36, Washington 33
Detroit 29, Arizona 21
Pittsburgh 31, Cleveland 24
Jacksonville 30, Baltimore 3
Indianapolis 31, Houston 17
Seattle 31, St Louis 16
New England 23, Miami 16
From Moose "One record set this weekend. Last night, on his second catch of the night (after two costly drops) Pittsburgh's Hines Ward broke John Stallworth´s alltime Steelers´ mark of 537 catches. Question: how can overrated Lynn Swann be in the NFL Hall of Fame with only nine years and 336 catches and Art Monk of Washington with 900 catches NOT BE in the Hall? Just wondering. Speaking of Washington, Joe Gibbs the teflon man, er, ah, Coach(?) got out coached again. After Chris Simms had (for him) a career game passing, the Buccs turned to old Pro Mike Alstott for the game winner. Alstott smashed through two Redskins (hate that wretched name!) to score the two-pointer that gave the Bucs a 36-35 win over overachieving Wash. Any cursory study of recent Pro Football history should have shown Washington how to stop Alstott. First put Mike Sellers in at DE. When Sellers came out of Walla Walla Washington Jr. College, he was signed by the Edmonton Eskies as a short yardage stuffer. When Washington signed him the first time (under current Raider Head Hog, Norvell Turner), they occasionally used him at DLm and he asked Defence Guru Greg Williams to put him in.
There was no interest and Alstott scored to win for Jon and Jay Gruden´s Bucs, much to our mate Scott Baxter´s chagrin. Joe Gibbs and Co. were simply out coached once again. Sigh...Simms, has for now saved his job. And speaking of saving jobs, give an ´´Attaboy´´ to Joey Harrington in Detroit, home of Super Bowl XtraLarge and also J.P. Lossman in Buffalo, after Kelly Holcomb´s injury, which the Bills better hope is NOT serious. Poor Kurt Warner and Co. in Arizona. Dennis Green has destroyed that team morale is so low now. Serves Bidwell right! Warner lit it up for another 300+ yards and Larry Fitzgerald still is lighting it up himself but the Cards are 2-6-0. A-Mazing! All that talent going to waste! The Colts (now 9-0, playing mostly tomato cans) and the Bills that only two teams undefeated at home. Won't that make Gabe Morency proud? Moose out! Back to the USA! next week - Óh, Canada! Sorry, apologies right here for missing the first 80 Grey Cups!" Moose

"If you are here somehow Free I hope you decide to join us regularly in Mates Club Click here" Myk
Updated Sat, Nov 12 05 "NFL week 10 tips and report! Update of the two NFL Carolina Panther Cwoa cheerleaders get caught getting it on in the Dunny in Tampa Bay! Wow! Penthouse magazine offers them significant money to appear "together" I assume! Terrell Owens has caused a flood in Philly!" Myk Aussie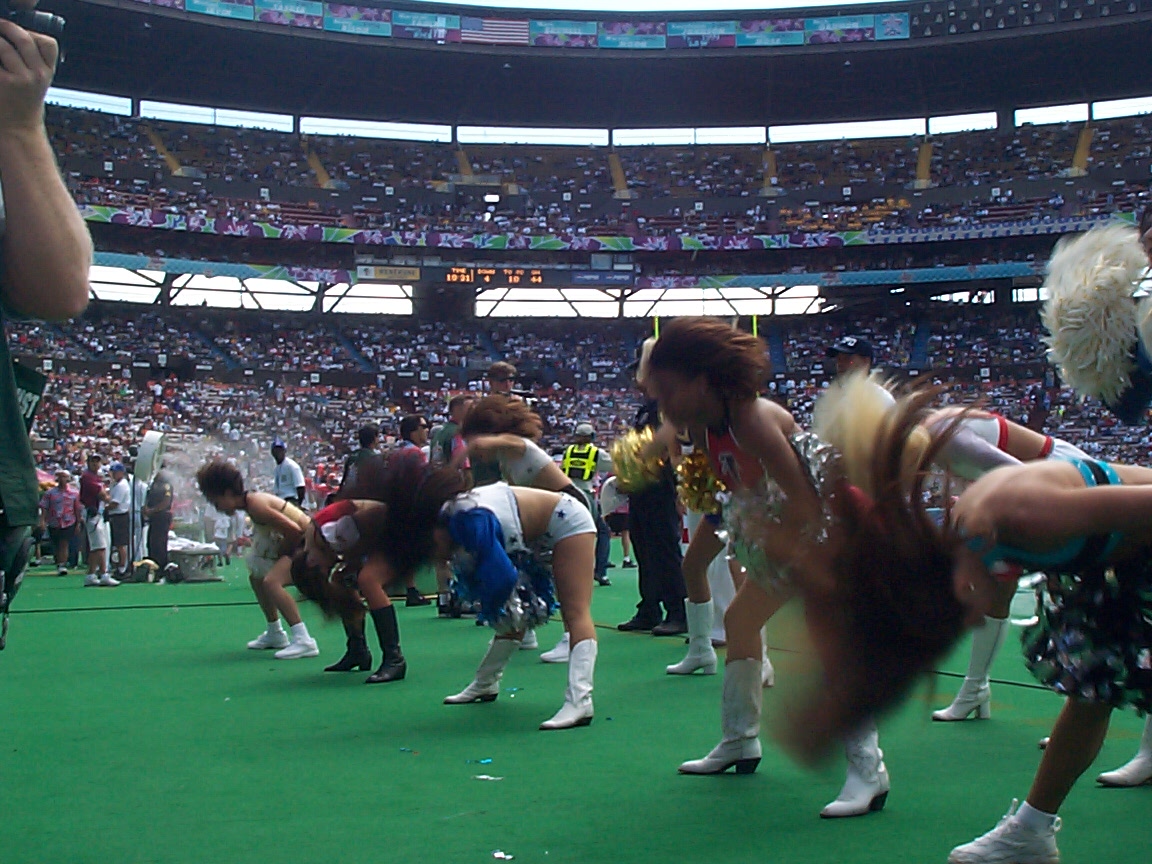 "I'm filming at a recent NFL Pro Bowl! It's the #1 Panther cheerleader at the very front in pretty blue. Refer to crazy story below of the two Panthers getting it on in the dunny" Myk Aussie
NFL week 10 tips and report.
Lions over Cardinals. Super Bowl in Detroit is not far away and the Lions are still a chance to make the playoffs in the week division that they are in. Jags over Ravens. Colts over Texans. The Colts are still undefeated and now must be considered the early favorite for the Super Bowl as they should have playoffs in their dome and then the Super Bowl is indoors in Detroit.

Pats over Dolphin Mammals in Miami but this may be a close one with the Pats many key injuries in defence. Bears over the improving 49ers. Broncos over the Raiders in my favorite game of the week in Oakland. It should be a rippa with the Bronco's coming out winners. But on TV we of course as always here in Vancouver will get to see the Seahawks only if they are playing so I better get to a sports bar to watch this one.

Panthers extra fired up to beat the Jets. Wow! What a week it's been for the Panthers cheerleaders, fans, officials and no doubt the players excitable and somewhat proud of their two now famous cheerleaders getting it on in the dunny. Lots of details below as I stay on top of this story. I'm not sure if Renee or Angela got to get on top, I believe they would have been standing up as they made out seeing it was in the dunny cubicle!

Redskins over Buc's. It's in Tampa but the Buc's are still without QB Brian Griese who got them off to a great start so Redskins just. Falcons over Packers. Seahawks over Rams. Seahawks are going along very nicely but still I don't trust them too much so maybe the Rams but I'll stick with the Seahawks in Seattle. Steelers over the Brown Shitta me Pants.

Giants over Vikings. Wow! There is early talk of Eli Manning the Giants QB vs Peyton Manning the Colts star QB against each other in this years Super Bowl. I doubt the Giants will get that far. Chiefs over Bills. Very sad to hear Chiefs Champ Priest Holmes is out probably for the year. What a star he is at running back.

Cowboys over Eagles. Part time NFL fans I am not crazy. Eagles nearly won the Super Bowl last year but the Terrell Owens saga and with QB Donovan McNabb playing injured and being erratic at times has cost them huge as they have a 4-4 record and are last in the very strong division this year. Cowboys are playing very well and definitely are very disciplined under legend coach Bill Parcels.
There is a Flood in Philadelphia! I heard that Eagles star WR Terrell Owens has been crying non stop since his 4 game suspension and it's so bad he has caused a flood in the street that he lives in. I also heard that if he continues the way he has been crying over the past 4 days by this time next week the Flood will rival the recent very sad Katrina floods as one of America's worst ever disasters. This disaster not being a natural disaster like the very sad Katrina that effected so many people but a disaster by a spoilt rich boy cry baby. I like Terrell's play immensely and I have met him at Pro Bowl practice and in the beach bar in Honolulu as he was hanging out with CFL Mike Morreale and Jeff Garcia but he did go way over board with all the publicity he seeked and got.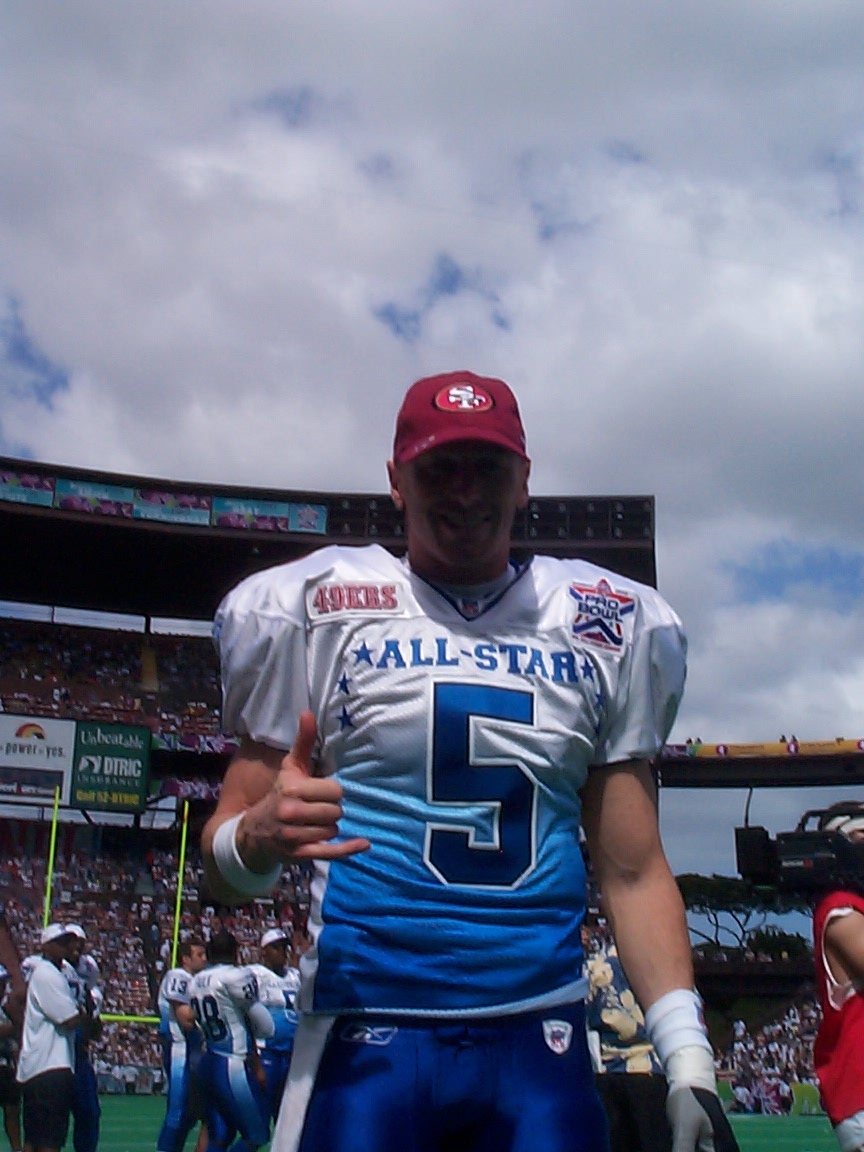 "A great picture taken by my Cwoa camera lady Merideth that was working for me took of Jeff Garcia right on the sidelines during a recent Pro Bowl" Myk Aussie

All this said I do hope to see him playing again soon because I as many enjoy his play and some of his antics. But it is a team game and I agree with the Eagles decision to suspend him for 4 games. Eagles are gone for the year I believe in this revived strong NFC Division. Have a great weekend and if you can make sure to also check out the CFL Playoffs on TV on Sunday as well.

Update of the two NFL Carolina Panther Cwoa cheerleaders get caught getting it on in the Dunny in Tampa Bay! Wow! Penthouse magazine offers them significant money to appear "together" I assume! Now I can't really even say Vagina on radio? That's weird if you ask me! I was taught that word at 11 years of age!

As I said last night on SportsRage with Gabriel Morency, Renee is a hottie but Angela, Hmmm she's a nice looking Cwoa but come on people! She's not a stunner, why is everyone going so Crazy when all they may have done was kiss, no one knows for sure! If we want to talk about two hotties we should talk about two of the hottest babes in the World coming to the CFL Grey Cup in two weeks time, Cwoc Pammy Anderson will be here along with Cwoa Fergie from the Black Eyed Peas. Now we are talking! Apparently Vagina is a word I am now not meant to use even on late night radio. That is a bit weird I remember being taught about the female anatomy including this word in grade 8 when I was 11 or 12 years age. Vagina is definitely not a swear word! Not sure what is happening now over here in Nth America radio and especially on what has been the wildest and best sports radio show in the World SportsRage with Gabriel Morency. Seems Team 990 management are a little scared if I can't even say Vagina. I actually say "Regina Roughriders" when I refer to the Vagina but as my accent does confuse they assume I say Vagina.

It was confirmed Thursday night by John Bolster the Sports Editor of Penthouse on the Big Idea Donny show that Penthouse magazine has offered Cwoa Panther cheerleaders Renee Thomas and Angela Keathley significant money to appear in the magazine after getting caught earlier this week getting it on with each other in the dunny. I am assuming the upcoming pictorial will show them naked "together" and getting it on in a similar way to what they did last Sunday night in the dunny of the Florida nightclub. I still can't believe the reports all week on all the TV shows and newspapers saying they had "sex" with each other. As I wrote below on Wednesday isn't "Sex" penetration between a male and female?

This term as been used way to loosely all week. So if I get to ever kiss Cwoc Pammy Anderson or touch her beautiful breasts or get to put a hand on her "Map of Tassie" is that having Sex with Pammy? Of course it is NOT! So why is everyone saying these two cheerleaders were having Sex with each other? They were simply "getting it on together". Even if Renee went downstairs for a closer look and touch that is still not "having sex". Maybe I need a trip back home to Aussie as such ridiculous terminology is crazy!

Note: A Cwoa's "Map of Tassie" is a Aussie term for, refer to "Myk's Mates Cluib Aussie Lingo" Click here

As posted Wed Nov 10. Wow! Wow! Wow! This has been huge news over here in North America the past couple of days as blondie Renee Thomas 20 of Pittsboro North Carolina and the brunette Angela Keathley 26 also from North Carolina were getting into each other in a sexual way in the toilet cubicle of a Tampa Bay Club. This was on Sunday night after the game against the Tampa Bay Buc's. It seems as they were cheerleading against the Buc's during the day they were thinking of Bucking each other and then they did it hours later!

The reports say they were having sex in a cubicle but can two women really have sex, it's a loosely termed word these days unless one of them had a pecker strap on then I suppose it's sex between two females. Apparently as they were getting it on in a sexual way the women in line for a cubicle got all upset at having to wait to long. Renee and Angela some advise here! You should have gone to the men's toilet and you would not have got caught, you would have a had a audience!

As Renee had finished with Angela she left and apparently belted a women in line and then gave a false drivers license to the cops that hurriedly arrived at the scene. She was charged with battery and got in trouble for the drivers license that was from another cheerleader. Then Angela was charged with disorderly conduct and resisting arrest.

The two "not" Cwoa's on this occasion had to spent the night in Hillsborough County jail but in separate beds, I believe much to their displeasure! They were of course fired by the Panthers. What a great story, only in America! You can check their Cwoa cheerleader mates here on panthers.com Click here but or legal reason I'm not putting up their photo's but just do a Google search to check the two of them out, I'm sure you will find the pictures and more details.

Wow! I'd like to interview these two soon for NFL MYKwebTV. Now that you guys and or girls are all excited for unreal close up NFL Cheerleaders Mates Club TV from Pro Bowls Click here" Myk

Myk's Aussie Lingo: CWOA's Cool Women Of America. Click here

Updated Tues, Nov 8 05 "Chiefs defeat the Raiders 27-23 on the last play of the game! Moose's HARDBall NFL report and scores!" Myk Aussie

What a great game it was as the Chiefs score a touchdown with 5 seconds on the clock to defeat Divisional rival the Raiders 27-23. Other scores so far Falcons over Dolphin Mammals 17-10. Browns over Tits 20-14. Bengals over Ravens 21-9. Jags over Texans 21-14. Vikings over Lions Wow! 27-14. Chargers over Jets 31-26. Panthers over Bucs 34-14. I had a great week of tipping 12 out of 14 in week 9.

Big game Monday night (I'm leaving here now to watch, it's Monday night CDN time but Tues Aussie time) as the Colts go to New England to take on the Patriots. I was lucky enough to film Tedy Bruschi a star last week in his 1st game back and his Patriot star mates at last years Super Bowl Media Day. Mates Club TV Click here

From Moose
Week 9 Game Balls:
1) Brad Johnson, QB, Minnesota 2) Troy Polamalu, S-RB, Pittsburgh {'Go Kanaka, Go!') 3) Kimo VonOelhoffen, NG-DE, Pittsburgh 4) Carson Palmer, QB, Cincinnati 5) Tie: Shaun Alexander, RB, Seattle and Rueben Droughns, RB, Cleveland. Honourable Mention: Peyton Manning, QB, Indianapolis for the cute Master Card Commercials, Dennis Northcutt, KR-WR-RB and QB Trent Dilfer, Cleveland.

NFL Week 9 Notes: I still say Jax WR Jimmy Smith is the most underrated WR in Pro Football history, apologies to equally underrated Marvin Harrison, Colts. Great spot on ESPN this morning on Sports Centre about ex-Philly Star Announcer/Philly Bell (WFL) / Philly Eagle WR-ST'r Vince Papale. The REAL Rocky! Know what I like best about Cincy WR Chad Johnson? - HE'S NOT Terrell Owens! I mean - here's a GREAT WR who gets along with his QB and other teammates AND WHO's unselfish!! Best wishes to Wayne the former Hockey player Chrebet, who suffered his at least eighth career concussion.

Think it over before you come back too soon, Wayne. You've had a real good career. Follow Steve (Extreme) Tasker into the broadcaster's booth, eh? In there was any doubt how bad Tom Benson(boogie) wants to get out of the Pelican State? How about his cuss-out/fight/no show in the last week for the "Baton Rouge Saints". Colour them gone in about a year, despite Mr. Tags platitudes!

Week 9 Scores: Carolina 34, Tampa Bay 14
Chicago 20, Baton Rouge Saints 17
Cincinnati 21, Baltimore 9 [Interesting Stats: 'RB' K. Stewart 3 for 30 rushing,
QB Anthony Wright, 3 for 36 yds...]
Cleveland 20, Tennessee 14
Jacksonville 21, Houston 14
Kansas City 27, Oakland 23
Minnesota 27, Detroit 14 (Bring back in 'Red' Garcia!)
N.J. Giants 24, S.F. 47ers 6
Pittsburgh 20, Green Bay 10
San Diego 31, N.Y. Jets 26
Seattle 33, Arizona 19
Washington 17, T.O.-less Philly 10 (the 'other guys' @ WR did do very well though...)
Atlanta 17, Miami 10
Are the Dullfins that dumb or what? They are starting 3rd sting QB Gus Frerotte and backing him up with Sage(brush) Rosenfels [sounds like a combination of an 1880's gunslinger and a Rabbi!)?! Why did that idiot Saban trade their best QB, A.J. Feeley to San Diego? Dumb...Gutsy call by Fightin' Dick Vermeil, former Vince Papale boss in Philly cheesesteak country - going for Larry ('Grandma(?)') Johnson over the top, A La Walt Payton-style." Moose

Sat, Nov 6 05 "NFL week 9 games and my tips! Terrell Owens up to his old tricks again!" Myk Aussie

Terrell Owens has mouthed off again and this time the Eagles have suspended him. This guy is a great player but I wish he would just play and stop mouthing off. He is somewhat right in regards to Donovan McNabb's erratic play of late, he said he thinks Brett Favre would be better at QB for the Eagles, thus bagging Donovan.

My Week 9 tips. Panthers over Buc's, Chiefs over Raider just in what should be a great divisional game. I'm only going for the Chiefs because it is in Kansas City. I would not be at all surprised if the Raiders do win. Eagles even without Owens over the Redskins who were horrid last week in another divisional game. Bengals over Ravens, Chargers over Jets, Falcons over Dolphin Mammals, a battle of the Bird's Seahawks over Cardinals.

Steelers over Packers just. Big Ben Berger star Steelers QB is out with a knee injury. Even though it is in Green Bay and Ben is out the Packers have been horrid so I'm going for the Steelers, Bears over Saints, Lions over Vikings in another divisional game, Giants who have been on fire over 49ers, Browns over Tit's, Jags over Texans.

And on Monday night it's the Colts at New England against the Patriots. Can Peyton Manning finally win at Foxbro? I think he can as the Patriots do have many injuries so I'm going for the Colts in what should be a great game. Check out some of the Patriots stars at last years Super Bowl Media Day. Click here Have a great NFL weekend!" Myk Aussie

Updated Thurs, Nov 3rd 05 "Moose's NFL report week 8 report! Tedy Bruschi MYKwebTV! 2 Aussie punters going great!" Myk Aussie

Moose's report below. It was another wild weekend of NFL footy. I naturally enjoyed the Bronco's thumping of the Eagles 49 to 21. Eagles QB Donovan McNabb was horrid especially early in the game missing on his 1st 12 throws. The Broncos defense blitzed him amazingly. The Bronco's are known for their good starts but I am very confident we have a great team this year. Let's just hope they can keep going especially Jake Plummer who I know is better than a lot of people give him credit for. Maybe it's his new "apparent" Cwoa Bronco's cheerleader girlfriend that has helped him be more relaxed this year with hardly any interceptions.

What about the blow out by the New York Giants over the Washington Redskins 36 to 0, Wow! It shows as many have been saying the Redskins weren't as good as their record suggested. Other great winners included The Chargers over the Chiefs 28 to 20 in my favorite Division. The Patriots over the Bills 21 to 16. Tedy Bruschi was simply amazing in his return to leader the Patriots defence after having heart surgery due to a stroke back in February. I was lucky enough to film Tedy and his Patriot star mates at last years Super Bowl Media Day. Mates Club TV Click here

The Raiders had a good win over the Tit's 34 to 25. More bad news for the Vikings as QB Duante Culpepper suffers a knee injury and they were defeated 38 to 13 by the Panthers. Packers, oh my Champ QB Brett Favre had 5 interceptions as they were defeated 21 to 14 by the Bengals. Brett even had a pick from a member of the crowd. No joke someone run onto the field and took the ball right out of Brett's hands. That just goes to show the Champ had a shocker. How did that happen with now extra tight security in the USA and at the NFL? It's not all his fault though ad the Packers do have many injuries.

The Cowboys with Aussie punter Mat McBriar continued on their winning way defeating the Cardinal birds 34 to 13. Congratulations to the lowly 49ers who shocked the Buc's 15 to 10 while the Texans had their 1st win defeating the Browns 19 to 16. Lots more NFL news coming as I look forward to Moose's HARDBall NFL style report later today.

Keep reading below for my Aussie Punters in the NFL report and MYKwebTV.

Moose's NFL report! Milestones. I thought I would mix it up a bit this week

by putting the Milestones first. There weren't many:

Brett Favre started his (continuing) record 231st consecutive game

. The Packers are off to their worst start (1-6-0) in franchise history!

Thing there is no correlation? Think again. I really feel sorry for Brett. Five INTs? Pls. retire soon, oh great QB. Favre also is now seventh in Pro Football history and second in NFL history, with over 51,500+ yards passing. He trails only: Doug Flutie, Dan Marino, Damon Allen and Warren Moon for most Pro yards passing.

I could get really negative and say it's Washington's second worst defeat in their franchise history, nect to the 73-0 drubbing in the 1940 NFL Championship. They beat Chicago 73-3 three years later.

how can the foreskins score 52 points one week and then get blanked by the lousy Giants by a 36-0 count? Strange. In other NFL News: how about ex-PBR star Cody Pickett leading the 48ers on two FG drives with 11 minutes left to beat the red-hot Buccs, 15-10? Last year Pickett was riding Bulls and playing Arena2 football For $300 a game, now he's playing QB in the NFL. Great story…

Best wishes to Daunte Culpepper, with his first real serious injury of his Pro career. Speedy recovery, kanaka! The Arizona Cards are in deep doodoo and will soon get Kurt Warner's engine running in the Bullpen! Doug Pederson tried to get Favre to hang it up with him in mini-camp, but stubborn Brett wouldn't listen. Hey Norris Division – will somebody try to win some games? Sheesh, it's getting embarrassing! The Baton Rouge Saints have hit rock-bottom. Losing to Gus the (non-kicking mule) Frerotte and the Dull-fins at Nick Saban's place sucks! The Aint's have set a new dubious NFL record by losing "home" games in four different cities now. Not easy to do! Still think the Jets don't miss Ricky (Frito) Ray – think again!

Scores:


Chicago 19, Detroit 13, O.T.


Dallas 34, Arizona 13


Oakland 34, Tennessee 25


Houston 19, Cleveland 16


N.Y. Giants 36, Washington 0 (Ouch!)


Saint Louis [no reason to bench Jamie Martin and Joe Vitt now!] 24,

Jacksonville 21


Cincinnati 21, Green Bay 14


Carolina 38, Minnesota 13


Miami 21, Baton Rouge Saints 6


San Diego 28, Kansas City 20


Denver 49, Philadelphia 21


San Francisco 15, Tampa Bay 10


(Cody Picks, 8 seconds, 1-1 passing, 12 yards, 2 rushes 10 yards, win)


New England 21, Buffalo 16 (Don't blame Kelly Holcomb, who leads the NFL with 68% completions!)


Pittsburgh 20, Baltimore 19

Game Balls:

Cody Pickett, QB-ST'r/Bullrider, San Francisco

, Tedy Bruschi, LB-DE, New England. Tiki Barber, RB, Giants

, Steve Smith, WR, Carolina

, Jake Delhomme, QB, Carolina.

Honourable Mention: Jake Plummer, QB, Denver, Mike Anderson, FB, Denver, Troy Polamalu, SS, Pittsburgh, Kimo Von Oehlhoffen,

NG-DE, Pittsburgh" Moose

"If you are here somehow Free I hope you decide to join us regularly in Mates Club Click here" Myk

"Do you want me to show you a demo/presentation/Live TV show with me as Myk Aussie? I have it all set up with a magnificent view of the Vancouver Harbor in the background! Clipstream Live Video to the web! Do you need to broadcast a sporting event, work conference etc, I have it
Click here Call me to discuss 1 604 609-7736 ext 240" Myk

"Live Video to the web! Do you need to broadcast a sporting event, work conference etc, I have it Click here Call me to discuss 1 604 609-7736 ext 240" Myk

"If you are here somehow Free I hope you decide to join us regularly in Mates Club Click here" Myk

For Me & Moose's NFL Mates Club Footy webWORLD Oct 05 Click here

For Me & Moose's NFL Mates Club Footy webWORLD Sept 05 Click here
For Me & Moose's NFL Mates Club Footy webWORLD Aug 05 Click here


General Viewing NFL webWORLD past columns are below. The 05 season columns are now updated especially for NFL Mates Club. Previous to 05 NFL season will stay as General Viewing columns thus by clicking on below you will go out to General Viewing MYKwebWORLD.

For Me & Mooses NFL Footy webWORLD Mar - July05 Click here
For Me & Mooses NFL Footy webWORLD Jan 20-Mar 05 Click here
For Me & Mooses NFL Footy webWORLD Jan 7-20 05 Click here
For Me & Mooses NFL Footy webWORLD Dec 18-24 04 Click here
For Me & Mooses NFL Footy webWORLD Dec 18-24 04 Click here
For Me & Mooses NFL Footy webWORLD Dec 13-17 04 Click here
For Me & Mooses NFL Footy webWORLD Dec 1-11 04 Click here
For Me & Mooses NFL Footy webWORLD Nov 17-30 04 Click here
For Me & Mooses NFL Footy webWORLD Nov 10-16 04 Click here
For Me & Mooses NFL Footy webWORLD Nov 1-9 04 Click here
For Me & Mooses NFL Footy webWORLD Oct 16-30 04 Click here
For Me & Mooses NFL Footy webWORLD Oct 10-15 04 Click here
For Me & Mooses NFL Footy webWORLD Oct 1-10 04 Click here
For Me & Mooses NFL Footy webWORLD Sept 04 Click here
For Me & Mooses NFL Footy webWORLD August 04 Click here
For Me & Mooses NFL Footy webWORLD July 04 Click here
For Me & Mooses NFL Footy webWORLD April-June 04 Click here
For Me & Mooses NFL Footy webWORLD March 04 Click here
For Me & Mooses NFL Footy webWORLD Jan-Feb 04 Click here
For Me & Mooses NFL Footy webWORLD Dec Click here
For Me & Mooses NFL Footy webWORLD Sept-Nov Click here
For Me & Mooses NFL Footy webWORLD June-Aug Click here
For Me & Mooses NFL Footy webWORLD Mar-May Click here