You can also join me & me MADNess Mates every Fridee/Saturdee on Gabriel Morency's "SportsRage" The World Champs Inet & Montreal Radio, Fri 10.45pm Pacific CDN/US time, Sat 5.45pm EST Aussie time. I often talk NFL footy Click here " Myk Aussie

*****Hope you can tell your mates about Mates Club webWORLD? Invest In Mates Club MYKwebTV, HARDBall Columns ansd Sexy Sports pic's! Myk's Mates Club Click here *****


Wed Jan 18, 06 "Moose's NFL report!" Myk Aussie
When will the "biggest Football League' in the Pros get some REAL Officiating?! By: Rich Salzer and Michele DeWalt
Notes – Mr. Morelli, do not pass go, don not collect $200 ! Procede directly to NFL Europe, the 'AAA's this spring! The officiating is getting worse all the time in 'The League', as it's egomaniac followers/ employees call it! Morelli's call that my kanaka, Troy Polamalu DIDN'T catch that INT. v. the Sacramento Kings of the NFL (thanks, Scott Baxter, who's Playoff Picks, both of which I disagree with, appear below) blew another Playoff game and now the Establishment Sports Media is ACTUALLY AFTER his Manningness!
Quote: "Manning's career will almost assuredly lead to the NFL Hall of Fame in Canton, barring an unforeseen drop off. But he is rarely at his best in the playoffs. His worst performances have always come in the Playoffs…"
Another: By Mike Vanderjagt, two years ago had the Colts fan-atics up-in-arms, "…I just don't think Coach Dungy and Peyton can get us there…[on chances of going to the Super Bowl]…Peyton just doesn't come through in big games, and Coach…couldn't get it done in Tampa…" Manning CALLED Vanderjagt "an idiot kicker and said he "was all liquored up." I beg to differ.

Now that I got that off my chest, here's the Game Balls of the Week by Michele DeWalt:
Kimo Von Oelhoffen, DT, Pittsburgh, who they claim has pulled two big upsets …
Troy Polamalu, S-LB-RB, Pittsburgh
Steve Smith, WR, Carolina
4) Buffalo G.M. Marv Levy for the comment, "When you get my age, they say things happen…like losing your memory and, …I forgot the other things."

Honourable Mention: The entire Denver Broncos squad for beating the defending Champ New England Patriots." Moose
Mates I have lots of NFL Super Bowls Mates Club TV from Super Bowls 37, 38 and 39. Super Bowl 37 Click here, Super Bowl 38 Click here Super Bowl 39 Click here " Myk Aussie

"New Cwoc Pammy and the real Pamela Grey Cup 05 Mates Club TV Click here" Myk
Tues Jan 17, 06 "Bronco's defeat the Patriots! Steelers upset the Colts! NFC results and report as well!" Myk Aussie
I went 3 out of 4 in this weeks tips.

AFC the stronger Division - Wow! What a great weekend of NFL Divisional playoffs it was! It was fantastic that my #1 team the Denver Bronco's defeated the Pat's the reigning Super Bowl Champs 27 to 13 at the new Mile High Stadium. This win ended Tom Brady's amazing run of 10 playoff wins in a row and no looses. What a great effort by the Patriots over the past 2 years winning back to back Super Bowls and then this year still going so far after suffering many injuries in the 1st half of the season.

Upset! Upset! Upset! Steelers defeated Colts 21 to 18! What a terrific game it was in Indy on Sunday. The Steelers outplayed the Colts, they out coached them and the defence rushed, hassled, sacked Champ Colts QB Peyton Manning all day. Even though I am not a Steelers fan at all I was in some way hoping they would win as it would mean the Bronco's getting another home game instead of facing the Colts in Indy. After Sundays game I respect the Steelers immensely.

Some controversial calls seem to go the Colts way as well. Then when the game seemed to be won by the Steelers Jerome Bettis fumbled on the 2 yard line when it seemed a certainty the Steelers would win and then Colts kicker Mike Vanderjagt the Canadian and the most accurate kicker in NFL history missed a field goal that would have sent this great game into overtime. I could go on and on about this game.
NFC - Seahawks defeated the Redskins 20 to 10 in Billy Gates city. After a early horrible fumble this years NFL MVP Shaun Alexander was then knocked out of the game early with a concussion. He did not return. With Shaun out it seemed like a golden opportunity for the Redskins to win but it wasn't to be, the Seahawks won their 1st playoff game in many years.

Panthers defeated the Bears 29 to 21. Yeh, I tipped the Panthers to win. Panthers Steve Smith the Wide Receiver had 12 receptions for 218 yards and 2 Touchdowns! What a great player! Unfortunately the Panthers lost running back DeShaun Foster with a broken ankle. Damn it, now I'm thinking the Panthers are in trouble as he has been in fine form as well. I was definitely going to pick the Panthers this week against the Seahawks but now I am not sure with Foster out. For some great Mates ClubTV as I am with the Panthers players at Super Bowl media day in Houston Click here
"If you are somehow in here Free hope you can join us at Mates Club Click here" Myk


Updated Sat Jan 14, 06 "CFL 04 MVP Casey Printers signs with the Chiefs! My NFL Divisional Playoff tips and report! NFL 2006-05 season Top 15 Passing Leaders from Moose! Massive amounts of NFL Pro Bowl MYKwebTV! Lots of NFL Super Bowls MYKwebTV!" Myk Aussie
The CFL 04 MVP BC Lions Champ QB Casey Printers this week signed a contract with the Kansas City Chiefs!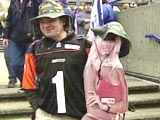 My new CFL BC Lions 05 jersey with Casey Printers #1 on the front. I'm at the CFL Grey Cup with Cwoc Pammy. I will continue to wear this jersey with pride and remember how great Casey was in 04 and in the games that he did start at QB for the Lions in 05. More on this coming this week especially to Myk's Mates Club. Good luck to Casey in the NFL. Here is a interview that I did with Casey at the start of the CFL 05 season at Casey's Kids Camp in Vancouver. Click here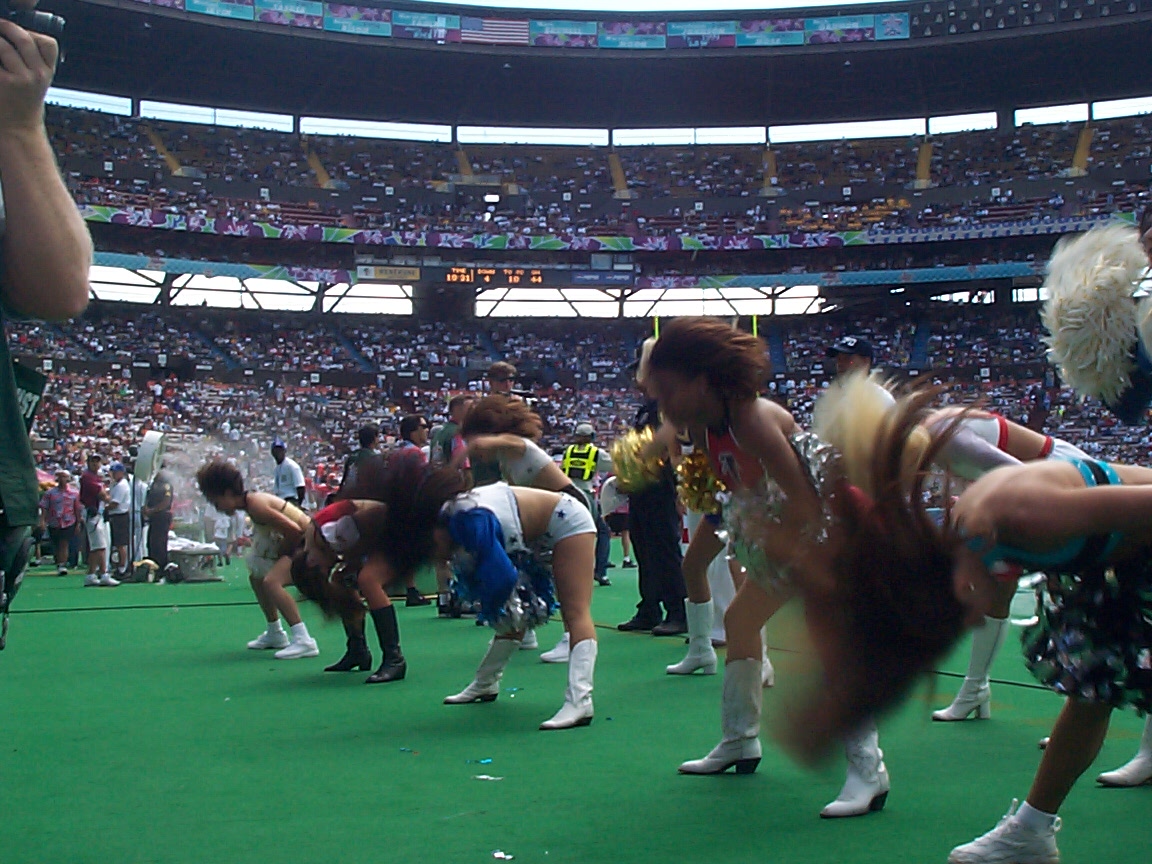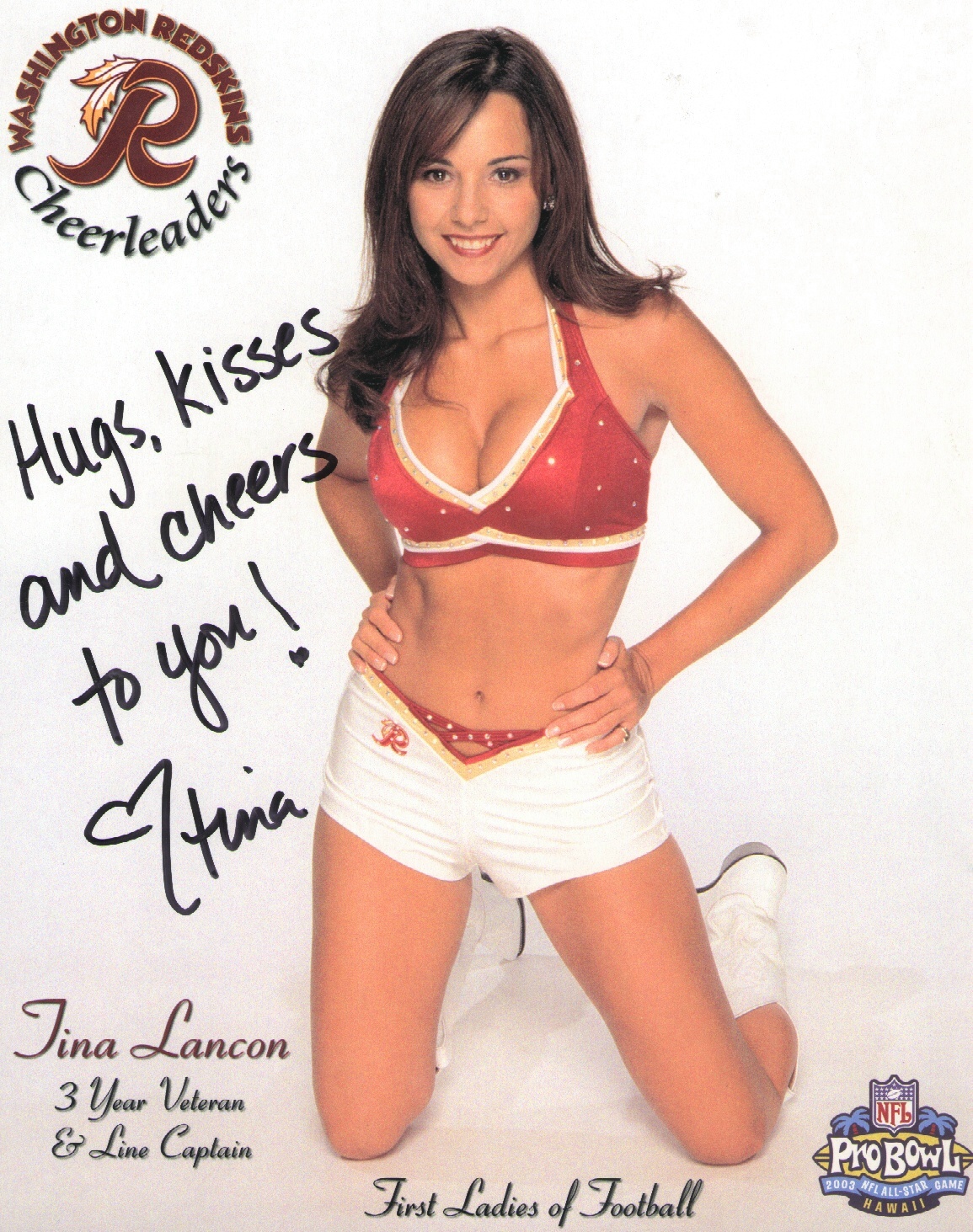 Left: A great picture from my video camera as I am on the sidelines at a recent NFL Pro Bowl.
Right: A signed poster of Cwoa Tina #1 Redskins 03 Pro Bowl cheerleader. I often chat with Tina on email. Tina is a Super Star on NFL Pro Bowl Mates Club TV Click here

From Fri. NFL Divisional playoffs start tomorrow! Lets see if I can this week again go 4 out of 4.

AFC - My #1 team the mighty Denver Broncos over the Pats in what could be the game of the weekend. I'm obviously nervous about this game as the Pat's haven't lost a playoff game ever since Champ Tom Brady started playing for them at QB. They have won 10 playoff games in a row and 3 out of the past 4 Super Bowls. It is in Denver and the Bronco's should benefit from the weeks rest. I'm hoping for a Bronco's win and wish I was there.

Colts over the Steelers. The game is in Indy but I am not so sure the Colts will benefit from the weeks rest. They haven't been playing their stars much at all over the past 4 weeks and with the recent tragic death of James Dungy the son of coach Tony Dungy the Colts are going in with some distractions and not much playing lately. However I believe they will beast the Steelers. If the Steelers take out Peyton Manning early like they did last week with Carson Palmer well then it will make it very very interesting.
NFC - Panthers over the Bears. Panthers were amazing last week against the Gentle Giants and I believe they can defeat the Bears in Chicago. They have a great on the road record and they seem to be on fire.

Seahawks just over the Redskins. It may be a game of the runners. Seahawks running back Shaun Alexander was recently crowned the MVP of the league while Redskins Billy Clinton Portis has been on fire the past weeks as well. I give the Redskins more of a chance than many of the experts but it is in Billy Gates's Seattle and the Seahawks also should benefit from the week off last week. Hope you enjoy the NFL weekend!
NFL 2006-05 season Top 15 Passing Leaders from Moose!
QB Team Att(s) Comp(s) Yds. TDs INTs.
Carson Palmer, Cincinnati 509 345 3836 32* 12
Peyton Manning, Indianapolis 453 305 3747 28 10
Tom Brady, New England 530* 334 4110* 26 14
Matt Hasselbeck, Seattle 449 294 3459 24 9
Jake Delhomme, Carolina 435 262 3421 24 16
Drew Brees, San Diego 500 323 3576 24 15
Mark Brunell, Washington 454 262 3050 23 10
Drew Bledsoe, Dallas 499 300 3639 23 17
Jake Plummer, Denver 456 277 3366 18 7
Ben Roethlisberger, Pittsburgh 268 168 2385 17 9
Donovan McNabb, Philadelphia 357 211 2507 16 9
Byron Leftwich, Jacksonville 302 175 2123 15 5
Kurt Warner, Arizona 294 184 1885 14 9
Brad Johnson, Minnesota 287 192 2297 12 4
Jamie Martin, Saint Louis 251 167 1893 11 7

"If you are somehow in here Free hope you can join us at Mates Club Click here" Myk
Updated Thurs Jan 12, 06 "Moose's NFL report and picks! NFL Pro Bowl starters! Massive amounts of NFL Pro Bowl MYKwebTV! Lots of NFL Super Bowls MYKwebTV!" Myk Aussie
For NFL Pro Bowl webWORLD Click here
Moose's NFL Report Week 18 report and this weekends picks!
From Moose
Game Balls:
1) Steve Smith, WR, Carolina
2) Kimo VonOelhoffen, NG-DE /(not for hit on Carson Palmer either, for which Palmer forgave Kimo) and Troy Polamalu, S-LB-NG(!), Pittsburgh
3) Washington Coach Joe Gibbs (best Coaching job of his NFL life in upset of Tampa Bay, who frankly misses their starting QB Brian Griese!)
4) Coach John Fox, of Virginia Beach, VA, Carolina
5) Mike Woicik, Strength Coach New England Patriots
Jon and Jay Gruden REALLY saw how important Brian Griese IS to that Tampa Offence. Chris (Lefty) Simms tries hard but is only a number #2 QB. How the Deadskins were able to win that game IN TAMPA(!) W/ONLY 122 YARDS IS SIMPLY THE BEST Coaching job EVER in NFL history for one game. The sand will run out of their hourglass against a hungry and much better team in Seattle, though.
The NFL Coaching Carousel continues to go around. Are the Kansas City Chiefs, a once great Super Bowl team from the AFL days so desperate that they are willing to give up draft picks for an only above average/lukewarm Coach like Herman (No Miracles In The Meadowlands) Edwards? What did he ever do to deserve this? Is it Political Stupidity? Has Carl Peterson flipped his Philly-Stars-wig? To be continued.

The Chiefs also announced that Mike Maslowski will Coach in NFL E this spring after declining several jobs in the Ar.FL where he started. That effectively ends his playing career with the Chiefs who had him on I.R. last season. The Vikings continue to shoot themselves in the foot with the firing of Defencive Coordinator Ted Cottrell, who started in the Pros in 1985 with the USFL New Jersey Generals, just like 43yr.old Doug Flutie, K-QB3 with the Patriots. Is Ziggy Wilf, "jiggy"?
My Picks for round two (I was two of four last week
AFC: Denver over N.E.
Pittsburgh by a whisker over Indy
NFC: Carolina to blow out Chicago
Seattle to slaughter Washington

Two close ones and two blowouts this weekend." Moose

"Mates I have lots of NFL Super Bowls Mates Club TV from Super Bowls 37, 38 and 39. Super Bowl 37 Click here, Super Bowl 38 Click here Super Bowl 39 Click here " Myk Aussie

"New Cwoc Pammy and the real Pamela Grey Cup 05 Mates Club TV Click here" Myk
Tues Jan 10, 06 "Moose's HARDBall NFL report! Moose's Hall of Fame 06 picks! My NFL Playoff report and scores below Mon Jan 9th! Lots of NFL Super Bowls MYKwebTV" Myk Aussie
From Moose "You know it's the 21st Century in the NFL when a Coach (Atlanta's Jim L. Mora) gets fined $25,000 for using a cell phone on the sidelines. Did his daddy (Jim E.T. Mora) call him with a play in the rout loss to Carolina? Bravo to Morency's Bills for hiring Marv Levy, soon to be 81 as G.M. Marv, as many of you know used to Coach the Bills, in addition to the K.C. Chiefs, Montreal of the CFL and Chicago of the USFL. I agree with the NFL's picks of Tedy Bruschi (N.E. LB) & Steve Smith (Carolina WR) as co-Comeback Players of the Year. I DO NOT however agree with their pick of Shaun Alexander, Seattle RB as M.V.P. I think it should have been split between N.Y. G-men's RB Tiki Barber (who helped a team without a real QB get to the playoffs) and/or LaDainian Tomlonson (S.D. RB), who ALMOST got a team with an injured QB to the playoffs and saved Marty Schottenheimer's job in the process.
Moose' Picks for the NFL Hall of Fame for 2006:
1) John Madden, Announcer, former Coach (Oakland Raidahs, 2 Super Bowl appearances, 1 win and 100 wins faster than any Caoch in Pro Football history,
2) Art Monk, the best WR/OE of alltime (with respect to Jerry Rice, eqaully good), Washington/Philadelphia/N.J. Jets,
3) Chester Carleton Gilchrist (the real "Cookie"), RB, two time Buffalo Bills Champ, Miami, Denver, Cincinnati and eight great yrs in the CFL helping Hamilton win a Grey Cup in '57,
4) Carl Eller, DE, four Super Bowl appearances w/ Minnesota and a yr. with Seattle as well,
5) Elvin Bethea, DE, Houston Oilers,
6) Gary Zimmerman, one of the greatest O. Linemen ever; helped John Elway win his first Super Bowl, also played with L.A. (USFL) and Minnesota" Moose
Mon Jan 9, 06 "My NFL Playoff report and scores! Bengals QB Carson Palmer out on his 1st play of the game! You know what drives me nuts in this great game?" Myk Aussie

Wow, I went 4 out of 4 in the 1st weekend of the NFL Playoffs. I was hoping I ended up 3 out of 4 as I was rooting for the Bengals Bigtime yesterday for 2 reasons! The 1st was I as a #1 Bronco I would have rathered see the Bronco's play the Bengals next weekend in Denver than the reigning Super Bowl Champs the New England Patriots.
Secondly it was disappointing to see Bengals QB Carson Palmer go down with a serious knee injury after his 1st pass of the day against the mean Black and Yellow Steelers. As many of you know I simply do not like many Black and Yellow teams anywhere in the world especially the Gawler Central Tigers, the SANFL Glenelg Girls. But I have to hand it to the Steelers they hit the Bengals hard and injured two of their best player early. Final score was Steelers 31 over Bengals 17.
I was very happy with the result of the Panthers shutting out the Gentle Giants 23 to 0. Plexico Burress who apparently was telling the Fox commentators before the game that he would be calming down Giants QB Eli Manning in his 1st Playoff game and trying to help him out well Plexico was Soft, Soft, Soft all day and he should have worried about his own game at Wide Receiver. The Fox commentators even said Plexico was known for going missing in Big games for the Steelers. It wasn't Eli's fault on one of the interceptions at all, it was Plexico running at about 50%. Eli will get the blame mostly but most of the Giants were simple "Gentle Giants" today including a Shocking Jeremy Shockey. Panthers were fantastic on defence and offence all day. I enjoyed this game immensely.

In Saturdays games the Pats hammered the Jags as somewhat expected 28 to 3 while the Redskins defeated the Tampon Bay Bucs 17 to 10.

You know what drives me nuts in this great game! Why do players help the players from the other teams get off the ground? It happens so much it amazes me. I bet Bill Romanowski never did it. A player is on the ground and his team mate will put out his hand and pull him up from the ground exerting his own energy. That's sort of OK I suppose but this even amazes me as it is as easy or easier to lean over and get up from the ground using your own arms and legs than exerting all your energy in the arm that is used to pull yourself off the ground. Plus the player that is helping is also using lots of energy pulling a player up. I see it in the CFL as well. Drive me Nuts every time I see it.
Now when I see a player from the opposite team helping a player get off the ground I can't believe it! After trying to pound him and his head into the ground 3 sec's earlier they then help them get up! Why? This is one of the toughest games in the World, why would you help your opponent at all! If I was playing I would do this just once and then hopefully my teammates do it as well. I would go to help the opposition player off the ground, as he is half way up let go of his hand so that he falls back to the ground. Yep, I would then make out my hand slipped. I hope the Broncos players read this.

As we count down to Super Bowl in Detroit I hope you enjoy my NFL Mates ClubTV shows from last years Super Bowl week in Jacksonville Click here Lots more coming on here this week including Moose's as always HARDBall style NFL report." Myk Aussie

"If you are somehow in here Free hope you can join us at Mates Club Click here" Myk
Updated Sat Jan 7, 06 "My NFL Playoff tips and report! Moose's Playoff previews!" Myk

I finished at 177 right and 81 wrong for the year straight up, I my best year ever of tipping over the past 6 years. A great NFL and CFL newspaper and TV reporter here in Calgary that I respect very much finished with 170 right and 88 wrong so I'm very happy with my total. Lets see how I go this weekend.
From Fri, Jan 6th NFL Playoff Wildcard weekend starts tomorrow!
AFC - Black and Yellow Steelers at the Bengals place. Hmmm! Damn I have to go for the Steelers, even though I very rarely like Black and Yellow teams. Read below if you are a newcomer as to why, I often talk about those yucky arch rival Black and Yellow Gawler Central Tigers in the BL&GFA Aussie Rules Footy. Bengals have looked horrid the past 2 weeks and as many are saying their defense will probably let them down this weekend especially against "The Bus" Bettis and his Steeler Running Back mates. Even though I'm not a fan of Black and Yellow teams I do admire Big Ben RottenBurger the QB in his 2nd year at the Steelers and Antwaan Randel El, wow he's good at wide receiver. It's great to see the Bengals who were definitely not playing like "Gals" this year in the playoffs. Great new uniforms as well. I wonder what Bengals WR Chad "Big Mouth" Johnson who is Terrell Owens younger brother, will get up to this week if he scores a touchdown after his failed attempt to let a injured reindeer onto the field a couple of weeks ago.
Pats over Jags. I just can't pick against the Patriots the reigning and winners of the past 2 Super Bowls and 3 of the past 4. Great to see the Jags back in the playoffs especially after the great week I had in Jacksonville for the Super Bowl last year. Many of the TV shows from Jacksonville are still available for viewing Click here and more Comedy and Babe TV shows on Mates Club Click here
NFC - Redskins over Tampon Bay Buc's. I'm going against what many are predicting and I'm going for a Redskins win in Tampon land. I've always liked the Redskins after watching them in some Super Bowls from Down Under years ago. To be 100% honest I haven't followed the Buc's that closely this year since former Bronco's QB Brian Griese got injured. This could be my downfall. Great to see former Seahawk Joey "Kangaroo" Galloway playing well for the Buc's. I tell you what Joey is damn quick like a kangaroo as well. If you are youngsters or here or someone with no knowledge of Aussie animals a Joey is a baby kangaroo that lives in the mothers pouch when younger. Check out the Joey's and kangaroos on my Aussie MYKwebTV, 2nd TV show down, scroll below the TV screen
Click here
Panthers over Giants. I'm again going against the odds here as the game is in New York but I must stick with the Panthers as I have said for many weeks I like their chance in the weaker NFC. It will be very interesting to see how Eli Manning Giants QB plays in his 1st playoff game. You know what else after I met many of the Panthers players at the Super Bowl in Houston I just gotta stick with them. All of the TV shows from Houston are on Super Bowl 38Mates Club TV Click here
Moose's playoff previews are below as well. Have a great NFL Wildcard weekend and hope you enjoy my many NFL Comedy based MYKwebTV shows." Myk Aussie
Thurs Jan 5, 06 "Moose's NFL Awards! Playoff previews!" Myk Aussie
From Moose: Coach of the Year (three way tie) Tony Dungy, Indianapolis, Jon Gruden, Tampa Bay and Mike Tice, Minnesota (hear that Ziggy Wimp, er, ah, wilf?
Special Teams Players of the Year:
(Tie) Ben Graham, Punter, New Jersey Jets / Antwann Randall El, Pittsburgh, RB/WR/KRP-PR/QB.
Defencive Player of the Year: Mike Vrabel, LB/TE-FB, New England. How many TDs this year?! Unreal!
Offencive Player of the Year: Shaun Alexander, RB, Seattle, who broke the NFL RUSHING TD mark with 28. Could have scored 30 majors with more playing time.
M.V.P. (Tie) Tiki Barber, New York G-men, RB & LaDainian Tomlinson, RB, San Diego" Moose

"If you are somehow in here Free hope you can join us at Mates Club Click here" Myk
Wed Jan 4, 06 "Moose's HARDBall NFL report! Coaches FIRED! Playoff previews" Myk Aussie
From Moose "Doug Flutie not only made the first NFL drop-kick extra point in the League in 64 years but also may not be retiring. I believe that Randy Cross, ex- San Francisco Super Bowl 49er Centre may have been a bit premature in predicting Doug's impending retirement. But here's to Kansas City Coach Dick Vermeil, already in the High Scholl Football and NCAA Halls-of-Fame and hoping that he makes the NFL Hall-of-Fame too. Vermeil won 125 games as Coach in 15 NFL seasons of the Kansas City Chiefs, Saint Louis Rams and Philadelphia Eagles. Vermeil lead the Philadelphia Eagles to Super Bowl 15 and Coached the Rams to the Super Bowl 34 win over Tennessee.
Also probably hanging it up after all these years in the NFL are OT Ray Brown, Washington, Pittsburgh RB Jerome Bettis, 5th all time in NFL history in rushing and (HOPEFULLY) Green Bay QB Brett Favre. I don't see Cowboys Coach Bill Parcells or Washington's Joe Gibbs hanging it up yet though Gibbs may have to because of health problems.
The NFL season that featured the Minnesota 'boat ride scandal', The continuing saga of Maurice Clarett, the firing, or retiring or 'not resigning' [Big Mike Tice, Vikings] of six Coaches with several Interim H. Coaches jobs also hanging in the balance, is coming to a fast close. The Playoffs are upon us.
Game Balls:
1) Marc Boerigter, WR,ST'r, Kansas City [the best downfield blocker in the NFL]
2) Larry Johnson, RB, (WHAT A SEASON since replacing one of the best in P.H.)
3) DeShaun Foster, RB, Carolina
4) Chris Simms, QB, Tampa Bay
5) Tiki Barber, RB, N.Y. Football Giants
Honourable Mention: WR/KR Eddie Kennison, K.C.
Coaching Merry-Go-Round:
1) Mike Martz, St. Louis - gone, a I predicted he would be back in August when I did my NFL team Previews. Interim Joe Vitt, if his healthy holds up will be back in some capacity. H.Coach? Possibly, but colour INT-machine/QB Marc Bulger(ing shoulder) gone to wherever his boy Martz ends up. Can you say Jamie Martin and Joe Vitt? It sounds good to me (Martin with career highs in almost every category passing this year and 4-3 as a starter).
2) Mike Tice WAS NOT FIRED! His contract has expired and will not be renewed - a mistake for new owner Ziggy Wilf, who I called 'Palffy' earlier this year. Wrong rushkie I guess! A big mistake (sorry, I already said that).
3) Dick Vermeil, Kansas City, retired. God bless you Dick. The NFL loses a class guy and great judge of talent.
4) Coach of the Year: Three way tie: Tony Dungy, Indianapolis, Jon Gruden, Tampa Bay AND MIKE TICE, MINNESOTA! Take that Plaffy! I mean Wilf!
5) Dom Capers, Houston Texans. Fired. No surprise. With a loser owner, a QB that won't develop and not much talent, poor USFL Defencive Coordinator extraordinaire Capers got four years here like four years as Carolina's first Coach. Life just isn't fair sometimes. Expect Mike Tice and knucklehead Martz to apply/interview here. I heard Martz had heart problems. I didn't know he had one!
6) Jim Haslett, Saints. Poor Guy II, the sequel. A loser owner (hey, sounds familiar), No QB (Brooks sucks and Todd (Cannon-arm) Bouman has sat too long. Nobody Coached harder this year and had to have his team play home games in four Stadiums! Expect Tice to end up here too, maybe.
7) Moose we can now add Norv Turner at the Raiders Fired as well yesterday." Myk
AFC Playoff first round Previews: Jacksonville v. Defending Champ New England; Hey Bill Belichick, any drop kicks left in the Flute-bag?! The Jags having a great year since (surprise) the QB with the worst looking drop in NFL history got hurt (B.Leftwich), has one thing on the Pats; versatility @ the QB position with Matt Jones (wr/qb), Quinn Gray [not Grey], and especially Dave Garrard, who broke most of Marcus Crandell's records at East Carolina, running and passing wild. This could be one of the best NFL playoff AFC games in quite a while. Whoever wins this one, WILL beat a down Indy team in the RCA Dome in round two - believe it! Moose's Pick: New England 28, Jacksonville 25 (you'll see a two pointer in this game, with these two Offences but Jax comes up a bit short). Flutie to drop kick again? I hope!!!
Cincinnati v. Pittsburgh: Sshhhh! Don't tell anybody, but Pittsburgh is overrated! Logic would tell us that all of a sudden Bengals, who were red hot, are Bungles again and ice cold. Don't you believe it! Marvin Lewis team has been playing possum with us the last couple weeks. Pittsburgh is old and only a strong running game has bailed them out lately and it took Kansas City's loss to send Dick Vermeil to retirement - permanently and I think Cincinnati's Offence is too strong for these old Steelers! Moose's Pick: Cincinnati 27, Pittsburgh 18.
NFC Playoff Previews: Tampa Bay v. Washington: A red-hot Washington team plays 'Lil Jonny Gruden's Tampa Bay Buccs (Myk hates it when I spell 'Em that way, but that's their name: B-U-C-C- A-N-E-E-R-S. Or Buccs for short. The way all Yank Sports writers spell it!) I look for a sort of low scoring game unless Tampa blows it out. Give T.B. the edge with their strong running game. Washington the edge in passing. Too many intangibles in the Buccs favors. Moose's Pick: Tampa Bay 25, Washington 17. "Moose I call them the Tampon Bay Buc's. They have had a surprisingly great year. It was good to meet the Buc players at the Super Bowl in San Diego wasn't it. Being in the at Media Centre all week was Wow! A lot of fun." Myk
New York Football Giants (?) v. Carolina Panthers. Does anybody out there really believe that 'Lil Manning can outplay Jake (cajan snake) Delhomme? I don't. As much as I like Virginia's Tiki Barber, who is my choice for c0-MVP this season (2005-06), Carolina in a cake walk: Carolina 30, N.Y. 14" Moose
"If you are somehow in here Free hope you can join us at Mates Club Click here" Myk
Mon Jan 2, 06 "Happy New Year! NFL week 17 results and report! Doug Flutie's Drop Kick! Former CFLer Champ Mike Sellers scores a TD for the Redskins! Pro Bowl is not far away!" Myk
"Left: I'm trying to be a QB at the NFL Pro Bowl experience in 2003. Right: I'm catching up with Cwoa Merideth my 2002 ProBowl webSportsCaster camera lady. Will Moose and I again make it to Pro Bowl this year? I hope so. Hope you enjoy one of the most popular MYKwebTV sections on MYKwebWORLD the Pro Bowl Mates Club TV shows with many of the star players and beautiful Cwoa cheerleaders.
Click here
My week 17 results and report! I picked 10 out of 16 straight up this week to finish at 177 for the year, I my best year ever of tipping over the past 6 years.

Broncos defeated Chargers 23 to 7. Giants over Raiders 30 to 21. Chiefs hammer the Bengals 37 to 3 but miss the playoffs. Packers defeat the Seahawks 23 to 17. Colts just over the Cardinals 17 to 13 as coach Tony Dungy returns after the recent and very unfortunate "apparent" suicide of his 18 year old boy James. Lots more below on this tragic story. Browns Shitta Me Pants but not this week over Ravens 20 to 16. Jets over Bills 30 to 26. Panthers hammer the Falcons 44 to 11. I believe the Panthers are a Big chance in this years playoffs but they must beat the Giants in New York. This should be a great game. Steelers over Lions 35 to 21 and they make the playoffs to play the Bengals.
Dolphin Mammals over Pats 28 to 26. Wow, that was amazing yesterday Doug Flutie doing the Drop Kick for a point. It reminded me of the olden days in Aussie Rules Footy when the drop kick was popular. My dad could do a great drop kick but as I started playing in the 70's it disappeared as the speed of Aussie Rules Footy picked up and thus the drop kick was no good on the run. Russell Ebert my coach at the Warriors could also do a rippa of a drop kick. I'm sure tomorrow Moose will be writing about Doug's feat as I know Doug Flutie is one of Moose's favourite Footy players ever. For great USA and CDN Aussie Rules Footy 05 MYKwebTV including my trip to the 05 US Nationals
Click here

Tampon Bay Buc's over Saints 27 to 13. The Buc's are in the playoffs to play Redskins in Tampa. 49ers over the Texans 20 to 17 in overtime. It was a horrid year for both of these teams. Vikings over Bears 34 to 10 and then Vikings coach Mike Tice is fired 1 hour after the game. Jags hammer the Tit's 40 to 13. Jags had a great year. They will play the Pats the reigning Super Bowl Champs in one of this weekends AFC wildcard games. Redskins over Eagle #1 Bird Flu's 31 to 20 in a great game. Redskins are in the playoffs for the 1st time since 99. Billy Clinton Portis the former Bronco Running Back was sensational yesterday and especially the past 4 to 5 weeks. Former CFLer Champ Mike Sellers scores a TD for the Redskins. Mike is one of my favorite CFL players ever as he was dominant for the Winterpeg Blue Bombers. You can check out my 1 on 1 interview with Mike in the CFL Bombers rooms after a Big game Click here

New Zealand Ram Sheep over Cowboys 20 to 10. The Cowboys knew they could not make the playoffs with the Redskins win 1 hour earlier. What about the massive punt by Aussie Mat McBriar! It was Huge but unfortunately it got called back with a Cowboys offensive penalty. Mat had a good year in his 2nd year of punting for the Cowboys. My interview with Mat from the NCAA Hula Bowl can be seen on NCAA MYKwebTV Click here
A special congratulations to Seahawks running back Shaun Alexander for winning this years running back title and also for breaking the NFL record of most TD's in a season, 28 way to go Shaun. Moose and I were lucky enough to interview Shaun a couple of years ago in Seattle after the game against the Vikings in which he scored 5 TD's in the 1st half.
Good luck to the NFL teams and fans in the playoffs especially to the Broncos! Giddy Up!" Myk Aussie


"Live Video to the web! Do you need to broadcast a sporting event, work conference etc, I have it Click here Call me to discuss 1 604 609-7736 ext 240" Myk
"If you are somehow in here Free hope you can join us at Mates Club Click here" Myk




For Me & Moose's NFL Mates Club Footy webWORLD Dec 05 Click here

For Me & Moose's NFL Mates Club Footy webWORLD Nov 05 Click here

For Me & Moose's NFL Mates Club Footy webWORLD Oct 05 Click here

For Me & Moose's NFL Mates Club Footy webWORLD Sept 05 Click here
For Me & Moose's NFL Mates Club Footy webWORLD Aug 05 Click here
General Viewing NFL webWORLD past columns are below. The 05 season columns are now updated especially for NFL Mates Club. Previous to 05 NFL season will stay as General Viewing columns thus by clicking on below you will go out to General Viewing MYKwebWORLD.

For Me & Mooses NFL Footy webWORLD Mar - July05 Click here
For Me & Mooses NFL Footy webWORLD Jan 20-Mar 05 Click here
For Me & Mooses NFL Footy webWORLD Jan 7-20 05 Click here
For Me & Mooses NFL Footy webWORLD Dec 18-24 04 Click here
For Me & Mooses NFL Footy webWORLD Dec 18-24 04 Click here
For Me & Mooses NFL Footy webWORLD Dec 13-17 04 Click here
For Me & Mooses NFL Footy webWORLD Dec 1-11 04 Click here
For Me & Mooses NFL Footy webWORLD Nov 17-30 04 Click here
For Me & Mooses NFL Footy webWORLD Nov 10-16 04 Click here
For Me & Mooses NFL Footy webWORLD Nov 1-9 04 Click here
For Me & Mooses NFL Footy webWORLD Oct 16-30 04 Click here
For Me & Mooses NFL Footy webWORLD Oct 10-15 04 Click here
For Me & Mooses NFL Footy webWORLD Oct 1-10 04 Click here
For Me & Mooses NFL Footy webWORLD Sept 04 Click here
For Me & Mooses NFL Footy webWORLD August 04 Click here
For Me & Mooses NFL Footy webWORLD July 04 Click here
For Me & Mooses NFL Footy webWORLD April-June 04 Click here
For Me & Mooses NFL Footy webWORLD March 04 Click here
For Me & Mooses NFL Footy webWORLD Jan-Feb 04 Click here
For Me & Mooses NFL Footy webWORLD Dec Click here
For Me & Mooses NFL Footy webWORLD Sept-Nov Click here
For Me & Mooses NFL Footy webWORLD June-Aug Click here
For Me & Mooses NFL Footy webWORLD Mar-May Click here