*"I hope you can join me in Moose and my Mates Club for hours of Sports, Comedy, Babe TV Click here" Myk Aussie

Lately I have been talking Kobe with Gabriel Morency the star host of SportsRage! Since Nov 2002 I have been on "SportsRage" Inet & Montreal Radio, Fri 10.45pm Pacific CDN/US time, Sat 5.45pm EST Aussie time. To listen morencysports.com " Myk

If you are new to MYKwebWORLD & want to know what I do this is a great article Click here

Myk Aussie and guests talk about NBA & star player Allen Iverson on TSN's Off The Record. MYKwebTV Click here

Check out Moose's NBA Team Champions Click here
Sat, Feb 25th 06 "Moose's pro Clippers NBA report! Moose's on location NBA All Star game report below!" Myk Aussie
NBA Update for week of Feb. 28th - through - Mar. 3rd, 2006 Clippers blow out Lakers in "Battle of L.A", round three, 2006" Moose
On Gabriel Morency's Friday Night Freak Show last night, on Sportsrage, Montreal's AM 990, The Team, we first discussed my recent trip to the NBA Allstar game, my first. Also we discussed Morency, who used to live in L.A. (!) and used to go TO CLIPPERS game back in the heyday of 'Showtime' (it was too hard to get Lakers tickets)! Wow! Morency and I used to share some of the same stomping grounds...The Clippers obviously shoed up and the Lakers didn't (except of course Mr. No-Defence, Kobe Bryant, who did score 39 of the Lakers points). Kobe was matched point for point by Clippers Elton Brand, the League's real M.V.P choice. Injury to Clippers starting Centre Chris Kaman who went out early put a bit of a damper on the evening, but Clipper-Nation still rockin' the house with a fat win! The Clippers had lost a shocking five in a row before last night.
The Lakers will face Houston @ Staples Centre Sunday night. I guess you know I won't be watching! But back to last night's game; Kobe Bryant really did all he could but the Clipper, who had lost three of the previous five games by only two points each (plus blowout losses to Dallas and Houston, in TX road swing), put together four solid quarters and the rest of Kobe's cast played like in a fog throughout. Seven Clippers had scored in double figures, but aside from Kobe with his usually good offencive output, only Chris Mihm (and not even ex-Clipper Lamar Odom) played half-way decent for the Lakers, who finished behind the Clipper and Golden St. in last in the Pacific Division in '05 in the standing. Even in years past when the Clippers HAVE NOT as good seasons, they usually get WAAAYYYY up to play their cross-town rivals. Los Angeles is the only city in the NBA to have two clubs and both have very strong fan support.
Last year the Clippers were fifth in the League in attendance while the Lakers were fourth, despite their last place finish. Capably broadcasting last night's action for ESPN were ex-Clipper one-time M.V.P, Centre Bill Walton (who's son Luke, with that weird tattoo on his shoulder plays for the 'other' L.A. men's Pro team) and Brent Musburger, who has done everything from ArenaBowls to NFL E action, to NBA to NFL games in the past. On a more sour note, I didn't appreciate the outburst from 'The Sports Guy', Bill Simmons, a Clipper game-goer, from Boston who grew up a Celtics fan, who usually writes pretty good stuff for ESPN the rag, er, ah, the mag, to assail Oliver Stone (?) and the fine film 'JFK' (like Bill; it's been out 15 years now - get over it!) ? Hey Bill, you're supposed to be the NBA guy, not film critic! It's just on of the reasons I won't re subscribe to that publication. Would you like to go on Tom Valentine's show v. me and debate the JFK assassination?! You'll lose! Now, more California hoops stuff; Eric 'Pike' Piatkowski's back is better, er, well enough and he's off the Chicago I.R. and played several minutes in their loss to Houston last night. Pike was with the Rockets two years ago. And before that - nine years with the Clips.

The Lakers better wake up soon as the Golden St. Warriors and Sacramento are right on their tales for contention for third place in the Pacific West - not that any of them are playoff material. I know Detroit is kings (now Sacramento) in the East for the moment, but don't bet against Larry Bird & Rick Carlisle's Indiana Pacers or LeBron (Allstar game M.V.P) James Cavs catching up to the Motor City Madmen before it's all over with! That five game skid that the Clips stopped with their blowout of the fLakers last night and the recent trade for Vlad Radmonovic (who get's my gameball for 5-5 on 3's last night) and the encouraging News that both Zelko Rebraka and Corey Maggette could be back soon, should make Clips Coach Mike Dunleavy breath a sigh of relief. Despite the Clips good season all the way around, Maggette has only played four games this year and was averaging 21.1 pts. per game and the Clippers REALLY haven't been all that healthy for like two years now. Look out League when these guys get well!

Myk thought I was nuts when I did my NBA Previews earlier in the season and I said that with getting Cutino Mobeley and Sam Cassel, I thought the Clips would be in the NBA Finals v.Detroit or Indiana and HE WOULDN'T Publish on our site. He also admonished me for my pick of the Carolina Hurricanes (or Tampa Bay) v. Detroit in the Stanley Cup Finals and WOULDN'T Post that either! Now, look who's THE MAN! Oh, Al Iverson's teammate, Kyle Korver got a career high 31 (to go with Iverson's 30) to help Philly win last night. More in one-and-a-half weeks!" Moose
"You can hear Moose weekly on Gabriel Morency's SportsRage Montreal Team 990 AM sports radio and on the Internet talking Arena Footy. Click here
New Cwoc Pammy and the real Pamela Grey Cup 05 TV Click here" Myk Aussie
Fri, Feb 24th 06 "Moose's on location NBA All star Report! NBA news!" Myk Aussie
From Moose "Yes of course Beyonce and the girls looked nice but the real story was how sloppy the game was in some instances. Still a very good production all the way by Ernie Johnson and Co. from TNT, with the East getting by the West, 122-120 on LeBron James 29 points. The Final top scorers for the East were: LeBron, Cavs, 29; Dwayne Wade, Miami, 20; Shaquille O'Neal, Miami, 17; Chauncey Billups (one of four Pistons on the East squad), Det, 15; and Al Iverson [The selfish one, from here in VA], Philly; 12 pts. On the West squad: Houston's Tracy McGrady, 36 (the Hometowner, eh?), Defending Champ San Antonio's Tim Duncan, 15, Phoenix Shawn Marion, 14 pts; THE L.A. Clippers' Elton (MVP) Brand, 12 pts and Dallas polish prince from Germany, Dirk Nowitzski, 10 pts. James, of course was MVP, which Johnson predicted he would before the game began.
All-Star Game news:
**Yao Ming wants everybody to learn some Chinese and seeing as how well he is speaking the queen's Amer-I-can lately, here's today's lesson: Younger brother is: Di-di.
**Avery Johnson (man, there were a lot of Johnson's there in Houston!), Dallas Coached the West. **Fred (Flip) Saunders Coached the East (he ain't getting' any prettier!)
**Chris Bosh played pretty ragged, yet he (Toronto Raptors) and Steve Nash (vegas), Suns Did a good job reppin' 'O Canada'. Also repped in this year's game were: China (Yao), Germany (Dirk N., Dallas) and the U.S. Virgins (Duncs from the Spurs). Did I leave any 'feriners' out, eh?
**The Houston Orchestra's '2001 – A Space Odyessey' intro should have been replaced by Canuck Leslie Neilsen's '2001- A Space Travesty'! Nowitzki won the three point shoot-out, the first time it was ever won by a 7'0". Coach A.Johnson, West devised a five seven-footer Offencive but didn't put to use v. a very strong East squad, which was a big small most of the night. The West had a 17-pt lead @ the half but Kobe especially was lousy (scoreless!) in the second half. And some think this guy should be M.V.P over Elton Brand? Balderdash!
**This was the 55th consecutive allstar game. Next year's 56th will be in Las Vegas, NV. Super Bowl Wayne Lavelle, me and Myk's buddy from KORL Sports Radio in Honolulu, Oah'u, HI has already requested my contacts from hooking me up this year and I will send that out gratis, and confidential in an e-mail. Thanks also: to E. 'Pikekowskee' for the props and Elton says Mahalo and Aloha and hopin' you be back in Clips' Red, White and Blue – soon to make that run for not only the playoffs but NBA Championship as well.

NBA News – Clips in slump! Huge game Friday Night @ Staples Centre – Battle of L.A.! By: Michele DeWalt and me.
The L.A. Clips have now lost four close games in a row for second time this year but still have a comfortable lock on second place in the West's Pacific Division. The Clips have home court advantage for meeting three in the yearly City Series (Lakers @ Clippers, Friday, 10:30 p.m.,EST, ESPN). The Series is tied, 1-1. A loss by the Lakers could them in a deep hole and they could miss the playoffs for the second year in a row. Last year the Clippers finished third in Pacific West with a 37 win season, Golden St. (Oakland) fourth and the Lakers, dead last, necessitating Phil (Push-button) Jackson, one of the most overrated Coaches in NBA history's return. Phil has proven he can't win without 80-something Tex Winter and his Triangle Offence. Phil-Tex is Nine-0 in NBA Championships and Jax is 0-for Without the grand Texan.

A Little history is in order: Tex Winter was born in (TX – wher else?) 84 yrs ago. He was a terror in NCAA basketball in the Nineteen Forties (as was the recently deceased Curt Gowdy [Wyoming]). Tex became the very first Coach of the expansion Chicago Bulls back in 1967. He left to return to NCAA Coaching two years later turning over the team to current Chicago Bulls announcer Johnny 'Red' Kerr (now 73). Tex was brought back to Chicago not by Jackson, a former New York Knickerbocker Champ player ('70&'730 but by his predecessor, Doug (Wimp) Collins, who said Sunday during the NBA Allstar broadcast that the Lakers (now 26-26) are having a real good season under Jax! Collins, who also coached Jordan, the guy the Bulls have a statue to outside the United Centre, in Washington with the then Buzzards. Winter moved Jordan to the point to start the Offence (though Jordan still took most of the shots) and voila! Three straight Championships.

Following the tragic murder of James Jordan, Sr., Michael's dad, Jordan retired from the NBA to try to make it in first, baseball (Birmingham Barons, "AA", then golf [see my report, next-M.D-W]. Jordan returned and the Bulls had enough in they won three more NBA titles. Lightning struck twice again in L.A. with Shaquille and Kobe as they won three more Championships with Tex's Triangle Offence, before all the egos and Tex's age drove him home to retirement. Tex is 9-0 and is the real brains of the Offence called the Triangle and Jackson will never win another Championship. I hope he never breaks Arnold 'Red' Auerbach's Nine Championships mark (R.A.S)" Moose
"New Cwoc Pammy and the real Pamela Grey Cup 05 TV Click here

Lots of Comedy and babes MYKwebTV at Me and Moose's Mates Club Click here " Myk Aussie
Tues, Feb 7th 06 "Moose and Michelle's NBA report! Moose is pro Clippers and very happy at the moment!" Myk Aussie
NBA Hoops Update: Clippers escape Toronto with a two-point overtime win yesterday...Seven wins in the last nine games and their best franchise start since 1976 - in Buffalo By: Michele DeWalt and Rich 'Moose' Salzer
Michele: "Sam Cassell hit the game winner over Chris Bosh in O.T. as the Los Angeles Clipper won at Air Canada Centre on Sunday afternoon, in Toronto, Ontario. The Clippers have never lost to a Canadian team including the old Vancouver, B.C. Grizzlies (now based in Memphis, an ex-CFL town in Tennessee, U.S.A.)"
Rich: "L.A. Hoops: The red-hot L.A. Clippers, gaining on the Phoenix Suns in the race for first place in the Pacific West Division, won their sixth game in the last eight Saturday night in Boston over the Celtics, 98-81, in the Fleet Centre Arena. M.V.P. candidate Elton Brand's 30 pts lead four Clippers in double figure scoring. Another potential L.A. M.V.P. candidate, Lakers Kobe Bryant, was brilliant (as well, C/F Chris Mihm), shooting 12 of 18 from the field, 9-9 FTs (Mihm was 5-8 FGs, 5-6 FTs) but the fast-fading from the playoff chase Lakers were whipped by the lowly Carolina Bobcats. The Lakers two best players (with F/F Lamar Odom out with a high ankle sprain) were the only ray of hope Saturday night, as their teammates let Bryant & Mihm down by shooting a dismal and Lakers worst ever 15 of 48 in the loss to Charlotte.

"Wow! Moose finally gives some recognition to my #1 player. Lakers Kobe Bryant!" Myk Aussie
Other California Hoops: Golden St., Clipper Coach Mike Dunleavy's son as one F, have finally stopped losing, picking up two wins this weekend and are within striking distance of the third place Lakers, which still doesn't make them a lock for the playoffs. Sacramento's Kings have not yet won a game with new acquisition F Ron Artest (0-3) and Coach Rick Adelman's job may be on the line. I fully expect the Maloof Bros. to let Rick Coach out the string for the rest of the season but I don't think he should stock his wardrobe in Kings colours. The trade of top player Peja Stojakovic to Bird's & Carlisle's Indy Pacers was dumb, dumb, dumb. I thought the Maloof bros were so smart. It's like Adelman is sitting on a tree branch sawing himself off!" Moose
"NFL fans! I have lots of NFL Super Bowls Comedy based MYKwebTV from Super Bowls 37, 38 and 39. Super Bowl 37, 38 Click here Super Bowl 39 Click here and lots lots more NFL Comedy and babes MYKwebTV at Me and Moose's Mates Club Click here " Myk Aussie

"New Cwoc Pammy and the real Pamela Grey Cup 05 TV Click here" Myk
Thurs, Feb 2 06 "Cwoa Sue meets and chats with Milwaukee Buck's Aussie Andrew Bogut! Moose's pro Clippers NBA report!" Myk Aussie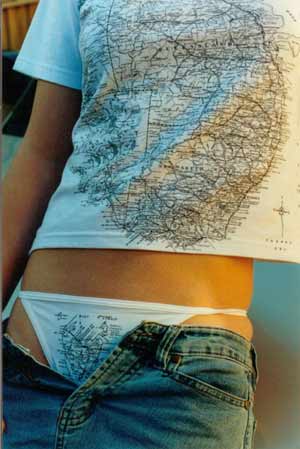 Sue showing some of her Map of Tassie from Myk and Cwoa's Click here

Cwoa Sue emailed me this week saying that she met Andrew Bogut at a function on the weekend. I know that Andrew will know what the Map of Tassie means.

For the recent Aussie Andrew Bogut MYKwebTV interview from the 05 US Aussie Rules Footy Nationals in Milwaukee Click here For my Aussie Lingo Click here

Moose's pro Clippers NBA report. "Kobe returned sort of to earth in the Warriors win over the Lakers. Kobe still scored 30 points which is very good but the Lakers were hammered on National T.V. yesterday, 103-92 by the 35-7 Detroit Pistons. Kobe's abysmal 3-11 on three point shots lost the Lakers the game. The Lakers as a team tied their worst mark ever with only 3-19 on three point shots. Why is Phil Jax' team shooting NINETEEN threes ingame anyway?!

The Clippers have now won five straight and are in second place by 1.5 games behind the Phoenix Suns. Elton Brand continued his serious bid for M.V.P. with 32 points and 20 rebounds in the Clips win over Denver, the second win over the Midwest leading Nuggets in two nights, this time at the Staples Centre. The L.A. Avengers played Arena Football yesterday there and won 40-31 over the Arizona Rattlers.
If the NBA PLAYOFFS started today; the Teams in the hunt for the Championship would be: Detroit, Dallas, Defending Champ San Antonio, Phoenix, the L.A. Clippers, Cleveland, Memphis, Denver, Philadelphia, Myk's Andrew Bogut lead Bucks, N.J. and Indianapolis.
My Midseason picks for Awards for the '05-'06 season are:
Coach of the Year: Mike Dunleavy, Sr., L.A. Clippers
Rookie of the Year (barely) Andrew Bogut, C/F, Milwaukee
M.V.P.: Elton Brand, PF, L.A. Clippers (over two others I could thing of)
Comeback Player of the Year: Lamar Odom, L.A. Lakers (the former Clipper) ?/div>
**Pls. note: Moose Salzer will be in Houston Feb. 16th for the NBA Allstar game. Keep the Wahinies and Kekei off the streets of ZedZedTopville!!!!!!!!!!!!!" Moose
"Moose Kobe the Champ will be MVP! Cwoa Sue from Milwaukee who is a Big fan of MYKwebTV and Myk's Mates Club met Buck's Andrew Bogut last week at a function, refer below." Myk
"NFL fans! I have lots of NFL Super Bowls Comedy based MYKwebTV from Super Bowls 37, 38 and 39. Super Bowl 37, 38 Click here Super Bowl 39 Click here and lots lots more NFL Comedy and babes MYKwebTV at Me and Moose's Mates Club Click here " Myk Aussie

"New Cwoc Pammy and the real Pamela Grey Cup 05 TV Click here" Myk
Wed, Jan 25 06 "Kobe you Champ, 81 points in a game, Wow! Moose's Pro Clippers NBA report!" Myk Aussie

Kobe Bryant scored a amazing 81 pints against the terrible Toronto Raptors the other night! Way to go Kobe! Seems Kobe has a very good chance to win the MVP this year. Now lets see what Moose has to say about that?
From Moose There was a song in the late '70's from a T.V. series called 'Welcome Back'. It could have been used for the Clippers Mr. Irregular Heartbeat, Zelko Rebraka, backup Centre. No, he didn't have big numbers in the Clippers recent win over Division rival Golden St., which dropped 'lil Mike Dunleavy's Warriors to under .500 for the first time this season, in the Clippers 105-92 win @ the L.A. Staples Centre, home of the Clippers and that other Pro men's team in L.A., the Lakers [Kobe Bryant had 81 points v. hapless Toronto the following night. Way to go kid! Now if you would only show a passing interest in playing some Defence once in a while...] The Clippers were actually lead by Chris Kaman, Cutino Mobely and Sam Cassell, in Elton Brand's off night (12 points, on 4-12 shooting. The Clippers are now 3 games back of Phoenix, who lost an amazing game, 152-149, 2 O.T.s, against Carmello Anthony and Denver. The Clippers are still missing their second best player, Corey Maggette, along with F Walt McCarthy (also out with an irregular heart- beat - hey, what's with these Clippers...Well unlike Mike Martz, AT LEAST THEY HAVE hearts)!" Moose
"NFL fans! I have lots of NFL Super Bowls MYKwebTV from Super Bowls 37, 38 and 39.
Super Bowl 37, 38 Click here Super Bowl 39 Click here and lots lots more NFL Comedy and babes MYKwebTV at Me and Moose's Mates Club Click here " Myk Aussie

"New Cwoc Pammy and the real Pamela Grey Cup 05 TV Click here" Myk
Fri, Jan 20 06 "Shaq and Kobe end their "Bitch Fight"! Moose's pro Clippers NBA report!" Myk Aussie

It was great to see this week Shaq make up with Kobe. As Kobe was doing his pre game stretches Shaq went up to Kobe shock his hand and congratulated him on his record setting form of late. In the interview after the game Shaq said that NBA legend Jerry West suggested he end the rift. Kobe then said it was a good thing especially for all the African American kids that idolize both of them. Great stuff! I like Shaq. I have stuck up for Kobe on here (refer to past reports links below) and on my radio spots on SportsRage for the past 2-3 years!
From Moose NBA Update: Clipper really on a roll! Behind Elton Brand's career highs of 35 points and 24 rebounds, the Clippers won their fourth game in a row and second this week @ home, sweet home in the Staples Centre. I will probably be heading out to L.A. for the Clippers game v. Memphis on Feb. 10th, on the way out to Honolulu for my seventh Pro Bowl.
Earlier in the week, Chris Kaman had career highs of 25 points and 14 rebounds in the Clips win over Seattle, 92-77. Kaman has 16 double- doubles this year, Brand 25. The Clippers are still two games in front of the fLakers and Golden St. in the NBA's Pacific West Division. The Phoenix Suns, behind League M.V.P candidate Steve Nash (vegas), are three games up on the Clippers who lost 9 of 15 games at one point this year due to a rash of injuries. Despite having Brand (1 game off), Maggette, Rebraca, McCarty and Livingston miss games with injuries this year, the Clippers have not been below .500 once this season and also not been out of second place. Last year, the Clippers finished with 37 wins (10 games better than the year before) and in third place, with Golden St. fourth and the Lakers dead last in the Division.
In other NBA news, Mike Bibby, of last place in the League's toughest Division, Sacramento (who will no doubt get some players, er, ah, chokers back from the NFL Colts! - Thanks again Scott Baxter!) had a career high 42 points. Sacramento is four games behind Myk's Lakers and Golden St. in the Pacific cellar." Moose

"NFL fans! I have lots of NFL Super Bowls MYKwebTV from Super Bowls 37, 38 and 39.
Super Bowl 37, 38 Click here Super Bowl 39 Click here and lots lots more NFL Comedy and babes MYKwebTV at Me and Moose's Mates Club Click here " Myk Aussie

"New Cwoc Pammy and the real Pamela Grey Cup 05 TV Click here" Myk
Sat, Jan 14 06 "Moose's pro Clippers NBA report! Kobe Bryant the Champ!" Myk Aussie

The L.A. Clipper may have lost 9 of the last 15 games, but they beat Orlando 93-80 two nights ago at The Staples Centre, where I may be for a game in four weeks, if I stop over on the way to the Pro Bowl, which is the NFL's 27th consecutive in Hawai'i at Aloha Stadium. The Clips are still in second behind Canadian Steve Nash's Phoenix Suns (not Gretzky's Coyotes) in the Pacific West. Minnesota's Kevin Garnett had an NBA record 500th career thriple-double last night as well. With Eric Piatkowski out hurt, the Chicago Bulls aren't as strong on the bench this year and are treading water in the East's Central Division." Moose

"Yep I knew it. Moose would not even mention Kobe Bryant's magnificent achievements of late! Wasn't Kobe the 1st player for many years to score 45+ points in 4 games in a row! Kobe you Champion! Go Lakers!" Myk Aussie

"NFL fans! I have lots of NFL Super Bowls MYKwebTV from Super Bowls 38, 39 and 40.
Super Bowl 37, 38 Click here Super Bowl 39 Click here and lots lots more NFL Comedy and babes MYKwebTV at Me and Moose's Mates Club Click here " Myk Aussie

"New Cwoc Pammy and the real Pamela Grey Cup 05 TV Click here" Myk
Why have a website if you don't have webTV, streaming video? Click here
Pro Basketball Weekly: NBA and Pro Basketball Video Picks with amazing coverage from Myk & Moose The Pro Baseball web SportsCasters.
*****Invest In Inet MYKwebTV! Myk's Mates Club Click here *****


For me NBA webWORLD Sept 04-Dec 05 Click here
For me NBA webWORLD June-July 04 Click here
For me NBA webWORLD Mar-May 04 Click here
For me NBA webWORLD Nov-Jan 04 Click here
For me NBA webWORLD May-Oct Click here
For me NBA webWORLD April Click here
For me NBA webWORLD Feb-March Click here