Wed, Mar 30 05 "Edmonton Cwoc's on The Bachelor! Moose's Arena footy week 10 tips especially for you betting guys!" Myk



Mates Kimberly Choma above is one of the two beautiful Edmonton Cwoc's on the new series of The Bachelor that started Monday night. Check out her nice but not great website. Great pictures but her webTV, streaming video was not very goof. Here's her site Click here
I believe Kim and Jenny Adams also from Eskimoland will go along way in this funny TV show.
Put your money down mates. Week Ten Arena Picks:
New Orleans OVER Austin
Chicago OVER New York
Georgia OVER Tampa Bay
Nashville OVER Grand Rapids
Colorado OVER Las Vegas
San Jose OVER Arizona
Orlando OVER Los Angeles
Columbus OVER Philadelphia" Moose
Thurs, Mar 24 05 "Happy Easter! Moose's Arena footy week 9 tips especially for you betting guys!" Myk
I'm heading to Whistler to do some snowboarding this Easter. Can't wait. It's a very special time of the year. Hope you all have a great weekend!
Arena Football Update
Week Nine Picks:
Orlando OVER Austin by 8
Colorado OVER Dallas by 3
Grand Rapids OVER Philadelphia by 2
Georgia OVER New Orleans by 1
Nashville OVER Arizona BY 4
Los Angeles OVER Tampa Bay by 3
Las Vegas OVER San Jose by 6
Sat, March 19, 05 "Adam Scott from Australia will this week try and defend his 2004 Players Championship victory at Sawgrass! Golf MYKwebTV from Sawgrass, the recent Super Bowl Media Party featuring John Daly! Moose gets backlash from a Arena footy article!

Who watched the MYKwebTV show from this great golf course in Feb? It's still up, it was one of my favorite MYKwebTV shows of late. John Daly was fantastic. Check it out Click here

For more on this weeks event check out Golf webWORLD on general viewing MYKwebWORLD Click here
I had a somewhat heated email conversation this week from a Arena footy coach not at all happy with what Moose wrote about him. Moose defended what he said but to keep out of possible legal trouble I had to delete Moose's comments towards Richard Davis the coach of Albany Conquest in Arena Footy 2. I like Moose's HARDBall sports reports but I'm not here to get sued. Wouldn't matter anyway as I got little $$$, I spend all my money traveling and producing MYKwebTV shows. You can check out Moose's weekly Arena footy columns on general viewing Arena footy webWORLD Click here " Myk Aussie
"Clipstream Live Video to the web! Do you need to broadcast a sporting event, work conference etc, I have it Click here Call me 1 604 609-7736 ext 240" Myk
Wed, Mar 16 05 "Moose's Arena footy week 8 tips especially for you betting guys!" Myk
"Week Eight Picks:
Los Angeles OVER Dallas
San Jose OVER Grand Rapids
Orlando OVER Georgia
Austin OVER New York
Las Vegas OVER Arizona
Chicago OVER New Olreans
Colorado OVER Columbus" Moose
Wed, Mar 9 05 "Moose's Arena footy week 7 tips and the margin especially for you betting guys!" Myk
"Mates here goes Week seven picks:
Georgia BY 5 OVER New York
Las Vegas BY 2 OVER Columbus
Colorado BY 4 OVER Nashville
Chicago BY 9 OVER Grand Rapids
Tampa Bay BY 6 OVER Arizona
Orlando BY 1 OVER New Orleans
Austin BY 2 OVER Dallas
Bye Week: Jeff Garcia...just kidding. San Jose" Moose
For Moose's excellent weekly Arena footy reports check out Arena footy webWORLD
on general viewing MYKwebWORLD or Click here " Myk Aussie
Thurs, Mar 3 05 "Wow! My friend Cwoc Charlene a former MYKwebTV star co host from Calgary wins the Kokanee Glacier Girl contest!

Cwoc Charlene recently won the Kokanee Glacier Girl contest here in Vancouver. Charlene has been seen on TV here in Vancouver in regards to the big win. She will be seen in upcoming Kokanee commercial! Yeh!
For a detailed report on Charlene's win Click here
You can also check out the beautiful Charlene on Howards webTV. This Sexy PC TV show was part of the PC TV Station/website I designed for a Calgary based Car Dealership. What A great time I had filming on this day with Charlene. Click here


Then after we filmed at Roadsport Charlene got changed in my car into a new bikini top, Wow! and we did some Aussie Footy tips for Mates Club MYKwebTV.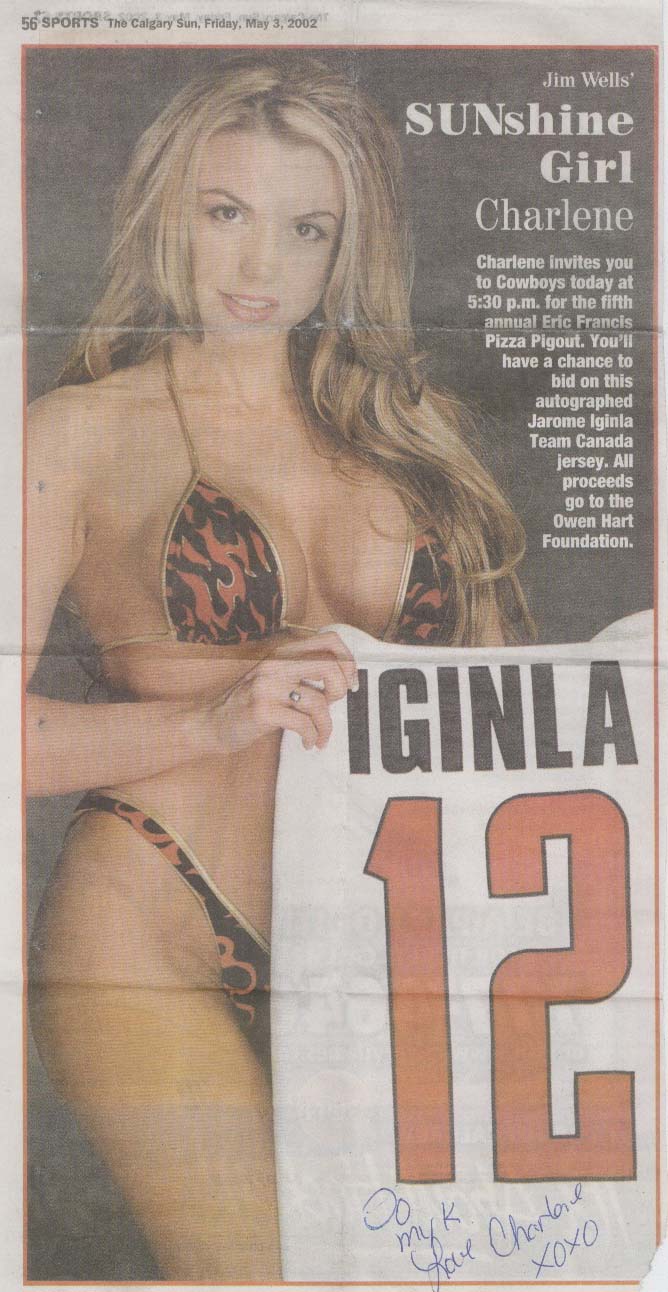 "From Charlene Cwoc number 3 on Myk and Cwoc's . A great picture of Charlene from the Calgary Sun. Click here " Myk Aussie
Mon, Feb 14 05 "John Daly the legend golfer and as seen a great singer/guitarist is a star on this weeks Mates Club MYKwebTV! Lots of Super Bowl XXXIX MYKwebTV shows are now up! A 20 min MYKwebTV/Total-CFLwebTV show of the 05 NFL Global Juniors Final CDN vs USA from Super Bowl Saturday now up! AFC win in a great game and MYKwebTV was for the 5th year at the NFL Pro Bowl! My Super Bowl XXXIX Experience Mates Club MYKwebTV shows are up! I interview Fox's Joe Buck re Randy Moss Moon from Jan 12 below! 9 out of 10 is the 1st rating in from the movie "Football Fan Frenzy" now on DVD!"
Lots more of my Super Bowl XXXIX Experience stories coming! Yes, I did sleep in my van in the Media Carpark, most nights! I saved on time wasting travel hassles, taxi fares, and what would have been a expensive hotel room for the week. For my general viewing "Super Bowl XXXIX Experience MYKwebTV" shows including the Joe Buck interview from Fox Media Day where I ask him about the Randy Moss moon Click here

Scotty Ospuntboy and Adam were at this years Pro Bowl web sports casting for MYKwebTV. Great footage coming. For the massive New April 2006 Mates Club Pro Bowl webWORLD 2000-2004 with some of my best ever Cwoa footage Click here
Testimonial "Myk Aussie your movie is as good as you told me it was! Very, very funny, you are a clown. Anyway what are you? Comedian, media guy, movie maker, you do it all. It was a pleasure meeting you! " Michael Landsberg, TSN Toronto
If you would like me to be a guest talking Sports on your radio or TV show especially in the USA, if you would like to advertise on 05 or upcoming 06 Super Bowl MYKwebTV or for details on how to be involved in the next the 10th DVD edit of this movie shows please contact me at 1 403 870-5578 myk@mykaussie.com" Myk
*** "Live Video to the web! Do you need to broadcast a sporting event, work conference etc, I have it Click here Call me to discuss 1 403 870-5578" Myk
Wed, Jan 12 05 "Randy Moss makes out to Moon the crowd and in a way craps on legend Brett Favre! My mates disagree with me on Randy the Champ! 9 out of 10 is the 1st rating in from the movie "Football Fan Frenzy" now on DVD!"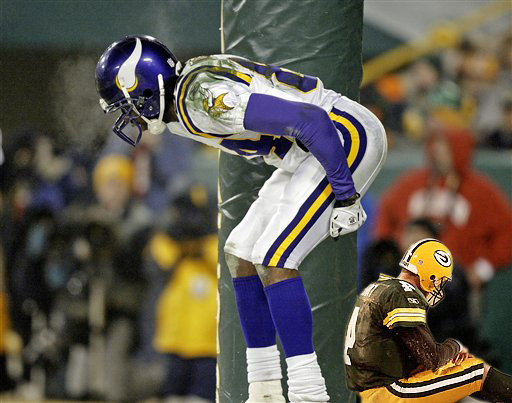 Refer to NFL webWORLD for the big story from Sundays NFL Playoff game where Champ Randy Moss makes out to Moon the Packers crowd after a TD. Legend Brett Favre had a shocker of a game so in a way Randy did not only Moon the crowed but he crapped on Brett the Champ as well. The photo is compliments of some Mad mates at SportsRage VZE site. Click here
I like Randy Moss. Good on him I think, it was immature but very funny! Terrell Owens is allowed to do what he wants in the end zone this year. Randy gets mooned by Packers fans as they get on the bus in Green Bay.ˇ± Myk
ˇ°Owens also gets away with too much. Tough shit, you are a sports star, you need to be held to a higher standard than the rednecks watching football.ˇ± Mike Canuck
ˇ°Myk, No Randy was not "a star". He had four catches. Two were for TDs, no doubt. And the Vikes won. Daunte Culpepper was the star with 4 TDs, 0 INts, 0 sacks and 0 fumbles. And Brett wasn't "horrid'. He wasn't that good! But then Brett doesn't play Defence! The guy, Harris, with the fake hair for the Packers, couldn't guard his house, let alone Moss, who's bad ankle barely let him play in the fourth quarter. By then it was too late.ˇ± Moose

April 2006 For the massive Mates Club NFL webWORLD and great information direct from NFL Media.
Click here
I am going Live from Super Bowl Media Day and other select times throughout the week! The magnificent new full screen versions of Clipstream Live and Video. Yes I can go Live to the web and full screen! Amazing! Check out our new Clipstream Live Click here
MYKwebTV will for the 3rd year in a row be at the NFL Global Jnr's! If you would like to help me in producing/promoting this great event myk@mykaussie.com or Ph: 1 403 870-5578. For one of my favorite MYKwebTV events Click here
Testimonial "Myk Aussie your movie is as good as you told me it was! Very, very funny, you are a clown. Anyway what are you? Comedian, media guy, movie maker, you do it all. It was a pleasure meeting you! " Michael Landsberg, TSN Toronto
Mates call or email me for details on how to be involved in the next the 10th DVD edit of this movie myk@mykaussie.com or 1 403 870-5578" Myk Aussie
*** "Live Video to the web! Do you need to broadcast a sporting event, work conference etc, I have it Click here Call me to discuss 1 403 870-5578" Myk

For Myk's Mates Club News Aug to Dec 2004 Click here
For Myk's Mates Club News June to Aug 2004 Click here
For Myk's Mates Club News April to May 2004 Click here
For Myk's Mates Club News Feb to March 2004 Click here
For Myk's Mates Club News Jan 2004 Click here
For Myk's Mates Club News Oct to Dec 2003 Click here
For Myk's Mates Club News Aug to Sept 2003 Click here
For Myk's Mates Club News July 2003 Click here
For Myk's Mates Club News June 2003 Click here
For Myk's Mates Club News May 2003 Click here
For Myk's Mates Club News April 2003 Click here
For Myk's Mates Club News Feb to March 2003 Click here
Extra Disclaimer: "Photo's shown on MYKwebWORLD have been either taken by Myk or his web Sports Caster mates or they have been approved by the individual or company that owns the photos. If you believe I am in error here please contact me to discuss approval & linking to your site in exchange for the use of the possible photo in concern." Andrew Harrison, MYKwebWORLD Manager Ph: 403 870-5578 CDN