May 31, 2003, "Welcome to the MADNess Association Gabriel Morency you Super Star!" Myk

Seriously Gabriel was sent to a 2 week Anger Management, MADNess camp by The Team Management but was back this week & weren't the Montreal & Internet SportsRagers happy!

Gabriel is such a World wide radio star that he came in number 10 on my Google report for search terms. People found MYKwebWORLD with these top terms, funny video clips, playboy models, nfl video clips, Pamela video then came Gabriel Morency at number 10. Anyone new to the web Google is the best search engine by a mile.
Gabriels highlight from my weekly segment on SportsRage was "Gabriel the 2nd goal in game 1 of the NHL Playoffs the ex-Montreal fella JS Giguere left the net wider open then Monika's Mouth". Myk. As the gallery laughs & the beer is poured for me "Myk Aussie mate you can't outdo that comment. Great stuff, talk to you next Friday" Gabriel Morency

For the past 5 mths I have been on "SportsRage" Inet & Montreal Radio, Fri 10.30pm EST CDN/US, Sat 1.30pm EST Aussie time. Time may vary due to MLB Expos game. To listen Click here " Myk ussie
May 30, 2003 "Cwoa Merideth showing her Fanny at NFL Pro Bowl! SAFM interview next week! Total-CFLwebTV, e-Store webTV & e-Store 1st ever release! US/CDN Aussie Rules Footy needs help to grow! I told CCAwoc not to talk to the Cow. Mad Cow disease CCAwoc's fault I know it!" Myk Aussie

Aussie Mates do you know what a Fanny is over here in Nth America ? Here it is Merideth's Fanny. Yep your Fanny is the bum, butt, ass not the Little Tasmania, the Regina, beaver as we know it in Aussie. As you can imagine I have a lot of fun with that like when I sit up the very front of DJJay's Frazer Arms & watch the rippers. "Hey baby love ya Fanny. Show us ya fanny!" & the Cwoc strippers would laugh & smile at me, my accent & me great Aussie hat & happy plant their fanny closer to me. If I said this to the rippers in a strip club in Aussie I would get belted!
Merideth having fun at the tailgate after here web Sports Casting work for MYKwebTV. Merideth was a great camera Cwoa for me in 2002. She took some unreal pictures. The pic of Jeff Garcia was highlighted on this weeks 1st ever Total-CFLwebTV. Jeff is the former Calgary Stampeder QB champ now San Fran 49er legend & 2 time Pro Bowler. Jeff told me this year that he enjoyed immensely the 15 min VHS of "Myk in Montreal Grey Cup 2001" that I gave him in which his former Stamps mates won. Good luck in 2003 Jeff!
"Hi Mate, No we didn't get to it, sorry. Have every intention of playing it when we have a chance though. I'll let you know when we do. Have a great weekend. Cheers." From SAFM Management. Sorry to all you Sth Aussies that don't normally listen to SAFM but were last week. This week 6-9am Myk Aussie on SAFM, Sth Australia's #1 music radio. Hope you get to listen. Amanda, Marty & Charlie seem to like me.

Total-CFLwebTV is Hot! Total-CFL Discussion is real hot as CFL training camps enter Day 6! Bu the time you read this Total-CFL the Best & Biggest CFL site in the World will be on fire with a great Total-CFL & MYKwebWORLD e-Store & e-Store webTV! Click here

Mates if you know a company that sells products into the US I recommend they should advertise/help/donate to the expanding US/CDN Aussie Rules Footy. Plus the AFL cut their budget, that's weird! USAFL led by Port Powers overseas team the KCPower have put together a great TV & webTV advert. Click here Contact me & I'll get you in direct contact with the top guys at the US & CDN footy guys. Ph: 011 1403 870-5578 or myk@mykaussie.com
Mates have you heard about the Mad Cow discovered recently in Northern Alberta! I know it was CCAwoc that gave it to the Cow! Seriously! Me & Fanny Anny Thraxy were going to drop her off up there at the Pokona place so they would help her.
But this is what I heard. CCAwoc went for a walk in the paddock on one of her trips to Oilerland & started talking to this Cow. She drove the cow MAD. Now the whole Beef industry in Canada is stuffed. CCAwoc you idiot! Normally the Cows give humans Mad Cow disease but this time a woman gave it to the Cow! Crazy Calgary Awoc! See ya, I'll be on Total-CFL.com all week. Go BC & Sth Gawler Lions!" Myk Aussie

"If you are somehow in here Free hope you can join us at Mates Club Click here" Myk

May 10, 2003 "Me the Football Guy in Business In Calgary Magazine!" This is the best article that has ever been written about my success in the NFL, CFL & AFL! Michael O'Toole the Englishman is a brilliant writer.

I even laughed many a time reading this 3 page article that goes to 31,000 businesses in Alberta. Thank you Michael. Click here" Myk Aussie
May 7, 2003 "MYKwebTV in Kansas City for US Aussie Footy is "Off & I am Pissed Off !!!!!" I wish more Important Businessmen Aussies would care about the US/CDN Aussie Rules Footy cause I really do!

If anyone here is interested in promoting their product or service to the Massive US, Canadian & 3rdly Australian markets, that's over 310 million people please let me know. The people working for that magnificent logo to the left need help. I know I can help & so does Dr Ross Smith at the AFL.

The people working for that magnificent logo to the left need help due to budget cuts from Australia & also a "Massive Growth" currently underway. Can you believe that "Budget Cuts but Massive Growth!" Shouldn't it be the other way "Massive Growth More $$$$ there way ????????????????" Yes that is correct in Sales & Marketing!

Aussie mates the US & Canadian guys love our game & it is exploding over here in Nth America, 35+ teams in the US, 15+ in Canada! How many Footy Mad Aussies knew that hey not many I bet !!!!!

As a result of me being pissed off re above & also pissed at other "tall poppy like comments" directed back to & at me the 2nd half of the magnificent US/CDN Aussie Footy Final from Phoenix in Feb 2003 has been temporarily scraped from upcoming "Myk's Mates Club Footy shows".

Ph me 403 870-5578 or myk@mykaussie.com" Myk Aussie

May 6, 2003 " The 1st Aussie ever to come out of NCAA & be signed to a contract in the NFL! Moose please confirm cause there some real critical fans out there if I am slightly wrong! This story is Big if you are an Aussie! From me Aussie Footy webWORLD

"Myk Aussie Mat McBriar signed a 3-year deal with the Denver Broncos. He was a priority free agent and received offers from several teams. I met you briefly at the Hula Bowl with Mat. I represent Mat with regards to his NFL contract negotiations.

Regards, Bruce Cunningham, Denver
"Bruce I am so happy you got Mat signed with me Bronco's. I'm sure Jason Elam & the other great guys at the Broncos will look after Mat in Denver & in the awesome NFL! Mates you can check my interview with Mat the former Melbourne boy who has been punting with the Uni of Hawaii at the recent Hula Bowl Click here
Good luck at me Bronco's Mat. Mat comes from Melbourne & played Aussie Rules before joining the Uni of Hawaii. Mat I am 99.9% sure is the 1st Aussie ever to be "drafted" no "not drafted" a "priority free agent" in the NFL! I believe I have that correct as Darren Bennett came to San Diego via NFL Europe." Myk Aussie

May 5, 2003 "The amazing Race is up on "Myk in Canada MYKwebTV", the 23 rd annual "Ski 2 Sea" from Big White & the magnificent Kelowna BC area! Also check out the radio interview I did on Gabriel Morency's SportsRage Mondee night talking about this amazing Fitness & Smartness Race. To watch Click here

Continued From Myk & Oilers NHL Hockey webWORLD. Oiler Babe is still missing, haven't heard from her since the Oilers got knocked out of the NHL Playoff race!

Wow not sure what I've done wrong other than maybe not showing up in Oilerland lately to "Pat her Pussy"! Better get up to Eskimoland see the lovely NHL Hockey Mad Cwoc. Also go interview Mike Pringle the legend CFL Alouettes Running Back now a Eskimo.
They reckon the reason Mike Pringle choose Edmonton over me BC Lions was because he gets to play on the "natural grass" surface of Commonwealth Stadium. But I know the real reason, it's his "lungs" out BC way he was concerned with!

Even though not inhaling himself Mike didn't want to breath in 2nd hand "BC Grass" smoke that is everywhere out in BC!
AFL & SANFL Footy: Talking about Oiler Babe & her great Tattoo on her Fanny Back here's me mad Woodville Warrior SANFL mates. This is from our footy trip to Bali several years ago. Lambo was very proud of his new tattoo as "Skipper of the trip" Steve Jack looks on & studies the great artwork !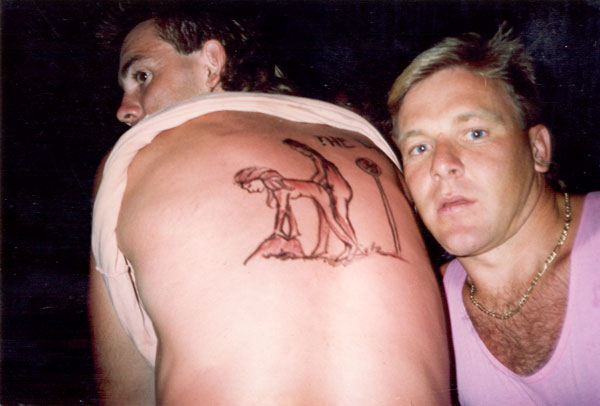 Myk Aussie and Steve Jack talking AFL and SANFL Footy Click here
More NHL As the Anaheim Mighty Disneyland Ducks tonight defeated the Dallas Stars in the playoffs Cwoc Buffy reported into me this week & sent me this great "Titty" pic of some Anaheim Duck & Disneyland fans she met. Cwoc Buffy reckon's the people are going crazy & loving Canada's Sport, Hockey in Anaheim, California. The Might Ducks have defeated The Red Wings & The Stars the top 2 seeds in the West so far in the NHL playoffs.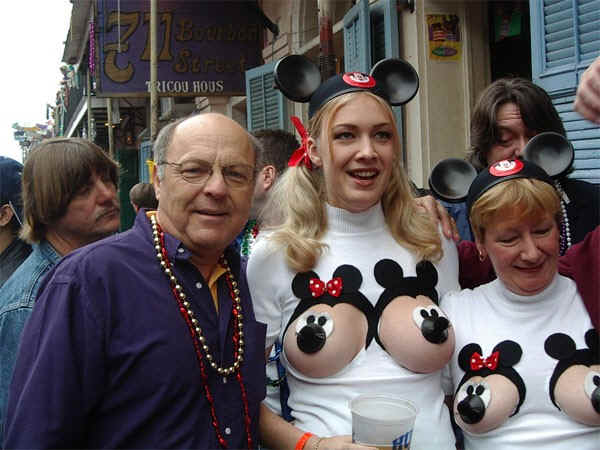 Cwoc Buffy will soon be seen on Myk's VIP Mates Club MYKwebTV. See ya soon sexy Buffy.
Myk's Music MYKwebTV coming to Myk's Mates Club. Featuring Myk Aussie interviewing Bif Naked and hanging out back stage with The Swollen Members a very hot Canadian Band.

"Here's one of me best mates in Canada, Lumba "The Raster Man & Bongo drummer" out of Montreal. Lumba's Regae band is called Jah Children. Lumba is from Antigua in the West Indies, he loves the cricket. He told me a great story on how he knows legend West Indies cricketer Viv Richards. These great pics were taken from Saskatoon a 3 years ago at the Fringe Festival.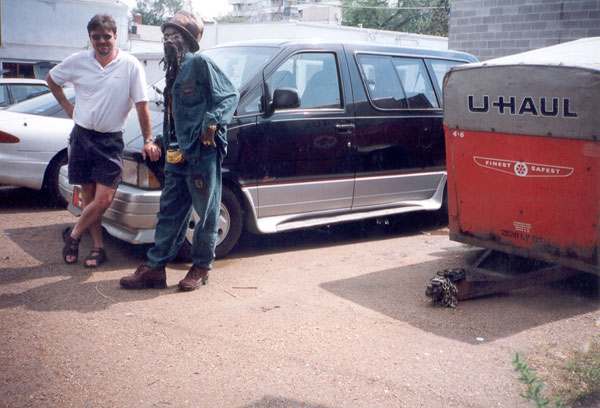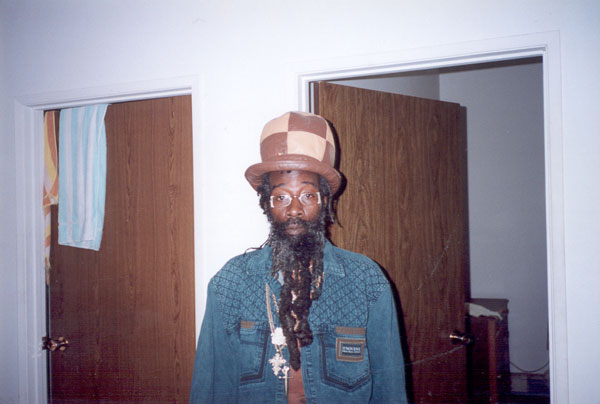 Lumba's hair touches the ground & have a look at his great beard. As we drove to The Olympic Stadium, Grey Cup 2001 in Montreal Lumba correctly tipped the Stamps to win the Grey Cup & by the exact margin! I have taken some great advise from 'Lumba the Lion, the King & very wise man" many a time during my 2 great trips to Montreal. I look forward to chatting again with Lumba real soon in Montreal. Jah Children CD coming soon to me Unique Products e-store.

As the CFL Footy season is not far away I again look forward to heading East to Regina & Winnipeg. Here's a great photo of Cwoc Lindsay the beautiful young lady I met in 2002. After I recommended Lindsay participate she was then a winner in the "Face Off Fitness Bikini contest."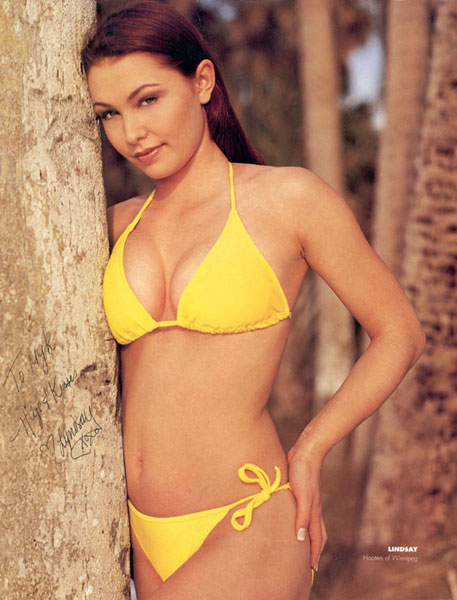 Updated Link April 10, 2006 Wow thanks for signing this great pic Cwoc Lindsay. MYKwebTV of this great even will be re released on Myk's Mates Club MYKwebTV soon. Mates if you haven't seen "Myk and Cwocodiles" Click here
CFL webWORLD is real hot as the draft was held this week Click here ! NCAA Footy webWORLD is hot as the NFL draft was held last Saturdee! A couple of great reports from 2 great Footy people, Moose & Jeff former Mr CFL Media Man. Click here

AFL Aussie Footy is real hot as well Click here Mooses Arena Footy is real hot Click here Mooses NFL Europe Footy is real hot as well Click here
2 pages, 25 plus great Unique Sports products now up on "Myk's Unique products e-store" Click here See ya next week" Myk Aussie

"If you are somehow in here Free hope you can join us at Mates Club Click here" Myk

For Myk's Mates Club News April 2003 Click here
For Myk's Mates Club News Feb to March 2003 Click here
Extra Disclaimer: "Photo's shown on MYKwebWORLD have been either taken by Myk or his web Sports Caster mates or they have been approved by the individual or company that owns the photos. If you believe I am in error here please contact me to discuss approval & linking to your site in exchange for the use of the possible photo in concern." Andrew Harrison, MYKwebWORLD Manager Ph: 403 870-5578 CDN