April 25, 2003 "The Tampa Bay Lightening are kicking butt currently in the NHL Playoffs, they are through to Rd 2. Great time to feature Cwoc Manon Rheaume one of Mooses fav Cwoc's the Hockey star goalie. Wow !

That's unbelievable a Cwoc played a NHL exhibition game in the NHL for the Tampa Bay Lightening. Moose has been telling me "Myk Aussie you gotta get Manon on Myk's Cwoc's. She is a star & a real celebrity & beautiful" Moose I agree what a beautiful Cwoc. A fantastic effort for a lady to get so far in the rough & tough world of Ice Hockey.


Wow ! Thanks Moose for informing me about this very successful beautiful lady, Manon born in Quebec Canada" Myk

"If you are somehow in here Free hope you can join us at Mates Club Click here" Myk

April 22, 2003 "Wow ! Go Cwoc Shania in your sexy NHL Vancouver Canucks outfit! Canucks win & advance to Playoffs Rd 2 Yeh !!!!!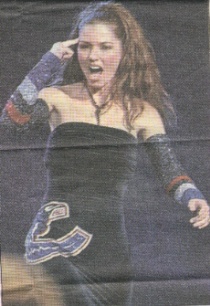 "Yeh Shania ! I agree the Canucks were crazy to start the playoffs with a horrible loss! They are doing real good now! Nice to meet you at Super Bowl press conference in San Diego. You look even more amazing in real life & you definitely look better here than you did all rugged up at The Grey Cup in Edmonton. Wow one of the hottest Cwoc's ever! Guys & Licking Women unfortunately Sexy Shania is married.
Lots new on MYKwebWORLD. NHL Hockey webWORLD is real hot Click here ! Aussie Footy webWORLD Click here, MYKwebWORLD guide on my home page Click here
Massive e-store coming next week. Total-CFL & MYKwebWORLD combine big time to offer the best CFL Discussion & MYKwebTV in the World Click here. We have 1,000's of visitors each day on Total-CFL !!!! Total-CFL re launch soon !

Do you want your Sports Event broad cast to the World ? I can do it for as little as $295 Click here See ya next week" Myk Aussie

April 16, 2003 "Myk Aussie bring in a sponsor & I'll give you your own radio show! I'll watch your 2 movies 1st though"
Well that should be a done deal after this high up radio nice man watches "Football Fan Frenzy" & "Football Fan Frenzy 2".
Anyone out there wanna advertise on BC sports radio ? Ph: 403 870-5578 or
myk@mykaussie.com
Aussies living in Adelaide I will be a guest on SAFM Breakfast radio show real soon. The Program director contacted me today after a fan in SA advised them about how good MYKwebWORLD was" Myk Aussie

April 15, 2003 From Total-CFL.com "Football Lingo" by Brad. Total-CFL is the best CFL Discussion site in the World. It's so good I bought some of it!" Myk Aussie
Things In Football That Sound Dirty -- But Aren't
20. The hole closed on him before he could penetrate it.
19. He came at his blind side and got him from behind.
18. He's off to the sidelines for a quick blow.
17. It's a game of inches.
16. That hole was so big, you could drive a truck through it.
15. When you get down in this area, you just gotta start pounding.
14. He's gonna feel that one tomorrow.
13. He found his tight end.
12. End around.
11. He had to stretch to get it in.
10. He gets penetration in the backfield.
9. He blows them off (at the line).
8. He bangs it in.
7. He could go all the way.
6. He gets it off just in time.
5. He goes deep.
4. He found a hole and slid through it.
3. He pounds it in.
2. He beats them off (the line)
1. He's got great hands
Total-CFL is the best CFL Discussion site in the World. It's so good I bought some of it! Crazy how a Aussie & me US mate Moose had to bail out the best CFL site. Big News coming to Mates Club soon!" Myk Aussie
April 14, 2003 From Total-CFL.com Post The Truth! I love the CFL that I never ever try to bag any team or it's fans & I really do try to cover all the teams especially out here in the Wild Wild West. It's the non CFL fans that annoy me! Moose wild on Alouettes!
But !!!!! Seems I may have upset a couple of people in my 5 years of web Sports Casting CFL games all over Canada ! Well except the Renegades, only ground I haven't had media passes at.
1) Not sure what I did to upset someone in Tammy's Winterpeg. My CFL star Blue Bomber 1 on 1 interviews straight after a win against the Riders was my 1 of my best CFL efforts ever!
Maybe it was because Darryl me cameraman that day ate too much great Earl's food with the Bomber players & Cwoc's & kids after the game. Me & Darryl had great chats & food with Bobby Cameron etc but I "don't think" we were meant to be in there ???
Or maybe it is true that Cwoc Tammy got told to leave the cheerleading team after letting me interview her at The Grey Cup Awards night ! Serious ! Cwoc Tammy is a star on this weeks Total-CFL MYKwebTV! I'm out this crazy Aussie.
From me CFL webWORLD. ".....I am starting to lean toward not liking Don Matthews much any more...Oh well, they still have Bruno Heppell & Eric LaPointe & that jerk Lawrence Phillips." Moose Salzer, me MYKwebWORLD Nth American Footy Expert
Lawrence had a great year in 2002 for the Grey Cup champs the Montreal Alouettes but his history in the NFL & personally had question marks all over him at the start of the 2002 CFL season. Lawrence Phillips who Don Matthews was using as the #1 Running Back before the legend Mike Pringle was injured played well for 90% of the season. He did however go walkabout at one stage & didn't make Vancouver to play me BC Lions. I believe he was BC Cwoc Hunting out Kelowna way! Moose's Mate Lawrence Phillips can be seen in this weeks Myk's Mates Club MYKwebTV Part 3 from Grey Cup in the Alouettes locker room after their great win.
I sent the 6 hrs of tape from NFL & CFL 2002 seasons MYKwebTV to Moose recently. "Myk Aussie great VHS but I deleted Lawrence out when I made a new tape for me US CFL mates" Moose
Cwoc Tammy from Blue Bombers can be seen on this weeks "Myk's Mates Club Total-CFL MYKwebTV". This was one of DJ Jay's fav parts of "Football Fan Frenzy" as I venture down the Red Carpet lined with all the CFL cheerleaders. I talk Aussie Rules Footy with the beautiful CFL cheerleaders at the Grey Cup Awards night. This is part of this weeks 5 Part 25 min show already up. Hope to see you in me VIP Mates Club coming soon. Back to this weeks MYKwebTV Click here Email or call MYKwebWORLD any time if you have any questions, Ph: 403 870-5578 CDN # or myk@mykaussie.com " Myk Aussie
April 4 "Arizona Cardinals Pro Bowl cheerleader Lisa not a co-host of MYKwebTV! "Hey Myk Aussie it's Troy Rose, I¨ll join your "Myk's Mates Club MYKwebTV" to support you and I¨ll
tell the boys to as well. Let me know what's up and great job on the MYKwebTV video." Troy, Skipper Calgary Kangaroos. Make $$$$ by telling people about "Myk's Mates Club"! US Footy in Kansas City!


Troy Rose is the 1st paying customer on "Myk's Mates Club MYKwebTV". I just received the confirmation from the very secure Pay Pal credit card system on MYKwebWORLD. Thanks Troy, the 1st of many I believe. See ya down at a Calgary Kangaroos training session real soon.


If you are receiving my Mates Club it means you are 1) In for free as per my cut off date from last year 2) Your a potential business partner/advertiser/helper of MYKwebWORLD. Troy was in for free but still decided to support MYKwebWORLD. Let me know if you want to support MYKwebWORLD. Check out option 3 & get your picture as a sports fan on my "massively growing" MYKwebWORLD. Click here

To "Myk's Mates Club Members. I have a trust "Security System" to avoid people watching my MYKwebTV for free. If you email the "Mates Club MYKwebTV link" onto anyone you are suspended from "Myk's Mates Club". The suspension will be up to me, Moose & Batmans. Why ? Why should anyone get to watch it free other than my existing long term members & mates. How will I find out ? I may not ever but I may!
If you think someone would like to see my "Myk's Mates Club MYKwebTV" please direct them to the link at the bottom of this page Click here

Good luck to Emmitt Smith at the Arizona Birds Cardinals this season, you will need it! Why do I say that, well other than The Birds being very average on the field I found out 1st hand how a Cardinal Bird was very average "off the field" as well. Why was Lisa the #1 NFL Pro Bowl cheerleader from the Cardinals deleted from my 2 min MYKwebTV highlights?

I went through the right channels & called the media people at the Cardinals. It was all arranged through a high up Cardinals official & the cheerleading coach that Lisa would meet me at the US Footy Aussie Rules Footy Competition 1.00pm on the Saturday. I even spoke to Lisa on my cell on the Friday afternoon.

So I'm at the footy Saturdee morning telling all me new US & CDN footy mates how Lisa one of the "Very Hottest NFL Pro Bowl cheerleaders" from Hawaii the week before was coming to watch the guys play footy & be my co host for MYKwebTV. 1.30pm gone 2pm gone so I call Lisa leave a message on her cell. I never heard back from her at all. Unbelievable !

Lisa is however included in this weeks Pt 2 NFL Pro Bowl 2003 MYKwebTV as we were talking about the US Aussie Rules Footy. As I am now promoting this great footy league I decided to leave Lisa in this amazing MYKwebTV. That was not being a Cwoa "Cool Woman Of America" by not turning up & not even informing me but Wow Lisa is very 'Hot Hot Hot" so I had to leave her in!

During Super Bowl week I had the pleasure of being involved in the Cadillac Super Bowl MVP Press Conference in which Emmitt Smith spoke. It seemed clear then that Emmitt would not be a Cowboy anymore. Other MVP's that I met included Larry Czonka, Phil Simms & again I met with the star of 2002 MYKwebTV from Pro Bowl Tom Brady. What a great day it was hanging out with Moose & the Super Bowl MVP's. Good luck to legend Emmitt Smith & the Arizona Cardinals in 2003. Phoenix is one of my favorite US cities.
US Aussie Footy. Following on from my great web SportsCasting of the US/CDN Aussie Footy in Phoenix I believe my next trip will be covering the Kansas City US Aussie Footy in May. "Myk Aussie we are trying to get you here for this great weekend of footy. Lets hope people on our extensive US player & fan email database sign up for your great "Mates Club MYKwebTV" Mark Wheeler, President, USAFL

Mark I'll be there if I can. I slept in me car in the Husky Truck stop in minus 10 degrees (ouch) two nights in Winnipeg last Oct to save $$ & keep MYKwebTV going. I'll do it again & again if I have to!

Me VIP Mates Club is coming soon. Cwoc Buffy is definitely going to be a star of this VIP Mates Club MYKwebTV. Will tell you more next week.
Me & me mate DJ Jay had a great time this week as we successfully hunted down "Cwoc Pammy Lee Anderson Harrison"! For the full story & me "Pammmy webWORLD" Click here See ya next week Guys & Cool Women!" Myk Aussie

For Myk's Mates Club News Feb to March 2003 Click here
Extra Disclaimer: "Photo's shown on MYKwebWORLD have been either taken by Myk or his web Sports Caster mates or they have been approved by the individual or company that owns the photos. If you believe I am in error here please contact me to discuss approval & linking to your site in exchange for the use of the possible photo in concern." Andrew Harrison, MYKwebWORLD Manager Ph: 403 870-5578 CDN