Mar 23 From CFL webWORLD "Star CFL Blue Bomber & former Lion Daved Benefield almost drowns! While whale watching in Hawaii Daved got weighted down with the weight of being married after only "3 days" sunk & nearly drowned. For the article click here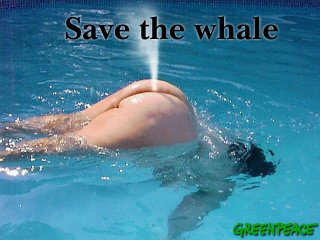 "CFL mates maybe it was these kind of whales!" Argonaut

"If you are somehow in here Free hope you can join us at Mates Club Click here" Myk
Mar 17, "I'm the Aussie Football Comedy Guy so I won't be discussing any US/Pommy's etc vs Iraq War War Waugh What is it good for on MYKwebWORLD but Smokey Mac & Joey I am Kokanee reckon they were both going to have a big crap over the US todee! Today "War Day" they both flew from smelly Toronto right over the top of the US to Costa Rica As we know if you have a "shit on a plane" it gets dumped out to the sky! Smokey Mac was saving himself he reckons!
What has this got to do with Hockey, I reckon the Vancouver Canucks are going to "Shit on" many opponents on their way to "The Stanley Cup." As the US, Pommy's & a growing number of Allies go to War us Canucks will be soon watching lots of "War like Playoff NHL Hockey action". The tough NHL'ers go to War many nights a week in one of the toughest games in the World, NHL Ice Hockey. Good Luck Oiler Babe as your Oilers try & stay in the race for the Holly Grail of Hockey but I hope a Canuck tattoo gets to accompany the Oiler Tat on your fanny!" Myk Aussie
Mar 12, "Here's the great photo of a "Tongue Less Harvey the Hound" & coach Craig MacTavish from the Oilers." Myk Aussie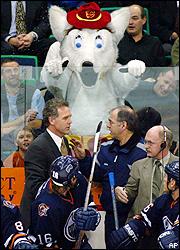 "Harvey was pissed off loosing his tongue. It was so big apparently his Calgary Dog & women mates loved him going Down under!!!
"Another great photo from Calgary Cwoc Buffy" Myk Aussie

"If you are somehow in here Free hope you can join us at Mates Club Click here" Myk

Feb 20, "Hi Oiler Babe. Are you OK after the OT loss tonight to the Canucks ? Mates me Vancouver Canucks are on fire.! They have won 12 games straight & are well & truly one of the very best sides in the NHL especially after beating the powerful Detroit Redwings 4-3 this week. The Canucks continued in winning form tonight with a Overtime win against the Edmonton Oilers up there in Eskimoland. Oiler Babe is not happy, 6 straight losses to her Oilers.
Timmy The Crazy Calgary Flames Streaker/Diver goes to court!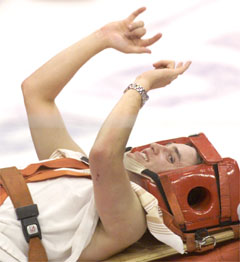 The case of Timmy The Streaker who climbed naked over the glass and fell from a insane height onto the ice at a Calgary Flames hockey game has started its way through the courts here in Jarome Iginla town. The Crazy Calgary fella Timmy Hurlbut, 21, is charged with interfering with public property, a subsection of the mischief charge of the Criminal Code in Dave Bronco's Calgary courts.
Crazy Timmy climbed over the glass wearing only red socks knitted by his granny at the Oct. 17 NHL game between the Flames and the Boston Bruins. Once on top of the 4-5 metre high glass wall Timmy fell & then went "Arse up on the ice, knocked himself out and was carted off on a stretcher." Play was even stopped for about six minutes while medical staff attended to the unconscious Crazy Calgary Timmy.
Here's the amazing picture.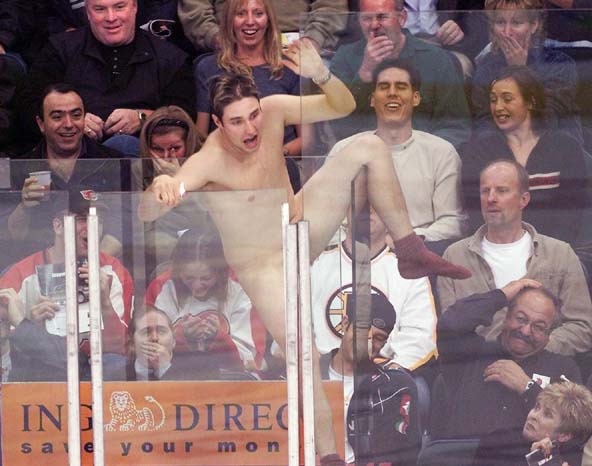 Mates Club we should take a close look at this very funny picture taken & sent to me by Calgary Cwoc Buffy. Timmy's pecker definitely wanted to be a part of being famous as his pecker is positioned in clear view right between the gap in the glass. What about the fella with the Big Black Moe in the front, he thinks he's about to get shit on while the women in the front is thinking "My Timmy's well equipped for a young fella". The fella to the front left is "Oh So Embarrassed" to be in Calgary at a hockey game while the Cwoc & her fella in the flames jerseys & the others in the crowd are having a great time laughing at Crazy Timmy. Another Crazy Calgarian! I gotta get Timmy the star for a interview on MYKwebTV real soon!
I often talk hockey rumors & tell hockey stories on Gabriel Morency's Inet & Montreal radio, Fridee nights, 10pm EST. Click here" Myk Aussie
"This great photo by Calgary Cwoc Buffy one of me web SportsCasters" Myk Aussie
Jan 19, Mates Cwoc Oiler Babe knows her NHL real good. Thanks Oiler Babe." Myk
Subject: Edmonton Oilers Report from Cwoc Oiler Babe
Date: Sun, 19 Jan 2003 23:08:09 -0700
"Hello Myk, I do hope you and Moose are not behaving yourselves and I hope you are having a great time at it. Before I give you the latest report, I need some info please. I have had alot of people asking recently about your site. I have heard some really great comments and of course been asked about where we can get the videos. Also, if you have some spare cards you can send to me I am positive I can get a new bunch of members recruited. Please send me some info when you get a chance.

5 GAMES LEFT BEFORE THE ALL-STAR BREAK Well, only two games have passed since last report on Jan 14th. January 16
we were host to Los Angeles. Thank you to the sweetheart that gave me tickets to see this game live. Next one is on me!! It was a great game. Tommy Salo recorded his fourth shutout of the year. Shawn Horcoff had the game opener at 15:38 of the first period on a power play. The second goal of the game came at 9:22 of the third by Ryan Smyth, his 19th goal on the year. Final score Edm 2 LA 0.

Saturday I was a guest in the Skysuite #11 for the Nashville Predators. This too was a great game to watch. There were not many shots on goal by the Oilers in the first period and Nashville managed to squeak one by Markkanen at 12:39, giving the Predators the lead. Edmonton came back in the second with two goals but could not stop Orszagh from tying the game at 18:58 of the third. Both teams looked good going into overtime, it could have been anyone's game. The pace was fast and furious however unfortunate for the Oilers, the Predators goal scored by Delmore at 3:35 of the overtime was the game winner. Final tally Nashville 3 Edmonton 2. Although Edmonton did not have alot of scoring chances, Ryan Smyth was definitely missed from the lineup of this game.

As it sits right now the Oil have five more games before the All-Star break. Tough Competition ahead. The next five consist of the Flames, Red Wings, Coyotes, Wild and the Canucks. Edmonton is currently still tied for 2nd place with Minnesota in the Northwest Division. The Canucks are still sitting on top, five points ahead. The key now is to clinch all we can before the break. The injuries have definitely sidelined us a bit but we can still pull off some finesse. GO OILERS GO!!!!

I would like to finish off today by expressing Congratulations to Edmonton Oiler defenseman Eric Brewer. Eric was recently named to play in the 2003 NHL All-Star game on February 2nd. This 23yr old Vernon boy was incredible in last years Olympics playing for Team Canada. I was especially happy for him receiving a gold medal. He had definately earned this and the Oilers organization couldn't be any prouder. Way to go #2, in the hearts of your fans you will always be #1."
OilerBabe XO
"Oiler Babe thanks for the report sexy. Unfortunately I am in a bit of trouble with the site at the moment. My massive MYKwebTV site will be back up in April. Until then let me know & I can get a video to the great Edmonton people that are interested. The next edit will be on DVD so any comments are welcome to make my movie a 10 out of 10. Me mate Moose has watched it 20 times, seriously it's that good. Wish me luck in LA next week as I followup on the interest from 3 movie companies. I'll take you on a nice trip when I sell myself to the movie companies. You need to email me your hot pics again as I redoe "Myk's Cwocs" See ya Sexy Oiler babe." Myk "Wgll" Aussie

"If you are somehow in here Free hope you can join us at Mates Club Click here" Myk

"That's it! I lost Mates Club webWORLD from 2001 to 2003 due to a server crash in Toronto in Feb 2003 and I didn't have proper back up either. Thus I then decided to lease my own Super Server and host the Massive MYKwebWORLD TV station.

Back to Myk's Mates Club Current News Click here " Myk Aussie
Extra Disclaimer: "Photo's shown on MYKwebWORLD have been either taken by Myk or his web Sports Caster mates or they have been approved by the individual or company that owns the photos. If you believe I am in error here please contact me to discuss approval & linking to your site in exchange for the use of the possible photo in concern." Andrew Harrison, MYKwebWORLD Manager Ph: 403 870-5578 CDN