Thurs, Jan 22 04' "Super Bowl XXXVIII & MYKwebTV will be there! Batman's comments re Tragedy in the Cricket World as David Hookes one of the greatest ever Sheffield Shield player is dead after being struck by a Bouncer "Prick with Ears" in Melbourne! Australia wants Calgary Men's Sperm!" Myk Aussie

"Myk at Super Bowl in Houston VHS & DVD available!" 1) Will include NFL Player, Cheerleader & Fan interviews. 2) Me, Moose & Star SportsRage Montreal & Internet radio host Gabriel Morency at the Media days & the Press Conference. 3) As always lots of Comedy. Order Now! Email me for details. myk@mykaussie.com
Contd from Cricket webWORLD....Batman's Very sad news re David Hooke's

"Myk Aussie & mates........Bloody bouncers, they should lock him in a black hole and throw the key away!

Batman I agree re some/many of the Bouncers they can be real "Prick with Ears" in Australia & over here. I know they have a job to do & many guys drink happily & some times Maybe a bit too much booze but those Farkers need to realize they can really hurt someone & as seen here kill someone. I seen this Bouncer here in Stampeder Town nearly kill someone one night.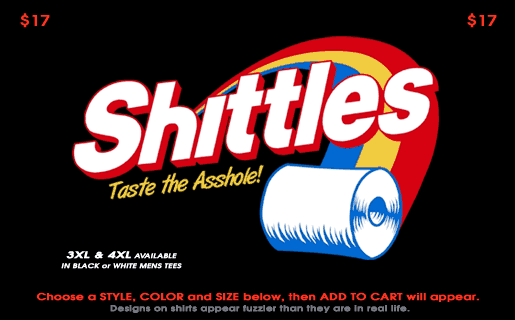 "Ospuntboy thanks for the picture. After Batman my Melbourne Mate, his comments towards the Bouncer it seems we should apply this picture here
From a very recent article in The Calgary Herald. Australia appeals for Calgary Sperm! Donors offered Free Holiday. Wanted sperm donors! Salary: A 2 week holiday to Australia, all expenses paid, inc a medical! An Australian fertility clinic is making waves in Calgary by advertising the holiday to men in exchange for their sperm. Healthy donors must be 18-40 & make a deposit every 2 weeks., attend counseling sessions, submit to tests for HIV & hepatitis B & C & be mentally fit, healthy.
Unbelievable apparently Aussies are getting that much sex with all the hot Babes we don't need to donate sperm & also I did hear for legal reasons Aussie guys are getting scared to donate. Apparently the kids can chase you once they turn 18 years old if you are the donor & thus legal daddy. The NSW fertility clinic in Albury are the ones wanting the Canuck spoof &the ad was placed in the Uni of Calgary student newspaper.

Wow! I think I need to be involved in this holiday, imagine being on the plane & interviewing for MYKwebTV all "The Wanker Canucks". So Wanker #1 how was it getting paid to pull your Pecker? Who was your favorite centrefold to Wank over? Then imagine being in the pub in Aussie with all these Canucks while chasing & telling the Aussie Birds why we are here. Would be great MYKwebTV & I'm sure the Aussie babes will feel a little sorry for the Wankers & offer the real thing to the Cool Wanker Canucks. More on this story "To Come" This story reminds me of a SANFL Woodville Warriors footy trip meeting we had. We were all wondering how to raise $$$ so Mongo from Darwin says "Lets all go to the sperm bank. We get $50 for each donation." Everyone cracked up laughing." Myk Aussie

"Myk's Design Services" Why have a website if you don't have webTV? I can schedule in your company over the next 6 mths if you are in the US, Canada or Australia!!!!! It's great for your business.
Note: this link is only in your Mates Club email.
Why have a website if you don't have webTV? Myk's Design Services Click here
Thurs, Jan 18 04, "Oh wow PAM & Lizzy! Pammy MYKwebTV! Star San Fran 49er QB Jeff Garcia in some trouble!" Myk Aussie
"Myk Aussie your Vancouver Island Cwoc girlie Pammy is still looking incredibly sexy, her girlfriend, Lizzy wow!" Imran Kan't, MYKwebWORLD Cricket reporter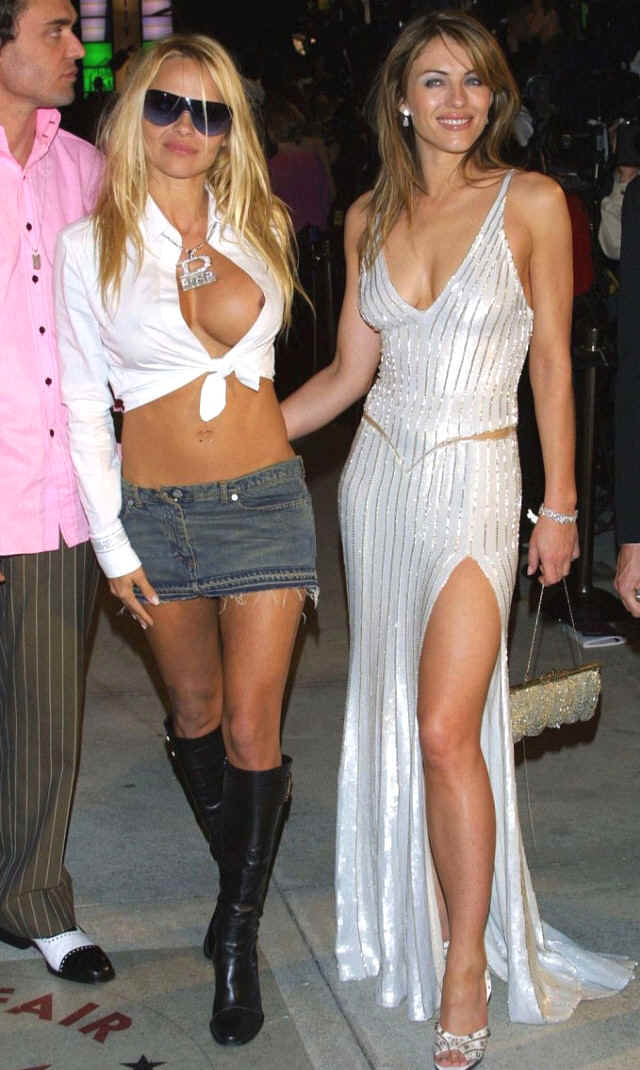 For enlarged view Click here
"Thanks Imran Kan't MYKwebWORLD Cricket reporter great photography the other week by the boys. You know Pammy drives me Crazy. Liz is also one of the very best famous babes out there. Check out me & DJ Jay on the Pammy Hunt, this weeks MYKwebTV Click here
How's that at our mechanical engineering training we had to load those strong PAM unit's into the machines & then plumb & wire them up. We had to be very careful with the PAM units, I just kept thinking of Pammy. Heading to LA next week, try & get my 1st ever real life Pammy MYKwebTV interview. Coming soon "Myk's Engineering World"
Contd from NFL webWORLD on mykaussie.com Jan 15.......... during NFC practice sessions. Even had beers with Jeff & Tyrell Owens & Mic Morreale the CFL star at the beach bar while we were chasing Cwoa's in Honolulu. This was during the afternoons or evenings NFC AFC & NFC practice sessions were in the mornings 8-11ish. Check out Jeff Garcia in last weeks NFL Pro Bowl 02 "Myk's Mates Club MYKwebTV". Click here
From CFL webWORLD... Marcus Crandell got married during the CFL 03 season. Crazy! I'm a big fan of Marcus but golden the rule if you're an Aussie, Don't get married in the footy season. Did this effect Marcus's play, probably. See ya next week from Super Bowl XXXVIII Houston.
Jan 15 CFL Star Ricky Ray update "Ricky you better hurry up & throw it seeing you're getting married Saturday! Plummer fails in Playoffs! Come on Ricky Ray you star CFL Grey Cup 2003 QB Champ "Smack Me!" I know you can throw a great pass! I seen ya down here in BroncoLand the other week. We want you! " Cwoa Kellie " Myk
**** New Please do not forward this on. Tell your mates to email me for a Mates Club trial" Myk Aussie
Mon, Jan 12 04 "Oh no the Croc ate da baby!" Myk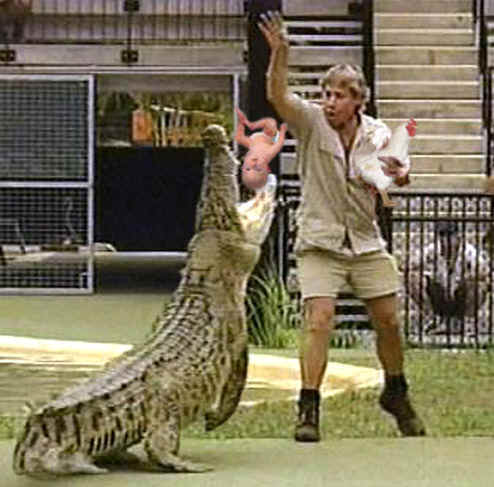 For enlarged view Click here
"Oh no he's done it this time." Myk Aussie
Photo compliments of my Aussie Sth Gawler & Darwin footy mate.

Confirmed MYKwebTV will be at Super Bowl XXXVIII!
Yeh Yeh Yeh Moose & I will again be at this years Super Bowl for MYKwebTV, Feb 1 in Houston. Super Bowl XXXVIII MYKwebTV, 5, 15, 30 sec PC TV spots available. If you have a product or service that you would like to promote to the massive United States, Canadian & Australian Sports market please contact me for excellent investment details myk@mykaussie.com or Ph: 403 870-5578 me Canuck #

In a week or two I will be appearing on ABC's Jimmy Kimmel Live in LA. This very popular late night TV show is seen by in excess on 3 million Nth Americans & hosted by the former Man Show co-host Jimmy Kimmel. This TV appearance along with others in LA will create significant traffic to MYKwebWORLD. Another great reason to advertise on MYKwebWORLD & MYKwebTV. Do you know someone that would like to promote their products here? Let me know, commission will be paid to you on any advertising opportunity that I close because you helped me. myk@mykaussie.com or ph MYKwebWORLD 403 870-5578. Exciting times for me as I head to LA then to Super Bowl in Houston & then hopefully to my 4th NFL Pro Bowl in Hawaii.
Why have a website if you don't have webTV? Myk's Design Services Click here

For Myk's Mates Club News Oct to Dec 2003 Click here
For Myk's Mates Club News Aug to Sept 2003 Click here
For Myk's Mates Club News July 2003 Click here
For Myk's Mates Club News June 2003 Click here
For Myk's Mates Club News May 2003 Click here
For Myk's Mates Club News April 2003 Click here
For Myk's Mates Club News Feb to March 2003 Click here
Extra Disclaimer: "Photo's shown on MYKwebWORLD have been either taken by Myk or his web Sports Caster mates or they have been approved by the individual or company that owns the photos. If you believe I am in error here please contact me to discuss approval & linking to your site in exchange for the use of the possible photo in concern." Andrew Harrison, MYKwebWORLD Manager Ph: 403 870-5578 CDN #