*****Invest In Inet MYKwebTV! Myk's Mates Club Click here *****
****Invest In Total-CFLwebTV & Discussion Options 10 or 1 or 3. Click here ***
Check out Myk at CFL MYKwebTV Click here
Moose's "Friends Of The CFL, USA" webWORLD Click here
Check out Grey Cup webWORLD Click here
Duncan "Crazykicker" O'Mahony webWORLD! Click here
The CFL Missing Years! Click here


Eskimos Total-CFLwebWORLD! Click here

If you are new to MYKwebWORLD & want to know what I do this is great Click here

Thurs, Aug 26 04 "A CFL Player goes onto play Australian Rules Football but was then tragically killed in 2003!

BBBob and Nuffy rip into me on Total-CFL deservedly so!

Amazing story I heard.

Michael Lazecki the star Rider player goes onto play AFL, Aussie Rules Footy Click here

The Total-CFLers are ripping into me again and I deserve it.

From Total-CFL Discussion this week. "Sorry Jerry Nuffy for calling you at 5.30am Stamps time Sunday morning. I was just making sure that you knew how the Lions defeated the Stampeders in OT. But yes you are correct. It was a silly thing to do, wake you up on a Sunday morning and thus I will declare that I was a idiot." Myk
"Well... obviously you weren't quite yourself that night Myk. I found this screen shot taken from your web cam on the night in question." BBBob

"They are both stars in their own right. I think the Trailer Park guy knows more about the CFL." Jerry Nuffy

For the people on here that are not Canadian the picture above is Bubbles one of the stars with me Aussie hat on from the hit TV show The Trailer Park boys. BBBob very clever camera/graphics work and thanks for the great comedy." Myk Aussie

Sat, Aug 21 04 "I asked Mark Stephen QR77 last night why I got cut off when talking about Quincy Carter. Canadians in the NFL. ! Canadians in the NFL! The DVD is coming! Have your name as a editor on "Football Fan Frenzy" the movie! Opinion has it the 30+ minutes of CFL is the best! Are you in the movie? I need to talk to you if you are!

For NFL webWORLD this week with great CFL content Click here

The DVD is coming real soon, the 9th edit. I was also informed this week I may have some much needed Hollywood contacts help. By investing now you have the option of having your name as a editor on the next 10th and final edit of the movie. Moose and his Virginian mates have showings of the movie in Virginia. Moose has watched it 15 times he says while opinion has it from 1,000's of other sports fans that it is a very funny movie with the 30+ minutes of CFL being up there with the best. You could be in this movie? If you are for legal reasons etc I need to talk to you.

My aim is simple. To get to Hollywood myself and take the Total-CFLers in the movie with me. Item 11 Click here or for some free offers in me "Mates Club" Click here Call or email me if you think you could be in this movie myk@mykaussie.com or 604 609-7736 ext 240" Myk Aussie

Thurs, Aug 19 04 "New Paid Advertiser on Total-CFL.com!

T

otal-CFL will always be Total-CFL but I had to accept some US $$$$ this week. Or am I thinking to much re Total-CFL. As Lionbacker agrees with me the NFL Ticket Internet companies are so easy to deal with and want to advertise on good football sites. So as a result Total-CFL home page now has NFL tickets advertised.

Come on Canadian Sports companies out there if your reading this !!!!! On and Up Total-CFL and especially I welcome any new American's now reading this site as a result of the excellent US CFL TV deal and also Total-CFL.com being advertised to SportsRage to US Internet listeners and also Moose's radio work he does in US where he talks about Total-CFL." Myk Aussie

Fri,

Aug 13 04 "CFL Rd 9 has started! Wow more Cwoc's I met at BC Lions game! A very very funny Eskimos vs Stamps Dog video below, Aug 10!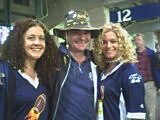 CFL mates, Bell a big Canadian Internet and phone company were taking pictures last week outside Pammy's BC Place. I'm gladly getting my photo taken with a couple of Blue and White sexy Argo Cwocs.
Cwoc's if you don't understand me Aussie lingo Click here " Myk Aussie
Tues, Aug 10 04 "Scotty Dog the Eskimo is this you?"
My spies out and about in Calgary caught I think it's Scotty Dog on camera recently and sent me this.
Oh no! It's been a bad year as it is for Ralph the Dog on the Stamps sidelines but Scotty Dog or his mates have just taken the Eskimo's vs Stamps rivalry to a whole new level!!!!
Scotty Dog is this you? If it's not it's probably one of your dog mates down in Calgary upsetting Ralph the Dog.
PS. Ralph the Dog is Stamps Mascot for newcomers to CFL if you didn't know that.
For the very very funny video Click here " Myk Aussie
Thurs, Aug 5 04 "Moose's excellent CFL Update with Henry Burris career! Oh no one of my favorite CFL players Marcus Crandell the Grey cup 2001 MVP seems to be on the out! New York Jets new QB former CFL Champ Ricky Ray no strong arm??? Photo's this week from Total-CFL Discussion!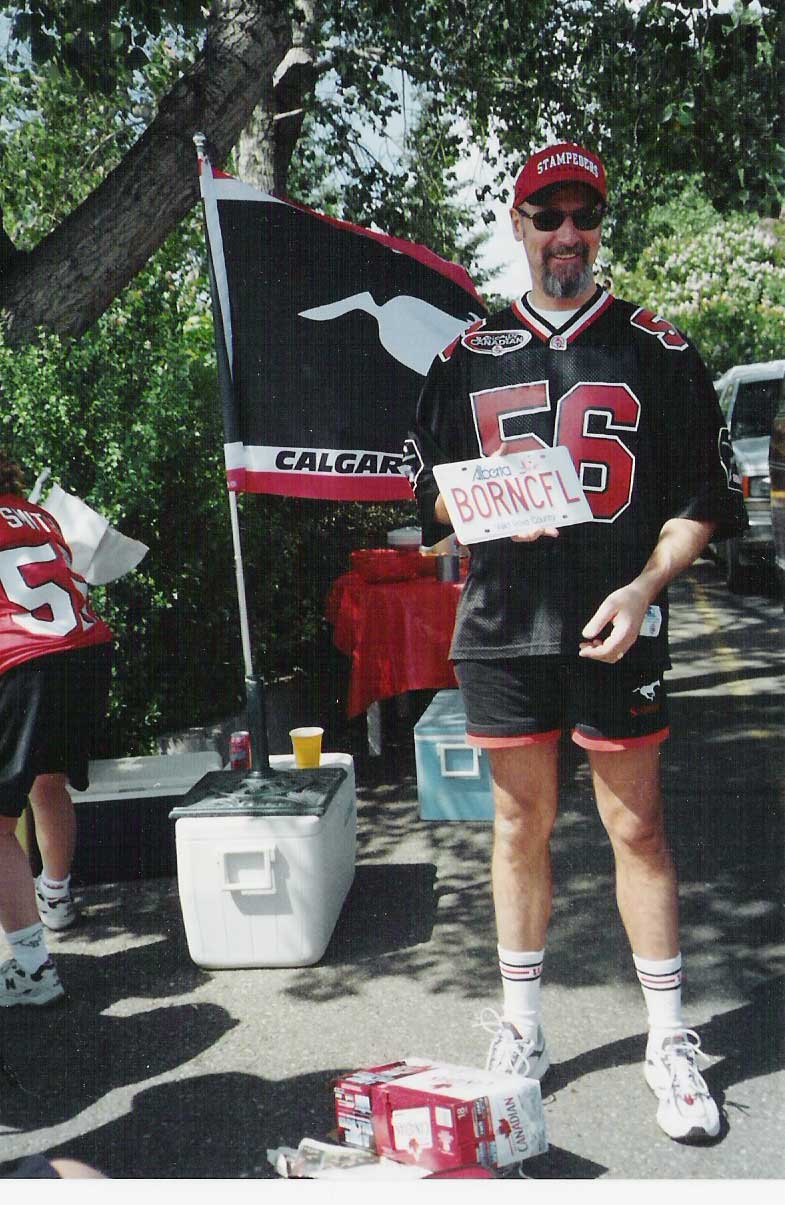 A great photo this week posted by Lady In Red of Born CFL's new license plates. I have met these great Total-CFLers many times in the Biggest Tailgate Party in Canada, Stampeders games.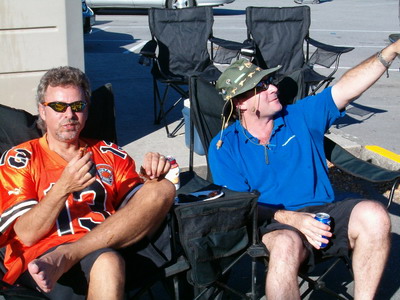 I had a great time with the Lions fans at the tailgate last Thursday night. I'm sitting here with Champ Lionbacker13th Man. Post your pictures on Total-CFL Discussion to be include in this the "Special Reports" section.

For Moose's excellent USA, Friends Of The CFL report Click here

Marcus Crandell at the end! Oh no, hope not!

Jerry Nuffy "At the end of this season Marcus will not be a Stampeder anymore. It seems the Stamps management has given up on him and he will be a free agent at the end of this season. Toronto or Hamilton are good bets to pick him up as a free agent. He still is a good quarterback who will help a team that can implement a basic system for him. He has had four offensive co-ordinators in Calgary and has lost his confidence. Watch for great things from him elsewhere next year.

Eskinator "Watch for great things from him elsewhere next year."

Maybe Jerry, maybe not. I stick to my comments that Marcus is a great back-up only. He seems to refuse to use all his tools. I've often wondered why. Who do you think can mentor him Jerry?

Jerry Nuffy "Given the right coach I truly believe he can be a good quarterback in this league. I'm not saying he will be a star, but a good reliable quarterback. Other people in the league think highly of him as a poll was conducted this week by Michael Petrie of the Calgary Hearld. Every GM except one indicated they would have him on their team.

Randy Brule "I really wonder if Dunigan is kicking himself (although it sounds like he rarely regrets an action) for cutting Romaro Miller after the pre-season. If I remember, the reason given was that Romaro struggled with the run 'n shoot offence. Now that they're going to a more conventional one, Romaro would probably fare better. Gonna be a long season for Calgary fans."

Jerry Nuffy "I imagine Miller is still available and as they have changed from the run and shoot, they may bring him back. This ploy would save face for Dunigan and make the trade look good.

3rd Down "Good point ... bring back Romaro ... Miller's talents weren't a good fit for offensive co-ordinator John Jenkins' run-and-shoot system in Calgary. Miller never has been comfortable throwing on the run, and virtually every Stampeder's play includes some sort of rollout"

It stated in a certain US Pro Footy Weekly Mag this week that

"Ex-CFLer Ricky Ray was signed in the off season. Like Pennington, Ray doesn't have a strong arm but he's very accurate. He may be a little better athlete but he doesn't manage the ball as well."

Ricky Ray to Ed Hervey or Jason Tucker the length of the CFL field I thought happened many a time. I reckon we will not see Ricky back in the CFL for at least 5 years as he will kick butt when he gets his chance but I could be way wrong. Lets see what the other CFL experts had to say.

Marco "I didn't think Ricky Ray had an overpowering arm with his 2 seasons with the ESKS. I think he did however have terrific accuracy hitting his receivers which at times didn't seem to be very open. He did deliver the ball on target so they could catch it. Just my 2 cents worth"

Esk Reporter "Ray was not known for his arm strength, but he could throw the long ball when he had to (Just ask Don Matthews...LOL). He took what the defense gave him and used it to the fullest advantage. Ray is a very smart QB and will make it in the NFL unless some 'scout' with a tape measure and a stop watch shows up. Then he will be too slow, too weak and not smart enough...!!"

OV Bandit "That scenario is not that far fetched - the NFL is full of experts who are totally enamored with measurements in deciding on football talent - pre-judging instead of going by how the player does on the field of play. And the also so expert commentators in the NFL media publications are well known for dumping on guys with CFL experience on their resumes - but hey, why question the experts, er, collection of pompous, ignorant clowns?"

Argonut "Or ...These guys watch how he plays on an NFL field and see his flaws for the game down there. Seeing how much we all up here have seen him play NFL ball. We should know better than them. Arm strength is also not just how far someone can throw."

Myk AussieCDN "Yeh! Re Media guys down there. The same NFL publication also refered to Canucks toughman Todd Bertuzzi as Steve Bertuzzi. This was when talking to a Rams player about violence. Not that I want to get off "Total-CFL topics" at all but this made me laugh as well last night.

Post your pictures on Total-CFL Discussion to be include in "Special Reports" section

Why have a website if you don't have webTV? Myk's Design Services Click here

Myk's Mates Club Invest now & receive a Free New Years present Click here or email me for a trial password." Myk Aussie

"When I am broadcasting Internet radio a "Pirate Radio icon" will appear in the grey area. 2nd test run coming soon. Advertise on the Total-CFL Radio show, $50-75 per week! Call Andrew 604 609-7736 ext 240 or myk@mykaussie.com for details" Myk Aussie
*****Invest In Inet MYKwebTV! Myk's Mates Club Click here *****
Keep reading !!!!! Keep reading !!!!! Keep reading !!!!!
For Myk's CFL webWORLD July 2004 Click here
For Myk's CFL webWORLD June 2004 Click here
For Myk's CFL webWORLD April-May 2004 Click here
For Myk's CFL webWORLD Mar 2004 Click here
For Myk's CFL webWORLD Feb 2004 Click here
For Myk's CFL webWORLD Jan 2004 Click here
For Myk's CFL webWORLD Dec 2003 Click here
For Myk's CFL webWORLD Oct-Nov 2003 Click here

For Myk's CFL webWORLD Sept 2003 Click here

For Myk's CFL webWORLD August 2003 Click here
For Myk's CFL webWORLD June-July 2003 Click here

For Myk's CFL webWORLD June 1-13 2003 Click here

For Myk's CFL webWORLD May 2003 Click here

For Myk's CFL webWORLD April 2003 Click here
For Myk's CFL webWORLD Feb & Mar 2003 Click here