You can also hear me often talking NFL many Friday nights on Gabriel Morency's Sports Rage now on morencysports.com. Fri 8-11pm Pacific CDN/US time. If you are new to MYKwebWORLD and you want to know what I do this is a great article Click here" Myk
May 06. I have finished the New Massive Mates Club webWORLD. I hope you can join me in the now 100% Free Mates Club for hours of NFL Sports, Comedy, Babe TV, your existing email link will get you to the new Mates Club Massive Menu or Click here" Myk Aussie

Check out Myk at NFL MYKwebTV NFL Super Bowl NFL Pro Bowl MYKwebTV
Aug 06 "Weekly NFL reports on NFL webWORLD!
Check out the massive NFL webWORLD Click here " Myk Aussie

Tues Oct 19, 10. "Bears have a bad loss to the Seahawks in NFL week 6! I am a big fan of Jay Cutler! Recently on a Friday night I was talking NFL on Sports Rage with Gabriel Morency, Listen and watch now! My NFL week 2 bets! The Cowboys let me down in week 1 betting! Listen now. I got on The Jim Rome radio show Wed July 7 which has approx 4 million listeners and talked sports! Talking sports and often NFL on 5AA South Australian radio many weeks with Jeff Burzacott. Listen Live on the web! 153 of my 175+ Sports MYKwebTV and TotalCFLwebTV shows including lots of NFL are now on my YouTube.com Directors Channel!" Myk Aussie

Check out the massive NFL webWORLD for the above stories Click here

I am a big fan of Jay Cutler!
Refer to Broncos NFL webWORLD for my commwnts on the trade to the Bears. Click here " Myk Aussie
SatDec 22 07 "Talking NFL Hardcore Friday night on Sports Rage, listen now! This segment also includes Morency interviewing Brendon Ayanbadejo from the Chicago
Bears! New Sports jersey Frames. The 1st shipment ever to Nth America. Order now. Available now! Massive amounts of NFL MYKwebTV!" Myk Aussie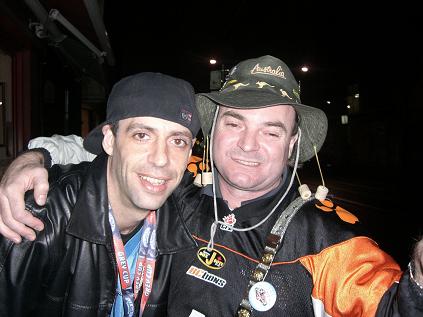 Left: I'm here on 2007 CFL Grey Cup Sunday night with my radio mate Gabriel Morency from Sirius Satellite radio. I talk NFL many Friday nights on his great Sports Rage radio show. For footage in the radio studio and some craziness on the Sunday night of the 2007 Grey Cup
Click here Right: Bears fans sorry about the Steelers jersey here. New Sports Jersey Frames! The 1st shipment ever to Nth America! Order now! Available now for Christmas! They are awesome! The jersey hangs great in these High quality Sports jersey display cases. For contact and ordering Click here

Talking NFL, Hardcore Friday night on Sports Rage, listen now! This segment also includes Morency interviewing Brendon Ayanbadejo from the Chicago Bears!
The link to the Podcast from Sports Rage last night is from my "Mates Club column" as some viewer listening discretion is advised Click here

Massive amounts of NFL TV! Several weeks ago I finished the New Massive Mates Club webWORLD. I hope you can join me in the now 100% Free Mates Club for hours of NFL Sports, Comedy, Babe TV, your existing email link will get you to the new Mates Club Massive Menu or Click here" Myk

Tues, Feb 6 07 "Congratulations to the Bears on getting to the Super Bowl XLI! Colts defeat Bears 29 to 17 to win Super Bowl XLI! My Super Bowl XLI MYKwebTV show coming later this week! Moose's Super Bowl report! Massive amounts of NFL Super Bowl MYKwebTV!

For our reports on the Big game, check out Super Bowl webWORLD Click here

Massive amounts of NFL TV! Several weeks ago I finished the New Massive Mates Club webWORLD. I hope you can join me in Mates Club for hours of NFL Sports, Comedy, Babe TV, your existing email link will get you to the new Mates Club Massive Menu or Click here" Myk

Thurs, Aug 17 06 "Moose's extensive Bears 06 preview! Lots of NFL MYKwebTV!" Myk
From Moose "Chicago Bears, 87th year. One Super Bowl win but 9 NFL Championships all-time. 2005 Record: 11-6-0, lost to Carolina in the NFC playoff divisional game in Jan. '06. Coach: Lovell 'Lovie' Smith. QBs: Brian Griese (thankgod!), Rex (Ouch!) Grossman, Kyle Orton, B.J. Symons (NFLE bound again next spring '07).

Other Key players: DLm Tommie Harris, the best in the League at his position!, Israel Idonije, Univ. of Manitoba, Tank Johnson, and Adewale Ogunleye. Offencive Linemen: Olin Kreutz, Saint Louis High School, Oah'u, HI, John(s) Tait, St. Clair. LBers Hunter Hillenmeyer, Brian Urlacher, Lance Briggs, Brendan Ayanbadejo, former CFL'r. Outlook / Prediction: It's all about Defence in the Windy City, especially when your QBs have been the last few years, Kyle Orton, Chad Hutchinson, Jeff George, et, al. Enter stud Brian Griese, 10-5-0 the last two years in Tampa. Rex Grossman who? The brass wants Grossman to stay healthy so they can get a bead on him as NFL QB - I give him four games. Then it's the Brian Griese show in Chi-town.

Running the ball has never bee n a problem with the likes of Bronko Nagurski, Gayle Sayers, Walt Payton and now Thomas Jones and Adrian Peterson (At least it's not Tom Peterson!) Even Jon Brant could gain yards behind this line: Kreutz, a perennial Pro Bowler at centre, Tait, St.Clair, Rob Garza and Lennie Freidman.

On the Special Teams side of the ball, Brad Maynard is not only a very good P/H but he can run and throw, too. The best athlete among Ps this side of Criag Hentrich and Brian Moorman. K-ing is the domain of Bobby Gould who played well as a rookie last year.

Need we mention the Defence: Hillenmeyer, Urlacher, Ss Cam Worrell, Nathan Vasher, CBs: Ricky Manning and Charles Tillman. Predicted Finish: WRs Mushin Muhammad, Justin Gage and TE Dez Clark give Griese/Grossman more options than just handing the ball off to Jones and Peterson. The Offence is the key this year as everybody in this division knows the Defencive tendencies of this squad by now. Pressure, pressure, pressure. If the Offence improves enough, this team will challenge Minnesota for the Norris Division title. I don't beleive they will quite make the playoffs with Arizona, New Orleans' improvement. Second, NFC North, 9-7-0 maybe 10-6-0." Moose
"If you would like to add your comments about how you think the Bears will go in 06 or comment on Moose's preview above please email me myk@mykaussie.com and I will add your report.
You can hear Moose weekly on Gabriel Morency's SportsRage Montreal Team 990 AM sports radio and on the Internet talking NFL Footy many Friday nights around 1am Eastern US and CDN time. I'm on late around 1.30-2am EST Friday or Monday nights as well talking sports in a comedy/crazy style. I think Gabriel Morency is the best sports radio guy in the World. To me he's like the Howard Stern of sports. I'm very confident you will like his show. To listen
Click here

Massive amounts of NFL TV! Several weeks ago I finished the New Massive Mates Club webWORLD. I hope you can join me in Mates Club for hours of NFL Sports, Comedy, Babe TV, your existing email link will get you to the new Mates Club Massive Menu or Click here" Myk
Wed, May 17 06 "Moose's excellent detailed Doug Flutie Retirement Tribute and his Top 13 QBs in Pro Football History!" Myk Aussie

For a excellent very detailed report from Moose on Doug Flutie's great career check out "USA, Friends Of The CFL" Click here

I hope you can join me and Moose in the new Massive Mates Club for hours of Sports, Comedy Babe TV Click here" Myk Aussie
Thurs July 25th 05 "Moose's NFL Chicago Bears 05 preview!" Myk
Chicago Bears, started 1920 as Decater Staleys, 1921 became Chicago Staleys (that was a
car back then, folks), 1922 Chicago Bears. Super Bowl Record, 1-0 Coach: Lovell Lovie Smith, Def Coordiator: ex-Bear player, LB Ron Rivera, Offencive Coordinator (pray for this guy!) Ron Turner. QBs: Rex Grossman (injured again; out three months to start'05 campaign), retreat Jeff Blake, ex- Cowboy and Baseball player Chad Hutchinson, Amsterdam World Bowl winning QB from June Kurt Kittner, who should start if this team is smart! Other Key players: WR M. Muhammad, Centre Olin Kruetz, from Oahu and Saint Louis High School,Who's favorite place to eat is in H'Aina A'ina, called Jack's (thank you for that Randy Miyamoto!), LBs: Brian Urlacher and Hunter Hillenmeyer, P Brad Maynard, a decent option pass thrower and K Paul Edinger. Olm: Roberta Garza from Mexico and Ruben Brown. DBs: Jason Shivers, Roy's nephew, R.W. McQuarters and Jerry Azuma, who is a great Special Teams player.

First the good news: Grossman, for his Critics, is out for three months. Now the bad News; Grossman is out for three months. Sorry, Rex, I couldn't resist that one. But it does have a ring of truth to it. Do Turner, Brother of Oakland Coach Norvell, (more NFL nepotism!) and 'Lovie' [boy, Hardcore Chicago fans must love having a big Teddy Bear of Coach named
'Lovie', eh?] think they can get by with Hutchinson and Blake until Gross-Man gets healthy again (Or will he EVER stay healthy? The Bears should keep hometowner George's number!)]
The Bears are not a good team even on their best days anymore. They probably couldn't beat the crosstown Chicago Rush of the Arena League and the Rush will probably win the ArenaBowl before the Bears reach another Super Bowl. Hutchinson is a nice kid who tries hard and I guess the Bears didn't really want to give former Chicago bad boy Jeff George another try –which they may regret! He's a changed man and June Jones is nowhere in sight! The best bet would be to start a hot Kittner who just won the NFL ('AAA') EuroBowl for the Admirals. Blakeshowed he has nothing left above the waist but memories getting a free trip to the Super Terrell Owens gets-pissed-off-at-good-'ole-Donovan-Bowl and a three point loss to (who else?) New England last Feb.

The Bears will rank somewhere around 7-9-0simply because the NFC won't be that strong this year and I don't Smith or Turner have the guts to turn Kittner loose. They also shouldn't have cut THE Ohio State's Craig Krenzel loose so quick (he's trying out with the hometown Ben-GALS now). Predicted finish: 6-9-1, fourth place NFC North, the original Black and Blue Division." Moose


Thurs, Nov 11 04 "Bears vs Tit's week 10!" Myk Aussie
From NFL Media
BEARS: Rookie 5th-round QB CRAIG KRENZEL has 2-0 mark as starter after passing for 144 yards & 1 TD last week……RB THOMAS JONES has 702 yards from scrimmage (511 rush, 191 rec) & accounts for 33.9 pct. (702 of 2,070) of club's total production. Has team-leading 26 receptions & bids to become 1st Bear to lead team in rushing & receptions since NEAL ANDERSON in '89 (1,275 rush, 50 rec). Has 511 rushing yards & needs 117 yards for career best (627, '03). Is perfect 5 of 5 converting 3rd & 1 rushing attempts. RB ANTHONY THOMAS made 1st start of season vs. Giants, rushing for 110 yards (2 TDs). Has rushed for 208 yards in past 2 games……WR DAVID TERRELL has team-leading 361 receiving yards (22 catches) & averages career-best 16.4 yards per catch……Defense hold opponents to 40.0 red zone TD pct. (30 trips, 12 TDs), 2nd in NFC……DE ALEX BROWN posted the 3rd 4.0-sack game in team history last week. LB BRIAN URLACHER has 4.0 sacks in 6 games, 2nd among NFC LBs……Rookie 4th round CB NATHAN VASHER has started past 5 games & has 3 INTs……

TITANS: Team has won 6 of past 7 vs. NFC. Since '97, head coach JEFF FISHER has led Titans to 22-8 (.733) interconference record……QB STEVE MC NAIR is 15-4 (.789) in past 19 vs. NFC with TD pass in 17 of those 19. Has 28 TDs vs. 10 INTs in those 19 vs. NFC. In past 2 games, QB BILLY VOLEK has completed 38 of 68 passes for 55.9 pct……In 1st season as starter, RB CHRIS BROWN is tied for NFL's 5th-leading rusher with 810 yards & 4.9-per-carry avg. Brown also has 17 catches for 128 yards & ties for 3rd in AFC total yards (938). Club has lost 3 fumbles, tied for fewest in AFC……WR DERRICK MASON leads NFL WRs with 52 catches. In 4 of past 7 games, Mason has 8+ catches. WR DREW BENNETT has already equaled career-high in receptions (33) for season. Rookie TE BEN TROUPE (No. 40) has 13 catches……S LAMONT THOMPSON has 3 INTs, tied for 4th-most in AFC. DE KEVIN CARTER (2.5) & rookie DE TRAVIS LA BOY (2.5) tie for club-high in sacks. LaBoy had 2.0 sacks vs. Minn. in Week 7……P CRAIG HENTRICH leads AFC with 40.0 net & only 3 TBs on 32 punts.
It is so cool to be the only Aussie that has regularly reported on the NFL for the past 5 years. Yep that's me, I have had NFL media passes at Super Bowl's, Pro Bowl's and other NFL games. Thus I am allowed into the NFL Media section and allowed to post their great reports on here. Much more coming over the coming weeks." Myk Aussie
Sept 11, 04 "Scott's Chicago Bears 04 preview" Myk Aussie
Chicago Bears All time record - 632-490-42 NFL Titles - 9 (1921(As the Chicago Staleys), 1932, 1933, 1940, 1941, 1943, 1946, 1963,
1985)Super Bowl Appearances - 1 (1-0) Defeated New England 46-10 in Super Bowl XX
Coach: Lovie Smith (1st Season)
2003 record: 7-9 2003 review: The Bears started off bad, 1-5, but finished with better record than their talent, going 6-4 in the last 10 games to finish 7-9. Kordell Stewart started the season, but did not fit at all (He is now in Baltimore). It paved way for 2003 first round pick Rex Grossman to qb the final couple of games. The respectful showing did not save then coach Dick Jauron's job. Injuries have rampaged this franchise since they won a surprising Central Division title in 2001. The year left more question marks than answers going into the 2004 season with a new coach.
2004 outlook: Lovie Smith, the defensive coordinator for the Rams the last 3 years, was hired to coach the Bears. He brings a defense, the "Cover 2" pass coverage, made famous by the Tampa Bay Buccaneers, to Chicago. This season will also be the first full season for
quarterback Rex Grossman, their 1st round pick from 2003. There are questions about his
arm strength, and success, or lack thereof, of University of Florida qb's making it in the NFL.
The Chicago brass hope he does not become a 1st round qb bust like in 1999 with Cade McNown. Many experts believe that this will be a transition year for Da Bears.

Strengths: If free agent signees Ruben Brown and John Tait stay healthy and contribute, them and center Olin Kreutz could form a very solid offensive line. Brown's conditioning has come into question the last few years, and some believe that he made the Pro Bowl the last couple of years on reputation. Tait is one of the best tackles in the NFL and a very good signing for Da Bears. Kreutz has battled injury problems the last couple of years since his breakout All Pro year in 2001. However, he is one of the best when healthy.
Defensive Ends: '04 1st round pick Tommie Harris and recent trade Adewale Ogunleye can form one of the best bookend rushers in the conference. Ogunleye talled 15 sacks for the Dolphins, but was traded for receiver Marty Booker over a long contract dispute with Miami. Those two pieces will fit Smith's defense because it relies on a stong upfield rush by the defensive line. Brian Urlacher: He is the heart and soul of the Bears. Problem is that he has suffered a hamstring pull in training camp and may still hamper him throughout the season. However, he is a gamer, and he will provide his usual 150 tackle effort during the 04 campaign.
Weakness: Running Back: Thomas Jones was signed to be the primary back or a rotation with A-Train Anthony Thomas. Jones was a first round bust for the Cardinals, but performed nicely with the Bucs in '03. Thomas gained over a 1000 yards for the 2nd time, but doesn't have good breakaway speed or burst. This unit is not impressive.
Receivers: David Terrell has been a bust so far and Dez White is a decent receiver. Unless Terrell steps up his production in place of the traded Marty Booker, this area will not help Grossman at all. The TE is not a big factor for the Bears.
2004 prediction: 5-11 - Hard knocks year for the Monsters of the Midway. Da Bears will play hard for first year coach Lovie Smith, but don't have the talent to win yet. They will be in the basement in the Black and Blue division, but don't be surprised if they are spoilers at the end of the year." Scott
Myk and Cwoa's Cool Women Of America!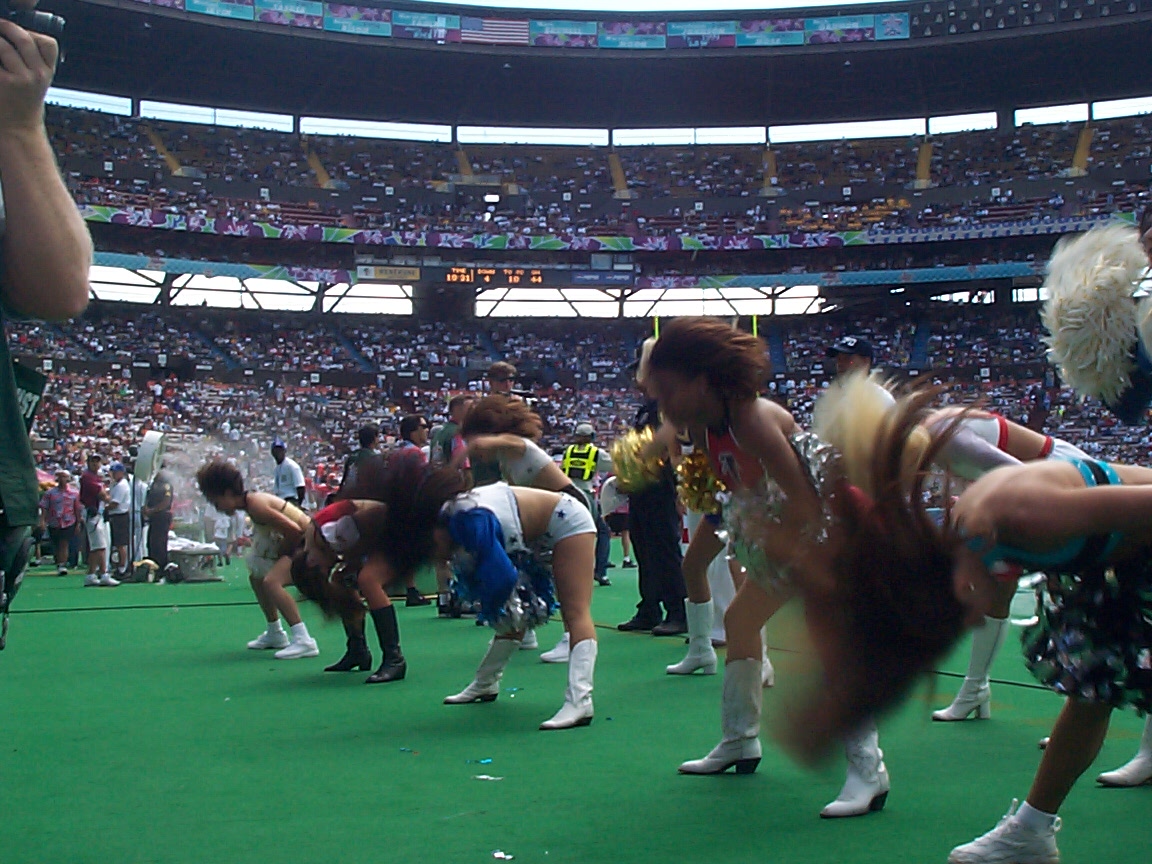 "Where is the Bears Cheerleader? In there somewhere! Mates Melissa the Dallas Cowboys cheerleader in the Blue & White is my friend. The #1 Dallas Cowboys & Pro Bowl cheerleader Melissa came to Calgary for a tanning promotion not long after I met her at Pro Bowl 2002 week.
I met up with Melissa briefly that day in Calgary. Melissa has been a "Myk's Mates Club member" for the past year enjoying my MYKwebTV & comedy webWORLD.
Pro Football Weekly: NFL and Pro Football Video Picks with amazing coverage from Myk Aussie -
The Pro Football Comedy Media Guy
Myk and Cwoa's Click here
Lots more Myk and Cwoa's on Myk's Mates Club Click here
Pro Football Weekly: NFL and Pro Football Video Picks with amazing coverage from Myk Aussie -The Pro Football Comedy Media Guy


"I have finished the New Massive Mates Club webWORLD. I hope you can join me in Mates Club for hours of NFL Sports, Comedy, Babe TV, your existing email link will get you to the new Mates Club Massive Menu or Click here" Myk