*****Invest In Inet MYKwebTV! Myk's Mates Club Click here *****
****Invest In Total-CFLwebTV & Discussion Options 10 or 1 or 3. Click here ***
Check out Myk at CFL MYKwebTV Click here
Moose's "Friends Of The CFL, USA" webWORLD Click here
Check out Grey Cup webWORLD Click here
Duncan "Crazykicker" O'Mahony webWORLD! Click here
The CFL Missing Years! Click here

If you are new to MYKwebWORLD & want to know what I do this is great Click here

Tues, July 19th 05 Updated "More from the BC Felions Calendar Launch Party! Big Jonny my Burnaby Eagles Aussie Rules Footy mate was a great interviewer and photographer on this great night!" Myk Aussie
Left: Big Jonny I think she wants to come to Australia with me! Right: On no, this guy is trying to out do us Jonny. Look he's got all the Felions to sign his chest and guts.
Left: Wow! This guy is a champ, the Felions have signed his back as well. Right: Way to go champ. Nice to meet you and your beautiful Felion girlfriend Cherisse.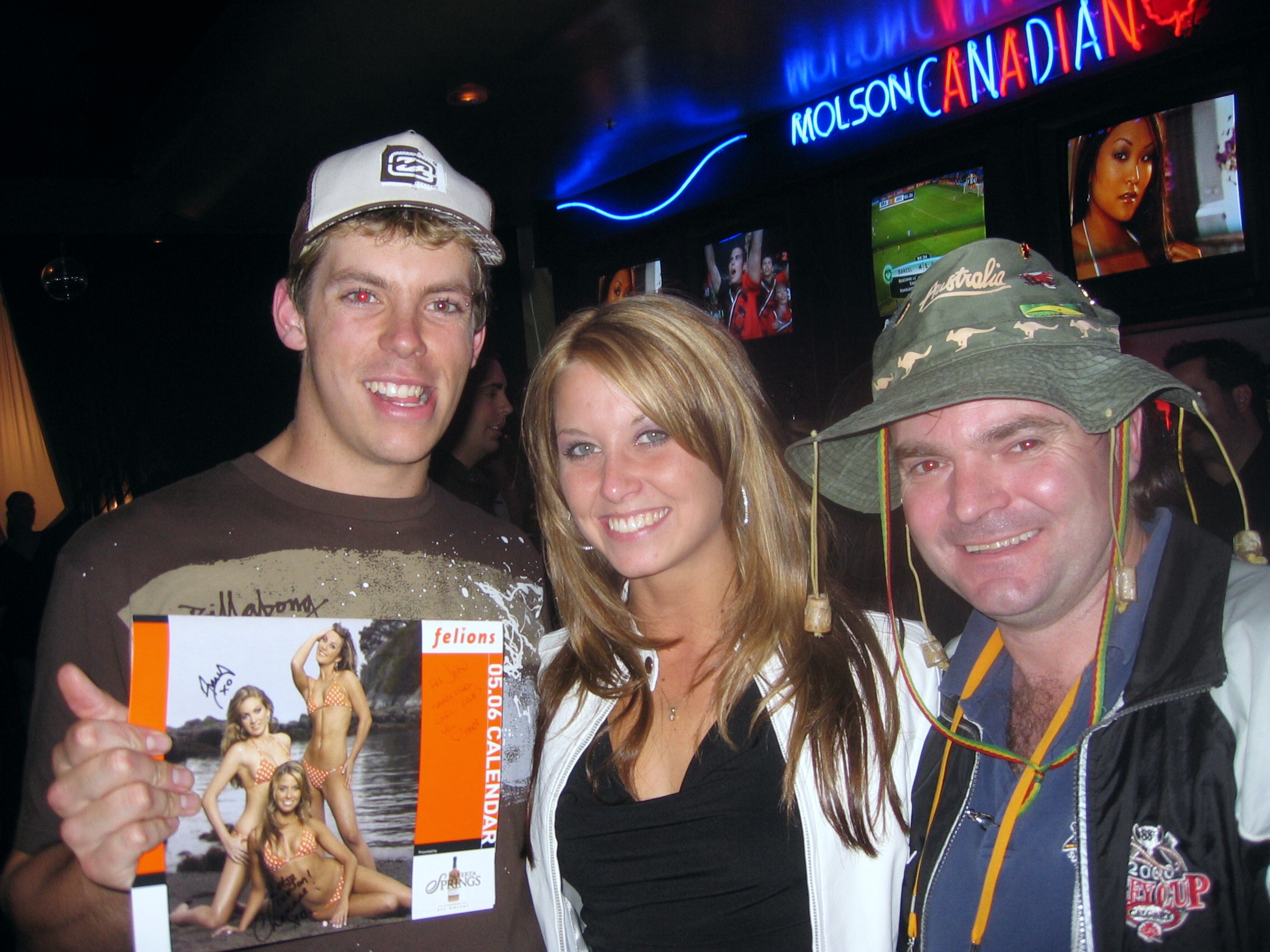 The lovely Cherisse one of the calendar cover ladies. Cherisse was trying to keep her man the no shirt guy under some sort of control on this great night.


Left: Is there any Felion that Big Jonny didn't get a picture with! Amazing effort!
Left: Hey don't give me the finger. It looks ugly next to Kaitlyn's beautiful face. Now get your act together and get back on the field for the Burnaby Eagles this weekend.
It was a sensational night. Since this night I have had the pleasure of seeing the Felions perform the past two Friday nights at Pammy's BC Place along with having some great chats with some of them after the games at The Shark Club and even last night at the trendy Bar None." Myk Aussie

For more pictures of the great night, Page 3 Click here" Myk Aussie
Big Jonny can be seen playing for the Burnaby Eagles in the Aussie Rules Footy BC Cup June 05 Click here
Are you new: Cwoc's is my Aussie saying for Click here
"Clipstream Live Video to the web! Do you need to broadcast a sporting event, work conference, I have it Click here Call me to discuss 1 604 609-7736 ext 240" Myk
Also check out Moose's "Friends Of The CFL, USA" webWORLD Click here
*****Invest In Inet MYKwebTV! Myk's Mates Club Click here *****
Keep reading !!!!! Keep reading !!!!! Keep reading !!!!!
For Myk's CFL webWORLD June 2005 Click here
For Myk's CFL webWORLD May 2005 Click here
For Myk's CFL webWORLD April 1 - 15 2005 Click here
For Myk's CFL webWORLD Dec 2004-March 2005 Click here
For Myk's CFL webWORLD November 2004 Click here
For Myk's CFL webWORLD October 2004 Click here
For Myk's CFL webWORLD September 2004 Click here
For Myk's CFL webWORLD August 2004 Click here
For Myk's CFL webWORLD July 2004 Click here
For Myk's CFL webWORLD June 2004 Click here
For Myk's CFL webWORLD April-May 2004 Click here
For Myk's CFL webWORLD Mar 2004 Click here
For Myk's CFL webWORLD Feb 2004 Click here
For Myk's CFL webWORLD Jan 2004 Click here
For Myk's CFL webWORLD Dec 2003 Click here
For Myk's CFL webWORLD Oct-Nov 2003 Click here
For Myk's CFL webWORLD Sept 2003 Click here
For Myk's CFL webWORLD August 2003 Click here
For Myk's CFL webWORLD June-July 2003 Click here
For Myk's CFL webWORLD June 1-13 2003 Click here
For Myk's CFL webWORLD May 2003 Click here
For Myk's CFL webWORLD April 2003 Click here
For Myk's CFL webWORLD Feb & Mar 2003 Click here