"You can also hear me often talking NFL many Friday nights on Gabriel Morency's Sports Rage now on morencysports.com, Fri 10pm-1am EST CDN/US time. If you are new to MYKwebWORLD and you want to know what I do this is a great article Click here
May 06. I have finished the New Massive Mates Club webWORLD. I hope you can join me in Mates Club for hours of NFL Sports, Comedy, Babe TV, your existing email link will get you to the new Mates Club Massive Menu or Click here" Myk

Check out NFL MYKwebTV NFL Super Bowl NFL Pro Bowl MYKwebTV Nth American Footy Timeline
Aug 06 "Weekly NFL reports on NFL webWORLD!
Check out the massive NFL webWORLD Click here " Myk Aussie

Mon Jan 3, 11. "Seahawks make the NFL Playoffs after defeating the Rams on Sunday night! Listen now. I got on The Jim Rome radio show Wed July 7 which has approx 4 million listeners and talked sports! 155 of my 175+ Sports MYKwebTV and TotalCFLwebTV shows including lots of NFL are now on my YouTube.com Directors Channel!" Myk Aussie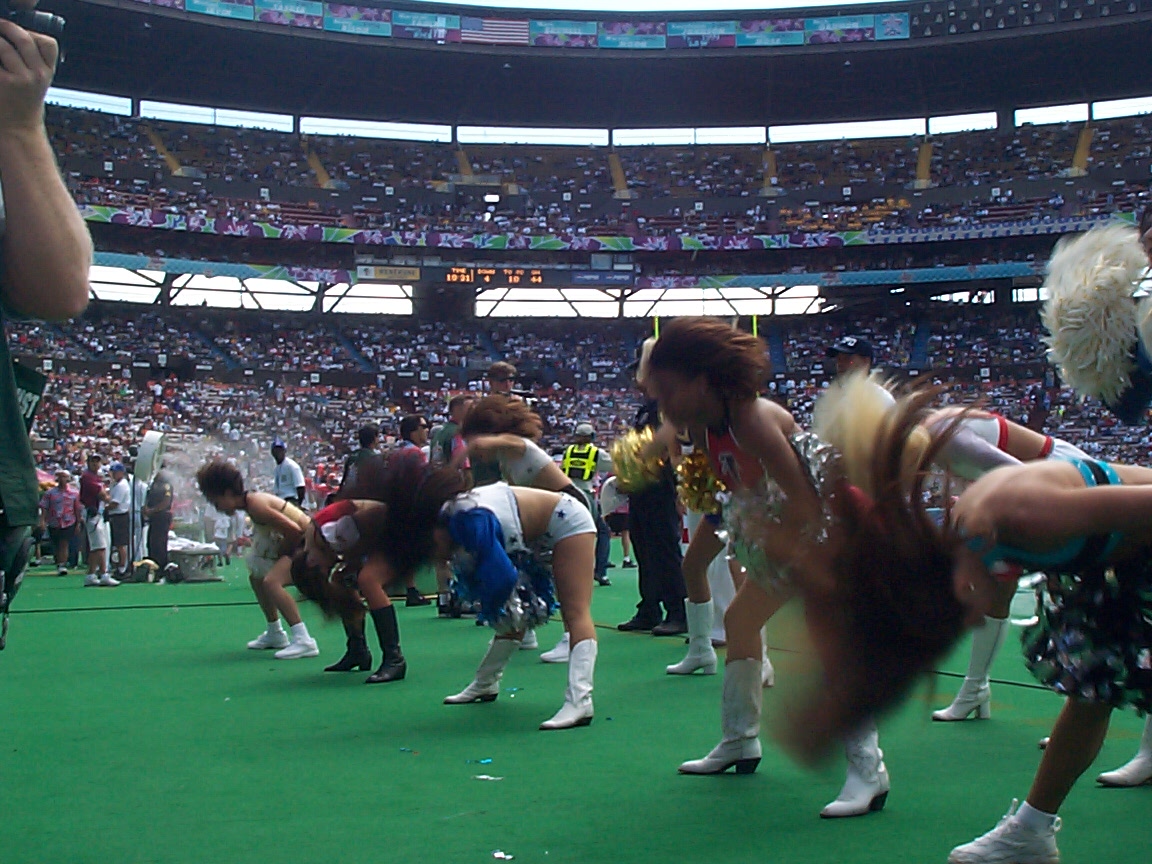 There are some great Seahawk Pro Bowl cheerleaders in Pro Bowl MYKwebTV NFL Pro Bowl MYKwebTV


Check out the massive NFL webWORLD for the above stories Click here
Sun Feb 3, 08 "New Sports jersey Frames. The 1st shipment ever to Nth America. Order now! Massive amounts of NFL MYKwebTV!" Myk Aussie

Seahawks fans sorry about the Steelers jersey below.

New Sports Jersey Frames! The 1st shipment ever to Nth America! Order now! Available now for Christmas! They are awesome! The jersey hangs great in these High quality Sports jersey display cases. For contact and ordering Click here
I hope you can join me and Moose in the new Massive Mates Club for hours of NFL, Sports, along with Comedy Babe TV Click here" Myk Aussie
Thurs, Aug 17 06 "Moose's extensive Seahawks 06 preview! Lots of NFL MYKwebTV!" Myk
From Moose "Seattle Seahawks, 41st Year. One Super Bowl loss. 2005 Season Record: 15-4-0, lost to Pittsburgh 14-10 in Super Bowl XL. Coach of the Year: Mike Holmgren. QBs: Matt Hasselbeck, Dave Green, Gibran Hamdam, WR-QB Seneca Wallace.

Other Key players: LB Lofa Tatupu the best in the League son of 14-yr New England/L.A. ST'r-FB Mosi who leads this very good team's Defence, RB Shawn Alexander, KS-TE-FB/LB Canadian J.P. Darche, OL-FB Tom Ashworth, OT Walt Jones, FB Mack Strong, DLm: Grant Wistrom, WR-KRs: Pete Warrick, Tee Wallace, Bob Ingram. TEs: Itula Mili, (Big Island, HI) & Jeremy (Whopps) Stevens who dropped four costly passes in Super Bowl.
Outlook: Since the Seahawks basically only lost Super Bowl magnet WR Jurivicious to Clev., and OLm Hutchinson, the outlook at least on Offence is very good. Expect S. Wallace to move fulltime to WR any day now or be a 'slash' type player for Holmgren soon. Strong is getting a bit long in the tooth at FB but could give Seattle one more big year. They don't have to worry about Saint Louis, which is injury-riddled this season, with Marshall Faulk out and with a new Coach still looking for his top QB and San Francisco still rebuilding. But Arizona, with Matt Leinart just signed, is loaded for Bear!
Two years ago the WRs set an all-time unofficial record w/ 68 drops. It seemed like that fever went to TE Jeremy Stevens last Super Bowl. Oh he did catch that one TD but dropped four crucial catches earlier in what most consider the worst Super Bowl of all-time. The Seahawks are not taking any chances and resigned Hawai'ian native Mili to a new two-year deal.

Prediction: The Seahawks let one get away. On paper they were way better than Pittsburgh and had a better Coach. The Officials screwed them in the Super Bowl but a 3-0 lead after one-third of the game isn't enough to put away a very good-to-great Defencive team like Pittsburgh. The Steelers won't be any threat this year though. The Seahawks lost Jurivicious and OLm Steve Hutchinson but not much else. It's just that QB Hasselbeck can't be expected to have as good a season as last year; realistically.

The Defence is still very formidable with Mike Green coming in from Chicago and Russ Davis @ DT from rival Arizona, who Seattle will battle for the division title. It'll be Arizona to win the West and meet Carolina in the NFC Conference title and the Seahawks to wonder about letting that Super Bowl against the scrubs from Steeltown slip away! Second: NFC West, 9-7-0 or 10-6-0, playoffs? Depends on how well the secondary of: Green, Marcus Trufant, Jordan Babineaux, Mike Boulware and Lance Frazier plays. Don't ever count out a Mike Holgren team. Lots of vets left!" Moose
"If you would like to add your comments about how you think the Seahawks will go in 06 or comment on Moose's preview above please email me myk@mykaussie.com and I will add your report.
You can hear Moose weekly on Gabriel Morency's SportsRage Montreal Team 990 AM sports radio and on the Internet talking NFL Footy many Friday nights around 1am Eastern US and CDN time. I'm on late around 1.30-2am EST Friday or Monday nights as well talking sports in a comedy/crazy style. I think Gabriel Morency is the best sports radio guy in the World. To me he's like the Howard Stern of sports. I'm very confident you will like his show. To listen
Click here

Massive amounts of NFL TV! Several weeks ago I finished the New Massive Mates Club webWORLD. I hope you can join me in Mates Club for hours of NFL Sports, Comedy, Babe TV, your existing email link will get you to the new Mates Club Massive Menu or Click here" Myk
Tues, Feb 7 06 "The Steelers win Super Bowl XL 21 to 10 over the Seattle Seahawks! It was a great day here in Calgary but not a great game! Post game quotes direct from NFL Media!" Myk Aussie

Contd from Tues Feb 7 06 report on NFL webWORLD.

Seahawks coach Mike Holmgren post game quotes direct from NFL Media

(on how tough was the loss) "Anytime you get this far and lose this game, it's a tremendous disappointment. As happy as the other locker room is, that's how disappointed we are. I'm more disappointed in how we played in certain areas. I think we were careless with the football and we had way too many penalties. And that combination against a great team like the Steelers, its not a good combination, so I think that was pretty much the story of the game."

(on whether he thinks he should be ahead after 20 minutes) "Yeah. We scored a touchdown that had to come back. Yeah, I felt pretty good about how we were doing things and our defense was doing a really good job against them and they really got two big plays … and it was a close ball game and it was that type of game. They popped the long run in the 2nd half and we were playing catch-up the rest of the way."

(on all the mistakes) "I don't know. That's a hard question to answer. We had a great week of practice. We did things very, very well. There were some guys who made some great plays and great catches out there, but we did the drop the ball uncharacteristically. And the thing that bothers me as much as anything else was the penalties. We had a touchdown called back. We had a catch down to the one-yard line called back. We had a pretty good punt return called back and that's tough. Like I said, we played against a good team and you can't overcome those things."

(on whether any one penalty bothered him more than the others) "No, not really. … The one I thought was a tough one was I don't think [Roethlisberger] scored. I don't think he scored on the one touchdown run, the one they reviewed."

(on the overall play of the offense) "We have been sharper. Like I said, we had a great week of practice. Give credit to the Steelers. They are a difficult team to play against."

(on combating the Steelers' blitz) "They got us a couple times and then we took advantage of their blitz a couple times. It's a difficult scheme to play against, and it puts a lot of pressure on your quarterback. We got a couple of first downs because of it and they got us a couple of times with the blitz."

(on what happened with Hasselbeck's interception in the red zone) "I don't know. I think that's one of the ones he'd like to have back. He's a pretty precise passer and that one kind of looked up for grabs a bit."

(on the injuries on defense) "I think that was a factor, but our motto has always been, if one guy goes down the next one has to come in and play, but losing [Marquand] Manuel and Rocky [Bernard] and [Andre] Dyson, that changes things a little bit. But heck, the other guys have to step up and play."

(on his message to the team in the locker room) "Well, I said make sure that you credit Pittsburgh. They did a great job. I'm always real honest with them. I said we have played better than we did tonight. Obviously it's the biggest game of the year, but at the same time I told them to keep their heads up high. I think we've established something pretty good in Seattle and we can build on it. This is a tough, tough pill to swallow, but they accomplished, as a football team, quite a bit this year and you can build on that. And you don't have a great feeling after a game like this. I want them to remember that feeling and use it the next time they get into a game like this."

Wed, Feb 1st 06 "It was Media Day yesterday at the Super Bowl! Quotes from this years MVP Shaun Alexander direct from the NFL Media! Super Bowls 37, 38 and 39 MYKwebTV!" Myk

NFL mates I have lots of NFL Super Bowls MYKwebTV from Super Bowls 37, 38 and 39.
Super Bowl 37, 38 Click here Super Bowl 39 Click here and lots lots more NFL Comedy and babes MYKwebTV at Me and Moose's Mates Club Click here

I have been at the past 3 Super Bowl Media Days. It is alot of fun. Unfortunately I was not there yesterday but here is the report from NFL Media.
Super Bowl XL . Monday, January 31, 2006
QUOTES FROM SEATTLE SEAHAWKS PRESS CONFERENCE RB SHAUN ALEXANDER

(on how the Seahawks can win the game) "Just like anything, it goes down to blocking and tackling. We have a good offensive line and we have a great defensive line and hopefully they play their best game and if they do, victory should be for us."

(on what he's learned about the Steelers defense) "They're very fast, they play very aggressive, they like to pack in the offense, they kind of force you to be one-dimensional. It's one of those things where we have a great challenge in front us, but that's the greatest thing I've really enjoyed about the season this year is that we've been a team that accepts challenges game after game. Some guys get hurt and other guys step up and people having to adjust their Xs and Os in the middle of the game to do something that's important to the team. It's exciting to see our team in this situation and hopefully it goes well for us Sunday."

(on the chemistry of team and how things have changed this year) "It's been an unbelievable chemistry, just a couple of changes in personnel and a couple of changes in the front office. All of a sudden everybody understands their role. Everybody believes what their role is and we've just been having fun enjoying each and every day playing every game one at a time. We ended up in Detroit and that's what our goal was."

(on Seattle, the NFC's No. 1 seed, as an underdog) "I don't know. I don't believe in figuring out who's the underdog. I know the team that has the best record gets homefield advantage through the playoffs and then if you win that, you go to Detroit. After that, all records and seeds get thrown out the window. So, we look at it as we simply play the Steelers and the winner is the best team in the world."

(on how his faith keeps things in perspective) "Well when it comes to my faith there's nothing bigger than my own relationship with Jesus Christ. And for that it keeps me at a pace where I'm not going to make things too big. So, when I play a game, I play with all my guys because that's what I've been taught to do. Things are not going to push me one way or the
other, whether it's media or just bad things going on. It doesn't move me one way or the other. I hope we do win and it's great, but it's not going make anything extreme in my life happen different."

(on Jerome Bettis) "You have to respect any running back that has played as long as he has. I think he's the top four or five in rushing and 15 I think in touchdowns. You just give respect because we have a very physical position where putting up great numbers like that is hard. It's just hard work. So, I think it's an honor anytime I get to play with a back. I told Jerome that. I
told Marshall (Faulk) that. They're great giants in our game and they're all part of a history. So, I've always wished them great success, except for Sunday."

(on the significance of jersey No. 37) "When I was in high school, my coaches told me to pick a number that when everybody sees it, they would think of me. So all I could think of was 37 and 9. So, my older brother was a big Notre Dame fan and he said a quarterback named Tony Rice (No. 9) won a national championship. So, I said, 'All right, 37 it is.' So, I walked into the locker room and I told the coaches, 'I want to be 37.' And they all said, 'Wait, wait that's a backup third-string fullback number. And I told them no, that's what I'm going to be. I'm going to be 37 and I wouldn't stop short of that goal that the coaches set for me when I was 13 years old."

(on Joey Porter) "I love how he plays. His contract is up and we would love him in Seattle. He plays aggressive and you can tell he has fun while he's playing the game. You can tell that he motivates the guys to step their game up. He's one of those guys you love to watch on film because he gets it done. It's just one of those things where we have our work cut out for us.

(on any fear of playing Pittsburgh) "Fears? No, that's not in our business."

(on whether he thinks he's given enough credit for his statistics) "I don't really worry about all that credit stuff. You think about it after the season's over. You think about it when your career is over. But, right now, it's about winning one game on Sunday."

(on the key to beating the Steelers on Sunday) "No turnovers, controlling the clock, and making a big play early. Those three things usually help out."

(on whether he minds being the "other" running back in this game) "Not at all. My ideas of who I am never really get thrown into at the beginning of the game. I don't want anyone to talk about me until the end of the game. So, that's how I look at it. Jerome deserves it."

(on the perception of him not being physical)) "No, I just don't care. I know who I am. I was taught that at a young age. Know who you are and be the best that you can be. Our offense has set some roles for everybody on our team. Before this year, I wasn't the short-yardage guy. Of course that wasn't my choice, but I'm not going to sit there and complain about it
because we had bigger goals and that was winning. So, I just tried to stay out of the way and then when it was my turn to be there, I was going to take advantage of it. And really this year was the first time I got to do all the short yardage."

Mates I have lots of NFL Super Bowls MYKwebTV from Super Bowls 37, 38 and 39.
Super Bowl 37, 38 Click here Super Bowl 39 Click here and lots lots more NFL Comedy and babes MYKwebTV at Me and Moose's Mates Club Click here " Myk Aussie

"New Cwoc Pammy and the real Pamela Grey Cup 05 TV Click here" My

Tues Jan 17, 06 "Seahawks defeat the Redskins!!" Myk Aussie

Seahawks defeated the Redskins 20 to 10 in Billy Gates city. After a early horrible fumble this years NFL MVP Shaun Alexander was then knocked out of the game early with a concussion. He did not return. With Shaun out it seemed like a golden opportunity for the Redskins to win but it wasn't to be, the Seahawks won their 1st playoff game in many years.
Mates I have lots of NFL Super Bowls MYKwebTV from Super Bowls 37, 38 and 39.
Super Bowl 37, 38 Click here Super Bowl 39 Click here and lots lots more NFL Comedy and babes MYKwebTV at Me and Moose's Mates Club Click here " Myk Aussie

"New Cwoc Pammy and the real Pamela Grey Cup 05 TV Click here" My
Sunday July 31st 05 "Moose's NFL Seattle Seahawks 05 preview!" Myk Aussie
Now that I am back in Vancouver I hope to visit Seattle several times this 05 season to report on the Seahawks. I'm heading there this weekend for the Aussie Rules Footy competition so I'll try and check out the Seahawks training camp. The Seahawks are in some ways BC Canada's team and even more this season as Vancouver native Jerome Pathon joins the Seahawks. Jerome recently had a kids footy camp here in Burnaby. Good luck to the Seahawks this year.

From Moose Seattle Seahawks, 30th year. Coach: Mike Holmgren. QBs: Matt Hasselbeck (older brother of New Jersey Football Giants Tim), draftee Dave Green, WR/OB-Slash Senceca Wallace and two-time NFL E vet Gibran Hamdan.

Other Key players: The best RB in the NFL, bar none (!) Shawn Alexander, Canadian WR Jerome Pathon, WR Joe Jurivicious, former Super Bowl winner with Tampa Bay, WR Bobby Ingram, WR-SB Darrell Jackson, Olm: Robbie Tobeck, Walt Jones and Hawai'ian TE Itula Mili. Holmgren Offence worked well early in the season (3-0 start) but three WRs, two since gone dropped more passes than can be humanly believed.

The S'Hawks set a dubious NFL alltime (unofficial) record with 55 dropped passes! QB Hasselbeck would have completed 68.7% of his accurate passes and the team surely would have not only won the Division (which they surprisingly did anyway!), and probably beat dopey Martz' Rams (lost to them 3 times last year!) and advanced in the playoffs. In those three games, S'Hawk WRs dropped 22 balls! Bring back Stick'um! There's trouble brewing in raincoat city this year as the hometown honeymoon with local hero Holmgren is over and the fans are getting restless. Hasselback is obviously the best QB the 'Hawks have had since the very good Dave Krieg took his playoff style Qbing to K.C., then Detroit, way back when.

It may have been a mistake to let Jerry Rice (5 Super Bowl appearances) get away. He could have been a good WR Coach if he didn't make the team as a player, as he is trying to do In Denver, where he WILL make the club for his 22nd NFL season, a record for WRs. The Defence lead by Strong tackling LBs and good coverage DBs will keep Seattle in most games. But with the Rams, and now all of a sudden retooled Cardinals in the same Division, it'll be tough to make the playoffs.

I predict no trouble getting past the Rams, who still don't have a H.Coach (with sense!) and San Francisco doesn't either, junior Nolan. Seattle should have no trouble matching last year's 9-7-0 mark. But I think Tampa and Atlanta will sneak ahead of them for the last NFC wildcard spot. Holmgren survives to Coach another year and Hasselback Looks even better this time – THERE'S no way they can drop as many passes This time. Second, NFC West." Moose
"Myk Aussie is the best NFL Cheerleaders interviewer Click here" Joe
"Do you want me to show you a demo/presentation/Live TV show with me as Myk Aussie? I have it all set up with a magnificent view of the Vancouver Harbor in the background! Clipstream Live Video to the web! Do you need to broadcast a sporting event, work conference etc, I have it Click here Call me to discuss 1 604 609-7736 ext 240" Myk
Thurs, Nov 11 04 "Seahawks vs Rams week 10!" Myk Aussie
From NFL Media
SEATTLE SEAHAWKS (5-3) at ST. LOUIS RAMS (4-4): By the end of the day, the teams could be tied in the NFC West, or the 'Hawks could have a two-game lead. And as Rams head coach MIKE MARTZ says, the best way to get into the playoffs is to win your division.
This one will definitely bring back memories of a month ago. There Seattle was, midway through the fourth period, cruising with a 27-10 lead before quarterback MARC BULGER and the Rams turned the game into the season's largest comeback victory with a 17-point surge and a 33-27 overtime win.
The Seahawks lost their next two before head coach MIKE HOLMGREN scaled down the offense a bit, resulting in two victories. "It's a simplified offense," says running back SHAUN ALEXANDER, coming off a 160-yard, two-TD rushing game in Week 9. "But we have enough talent to really make things simple and still make great plays."
Matchup to watch: Bulger against the Seahawks' defensive backfield, the key cogs in a ball-hawking defense that tops the league in interceptions with 12.
It is so cool to be the only Aussie that has regularly reported on the NFL for the past 5 years. Yep that's me, I have had NFL media passes at Super Bowl's, Pro Bowl's and other NFL games. Thus I am allowed into the NFL Media section and allowed to post their great reports on here. Much more coming over the coming weeks." Myk Aussie
April 24 04 "All NFL off season news including NFL draft, Moose's weekly reports, my Jesse Palmer in ABC's The Bachelor comedy style weekly reports! Promoting NFL on MYKwebWORLD to the World!" Myk Aussie
Check out the massive NFL webWORLD Click here

If you are a NFL fan or official do you want to promote your favorite NFL team to the World via MYKwebWORLD and MYKwebTV. I am already talking to several NFL team officials. Email me for NFL 04 season details myk@mykaussie.com " Myk Aussie
Dec 03 "The Seahawks season is over!" Myk Aussie
Was great to see the Seahawks in the Playoffs! Read below for Moose's Seahawks preview. Email me for your thoughts on the Seahawks season myk@mykaussie.com Lots coming in Sept 04 to Seahawks webWORLD." Myk Aussie
Tues Dec 8, 03' "Mooses HARDBall at times NFL report & all the results! A great NFL report from Neil!" Myk Aussie
For me & Mooses's NFL reports & all the results Click here " Myk Aussie
Fri, Aug 29, 03 "The latest on Aussie Punter Mat McBriar & the trade to the Seahawks!" Myk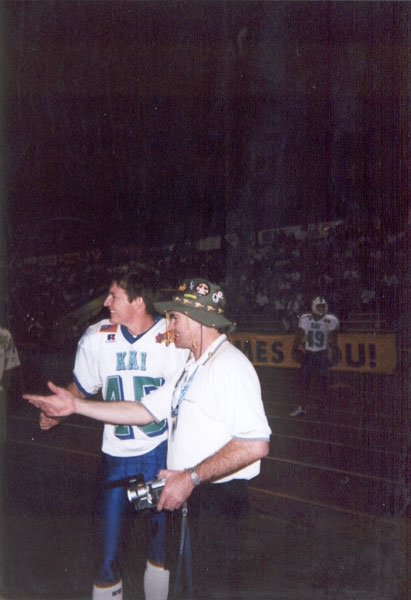 "Myk with his new Aussie Mate star NCAA punter Mat McBriar" Moose

A Bronco's man says he's upset as well that Mat got traded as it's been great having Mat here in Denver. Here's the Mat McBriar report.

"Apparently the primary reason had little to do with his kicking. Mat has been doing a great job with his punting but Jason Elam (the Broncos' starting place-kicker) proved unable to get Matt's kickoffs deep enough. Micah Knorr, Mat's competition at punter, has the versatility to do both punting and kickoffs whereas Mat only punts. This was what killed his chances in Denver.

In Seattle, he is competing against Tom Rouen, the former starting punter for the Broncos. Tom is a solid veteran and a decent punter, but his best years are clearly behind him and his leg has lost some of its power. Mat should get most/all of the kicks in this weeks final preseason game and will hopefully do a good enough job to convince the Seahawks to give him the starting job. " My NFL correspondent in Broncoland

"I also heard that if Mat does not make it at the Seahawks there has already been several calls from other NFL teams so Mat should have some options. Good luck Aussie Mat McBriar the 1st Aussie ever to go from NCAA to NFL" Myk Aussie
Pro Football Weekly: NFL and Pro Football Video Picks with amazing coverage from Myk Aussie -The Pro Football Comedy Media Guy


"I have finished the New Massive Mates Club webWORLD. I hope you can join me in Mates Club for hours of NFL Sports, Comedy, Babe TV, your existing email link will get you to the new Mates Club Massive Menu or Click here" Myk