You can hear me often talking NFL many Friday nights on Gabriel Morency's Sports Rage now on morencysports.com. Fri 8-11pm Pacific CDN/US time. For the details on this great Hardcore sports radio show Click here If you are new to MYKwebWORLD and you want to know about what I do this is great article Click here" Myk Aussie

Check out NFL MYKwebTV NFL Super Bowl NFL Pro Bowl MYKwebTV
For close up footage of star QB Donovan McNabb NFL Pro Bowl MYKwebTV

Sat Aug 6, 2011 "Talking about NFL punter the former AFL player Sav Rocca and the stupid sueing case against him and the NFL Eagles on Sports Rage with Gabriel Morency. Watch and listen now!

I read about this on 5AA Sth Australia radio, their twitter feed.
@1395FIVEAA Former AFL player Sav Rocca is being sued after asking a spectator to throw the ball back over in the US... Click here
Disgraceful. I talk about this with Gabriel Morency last night. Refer to Aug 2011 Mates Club column Click here " Myk Aussie
Tues Sept 21, 10. "Friday night I was talking NFL on Sports Rage with Gabriel Morency, Listen and watch now! My NFL week 2 bets! The Eagles won but let me down in week 2 betting! Listen now. I got on The Jim Rome radio show Wed July 7 which has approx 4 million listeners and talked sports! Talking sports and often NFL on 5AA South Australian radio many weeks with Jeff Burzacott. Listen Live on the web!" Myk Aussie

I'm on the sidelines with NFL Pro Bowl players and cheerleaders. This MYKwebTV show became part of the YouTube Partner Program recently. To watch this popular TV show on YouTube Click here
Check out the massive NFL webWORLD for the above stories Click here
Philadelphia Eagles defeated Detroit Lions 35-32.

My prediction that Eagles new starting quarterback Michael Vick would play a great game was correct. I thought my bet was all good just after 1/2 time as the Eagles were well infront, but it was not to be as the Lions fought back to nearly win at home.

News just in is that Vick will stay the Eagles starting quarterback. And so he should.

From Fri Sept 17. My NFL week 2 bets and report!

Wow! NFL week 1 was, as predicted a tough week, with many of the so-called experts struggling! This week is again looking tough, with many games possibly going either way; the NFL draft system is definitely working!

As mentioned last week I am new to sports betting. For the 2nd week in a row, I'm placing $3 bets against the spread. In the coming weeks, I'll then look at betting on "under or over totals", which is one of the many other types of bets that you can lay.

1) Minnesota Vikings –5.5 at Sportsbook.com

2) Philadelphia Eagles –6 at Sportsinteraction.com

3) New Orleans Saints –6 at Bodog.com

Philadelphia Eagles –6 at Sportsinteraction.com

Eagles play the Detroit Lions in Detroit. The Lions were so unlucky not to win last week against the Bears, with the final play of the day, a Lions touchdown by Calvin Johnson not being allowed. Unfortunately Lions second year quarterback the impressive Matthew Stafford, is out for several weeks with an injured shoulder.

I've always been a big Michael Vick fan as a player; he is starting this week at quarterback for the Eagles. Kevin Kolb the Eagles new 2010 starter is also out this week, as a result of a week 1 concussion. I believe this will actually benefit the Eagles as Vick will be extra keen to prove that he is still an excellent quarterback, his first start since being released from jail.

I was about to place the $3 bet on the Eagles at Bodog.com but though I better not with Michael Vick's "dog" history.
Talking sports each week including NFL many weeks on 5AA South Australian radio!
You can hear me often talking sports including NFL each week on 5AA Adelaide Sth Australia radio with Jeff Burzacott, new time 5.15am Thurs morning Adelaide time which is now 3.45pm Wed EST time in Nth America. Listen Live at 5AA.com.au" Myk Aussie

Thurs, Jan 29, 09 "Sav Rocca from the Philadelphia Eagles interview on South Australian radio!
For a interview with Sav Rocca the former AFL Australian Football League player who is now with the NFL Philadelphia Eagles on 5AA Adelaide radio. The Jan 29,09 podcast Click here Note, seeing that I am on 5AA each week talking sports with Jeff Burzacott I decided to promote this interview." Myk Aussie
Thurs Oct 9, 08 "Talking about Eagles Sav Rocca on a new MYKwebTV show!

To watch, the 1st show on here Click here "Myk Aussie
Sat March 22, 08 "Talking NFL on The Jim Rome show on Easter Friday including about Eagles Aussie punter Sav Rocca. Listen now! New Sports jersey Frames. The 1st shipment ever to Nth America. Order now. Available now! Bill Romo's Pure Romo Nutrition! Massive amounts of NFL MYKwebTV!" Myk Aussie

Eagles
fans sorry about the Steelers jersey in the great frame below.




Left: New Sports Jersey Frames! The 1st shipment ever to Nth America! Order now! Available now for Christmas! They are awesome! The jersey hangs great in these High quality Sports jersey display cases. For contact and ordering Click here Right: Bill Romanowski and Thomas Incledon PhD, their "Pure Romo Nutrition" is the ultimate combination of scientific research and brain enhancement. I use it, it's great and it tastes great as well Click here Also Romo's new book is amazing!
Talking NFL on The Jim Rome show on Easter Friday. Listen now!
Wow! This was big. I was lucky to get through and on his show yesterday and
I talked about the time I tried to hunt down and interview Brett Favre. Refer below March 4 report on NFL webWORLD
Click here
. I also talked about the Denver Broncos along with
saying NFL is the equal best game in the World along with Aussie Rules Football. I talked about how Darren Bennett changed the NFL the way NFL punters now punt using the Aussie Rules Footy drop punt when they need to land the ball inside the 20 yard line. I also talked about Aussies Mat McBriar, Ben Graham and Sav Rocca currently punting in the NFL along with how the Pittsburg Steelers punter Daniel Sepulveda who is from the USA learnt and effectively uses the Aussie drop punt.
I believe Jim Rome has about 5 million listeners daily. He is the biggest sports radio guy in USA with his show going to many USA markets. Many places in Canada also carry his daily 3 hour sports radio show. I met Jim Rome at the Super Bowl Media centres in 03 and 04 and thus I believe this is a reason why I got through and thus got on his very popular sports radio show yesterday. Next time I need to slow down a bit and realize that the large USA audience is not used to my Aussie accent. I tend to get very excitable and passionate when I talk sports on USA and CDN radio especially when I talk about Aussie Rules Footy.
I just subscribed to his online pod cast to re listen and I was on for 3 minutes without him interrupting at all. He bagged me a bit after the 3 minutes saying "I didn't understand Myk, I heard about Brett Favre and Darren Bennett." but then he said "No Myk I did understand you. That was Myk for 3, 5, 8 minutes however long that was and yes we do see Myk down at Super Bowl's in the Media Centre. That was Myk Aussie in Calgary". If you are a subscriber or wish to subscribe to his great radio show I was on in the 3rd hour segment on Friday March 21 Click here

Massive amounts of NFL TV! Several weeks ago I finished the New Massive Mates Club webWORLD. I hope you can join me in Mates Club for hours of NFL Sports, Comedy, Babe TV, your existing email link will get you to the new Mates Club Massive Menu or Click here " Myk Aussie
Fri, Dec 15 07 "New Sports jersey Frames. The 1st shipment ever to Nth America. Order now. Available now for Christmas! Massive amounts of NFL MYKwebTV!" Myk Aussie

Eagles fans sorry about the Steelers jersey but they are great Frames.

New Sports Jersey Frames! The 1st shipment ever to Nth America! Order now! Available now for Christmas! They are awesome! The jersey hangs great in these High quality Sports jersey display cases. For contact and ordering Click here
I hope you can join me and Moose in the new Massive Mates Club for hours of NFL, Sports, along with Comedy Babe TV Click here" Myk Aussie
Fri, July 29 06 "Moose's extensive Eagles 06 preview! Lots of NFL MYKwebTV!" Myk
From Moose "Philadelphia Eagles, 74th season. Two Super Bowl losses (Jan. '81/Feb. '05). Coach: Andy Reid. 2005 Record: 6-10-0. QBs: Donovan McNabb, Jeff Garcia, Timmy Chang (U.Hawai'i - NCAA alltime leading passer). Other players to watch: H Koy (or is it 'Koi'?) Detmer, Former Richmond U. LB Shawn Barber, WR/KR/Skier Jerry Bloom, DT Brodnick Bunkley, 1st rounder Fla. St., DE Darren Howard, OT Winston Justice, TE Matt Schobel, Bengals F/A. Other Key Players: Max Jean-Gillies, from QC, Canada, OG Georgia, Jabar Gaffney, DT Ed Jasper, Oafland.

Outlook: For Coach Andy Reid, it was truly the season from heck (I'm being kind here). Everything that could go wrong did. Starting with His Knuckleheadness himself, Mr I-hate-Donovan-today/I-love-Donovan today, psycho WR Terrell Owens the perpetually perplexed man. Gone to Dallas in the offfseason he says he's a new man. We'll see but he's Tuna Parcells problem now. Owens finally napalmed every bridge possible in Eagles camp and Reid finally got rid of him in Oct. By Nov., the once (again) Super Bowl runner-up Eagles were barely staggering around with Detmer and recently gone Mike McMahon the moble one from Rutgers who signed this past spring with Minnesota taking turns embarrassing themselves as (alleged) pivots while Donovan rested from sports Hernia surgery. Donovan is back now, and at 240 lbs.! Momma Wilma better cutback on the Campbell's soup!

In as reserve pivots now are Red (again) Garcia and Chang [recent preseason game: 1-1-2yds.-0-0 Passing/2 for 4 rushing]. Chang also played well (but behind) Drew Henson on a good NFL E team (Rhein, see below) in NFL E this past spring. No moreKoi Detmer behind centre, thank god! They. or he (D.M.) will hand off to three undersized RBs, Brian Westbrook / Correll Buckhalter & Ryan Moats. The FB, with Corey McIntyre's defection to Cincinnati will be between Josh Parry and Chris Gocong, unless he stays at LB.

The Receiving corps took a hit, obviously w/out Owens as TE Jeff Lewis blew his knee again and had to re-retire. That left TEs Mike Bartrum, the KS to start w/ young L.J. Smith becoming the leading receiver with 61 catches for 682 yds and 3 TDs. Also all three backs caught at least 30 passes each. The reason for the backs and TEs to be so counted on in the Offence is because the WRs are pretty mediocre: Reggie Brown, Todd Pinkston, and Billy McMullen, who was very good here at U.VA in the NCAAs. Thanks god the Eagles found TEs Andy Thorn and Steve Spach ('Spock', watch the ears). In the offseason, the Eagles signed Schobel, a real good TE from the Bengals. Expect both Schobel and Smith to start to help the running game they better.

The Offesive Line is rebuilding though 'Tra Thomas, Shawn Andrews, Centre Hank Fraley, Jon Runyan, who owns the San Diego Riptide of Af2 and William Thomas would hope to stay healthy this year. Ast.H.Coach/Offensive Coordinator Marty (ArenaBowl) Mornhinweg hopes so. The Defence of Ast.H.Coach Jim Johnson will still be a potent unit with Paul Gramanis, Jasper from Da Raidahs, Juqua Thomas, Darell Lee and slightly overrated Javon (Lighweight) Kearse up front. This group is starting to show it's age a bit. The LBing, aside from perrenial Pro Bowl'r Jeremiah Trotter is thin with Dhani Jones, Matt McCoy, Barber, Mark Simoneau and Trent Cole. Some experience here and there, but these guys better grow up quick. Under Johnson I believe they will.

The Secondary consists of Ss Brian Dawkins and Matt Ware with Ed Conico in reserve. The CBs are Dexter Wynn, Lito Shepard and Roderick Hood. Not as good as three yrs., ago when the Eagles put three of the starting four Pro Bowl NFC DBs in the lineup in Honolulu. The Special Teams consists of ex-Ar.FL K Dave Akers who Myk and I talked to on the sidelines several years ago and P Dirk Johnson, who also once played for Rhein ("AAA"). The Coverage is good and returns with Reno Mahe above average. Predicted Finish: 10-6-0, or 9-7-0. The Eagles will recover from Owens naplam job on their psych or they will implode.

Mornhinweg is on the hotseat and so is Johnson. The Capt'n (Reid) will go down with the ship he built if Garcia and Chang can't hold this thing together if McNabb comes up sick, lame or lazy again. Johnson or Mornhinweg will have to walk the plant if it looks like they can't get by Dallas and Washington or the putrid N.Y.G-men. I predict it'll all come out in the wash and when the smoke clears at the end of the year, barely, the Eagles WILL make the playoffs and maybe, just maybe win the toughest Division this year in the NFL!" Moose

"If you would like to add your comments about how you think the Eagles will go in 06 or comment on Moose's preview above please email me myk@mykaussie.com and I will add your report.
You can hear Moose weekly on Gabriel Morency's SportsRage Montreal Team 990 AM sports radio and on the Internet talking NFL Footy many Friday nights around 1am Eastern US and CDN time. I'm on late around 1.30-2am EST Friday or Monday nights as well talking sports in a comedy/crazy style. I think Gabriel Morency is the best sports radio guy in the World. To me he's like the Howard Stern of sports. I'm very confident you will like his show. To listen
Click here

Massive amounts of NFL TV! Several weeks ago I finished the New Massive Mates Club webWORLD. I hope you can join me in Mates Club for hours of NFL Sports, Comedy, Babe TV, your existing email link will get you to the new Mates Club Massive Menu or Click here" Myk
Mon March 20 06 "Terrell Owens a Cowboy. Wow that seems Bizarre! His former mate Jeff Garcia a Eagle!" Myk Aussie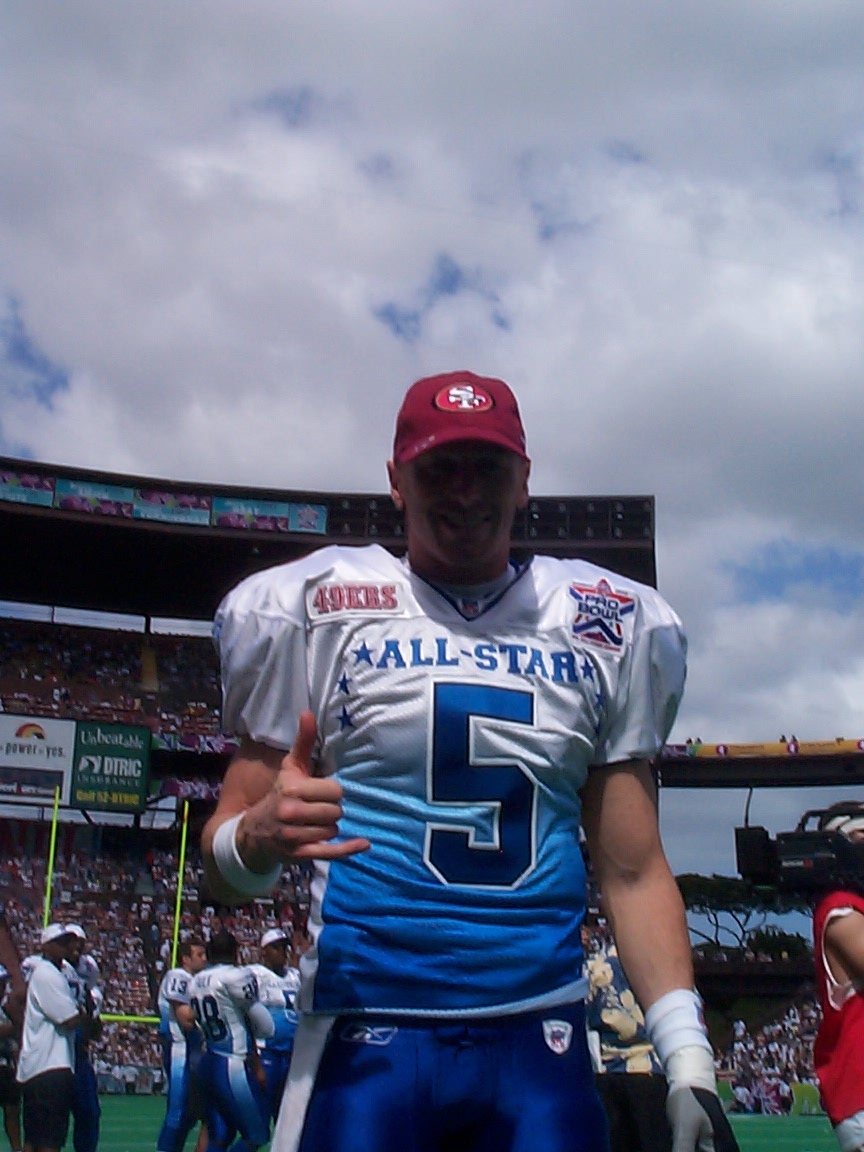 Here's a great pic Cwoa Merideth my camera Cwoa took of Jeff Garcia right on the sidelines of Pro Bowl. Jeff is giving Merideth the Hawaii Aloha hand sign.
Terrell Owens a Cowboy! It has happened Terrell Owens has signed with the Dallas Cowboys a 3 year contract that includes a $5 million signing bonus. To me Dallas seemed like the last place TO was going to go to. Why? Remember when Terrell was a 49er and the famous run he did after scoring a touchdown to the middle of the field to slam the ball down onto the Dallas Star! Cowboys players then swarmed on him in anger and rightly so. I thought it was very funny.

Then there is legend Cowboys Coach Bill Parcells. The Tuna they call him who has been quite successful the past couple of years with the Cowboys. To me it seemed like Bill would not want Terrell at the team he is coaching. I bet nearly every NFL fan will be watching keenly to see how long it takes for Terrell to screw up. I think he will go maybe nearly a year, can't see him lasting the 3 years though. But hey I wish he signed with the Broncos.
Jeff Garcia a Eagle! So as Terrell Owens leaves the Eagles his former mate Jeff Garcia joined them to backup Donovan McNabb. Garcia and Owens were a great combination at the 49ers several years ago and then the much publicized Terrell Owens bagging of Jeff since. I firmly believe Jeff Garcia should have stayed at the 49ers played for less money as his career has nose dived badly since. He has had unsuccessful times at the Cleveland Brown "Shitta me Pants" and then at the Detroit Lions.

Terrell's former mate Jeff Garcia! I met both Terrell Owens and Jeff Garcia who were out and about at the Pro Bowl. Mike Morreale the CFL Hamilton Tiger Cat player was with both of them and Mike introduced me to both Terrell and Jeff at the great Beach Bar in Honolulu that some of the players hang out at during Pro Bowl week. So they used to be mates of some sort.
Updated March 15, 2006 "My Massive Super Bowl XXVIII many Comedy based TV shows!" I can do something similar for your upcoming sports event. Enjoy! Click here" Myk Aussie
"Comedy based Super Bowl and other NFL MYKwebTV shows! Over the coming weeks on Myk's Mates Club I will be re playing some of the Comedy based Super Bowl MYKwebTV shows that I have from my past 3 trips to the Super Bowl weeks. Click here
Unfortunately no Super Bowl XL MYKwebTV shows but I have lots of Comedy based NFL Super Bowls MYKwebTV from Super Bowls 37, 38 and 39. Super Bowl 37, 38 Click here Super Bowl 39 Click here and lots lots more NFL Comedy and babes MYKwebTV at Me and Moose's Mates Club Click here

"New Cwoc Pammy and the real Pamela Grey Cup 05 TV Click here" Myk Aussie

Sunday Aug 14, 05 "Moose's Philadelphia Eagles NFL 05 preview!" Myk Aussie
I simply had to talk about Terrell Owens on SportsRage last night. This guy has been the talk all week as he got ejected from camp after arguing with coach Reid. I was lucky enough to meet many of the Eagles players at last years Super Bowl Media Day. A extra special good luck to the Eagles this year as I am now a Burnaby Eagle in the Western CDN Aussie Rules Footy League. Click here " Myk
From Moose "Philadelphia Eagles, 0-2 in Super Bowls. Coach: Andy Reid. QBs: Donovan McNabb, Mike McMahon, Tim Chang. Other Key Players: Brian Westbrook, RB/KR, K David Akers, who Myk and I met on the sidelines at the Pro Bowl in Feb.'03, WRs Todd Pinkston, Terrell Owens, Centre Hank Fraley, DB Brian Dawkins. T.O., what trouble you've brought down on present employer! Yesterday, Tuesday, Aug. 9th, Coach Andy Reid got sick of Owens disruptions and sent the moody, talented, athletic player home.

Despite the fact that the Eagles have more than enough talent to win the NFC East by a mile it may all come down to naught this year. I still believe in Donovan McNabb and if the Eagles can pick up one or two good WRs (Jerry Rice?) they still may be able to get back to the Super Bowl. Perhaps they sent Freddie Mitchell, the underachiever to K.C. too quickly? With Westbrook carrying the ball 65% of the time, they are in good shape. There really are no major weaknesses anywhere on this talented 12-4-0 squad.

The backup QB job handled badly last year by retreads Jeff Blake and one of the Detmer sisters (I can't remember it's name) has been taken care of by acquiring McMahon, who jumped at the chance to get out of the nuthouse of Mooch's in Motor City. Moody players have come and gone. Ryan Leaf or how about the original bad boy, Jeff George. Who can forget the June Jones v. Jeff George sideline staredown in Atlanta? George was warned by Jones to stop changing the plays the Coach was sending in and George called one too many audibles. He threw and INT. and when he came off the fields, Jones told him, "you're out." George then proceeded to berate his Coach and ended up being waived and bounced to six other clubs, one twice and is now gone. How long before teams give up on Owens who seems to be throwing out a good career? Predicted finish:12-4-0, NFC EAST FIRST" Moose
"Myk Aussie is the best NFL Cheerleaders interviewer Click here" Joe
"Do you want me to show you a demo/presentation/Live TV show with me as Myk Aussie? I have it all set up with a magnificent view of the Vancouver Harbor in the background! Clipstream Live Video to the web! Do you need to broadcast a sporting event, work conference etc, I have it Click here Call me to discuss 1 604 609-7736 ext 240" Myk
Jan 22, 05 "A excellent interview with Eagles Jeremiah Trotter!" Myk Aussie
Direct from NFL Media
Q. What is it like to chase Michael Vick for 60 minutes or however long you have to chase him?
JEREMIAH TROTTER: It's not fun, but you do what you have to do. Michael Vick is a very explosive player. He's very fast. You need to get everybody running to the football. When you do that, good things happen.
Q. What is it specific about his running style that make him dangerous?
JEREMIAH TROTTER: I would say his speed. He's so much faster. He has more speed than anyone else in the game. When you have that type of speed at quarterback, most times on the defensive side of the ball, you don't really see the quarterback as a runner. And this guy, he's definitely a guy that can change the game. He has changed the game. And he definitely can make plays when he has to.
Q. I know you guys are heavy on blitzing. How disciplined do you have to be in that area with a guy like him because if he gets free, gets away, you know what can happen?
JEREMIAH TROTTER: We have to be disciplined. Even when we're not blitzing, we have to be disciplined up front. Our game plan has always been to put pressure on the quarterback. So that's not going to change. I don't think we have to change anything different from the defensive standpoint, we just have to be a little more disciplined up front.
Q. You probably know that teams with good team speed have been able to contain Michael. How do you rate your team speed on that regard?
JEREMIAH TROTTER: I say we have great team speed. Not only that, I think we played the Michael as a team. We're a very athletic team. We put a lot of guys into the Pro Bowl. We have a lot of players on this team that can make plays all over the field. The most important thing is going out, executing the defense, executing the game plan, and we'll be successful.
Q. Can you talk about what led to your return to Philadelphia, your thoughts when you first came back?
JEREMIAH TROTTER: It's been a long, long road, long story. The most important thing, is I'm back. I'm excited that I'm back. Everything has worked out very well for me.
Q. With the history there, obviously this week I know Donovan McNabb said he felt the pressure was on Atlanta. It has to be on your team, considering the history, the fact that you've all been to this level before, you haven't been able to get past it.
JEREMIAH TROTTER: There's no pressure. I don't think there's any pressure on either side. We want to win the football game very bad. We've had a successful season. I don't think there's any pressure on either side. We're going to go out and play hard on our side, try to execute the game plan and go from there.
Q. Do you feel the weight of the city somewhat, though, because of the fans, how much I guess they want to get past this next game?
JEREMIAH TROTTER: Not at all. No, we're not worried about the past. The past is behind us. Before the season started, we set goals for ourselves. We accomplished all those goals thus far.
Q. How have you seen Donovan McNabb grow as a leader?
JEREMIAH TROTTER: Just in experience. He's more comfortable. The older he got, he's just become a better leader. I think his accuracy has been outstanding the last few years. Like say, he's become a better quarterback with time. I think with him, that was the most important thing.
Q. Can you talk about the personality of Eagles fans? How would you describe to somebody if they knew nothing about Eagles fans?
JEREMIAH TROTTER: Man, they're just crazy. The Eagles fans are crazy. They got the playoff fever, Super Bowl fever, and they're excited about everything that's going on.
Q. Have you heard anything from any fans this week, giving you congratulations at all?
JEREMIAH TROTTER: Yeah. They were congratulating us on the game last week and looking forward to this week, too.
Q. How about Warrick Dunn?
JEREMIAH TROTTER: Warrick Dunn is definitely a guy that can take the ball the distance on you, he can take the big run, he can blow up a game. He's a tough runner. He's small but he's a very tough runner. Has to get a lot of guys around him who can tackle very well. You just got to try to contain him. He's one of the few backs in the NFL that can cut the ball all the way backside on you, so you got to be disciplined on the backside as well as the front side.
Q. The Falcons put up 47 points against the Rams. You guys were pretty aggressive against Minnesota. What do you have to do to try to stop the Falcons?
JEREMIAH TROTTER: That's what we want. We want those guys to try to line up. Myself, I look forward to teams trying to run straight at us. We'll be ready. We know those guys are a great running team, but we have a great defense also. We'll be ready come Sunday.
Q. Was Daunte Culpepper a dry run for Michael?
JEREMIAH TROTTER: I think playing against Culpepper kind of helped us a little bit. He's pretty fast, too. I mean, obviously he's not the athlete and has the speed of Michael Vick.As far as game plan‑wise, I think playing Daunte will help us a little bit.
Q. How do you think Michael would fare as a runningback?
JEREMIAH TROTTER: You know what, he would be an outstanding running back if he could get his weight up. He would definitely have to put on some more muscle. You know, it's a different beast when you're at running back. At running back, you take a lot of shots. So I don't know if he could take that many shots right now.
Q. When you were with the Redskins and you were looking at the Eagles championship games, did you look at them and ask yourself or figure out what they were missing, what was the missing ingredient to win in those games?
JEREMIAH TROTTER: No, I really wasn't thinking about it. I was just watching the game, being a fan.
It is so cool to be the only Aussie that has regularly reported on the NFL for the past 5 years. Yep that's me, I have had NFL media passes at Super Bowl's, Pro Bowl's and other NFL games. Thus I am allowed into the NFL Media section and allowed to post their great reports on here. Much more coming over the coming weeks." Myk Aussie
Thurs, Nov 11 04 "Eagles vs Cowboys week 10!" Myk Aussie
From NFL Media
PHILADELPHIA EAGLES (7-1) at DALLAS COWBOYS (3-5) (Monday night, ABC, 9:00 PM ET): A throw-out-the-records division battle. It's Cowboys-Eagles…Parcells vs. Reid…T.O. on MNF.
Philly had defeated Dallas six times in a row before Cowboys head coach BILL PARCELLS returned to the NFL last year. The teams split in '03, and Parcells carries a 7-2 record as Cowboys coach against the NFC East into the game. Eagles head man ANDY REID has his own proud numbers. Philadelphia is 13-1 on Monday nights under him, and he owns a 17-6 (.739) November record.
The Cowboys will have their hands full with Philadelphia's DONOVAN MC NABB-TERRELL OWENS combination. McNabb is 12-1 in primetime in his career. Owens has caught at least one TD pass in his past six Monday games, tying JERRY RICE for the best such streak in Monday Night Football history.
It is so cool to be the only Aussie that has regularly reported on the NFL for the past 5 years. Yep that's me, I have had NFL media passes at Super Bowl's, Pro Bowl's and other NFL games. Thus I am allowed into the NFL Media section and allowed to post their great reports on here. Much more coming over the coming weeks." Myk Aussie
Thurs, Sept 2, 04 "Scott's Philadelphia Eagles NFL 04 Preview!"
The Big question is will Terrell Owens behave himself and play great footy teaming up with the great QB Donovan McNabb. Or will be misbehave himself, seek all the fame and glory But still play great footy, probably. He is definitely one of the very best Wide Receivers in the NFL. I met Terrell at Pro Bowl 02 in the bar. Guess who he was hanging out with? It was Jeff Garcia and my CFL mate CFL Mike Morreale. Check out the Video to the left for close up action of Donovan McNabb on the sidelines at NFL Pro Bowl 03. Here's Scotty's excellent 04 Eagles preview." Myk Aussie
"NFL Titles - 3 (1948, 1949, 1960) Super Bowl Record - 0-1 (Lost to Oakland 27-10, Super Bowl XV) Coach - Andy Reid - 51-29 in 4 years of coaching
2003 review: The Eagles overcame a rough start by Donovan McNabb, who had a thumb problem on his throwing hand and a porous run defense due to massive injuries on the defensive line in order to win their 3rd straight Eastern Division title and home field advantage. They would win a dramatic divisional game against the Green Bay Packers where they converted on a 4th and 26 with about a minute to go in regulation. A week later, they were dominated by the upstart Carolina Panthers 14-3 in the NFC Championship Game. That loss represented the third loss in a row for the "E-A-G-L-E-S EAGLES!", the first since Dallas from 80-82. It also marked the first time a home team lost 2 championship games in a row.
Don't worry Eagles' fans, you still have the "Body Bag" game to remember. Granted that was about 15 years ago.
2004: The Eagles made two big acquisitions. Terrell Owens and Jevon Kearse. TO will provide the receiving threat that the Eagles have been lacking since Andy Reid arrived in Philly. Kearse, aka The Freak, when healthy, could wreak havoc on opposing quarterbacks. However, Kearse has been injury plagued since his sensational rookie year in 1999 when he had 16 sacks and won Rookie of the Year. He tallied 9.5 sacks for the Tennessee Titans in 2003.
Additions: Terrell Owens, Jevon Kearse, Hugh Douglas, Jeremiah Trotter, Dhani Jones, James Andrews (R), Jeff Blake
Subtractions: Carlos Emmons (Giants), Deuce Staley (Steelers), Bobby Taylor (Seahawks), Troy Vincent (Bills), AJ Feeley (Dolphins), John Welbourn (Chiefs), James Thrash (Skins)
Question Marks: Cornerbacks - Longtime corners Bobby Taylor and Troy Vincent have left the Eagles thereby leaving the starting jobs to Lito Sheppard and Sheldon Brown, the top two draft picks from 2002. Sheppard has more experience than Brown, serving as the 3rd corner and starting due to injuries to both Taylor and Vincent. These are big shoes to fill under Jim Johnson's blitzing defense.
Running backs - Deuce Staley left for the Steelers as a free agent and it will be a bigger loss due to the fact that Correll Buckhalter had another season ending knee injury before the season. That leaves the running to Bryant Westbrook, Reno Mahae, and recently signed Dorsey Levens, who played for the Eagles in 2002. Westbrook will handle the bulk of the carries, but their best running back wears number 5 for the Eagles. McNabb may have to run more than usual. Mahae is more of a 3rd down back and Levens' signing was more a last resort due to the injury of Buckhalter.
Linebackers: Before he was injured, Carlos Emmons was their best defender. When he was injured, along with injuries in the interior, the Eagles run defense suffered. He has since signed with the Giants. Jeremiah Trotter re-signed with the Eagles after 2 disappointing years with the Redskins. He is expected to perform or close to the level of Pro Bowl status when he was with the Eagles. A knee injury in 2002 and a questionable attitude has greatly dimished his stature around the league from a couple years ago. Also Dhani Jones was signed to replace Emmons on the outside. He too, has also battled the injury bug, and was a disappointment with the Giants the previous season.
Strengths: Quarterback: Donovan McNabb IS the Eagles. He was terrible at the beginning of the season. The Eagles were 0-2, his qb rating was about a 30, plus the Rush Limbaugh incident for which McNabb had no control. After that, the Eagles went 12-2, his rating jumped almost 55 points, led his team to a division title, and was a MVP candidate. Now he finally gets a bonafide Pro Bowl receiver in Owens. The receivers he has had before, uber-thin Todd Pinkston, now traded James Thrash, and first round bust Freddie Mitchell would be no better than no. 3 receivers on a good team.
Offensive Line: This is a very good unit, and it will be better with the addition of 2004 1st round pick James Andrews at guard. Tra Thomas and Jon Runyan are, arguably, the best bookend tackles in the NFL.
Special Teams: Not as good when they had Brian Mitchell as their kick returner, but it is a solid group that does not allow the big play. Plus they have a perennial Pro Bowl kicker in David Akers.
Weakness: Interior Defense - Losses due to injuries of Hollis Thomas, Paul Grasmanis and Carlos Emmons made their run defense almost non-existant. They allowed a hundred yard rusher the last 8 games of the season. The health of one or both will greatly improve their line.
2004 Outlook: The Eagles will contend for the NFC crown and odds on fate to be the NFC representative in Super Bowl XXXIX. They will win the East, but will fall short again at home. 12-4 is my prediction. Poor Philly, even their hometown horse, Smarty Jones, couldn't come through in the clutch.
There will always still be the "Body Bag" game." Scott's
Myk and Cwoa's Cool Women Of America!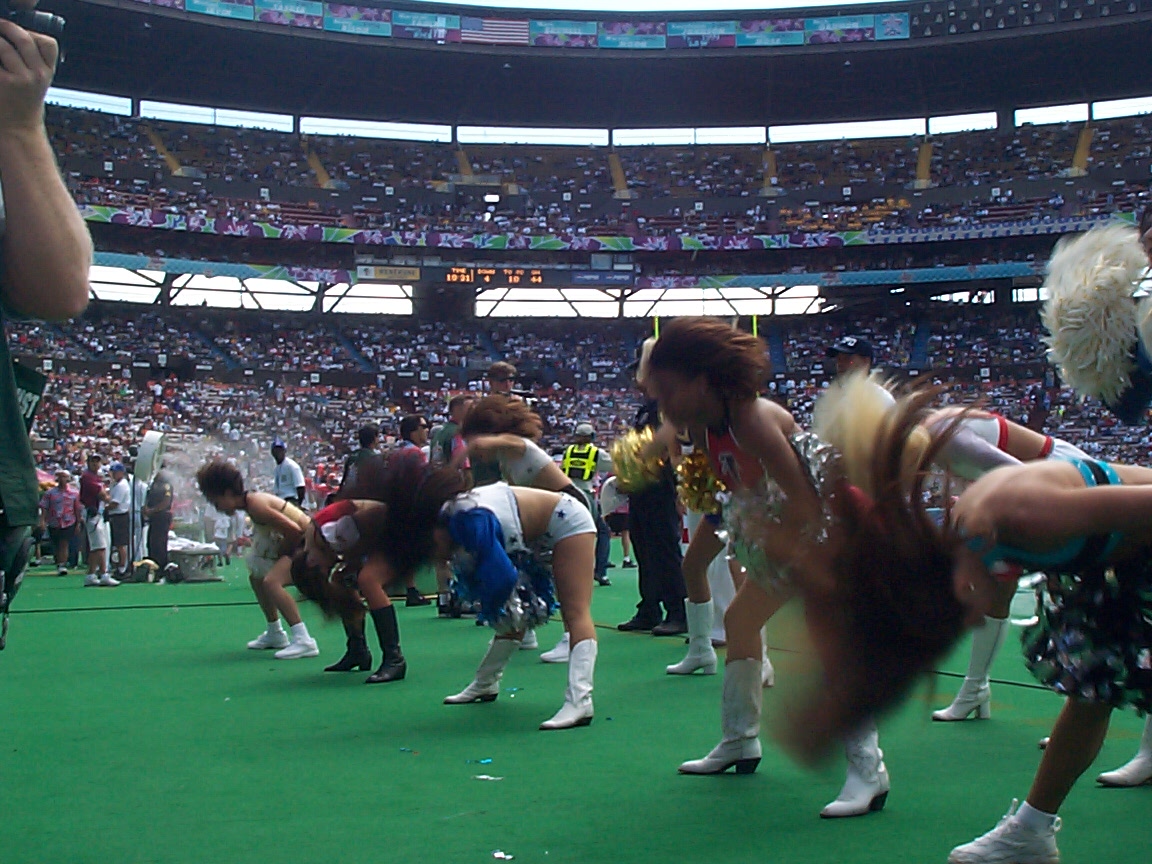 "Mates looks like the Eagles Cwoa at the very end front row close to Melissa the #1 Dallas Cowboys & Pro Bowl cheerleader. Melissa came to Calgary for a tanning promotion not long after I met her at Pro Bowl 2002 week. I met up with Melissa briefly that day in Calgary. Melissa has been a "Myk's Mates Club member" for the past year enjoying my MYKwebTV & comedy webWORLD.
Myk and Cwoa's Click here
Lots more Myk and Cwoa's on Myk's Mates Club Click here

I look forward to you joining me in Mates Club for hours of Sports, Comedy, Babe TV Click here" Myk