You can also hear me often talking NFL many Friday nights on Gabriel Morency's Sports Rage now on morencysports.com. Fri 8-11pm Pacific CDN/US time. If you are new to MYKwebWORLD and you want to know what I do this is a great article Click here
I hope you can join me in Mates Club for hours of Sports, Comedy, Babe TV Click here" Myk

Check out Myk at NFL MYKwebTV NFL Super Bowl NFL Pro Bowl MYKwebTV
April 2011 "Weekly NFL reports on NFL webWORLD!"
Check out the massive NFL webWORLD Click here "Myk Aussie

Sat Jan 15, 11 " I'm talking NFL and more Sports Hardcore style on Sports Rage with Champ host Gabriel Morency! 158 of my 175+ Sports MYKwebTV and TotalCFLwebTV shows including lots of NFL are now on my YouTube.com Directors Channel!" Myk Aussie


From Fri Jan 7, 11, I'm talking NFL and more sports Hardcore style on Sports Rage with Champ host Gabriel Morency. Click here
158 of my 175+ Sports MYKwebTV and TotalCFLwebTV shows including lots of NFL are now on my YouTube.com Directors Channel Click here " Myk
Sun Feb 3, 08 "New Sports jersey Frames. The 1st shipment ever to Nth America. Order now! Massive amounts of NFL MYKwebTV!" Myk Aussie

Falcons fans sorry about the Steelers jersey below.

New Sports Jersey Frames! The 1st shipment ever to Nth America! Order now! Available now for Christmas! They are awesome! The jersey hangs great in these High quality Sports jersey display cases. For contact and ordering Click here

I hope you can join me and Moose in the new Massive Mates Club for hours of NFL, Sports, along with Comedy Babe TV Click here" Myk Aussie

Tues Aug 8, 05 "Moose's extensive Falcons 06 preview!" Myk Aussie

From Moose "Atlanta Falcons, 41st year. Lost one Super Bowl. Coach: Jim L. Mora (son of ex-USFL/NFL Coach Jim E.T. Mora), QBs: Mike Vick, Matt Schaub, D.J. Shockley, Bryan Randall. Three of four from state of Virginia! Newcomers: Shockley, CB Jimmy Williams, RB Jerious Norwood, T Quinn Ojinnaka. Outlook: It's make it or break it time in exciting Mike Vick's career. If he's going to make it as a great QB it has to be this year with the big shadow of stud Matt Schaub getting bigger all the time. The Falcons can't keep Vick at first string much longer if he doesn't get them back to the playoffs this year and it won't happen in the West Coast Offence.

Despite Warrick Dunn and T.J. Duckett at RB and WRs like: Shockley, Randall a couple of slashes and Roddy White and Brian Finneran who is now out for the year with knee surgery and has been Vick's favorite target the last couple years. Vick needs to be able to free lance more and it won't happen in this Offence. The Line has such great players as: TE Algenon Crumpler and ex-Univ. Hawai'i's Kynan Forney. The Defence has one of the best pass rushers in Pat Kerney also from Virginia like 17 other players on this team. The secondary is very solid with DeAngelo Hall, Allen Rossum, the best Punt returner in the NFC as well and Ss, Lawyer Milloy and Chris Crocker both of whom came from Cleveland in the off-season. There is no depth since former Winnipeg Blue Bomber Juran Bolden left for Jacksonville, after a one year stop in Tampa last year.

On Special Teams the Falcons had the bad news of the retirement of ex-Mont. Machine (the last one left) Chris Mohr, former qb3/P/H, their version of Tom Tupa. Now Long FG K Mike Koenen gets to punt while regular K chores go to three candidates who compete for the job this summer. Outlook: Coach Jim L. Mora (the Jr.) got real testy down the stretch when Vick balked @ working harder to stay with team's West Coast Offence. That, plus the recent pictur on the internet of Vick apparently toking a scoobie (did he take lessons from TO. RB Ricky Williams?) doesn't help matters.

The best thing this club did was to resign QB2 Matt Shaub for one more year but after this non-playoff year they'll have a tough decision to make! This team is regressing, not progressing and despite the second most exciting player in the League (to K.C.'s Dante Hall, that's who!), it's time to get serious; either Vick is good enough as starting QB or move him to WR or RB and get it over with! Schaub is too good to sit. Mora and Offencive Coordinator Greg Knapp, the guy T.O. yelled at on the 49ers bench several years ago, could have their jobs on the line if Vick regresses again this season. I predict he wont', but they will finish third, 8-8-0, because New Orlean has loaded up for Bear and Carolina is just too strong for anybody else here in this division. Their lucky Tampa is in this division and will finish last. Third in NFC South, 8-8-0" Moose

"Moose I like watching Michael Vick play immensely. I think you are a bit harsh on him here. He hasn't had many good receivers to throw to!

"If you would like to add your comments about how you think the Falcons will go in 06 or comment on Moose's preview above please email me myk@mykaussie.com and I will add your report.

You can hear Moose weekly on Gabriel Morency's SportsRage Montreal Team 990 AM sports radio and on the Internet talking NFL Footy many Friday nights around 1am Eastern US and CDN time. I'm on late around 1.30-2am EST Friday or Monday nights as well talking sports in a comedy/crazy style. I think Gabriel Morency is the best sports radio guy in the World. To me he's like the Howard Stern of sports. I'm very confident you will like his show. To listen Click here

Massive amounts of NFL TV! Several weeks ago I finished the New Massive Mates Club webWORLD. I hope you can join me in Mates Club for hours of NFL Sports, Comedy, Babe TV, your existing email link will get you to the new Mates Club Massive Menu or Click here" Myk

AFL Betting! NFL Betting! CFL Betting!
Check out "Myk's Mates Club" for AFL Betting, NFL Bettting, CFL Betting, Australian Rules Football Betting, AFL tips, AFL picks, NFL picks, CFL picks, AFL picks against the spread, NFL picks against the spread, CFL picks against the spread, Aussie Rules Footy tips, Australian Rules Football picks, Australian Rules Football picks against the spread. Click here


Sunday Aug 14, 05 "Moose's Atlanta Falcons NFL 05 preview!" Myk

I think Michael Vick is the most exciting player to watch in the NFL! Good luck to the Falcons in 05.

From Moose "Atlanta Falcons, 40th year, 0-1 in Super Bowls. [Arena League Team owned:

Georgia Force] Coach: Jim L. Mora. QBs: Michael Vick, Matt Schaub, Bryan

Randall, John Navarre. Coach Mora, 42, Is the son of the ex-USFL Stars franchise,

New Orlean and Indianapolis Coach. Other Key players: Olm Kynan Forney, CB

/PR Allen Rossum, Centre Todd Mc Clure, Wrs: Brain Finneran, Dez White, Peerless

(he isn't!) Price, TE Algenon Crumpler, RBs: Warrick Dunn, FB T.J. Duckett. The Falcons are ever improving And start the Preseason with the American Bowl

exhibition game in Tokyo, Jap., tonight.

They should be able to make the playoffs

in the semi-strong NFC South. Both their main competitors, Carolina and former

Super Bowl Champ, Tampa Bay are coming off injury decimated / losing seasons.

Greg Knapp has well with young running QB Mike Vick, from Virginia Tech U.

But until Vick gets better and more consistant as a passer, this exciting young team

will be Just That; Young and EXCITING but without anything substantial to show

for it.

On Offence, the Line is the best part, believe it or not and could have three Pro

Bowl players in Centre McClure, the ex-ArFL'r and ex-Univ. of Hawai'I

Warrior, Forney. But depth is thusfar thin. More good backups will help.

The Falcons drafted well this past spring and have accumulated a good amount

Talented young players. But they took one heck of a gamble by Letting

both their Kicker, ex-Ar.FL'r Jay Feeley, brother of the embattled Miami

starter @ QB and Punter, ex-Montrealer Chris Mohr, get away. Thank goodness

for the best Punt Returner in the League, starting CB Rossum. Mohr was the

2nd best Punter-passer in NFL history, to Washington's Tom Tupa, who the

Falcons tried to get in the offseason, but failed. Their Loss. On Offence, three

strong pass catchers, White, Finneran and TE Crumpler will be the main catchers

in Knapp's offence. Price is fading away and may not make the team, depending

on how the young draftees play in the next few weeks. Special Teams Coach,

Joe DeCamillas, son-in-law of ex-Coach Dan (Four Super Bowl losses) Reeves is the best in the business.

The Linebacking corps is outstanding, despite

losing Chris Draft to Free agency. Lead by perennial Pro Bowler, Keith Brookings,

and Defencive End Pat Kerney, the Defence is strong as well. The Pass Rush took

a hit when native Alaskan, DT-DE Travis Hall wasn't resigned in the offseason

(what were they thinking there and with the K & P positions?!) Outlook: So

long as no starters get hurt the Falcons could go a step further in the playoffs

but I am a Vick skeptic. Vick only player thee years in High School and Two

in Univ. @ VA Tech. He's been in the NFL for awhile but maybe came out

of College a bit early. He's been easily outshone by Jake Delhomme and

other Divisional rival pivots before in games v. them.

Only QB he beats up

on consistently in the Division is second cousin, also from here in Virginia,

Aaron Brooks, who's almost out of bullets in New Orleans. Predicted Finish:

Second place in the NFC South, behind Carolina and WITH A 9-6-1 OR

9-7-0 mark. Vick to Pro Bowl? Not this time, but Playoffs for sure." Moose

"Myk Aussie is the best NFL Cheerleaders interviewer Click here" Joe

"Do you want me to show you a demo/presentation/Live TV show with me as Myk Aussie? I have it all set up with a magnificent view of the Vancouver Harbor in the background! Clipstream Live Video to the web! Do you need to broadcast a sporting event, work conference etc, I have it Click here Call me to discuss 1 604 609-7736 ext 240" Myk

Sat, Jan 22 05 "A excellent NFL Media interview with Eagles Jeremiah Trotter talking about Falcons Super Star QB Michael Vick and the Big NFC Championship game tomorrow!

For the NFL Media interview with Eagles Jeremiah Trotter check out Eagles webWORLD Click here " Myk Aussie

Thurs, Nov 11 04 "Buc's vs Falcons week 10!" Myk Aussie

From NFL Media

BUCCANEERS: Club seeks 4th win in past 5 after 0-4 start……QB BRIAN GRIESE has played in 4 games with Bucs, starting 3, & has 100.0+ passer rating in 3 of 4. Leads NFL with 0.9 INT pct
(1 INT, 116 att)……RB MICHAEL PITTMAN has 990 career rushing attempts & needs 10 for 1,000. Rushed for career-high 3 TDs, including career-best 78-yard TD run, vs. KC…… Rookie 1st-round
WR MICHAEL CLAYTON leads NFL rookies with 42 receptions & 595 yards receiving. Has 90+ yards receiving in 3 of past 5……WR JOEY GALLOWAY returned to action for 1st time since Week 1 & had
2 catches for 40 yards vs. Chiefs. WR TIM BROWN has 100 career TD catches & needs 1 to pass STEVE LARGENT (100) in 3rd all-time. WR JOE JUREVICIUS had career-best 100 yards receiving
vs. Falcons (8 catches) on 12/8/02……Defense surrenders 174.3 passing yards per game, 4th-
fewest in NFL……DE SIMEON RICE has 97 career sacks & needs 3 to become 3rd active player
with 100…… KR TORRIE COX avgs 27.4 yards per KR, 2nd in NFL……

ATLANTA: Club seeks 7-2 start for only 2nd time in team history (1998)……Team averages 149.6 rushing yards per game, 3rd-most in NFL……QB MICHAEL VICK has 18-10-1 (.638) record as
starter, including wins in 8 of past 10. Leads QBs with 463 rushing yards. Has 4 100-yard rushing games & needs 100-yard game to pass BILLY KILMER (4) for most 100s by QB in NFL history……RB WARRICK DUNN ties for 4th in NFC with 7 rushing TDs & needs 2 for career-high (8, '00). Spent 1997-01 with Bucs, posting 2 1,000-yard seasons. RB TJ DUCKETT avgs. 4.7 yards per carry (47-219)……WR PEERLESS PRICE has catch in 79 games in row & had 1st multiple TD game with
club in Week 8. WR BRIAN FINNERAN has 115 catches with club since '01, 70.4 pct. for 1st downs
(81 of 115)……TE ALGE CRUMPLER leads club with 31 receptions & 441 receiving yards……Defense
has 20.0 sacks & DE PATRICK KERNEY has 7.0 sacks in past 7 games…… PR ALLEN ROSSUM ranks 2nd in NFL with 15.6 PR avg.

It is so cool to be the only Aussie that has regularly reported on the NFL for the past 5 years. Yep that's me, I have had NFL media passes at Super Bowl's, Pro Bowl's and other NFL games. Thus I
am allowed into the NFL Media section and allowed to post their great reports on here. Much more coming over the coming weeks." Myk Aussie

Sept 04 "Moose's Atlanta Falcons report" Myk Aussie

"Atlanta Falcons, Franchise Record: 232 W's, 346 Ls, 8 T's. Super Bowl record: 0-1,

vs. Denver in Jan. '99. Coach: Jim L. Mora (son of James Ernest Tabor Mora, former USFL Champ Coach and NFL Coach). QBs: Michael Vick, (R) Matt Schaub & Mr.(or is it Miss?) Ty Detmer, 7 INTs., in a game last year for Detroit. The Falcons need to get a watershed year from young Michael (Legs & Arm) Vick. He was injured for the first nine games last season and the Falcons other two QBs, long-gone from the NFL Kurt Kittner and current Jacksonville #3, Doug Johnson, Rob's little Brother, lost then Coach Dan Reeves 7 of those games, getting him the door after 13 games. He did manage to get career win number 200 (against 4-for-4 Super Bowl losses and 179 regular season losses in 23 NFL Coaching seasons. He does have an outside chance of getting into the NFL Pro Hall-of-Fame in Canton, OH.

Vick will have to learn new Offensive Coordinator Greg Knapp's West Coast Offence on the fly (Yo, fly, man)! Offensive backs T.J Duckett, who's earning quite a few and former ringless Tampa Buc Warrick Dunn better stay healthy, with the retirement of one of the best FBs of the last 12 NFL seasons, Bobby Christian. TE Alge Crumpler gathers no moss (or is it 'alge') and finally made his first Pro Bowl. He DID NOT look good in a grass skirt out in Hawai'i Five-0-land though. Maybe a kilt will be his thing. WRs Brian Finneran and Peerless Price (he isn't) are a very good pair. But not peerless! Offensive Line is made up of former Arena Leaguer Todd McClure (of the Georgia Force, now owned 94% by FalCON owner, Art Blank; just one question, does that now make them a "blank force"?), former University of Hawai'i Warrior, (boy could U.H. QB Tim Chang use him!) Kynan Forney, Michael (Not 'Bowling for Columbine') Moore, Kev Shaffer and Todd (Don't call me a) Weiner make up the starting O-Line. Help may be needed soon.

Bring back Lincoln Kennedy, or some other dead Presidents! On the Defencive Line side of the ball, Native ALASKAN Travis Hall hasn't been healthy enough since the Super Bowl loss almost five
years ago to be a big factor any more. Sad. He was a real good one (remember the 'Good One', Keith Gretzky?). Rush End, Big Pat Kerney from Vick's rival, Univ. of Virginia is starting to look like a svelt in-his-prime Warren Sapp. Scary, eh? Ed Jasper, Brady Smith and Rod Coleman, a cousin of ex-NFL'r Chris Doleman, who finished his career in Atlanta, round out the front Line. LBs Artie

Ulmer, Keith Brooking, Chris Draft and Matt Stewart (boy do the Falcons have a lot of white guys back there!) keep getting better and better. The secondary could use some Tim Dwight type speed but V.Tech's DeAngelo Hall, once healthy should be another Ty Law type. The Falcons hope so. Jason Webster, Bryan Scott and Cory Hall are a good group. P/H and in a pinch, reserve QB Chris Mohr, ex-of Montreal, is very good.

There was talk of the Falcons getting Darren Bennett but Mohr re-upped for one
more year and cut his salary (are you listening Gary Bettman and the NHL?!). Newcomer Dez
White at WR will have an impact right away. So will CB Webster. The Falcons are loaded and ex-Arena League K Jay Feeley (brother of Miami QB) will have a big year after a second half slump last year. I predict a very real chance for 9-7-0 or 10-6-0 and the playoffs." Moose

Myk and Cwoa's Cool Women Of America!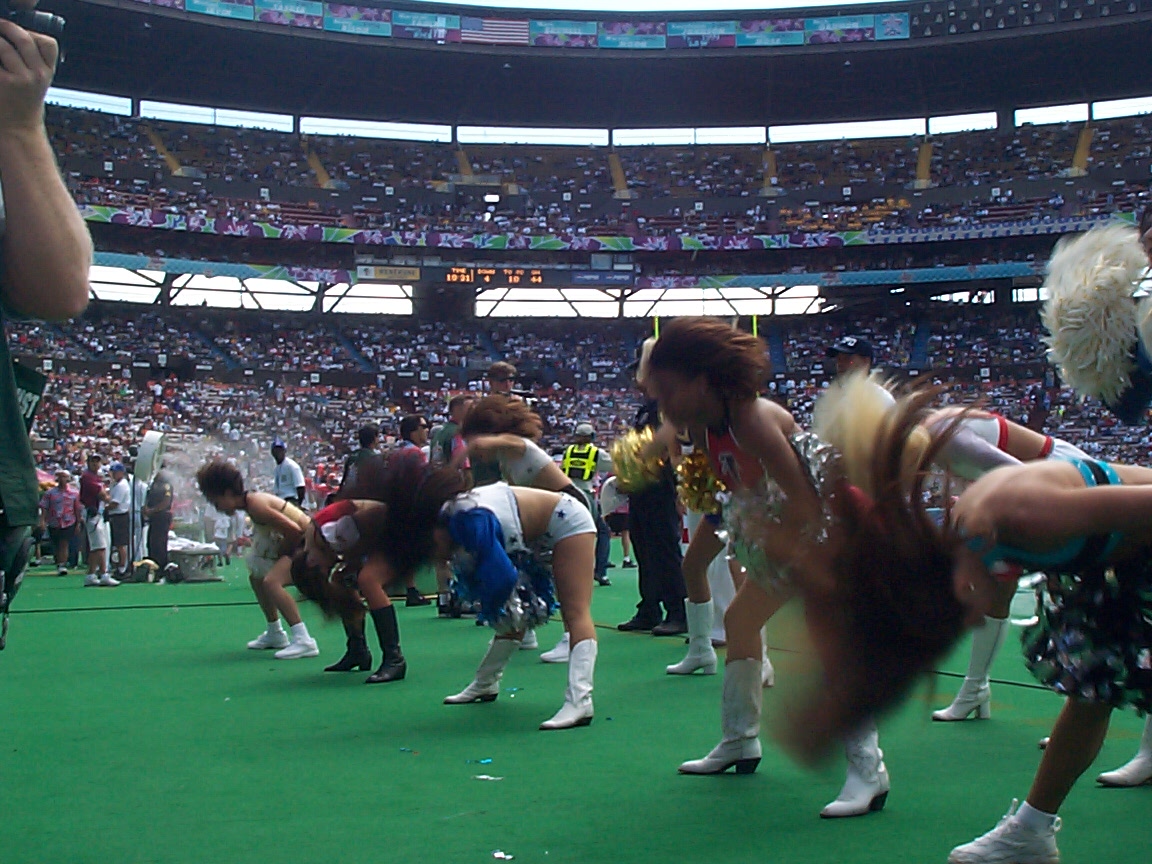 "Mates Melissa the Dallas Cowboys cheerleader in the Blue & White is my friend. The #1 Dallas Cowboys & Pro Bowl cheerleader Melissa came to Calgary for a tanning promotion not long after I met her at Pro Bowl 2002 week. I met up with Melissa briefly that day in Calgary. Melissa has been a "Myk's Mates Club member" for the past year enjoying my MYKwebTV & comedy webWORLD.
Myk and Cwoa's Click here
Lots more Myk and Cwoa's on Myk's Mates Club Click here
Pro Football Weekly: NFL and Pro Football Video Picks with amazing coverage from Myk Aussie -The Pro Football Comedy Media Guy

"Myk's Mates Club Total-CFL MYKwebTV"is massive Invest In Inet CFL MYKwebTV! Myk's Mates Club Click here