"You can also hear me often talking NFL many Friday nights on Gabriel Morency's Sports Rage now on morencysports.com Fri 8-11pm Pacific CDN/US time. If you are new to MYKwebWORLD and you want to know what I do this is a great article Click here
I hope you can join me in Mates Club for hours of Sports, Comedy, Babe TV Click here" Myk

Check out Myk at NFL MYKwebTV NFL Super Bowl NFL Pro Bowl MYKwebTV
For some great fun I had in Cardinal Land make sure to check out Aussie Rules Footy from Phoenix Click here

Mon Sept 27, 10. "Friday night Sept 17 I was talking NFL on Sports Rage with Gabriel Morency, Listen and watch now! My NFL week 3 Arizona Cardinals bet! Listen now. I got on The Jim Rome radio show Wed July 7 which has approx 4 million listeners and talked sports! Talking sports and often NFL on 5AA South Australian radio many weeks with Jeff Burzacott. Listen Live on the web! 153 of my 175+ Sports MYKwebTV and TotalCFLwebTV shows including lots of NFL are now on my YouTube.com Directors Channel!" Myk Aussie


Check out the massive NFL webWORLD for the above stories Click here
From Fri Sept 24. My NFL week 3 Arizona Cardinals bet! Arizona Cardinals -4 at Sportsinteraction.com

Cardinals are at home against the Oakland Raiders. As mentioned I'm new to NFL betting so this week I'm going to take the advise of Randle the Handle, who I hear each week on Ottawa sports radio. I liked the Cardinals at -4 and Randle reconfirmed this.

Although the Cardinals were beaten badly last week by the Atlanta Falcons, I believe they will defeat the Oakland Raiders in their home opening game. Sportsinteraction.com had the best odds on this game at -4 compared to -4.5 at Bodog.com and Sportsbook.com." Myk Aussie
Sun Feb 3, 08 "New Sports jersey Frames. The 1st shipment ever to Nth America. Order now! Massive amounts of NFL MYKwebTV!" Myk Aussie

Cardinals fans sorry about the Steelers jersey below.

New Sports Jersey Frames! The 1st shipment ever to Nth America! Order now! Available now for Christmas! They are awesome! The jersey hangs great in these High quality Sports jersey display cases. For contact and ordering Click here
I hope you can join me and Moose in the new Massive Mates Club for hours of NFL, Sports, along with Comedy Babe TV Click here" Myk Aussie
Wed, Aug 9 06 "Moose's extensive Cardinals 06 NFL preview! Lots of NFL MYKwebTV!" Myk
From Moose "Arizona Cardinals, 87th year. Two NFL Championships, 1947 & 1929. Coach: Dennis Green (still?), QBs: Kurtis Eugene Warner (T17th best alltime), *Matt Leinart, Dave Navarre. Other Key players: RB Edgerrin James, OG Milford Brown, DT Kendrick Clancy, OG *Taitusi Lutui, TE Lenny Pope, WR Jon Lewis* [*=rookies]. The Cards are the 'Boys of Summer again. And I am not talking about the Saint Louis Cards of baseball either. With a whopping $350 mil. Stadium and a great draft and of course the signing of RB James from the Colts and of course bringing Kurt Warner back for three more years non-guaranteed of course. The Cards look like the team to beat in the NFC West.

Defending NFC Champ Seattle has gotten a year older and lost a bunch of folkes to the free agency ranks, so this year should be the Cards year, right? They sure hope so and finally I believe so. Of course I said that last year. It's always something with Bidwell, isn't it? In the off-season they let go of QB Josh McCown and jettisoned young Timmy Chang after only four days in training camp one year ago. It both seems like they may have been right to wait for Leinart. But it all still comes down to Warner on Offence, If he can stay healthy.
The Cards biggest concerns in the off-season were; get better running thus the signing of big game James from the rapidly shrinking out of playoff picture Colts. Then get better Offensive Linemen, who will at least try to keep Warner on his feet. Warner, known for his heroics and being fearless in the pocket still hangs onto the ball until the last second a trait no doubt from his Arena Football roots. He paid for it last year but with Duece LuTui and Milford Brown onboard to go with Rolando Cantu, El Brown, Nick Leckey, Shawn Lynch, Oliver Ross and Leonard Davis, who is so big he should be eating hay in a field somewhere. The Cardinals have the biggest Offencive Line in the history of Pro Football!

At WRs, the Cards return Anquan Bolden, Larry Fitzgerald, Troy Walters and Carlyle Holiday, all speed burners who can catch in traffic. At TE, it'll be tight end by committee: Adam Bergen, Andy Stokes and rook Lenny Pope all have different skills and should do a good job. The backup RBs are a mixed bag and this team hasn't had a real good one since Emmitt Smith retired two years ago; J.J. Arrington, Marcel Shipp and Obafemi Ayanbadejo, the former CFL LB, who plays FB are not quite good enough to challenge without James which is why Edgerrin was brought aboard. The Defencive Line lost a real good one last year in Tennessee's gain; Kyle Vanden Bosch, but they still have Chike Okafor, Anton Palepoi, Langston Moore and Darnell Dockett. All are not household names yet but they will lay their ears back and rush the passer and have good interior moves. All are young and their best days are ahead of them.

At LB the Cardinals have one of the best young units in the League in starters: James Darling, Isaac Keys and Lance Mitchell. But the subs: Karlos Dansby, Darryl Blastock and Geral Hayes better grow up quick! The Secondary was bad last year and lost it's best player in Dexter Jackson who was Super Bowl M.V.P. for the Bucs several years ago when Myk and I were in San Diego for the Super Bowl. On Special Teams, Ayanbadejo is superb as gunner and Punter Scott Player, who started in the 'bigs' with Birmingham in the CFL is getting long in the tooth. He is no longer a distance Punter so he keeps his job with kicks inside the 5 or 10 yard line. Kicker Neil Rackers last year had the greatest season in NFL history for a K with 40 FGs made! It'll be difficult to match or surpass. Just in case Scott Player is no longer well, a player, Nick Noval, who can K and P is around. Prediction: This is it folkes, the Cards WILL go the NFC Championship! But no further!" Moose
"Moose Wow! picking the Cardinal Birds to go to NFC Championship? I can't see them going that far but they seemed to be improved. Lets hope they finally get some descent crowds down there in sunny Phoenix.

If you would like to add your comments about how you think the Cardinals will go in 06 or comment on Moose's preview above please email me myk@mykaussie.com and I will add your report.
You can hear Moose weekly on Gabriel Morency's SportsRage Montreal Team 990 AM sports radio and on the Internet talking NFL Footy many Friday nights around 1am Eastern US and CDN time. I'm on late around 1.30-2am EST Friday or Monday nights as well talking sports in a comedy/crazy style. I think Gabriel Morency is the best sports radio guy in the World. To me he's like the Howard Stern of sports. I'm very confident you will like his show. To listen
Click here

Massive amounts of NFL TV! Several weeks ago I finished the New Massive Mates Club webWORLD. I hope you can join me in Mates Club for hours of NFL Sports, Comedy, Babe TV, your existing email link will get you to the new Mates Club Massive Menu or Click here" Myk
Sunday July 31st 05 "Moose's NFL Arizona Cardinals 05 preview!" Myk Aussie
Wow! Moose is tipping the Cardinals to "Finally" have a Big year! I was just listening to coach Dennis Green on The Team 990 Montreal AM and Internet radio, Dennis the former Vikings coach appears to be a excellent coach. Lets hope the sports fans of this great city supports the Cardinals better in 05 and fills the stadium. I have had several great trips to Arizona to web sports cast the USA/CDN Aussie Rules Footy competition. The Cwoa's in Scottsdale are amazing so I hope the sports guys take their beautiful Cwoa girlfriends and or potential girlfriends to watch the much improved Cardinals in 05. Good luck to the Cardinals.
From Moose Arizona Cardinals, 86th year. Coach: Dennis Green. QBs: Kurt Warner [two time Super Bowl / two time Arena Bowl, four time MVP pivot], Josh McCown, Timmy Chang (NCAA's all time leading passer, 17,229 yards). Other Key players: Scott (Birmingham Barracudas –CFL) Player, P, RBs J.J. Arrington, FBs: Troy Hambrick, Marcel Shipp, WRs: Anquan Bolden, Larry Fitzgerald, Bryant Johnson, DLm: Chike Okafor, Russell Davis, Darnell Dockett.

Coach Denny Green and Co. finally got it Right! Green, despite his weird way of doing things in the past, IS a winner – two Super Bowl rings as Special Teams Coordinator, San Francisco, '88 & '89. He was able to get cheapskate owner Bill (birdbrain) Bidwell to pry his wallet open to see daylight for the first time in this Century (Oh, that's right, it's the 21st C. now…) and ante up for two of the best Free Agent pickups, among pivots in years – deposed great Kurt Warner, benched for (giggle – get this: Eli Manning in New Jersey…Ha-ha!) and NCAA star former Univ. of Hawai'I gunslinger, Tim Chang.

This team could be stocked for the next decade. The draft was the best in the League and depth is everywhere. Yes, I know these guys were 6-10-0 last year but they were 7th in the League in Defence in nine of top 10 categories! The Defencive Line is set and if the Offencive Line protects Warner better than it did last year for former backups Dave Navarre and Shaun King, it'll score 28 points per game easy with the great collection of WRs Warner has in the Red Gun Offence here.

Rook RB Arrington will make everybody forget Emmitt, Whats his name REAL quickly. Colleague Scott Baxter, MYKwebTV and I BOTH agreed that Arrington will be the best rookie RB in the draft. Anybody that doesn't think Warner is better than that stiff starting in Saint Louis is seriously deranged [are you reading this Martz?]. The Cardinals will win their first NFC West Division and play in their first NFC Conference Championship game – EVER! They will lose, however to VA Bch's John Fox's Carolina Panthers and Cajan Snake, Jake Delhomme. Prediction: 10-6-0, 1st NFC West, over Seattle. Sorry, Mike Holmgren, better WRs…" Moose
"Myk Aussie is the best NFL Cheerleaders interviewer Click here" Joe
"Do you want me to show you a demo/presentation/Live TV show with me as Myk Aussie? I have it all set up with a magnificent view of the Vancouver Harbor in the background! Clipstream Live Video to the web! Do you need to broadcast a sporting event, work conference etc, I have it Click here Call me to discuss 1 604 609-7736 ext 240" Myk
Thurs, Nov 11 04 "Giants vs Cardinals week 10!" Myk Aussie
From NFL Media

TEAMS MEET FOR 120TH TIME……

GIANTS: Club seeks 4th consecutive road win for 1st time since '00. Team leads NFC & ties for 2nd in NFL with 13 rushing TDs……QB KURT WARNER has 40-18 (.690) record as NFL starter & makes 1st career start vs. Cards. Has 65.0+ comp. pct. in 4 of 8 games……RB TIKI BARBER needs 180 yards rushing for 4th-career & 3rd consecutive 1,000-yard rushing season. Leads NFL with 1,231 yards from scrimmage (820 rush & 411 rec). Has 100+ yards rushing or receiving in 6 of 1st 8 games. Has 18-career 100-yard rushing games & needs 1 to tie JOE MORRIS (19) for most in club history……WR AMANI TOOMER has reception in club-record 91 games in row. Has 449 career receptions, 2nd to Barber (453) in club annals……TE JEREMY SHOCKEY has 5+ catch games in 5 of past 7 & ties for NFC lead among TEs with 3 TD catches……Defense has intercepted 4.0 pct. of opponents' pass attempts (10 of 248), 4th-best in NFL……DT FRED ROBBINS had 2 sacks last week & has career-high 4, tied for 3rd-most among NFL DTs……Rookie 5th-round S GIBRIL WILSON ties for NFL rookie lead with 3 INTs & NFL lead among DBs with 3 sacks.

CARDINALS: Club has forced 20 turnovers, tied with NYG for 2nd-most in NFL (Cin)……QB JOSH MC COWN has 60.0+ comp. pct. & 0 INTs in 4 of 8 starts in '04……RB EMMITT SMITH is NFL's all-time leading rusher with 17,983 yards & needs 17 to become 1st player with 18,000. With 565 yards in 8 games, is on pace for his NFL record 12th 1,000-yard season. Has 19 TD runs vs. NYG, his 3rd-most vs. any club. RB TROY HAMBRICK avgs. 4.8 yards per carry (53 for 252)……WR ANQUAN BOLDIN has 5+ catches in 13 of 18 career games. WR LARRY FITZGERALD ranks 2nd among rookie WRs with 31 rec. & 463 rec. yards. Had game-winning 2-yard TD catch last week. Second-year WR BRYANT JOHNSON has 29 catches (275 yards) & needs 7 to surpass rookie total (35 for 438)……TE FREDDIE JONES has 382 career catches, 2nd among active TEs (TONY GONZALEZ, 511)…...Defense hold foes to 33.3 red zone TD pct. (30 trips, 10 TDs), best in NFL. Club has 18.0 sacks after finishing '03 with 21.0. Second-year DE CALVIN PACE ranks 2nd on club with 4.0 sacks……CB DUANE STARKS had 41-yard INT TD, his 2nd career & 1st with club.

It is so cool to be the only Aussie that has regularly reported on the NFL for the past 5 years. Yep that's me, I have had NFL media passes at Super Bowl's, Pro Bowl's and other NFL games. Thus I am allowed into the NFL Media section and allowed to post their great reports on here. Much more coming over the coming weeks." Myk Aussie
Wed, Sept 1, 04 "Moose's Arizona Cardinals NFL 04 Preview!" Myk Aussie
Arizona, NFC West, Coach: Dennis Green, Team's alltime Record: 455 wins, 600 losses, 39 ties. Team's Super Bowl record, these guys? Are you kidding? 0-0. QBs: Josh McCown, Shaun King, Jamie Martin. New player acquired: FB Obafemi Ayanbadejo, DE Bert Bell, LB Riall Johnson, CB Dave Macklin, WR/KR Karl Williams.

The worst franchise in NFL history, in terms of losses, who hasn't won a League Championship since Pat Summerall was a rookie in 1947, hasn't improved that much. By signing scandal-ridden Coach (formerly @ Minnesota) Dennis Green, Birdbrain Bidwell, the third generation owner of this club at least shows he can open his wallet far enough that someone who's glad to take his fools money, is desperate enough for it! These two guys are meant for each other.

Already in the '04 Preseason the Cards current players are hollering about how hard Green's practices are. And remember, the man who had more scandals in the '90's than anybody who didn't live at 1600 Pennsylvania Ave., basically ran poor Korey Stringer (r.i.p) to death with his brutal camp in Minnesota in '92. Don't tell me this didn't have anything to do with his firing by Owner Red McCombs, with one game left in the '02 season. At least Green's return to Coaching in the NFL will stop his 'holacaust' v. the fish and wildlife of North America. Make no mistake about these guys, in shape or not, they are NOT a good football team. They have an average Offencive Line and just to make sure it stayed that way, Green cut starting Centre Pete Kendall the second day of camp. He was picked up immediately by a grateful New Jersey Jets Coach Herm Edwards (now there's a real Coach!), who inserted him into the lineup as starting OG.

Green also cut pivots Jeff Blake & Preston Parsons, traded RB Thomas Jones (Univ. of VA.), who had almost as much in one game (173 yds.) as Ancient Emmitt Smith did in 8 (252). Smith is hanging on since he has to play, or attempt to, to get the 2.25$mil. left on his contract. Already the Cards seem headed for disaster as Green has brought in QB Shaun King from Tampa in the Jones deal but insists that four-game starter Josh McCown is ready to be the number one QB. Denny, it wouldn't have anything to do with McCown beating the team that fired, Minnesota on the last play of the season, to knock them out of the playoffs last year, would it. Of course not. Just like Stringer's death at Minnesota two+ yrs. ago had nothing to do with the fact you had the guys in pads, et, al, doing full contact drills a week before the rest of the League...I digress. Good, Bad or Ugly, which is what this team usually is, the Cards will play their 85th year in the League (they're almost as old as some CFL clubs!) and Bidwell will continue to bilk the suckers in the valley of the sun, when they could go see the Arizona Rattlers play in another ArenaBowl Championship this coming spring!

Yes, the Cards will be a bit better this year. No they won't break even. No they won't make the playoffs and No they won't win a Championship. McCown is a decent QB. Additions such as Macklin, Johnson and Williams will help the overmatched former Super Bowl M.V.P. Dex Jackson but this team will need plenty of geritol and ginko biloba to get anything out of Emmitt, until game nine when they get injured feature running back Marcel Shipp back. Why won't this team get a makeover and get that dumb archaic bird off the helmet? I see the ghost of former Coach Buddy Ryan saying, "You've got a winner in town." He was really referring to the most underrated player in NFL history, Dave Krieg, his '95 team QB, who's 101-62 career mark is something the Bidwell's could dream of. Predicted finish: Third NFC West, 6-10-0 record. Thank god for them salary-cap depleted San Francisco is still in the Division!" Moose
For some great fun I had in Cardinal Land make sure to check out Aussie Rules Footy from Phoenix Click here
Myk and Cwoa's Cool Women Of America!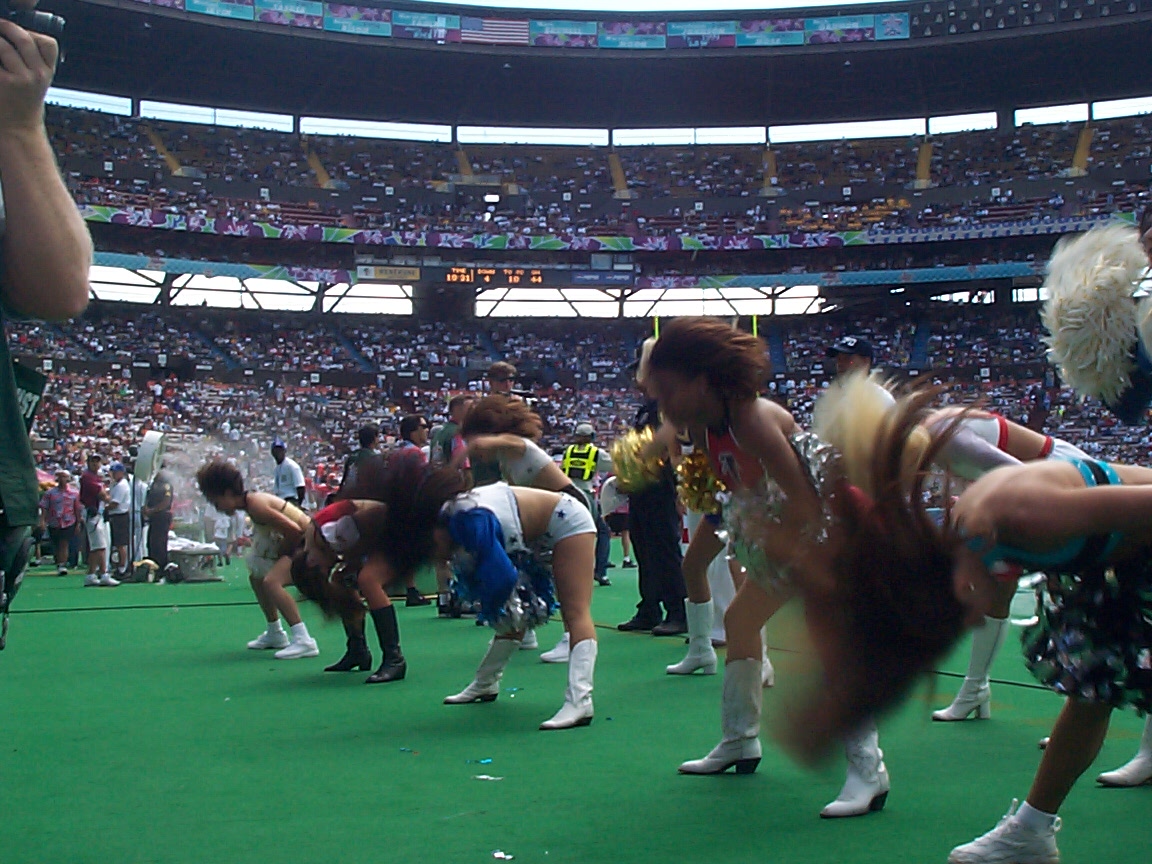 "Mates looks like the Cardinal Cwoa directly behind Melissa the #1 Dallas Cowboys & Pro Bowl cheerleader. Melissa came to Calgary for a tanning promotion not long after I met her at Pro Bowl 2002 week. I met up with Melissa briefly that day in Calgary. Melissa has been a "Myk's Mates Club member" for the past year enjoying my MYKwebTV & comedy webWORLD.
Myk and Cwoa's Click here
Lots more Myk and Cwoa's on Myk's Mates Club Click here

"I hope you can join me in Mates Club for hours of Sports, Comedy, Babe TV Click here" Myk