"You can also hear me often talking NFL many Friday nights on Gabriel Morency's Sports Rage now on morencysports.com. Fri 8-11pm Pacific CDN/US time. If you are new to MYKwebWORLD and you want to know what I do this is a great article Click here
May 06. I have finished the New Massive Mates Club webWORLD. I hope you can join me in Mates Club for hours of NFL Sports, Comedy, Babe TV, your existing email link will get you to the new Mates Club Massive Menu or Click here" Myk

Check out NFL MYKwebTV NFL Super Bowl NFL Pro Bowl MYKwebTV
Aug 06 "Weekly NFL reports on NFL webWORLD!
Check out the massive NFL webWORLD Click here " Myk Aussie

Sat Oct 2, 10. "In NFL week 4, I couldn't pick the 49ers! Friday night Sept 17, I was talking NFL on Sports Rage with Gabriel Morency, Listen and watch now! Listen now. I got on The Jim Rome radio show Wed July 7 which has approx 4 million listeners and talked sports! Talking sports and often NFL on 5AA South Australian radio many weeks with Jeff Burzacott. Listen Live on the web! 153 of my 175+ Sports MYKwebTV and TotalCFLwebTV shows including lots of NFL are now on my YouTube.com Directors Channel!" Myk Aussie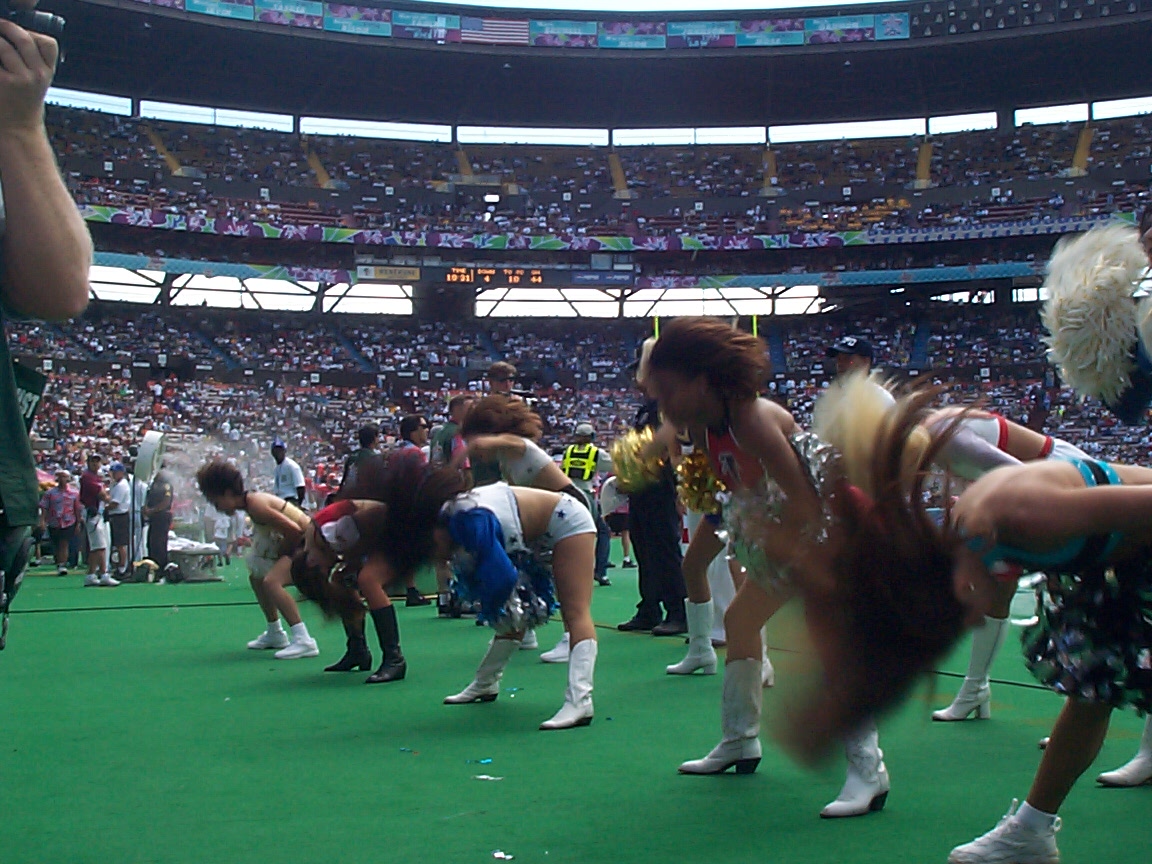 There are some great 49er Pro Bowl cheerleaders in Pro Bowl MYKwebTV NFL Pro Bowl MYKwebTV


Check out the massive NFL webWORLD for the above stories Click here
Tuesday Sept 21. My week 2 bets report!

My bets were Vikings –5.5 at Sportsbook.com
Philadelphia Eagles –6 at Sportsinteraction.com
New Orleans Saints –6 at Bodog.com. I thus went 0-3 against the spread.

New Orleans Saints defeated San Fransisco 49ers 25-22.

The Saints, the reigning Super Bowl Champions ventured to San Fransisco for the Monday night game. The 49ers were definitly pumped after a shocking week 1 loss to the Seahawks. They started the game badly, but then fought back in the 2nd quarter to trail at half time, 9-7. The Saints held on for a 3 point win, but this was not enough with the spread being 6.

I did however win money on the Green Bay Packers as they convincingly defeated the Buffalo Bills in Green Bay 34-7. This bet was not however 1 of the 3 main bets that I am reporting on each week.

After 2 weeks, one of my mistakes is thinking a team will win by more than they are. The other mistake is taking the Vikings and the Cowboys. They have been average so far this season. The Cowboys play Texans this week in Houston, wow a 0-3 start a big possibility for the Cowboys." Myk Aussie
Sun Feb 3, 08 "New Sports jersey Frames. The 1st shipment ever to Nth America. Order now! Massive amounts of NFL MYKwebTV!" Myk Aussie

49er fans sorry about the Steelers jersey below.

New Sports Jersey Frames! The 1st shipment ever to Nth America! Order now! Available now for Christmas! They are awesome! The jersey hangs great in these High quality Sports jersey display cases. For contact and ordering Click here
I hope you can join me and Moose in the new Massive Mates Club for hours of NFL, Sports, along with Comedy Babe TV Click here" Myk Aussie
Thurs, Aug 17 06 "Moose's extensive 49ers 06 preview! Lots of NFL MYKwebTV!" Myk
From Moose "San Francisco, 71st season, first 4 in AAFC. 5 for 5 in Super Bowls. Coach: Mike (Son of former 'Niner Coach Dick) Nolan, second year. 2005 record: 4-12-0. QBs: [Gone are Cody Pickett, ST'r fan fav. & former PBR star & Ken Dorsey and his 37-2 record at The U.] Left: Alex Smith, Trent Dilfer and Jessie Palmer, the second Canadian QB left in the NFL.

Other Key players include: OG Larry Allen, WR Antonio Bryant, CB Sammy Davis (well, at least can he sing?), Jr., TE Vern Davis (they need Vern Hippler, or at least three of him!), CB Walt Harris, Washington, OLB Manny Lawson, WR Brandon Williams. Outlook / Prediction: Like last year, partly cloudy. At least. Young Nolan, a football Coach from an early age, at the side of Daddy Dick (San Francisco/New Orlean/San Antonio Ar.FL), knows what it takes to win. However with these nobodies on this roster, it'll be difficult. Getting Allen and Dilfer helps right away since they both have Super Bowl ring('s', plural in the case of Allen who opened all those holes for the NFL's all-time leading RB Emmitt Smith. To be honest Allen deserved at least one of those Super Bowl M.V.Ps. Dilfer, has to be the least appreciated Super Bowl winning QBs of all-time. He was way better than Roelisberger, who won by default last year! Seriously, Nolan can't hope to win this year and is just buying time. Those five Super Bowl wins in the past cost this team with traded draft picks and only LB Jeff Ulbrich and DT Ike Sapoaga are the only real good players on Defence. Both are from THE univ. of Hawai'i I am proud to say. But back to the problems; With only Frank (fortunately not Al) Gore and Reggie Barlow as the team's RBs, who far can they go? Fourth for one more year, NFC West, but a better record, say 6-10-0. Anything more and my vote would be Nolan for Coach of the Year!" Moose
"If you would like to add your comments about how you think the 49ers will go in 06 or comment on Moose's preview above please email me myk@mykaussie.com and I will add your report.
You can hear Moose weekly on Gabriel Morency's SportsRage Montreal Team 990 AM sports radio and on the Internet talking NFL Footy many Friday nights around 1am Eastern US and CDN time. I'm on late around 1.30-2am EST Friday or Monday nights as well talking sports in a comedy/crazy style. I think Gabriel Morency is the best sports radio guy in the World. To me he's like the Howard Stern of sports. I'm very confident you will like his show. To listen
Click here

Massive amounts of NFL TV! Several weeks ago I finished the New Massive Mates Club webWORLD. I hope you can join me in Mates Club for hours of NFL Sports, Comedy, Babe TV, your existing email link will get you to the new Mates Club Massive Menu or Click here" Myk
Thurs, Aug 18th 05 "Moose's NFL San Francisco 49ers 05 preview!" Myk

From Moose "San Francisco 49ers, 5-0 in Super Bowls. 60th year [56- NFL, 4 AAFC]. Coach (?) Mike (Nepotism) Nolan [see Dull-fins, also]. QBs: Alex Smith, Tim Rattay, Ken Dorsey. Screw up number 1: Never, never, never hire the former Coach's son to Coach your team, even one generation later. Longtime NFL Ast. Mike, who's daddy Dick Coached this team back the second time they were good, the 1970's and who also Coached the New Orlean Saints after Hank Stram retired in 1977, and also San Antonio in the Ar.FL in '92, is the new Coach. At least, unlike the (now) low budget Dolphins (can I call 'Em Dull-Fins one more time?), Nolan has been an Ast. Coach in this League fro 12 years.

Miami's Saban (also son of former NFL Coach, Lou, who also, like Dick Nolan, later Coached in the Ar.FL), has PREVIOUS NFL AST. EXPERIENCE. That and top pick in the draft, pivot Al Smith, won't save these guys from being pummeled almost every weak, er, ah, week. (not really sorry for that Freudian slip). Hawai'i's Ike Sopoaga, DLm, and former fellow Warrior, LB Jeff Ulbrich, will wish they were back in Honolulu sipping Mai Tais. The DEs, including former Univ. VA standout, John Engelberger will stop some of the opposing runners. But there is simply no depth - anywhere! Who cares whether Rattay, Dorsey (37-1 in NCAA's @ Miami) or big buck$ Rook Smitty call the signals. It'll be a dismal year in 'Frisco. Prediction: 4-12-0, last NFC West. Mike Nolan. Gimme a break!" Moose
"Myk Aussie is the best NFL Cheerleaders interviewer Click here" Joe
Thurs, Nov 11 04 "Panthers vs 49ers week 10!" Myk Aussie
From NFL Media
CLUBS SPENT 1995-01 as members of NFC West……

PANTHERS: Club has surrendered 11.0 sacks, 5th fewest in NFL……QB JAKE DELHOMME has 12 TD passes & is on pace for career-best 24, which would be 2nd-most in club history. Has multiple TD passes in 4 of 8 games. Averages 231.5 passing yards per game & ranks 2nd in NFL with 285 pass attempts……RB STEPHEN DAVIS has 25 career 100-yard games & seeks 1st vs. 49ers. RB BRAD HOOVER had 16-yard TD catch vs. Oak…… Rookie 2nd-round WR KEARY COLBERT (No. 62) averages 16.8 yards per catch, 2nd-most among NFL rookies. Ranks 2nd on club with 27 catches & 453 receiving yards……WR MUHSIN MUHAMMAD seeks 3rd consecutive 8-catch game. Has 21 career 100-yard games, including 3 vs. SF, tied for his most vs. any club. Had career-high 3 TD catches vs. 49ers on 12/18/99……Defense surrenders 185.6 passing yards per game, 3rd-fewest in NFC……DE JULIUS PEPPERS had 2.0 sacks last week, his 5th-career multiple-sack game. DE MIKE RUCKER has 36.5 career sacks & needs 5.5 to pass KEVIN GREENE (41.5) for club record. DT BRENTSON BUCKNER played in 45 games with SF from 1998-00……

49ERS: Offense has converted 75.0 pct. of 4th down attempts (6 of 8), tied for 5th-best in NFL……QB TIM RATTAY has started 5 games this season, posting 90.0+ passer rating in 3 of 5, tossing 9 TDs vs. 4 INTs. Ranks 2nd in NFC & 6th in NFL with 97.2 3rd down passer rating (27-45, 347 yards, 3 TDs, 1 INT)……RB KEVAN BARLOW has 636 yards from scrimmage (484 rush, 152 rec)……WR CURTIS CONWAY leads club WRs with 29 catches (318 yards). Second-year WR BRANDON LLOYD leads club with 3 TD catches……TE ERIC JOHNSON ranks 2nd among NFL TEs with 51 catches. Has team-leading 547 yards receiving & is 1st SF TE with 500 receiving yards since BRENT JONES in '95 (595). Ranks 2nd in NFC with 14 3rd down receptions (165 yards)……DT BRYANT YOUNG has 68.5 career sacks, most in club history, & needs 1.5 to become 1st 49er with 70……LB JAMIE WINBORN has team-leading & career-high 4.5 sacks, tops among NFC LBs.
It is so cool to be the only Aussie that has regularly reported on the NFL for the past 5 years.
Yep that's me, I have had NFL media passes at Super Bowl's, Pro Bowl's and other NFL games. Thus I am allowed into the NFL Media section and allowed to post their great reports on here. Much more coming over the coming weeks." Myk Aussie
Thurs, Jan 15 04, "Star San Fran 49er QB Jeff Garcia in some trouble!' Myk Aussie

Jeff Garcia the star San Francisco 49er & Pro Bowl Quarterback spent the night in the clink after being pulled over due to swerving a bit by the San Fran/Jose Sharks Cops. It does appear he
was over the legal Alcohol limit thus locked up from 3am ish until 6.30am Wednesday morning.
His mug shot on the TV tonight proved he was arrested.
Jeff & his NHL hockey Shark mates were out on the town after the Hockey game apparently having some alcoholic drinks & chasing Cwoa's. Jeff is due to appear in court in early March. But don't worry NFL fans according to Patrick from San Fran 49er radio if Jeff is convicted it seems there will be no jail time luckily & he will again see Jeff in a 49er uniform. A fine or two, community service, loss of license etc Patrick said.
I am a big Jeff Garcia fan after seeing him play in the CFL for several years for the Calgary Stampeder's & then seeing him become a instant success at the 49ers. I met with Jeff several times at Pro Bowl 02 & 03 during NFC practice sessions. Even had some beers with Jeff & Tyrell Owens & Mic Morreale the CFL star.

For more on this story & much much more.... Invest In Inet MYKwebTV! Myk's Mates Club
Click here" Myk Aussie
Dec 03 04' "Oh no the season is over" Myk Aussie
Read below for Moose's 49ers preview. Email me for your thoughts on the 49ers season myk@mykaussie.com Lots coming in Sept 04 to 49ers webWORLD." Myk Aussie

Thurs Dec 11, 03' 49ers Jeff Garcia, Rams S Aeneas Williams & Packers K Ryan
Longwell names NFC Players Of the Week. All the 2003 NFC Players of the week!" Myk Aussie
Compliments of nflmedia. Quarterback JEFF GARCIA of the San Francisco 49ers, safety AENEAS WILLIAMS of the St. Louis Rams and kicker RYAN LONGWELL of the Green Bay Packers are the NFC Offensive, Defensive and Special Teams Players of the Week for games played the fourteenth week of the 2003 season (December 7-8), the NFL announced today.
Garcia completed 19 of 28 attempts for 252 yards, four touchdowns and no interceptions for a Week 14-high 135.7 passer rating in a 50-14 win over the Arizona Cardinals. He also added 32 yards rushing on five carries, including touchdown runs of three and four yards in the victory.
Garcia became the third player in NFL history with four touchdown passes and two touchdown runs in a single game. Kansas City Chiefs quarterback BILL KENNEY did it on November 27, 1983 in a 51-48 overtime loss to the Seattle Seahawks and Detroit Lions passer ERIC HIPPLE also accomplished the rare six-touchdown effort in a 48-17 win over the Chicago Bears on October 19, 1981.
Garcia directed a 49ers offense that produced 496 yards and 50 points, the team's most prolific scoring day since a 50-14 win over the Atlanta Falcons on December 4, 1994. His first-half performance was nearly flawless, completing 16 of 19 attempts for 221 yards and four touchdowns for a 154.7 passer rating, staking the club to a 34-0 halftime advantage.
"Jeff played really well and made a huge difference in the football game," said 49ers head coach DENNIS ERICKSON. "When there were problems, he moved around and made big plays. There are not many people that have thrown for four touchdowns and run for two, so it was a very big day for him."
In his fifth season from San Jose State, this is Garcia's second-career Player of the Week Award.
Williams earned defensive honors for his play in the NFC West-leading Rams' playoff-clinching 26-20 win over the Cleveland Browns on ABC's NFL Monday Night Football. The win gave St. Louis a 10-3 record, the club's fourth 10-win season in the past five years.
Williams totaled 14 tackles, two interceptions, one sack, and three passes defensed, helping turn a 9-7 lead with just over one minute remaining in the second quarter into a 23-7 halftime advantage.
With Cleveland in possession at its own 42-yard line, Williams picked off a pass and returned it 46 yards for a touchdown, giving St. Louis a 16-7 lead. The interception return touchdown was the ninth of Williams' career, tying him with Pro Football Hall of Famer KEN HOUSTON for second-most in NFL history.
Williams struck again two plays later, intercepting a pass and returning it 27 yards, setting up St. Louis at the Cleveland 20 with 0:39 remaining. The Rams capitalized when quarterback MARC BULGER connected with wide receiver ISAAC BRUCE on a 16-yard touchdown pass for the 23-7 halftime lead St. Louis would never relinquish.
"We are not just trying to create turnovers," Williams said. "We're talking about scoring."
Added Rams head coach MIKE MARTZ, "Aeneas sets the standard for all of us. He makes the plays in clutch situations."
In his thirteenth season from Southern, this is Williams' fifth-career Player of the Week Award.
Longwell earned special teams recognition for his role in the Packers' come-from-behind 34-21 win over the NFC North-rival Chicago Bears at Lambeau Field. Green Bay improved to 7-6, one-game behind the division-leading Minnesota Vikings (8-5).
In conditions that included a 35-degree temperature with gusty winds of 16 miles per hour, Longwell was perfect, connecting on four-of-four field goals (24, 38, 35, 45) and two-of-two extra points for 14 points on the day. He scored 13 of the Packers' first 19 points, helping the club erase a 14-0 first-quarter deficit.
Longwell's 38-yarder with 6:52 remaining in the third gave Green Bay a 16-14 lead, its first of the game. He followed that up with a 45-yard effort later in the period to extend the Packers' advantage to 19-14.
Longwell has scored 818 career points and is on the cusp of breaking the team's 58-year-old scoring record, held by Pro Football Hall of Famer DON HUTSON, who scored 823 points from 1935-45. Longwell has connected on 19 of 21 field goal attempts in 2003.
In his seventh season from California, this is Longwell's fourth-career Player of the Week Award.
Other nominees for NFC Offensive Player of Week 14 were:
Minnesota quarterback DAUNTE CULPEPPER, who completed 21 of 33 attempts for 274 yards, three touchdowns and no interceptions for a 120.0 passer rating in the Vikings' 34-7 win over Seattle.

St. Louis running back MARSHALL FAULK, who carried 24 times for 102 yards and added six receptions for 43 yards.

Minnesota wide receiver RANDY MOSS, who had eight receptions for 133 yards, including touchdown catches of 47 and 45 yards.

Atlanta quarterback MICHAEL VICK, who carried 14 times for 141 yards and one touchdown and completed 16 of 33 attempts for 179 yards in the Falcons' 20-14 overtime win over Carolina.
Other nominees for NFC Defensive Player of Week 14 were:
Washington linebacker JESSIE ARMSTEAD, who had eight tackles, two sacks and one fumble recovery in the Redskins' 20-7 win over the New York Giants.

Tampa Bay linebacker DERRICK BROOKS, who totaled a game-high 12 tackles, one forced fumble and one sack in the Buccaneers' 14-7 road-win over New Orleans.

Green Bay cornerback MIKE MC KENZIE, who had a career-high tying two interceptions, including a 90-yard interception return touchdown.

Minnesota rookie linebacker MIKE NATTIEL, who scored his first-career touchdown on an 80-yard interception return.

San Francisco linebacker JULIAN PETERSON, who had eight tackles, one sack, one forced fumble and four passes defensed.

Tampa Bay defensive end SIMEON RICE, who posted three sacks, five tackles and one forced fumble.

Washington defensive end BRUCE SMITH, who had his 199.0 career sack, passing REGGIE WHITE (198.0) for most in NFL history.
Other nominees for NFC Special Teams Player of Week 14 were:
Tampa Bay punter TOM TUPA, who punted five times for a 52.0-yard average, including one inside the 20-yard line with a long punt of 55 yards.

St. Louis kicker JEFF WILKINS, who connected on four of five field goal attempts (28, 26, 29, 37).

San Francisco return specialist JIMMY WILLIAMS, who returned one kickoff for 24 yards and three punts for 12 yards, adding two special teams tackles.

2003 NFC PLAYERS OF THE WEEK
| | | | |
| --- | --- | --- | --- |
| | Offense | Defense | Special Teams |
| Wk 1 | QB Joey Harrington, Det. | S Corey Chavous, Minn. | RB Terry Jackson, SF |
| Wk 2 | RB Stephen Davis, Car | S Ken Hamlin, Sea | K Billy Cundiff, Dal |
| Wk 3 | QB Kerry Collins, NY | S Dexter Jackson, Ariz | P Tom Tupa, TB |
| Wk 4 | RB Ahman Green, GB | CB Champ Bailey, Was | K David Akers, Phi |
| Wk 5 | RB Stephen Davis, Car | CB Ahmed Plummer, SF | K Paul Edinger, Chi |
| Wk 6 | QB Brad Johnson, TB | DE Simeon Rice, TB | WR Randal Williams, Dal |
| Wk 7 | QB Aaron Brooks, NO | DE Lance Johnstone, Min | PR Brian Westbrook, Phi |
| Wk 8 | RB Stephen Davis, Car | DE Michael Strahan, NY | KR Jerry Azumah, Chi |
| Wk 9 | WR Amani Toomer, NY | DE Willie Whitehead, NO | KR Cedrick Wilson, SF |
| Wk 10 | RB Warrick Dunn, Atl | DT Brian Young, StL | K Jason Hanson, Det |
| Wk 11 | QB Donovan McNabb, Phi | LB Nick Barnett, GB | PR Bobby Engram, Sea |
| Wk 12 | RB Ahman Green, GB | CB Brian Williams, Min | K Paul Edinger, Chi |
| Wk 13 | RB Deuce McAllister, NO | DE Leonard Little, StL | K David Akers, Phi |
| Wk 14 | QB Jeff Garcia, SF | S Aeneas Williams, StL | K Ryan Longwell, GB |
Tues Dec 8, 03' "Cwoa Melissa the former Dallas Cowboys & Pro Bowl 2002 cheerleader is now with the 49er's! Mooses HARDBall at times NFL report & all the results! A great NFL report from Neil!" Myk Aussie
Mates here's my friend Melissa now a 49er cheerleader. She just emailed me said she is really enjoying her time with the 49er Cwoa cheerleaders. Click here

For me & Mooses's NFL reports & all the results Click here " Myk Aussie
Thurs, Aug 21, 03 "Moose's San Fran 49er preview!" Myk Aussie
***** 49er fans Jeff Garcia features on MYKwebTV pro Bowl 2002 & 2003! Click here
NFL Previews continued By: Rich Salzer

San Francisco 49ers started in NFL, 1950; originally started in 1946 in A.A.F.C. '02 record: 10-6-0 Coach (?) Dennis Erickson. QBs: Jeff 'Red' Garcia, Tim Rattay, Ken Dorsey. So the 49ers tired of Steve (Winner) Mariucci's excuses & decided to recycle Dennis Erickson
(31-33 in 4 seasons w/ the Seahawks)...It won't help...Besides, this team, despite Red Garcia (the ex-Calgary Stampeder)'s heroics, was probably in decline anyway. Mariucci's downfall was his inability to contain the stupid antics of Terrell (Preschool-recess) Owens, the sometime pom-pom waving but overall very good WR. Owens has already said he cares not what anyone thinks of his idiotic outbursts, so get ready for a rollercoaster-ride, Dennis. What this team needs is A YOUNG Buddy Ryan type to get them over the hump.

Mariucci had an enviable 57-39 mark in six yrs, but too many playoff flame-outs for the 48ers management types to accept. So he shuffled off to try & right the Det. Lions ship. Good luck there too, Steve!. The good news is that Red, who Myk & I met in Honolulu @ Duke's canoe club, w/ his parents & new babe (a pretty brunette!), is playing better than ever. It won't last much longer in Hill-town if these guys don't get some disciple & soon...40-yr-old
OT, Ray Brown moved w/ Mariucci to Det. leaving an ample hole to fill on the line. Also Dave
Fiore went to Wash., further eroding the 'O'line...Backup Tim Rattay set all kinds of records in
Louisiana in college & is 1st in line to fill in if Red goes down with injury. Next would be Ken Dorsey, with his 37-2 mark in four yrs. @ Miami.

The 'niners only signed four free agents in the off season: ex-Miami reserve TE, Jed Weaver, who also did a stint w/ the (bald?)Eagles, O-linman Ross Kolodziet (N.Y.Giants), DLm Demarco Farr (ex- of St. Louis) & OL/DL Travis Kirshke (Det.), house-hold names all. This doesn't bode well for the season. Last season Garcia's $11.64 mil. salary was tops in the loop but it'll take more tahn that to bring a Super Bowl title back to the Title- town of the 1980's (Four Super Bowls). The kick coverage is average & so is the kicking game since ex-X-FL K Jose Cortez (Wash.) started playing more like he was back in Oregon roofing (his off season job)...It's doubtful that Mr.Sharpie would be interested in returning kicks now but he may have to to bail these guys out...The 2ndary is solid with Zach Bronson the main guy. The running game continues to shine but w/ Erickson's known tendencies it may be curbed back a bit...Erickson is a retread coach & not the Don Matthews kind. I say a down year in the very tough NFC West...6-10-0, Fourth place & get well soon, Jeff!" Moose
Pro Football Weekly: NFL and Pro Football Video Picks with amazing coverage from Myk Aussie -The Pro Football Comedy Media Guy


"I have finished the New Massive Mates Club webWORLD. I hope you can join me in Mates Club for hours of NFL Sports, Comedy, Babe TV, your existing email link will get you to the new Mates Club Massive Menu or Click here" Myk