"You can also hear me often talking NFL many Friday nights on Gabriel Morency's Sports Rage now on morencysports.com. Fri 8-11pm Pacific CDN/US time. If you are new to MYKwebWORLD and you want to know what I do this is a great article Click here
May 06. I have finished the New Massive Mates Club webWORLD. I hope you can join me in Mates Club for hours of NFL Sports, Comedy, Babe TV, your existing email link will get you to the new Mates Club Massive Menu or Click here" Myk

Check out NFL MYKwebTV NFL Super Bowl NFL Pro Bowl MYKwebTV
Aug 06 "Weekly NFL reports on NFL webWORLD!"
Check out the massive NFL webWORLD Click here" Myk Aussie

Sat Sept 25, 10. "Steelers is one of my week 3 bets! Week 3 bets and report! Friday night Sept 17 I was talking NFL on Sports Rage with Gabriel Morency, Listen and watch now! Listen now. I got on The Jim Rome radio show Wed July 7 which has approx 4 million listeners and talked sports! Talking sports and often NFL on 5AA South Australian radio many weeks with Jeff Burzacott. Listen Live on the web! 153 of my 175+ Sports MYKwebTV and TotalCFLwebTV shows including lots of NFL are now on my YouTube.com Directors Channel!" Myk Aussie


Check out the massive NFL webWORLD for the above stories Click here
Pittsburgh Steelers -2.5 at Sportsbook.com

This was a last minute decision, picking the Steelers against the Tampa Bay Buccaneers at Tampa Bay. After reading the headlines of Gabriel Morency TV (Gabriel is one of my favorite sports radio personalities) on Sportsinteraction.com and then listening to Gabriel say that he believes the Steelers defense will score more points that the Buc's offense, I decided to take the Steelers at the attractive -2.5 odds on Sportsinteraction.com
I listen to lots of NFL media personalities on NFL Network TV and Canadian and USA sports TV and radio. Some of these NFL media personalities I like more than others, thus I believe new people to NFL betting should take "some" advise from the people that they like when deciding which NFL team to pick and then bet on." Myk Aussie
Fri Sept 11, 09 "Steelers win 09 NFL season opener in Overtime! Nathan's Steelers vs Titans report!" Myk Aussie
From Nathan "Well, as far as season openers go, that game was okay, I guess. You know, not bad, run of the mill, a few interesting moments, some sloppy early season mistakes, overhyped, and more or less decided by the midway point of the 4th quarter. For those of you who missed the game, you really didn't miss a whole lot, so don't feel too bad about doing whatever else it is you did instead. Whether it was walking the dog, reading a book, cleaning toilets, or tirelessly watching the TSN ticker to get the latest on Jim Balsillie's attempted aquistion of the Phoenix Coyotes, rest assured, these endeavors were all far more worthy of your time. For those of you who DID watch the game, you'd know that by "run of the mill" I meant among the best 10 NFL games I've ever watched, and that by "a few interesting moments" I meant that pretty much every play was an edge-of-your-seat thrilling moment, and while there actually were several signs of early season kinks being worked out tonight by both clubs, this game COULD NOT have been overhyped if it were the Superbowl and was quite obviously never decided until the least automatic 33-yard field goal I've EVER watched sailed safely through the uprights of the dreaded "open end" of Heinz field in overtime. For the true football fan, this game really did have it all. A low scoring first half of solid defense and opportunities missed by both offenses.

Troy Polamalu's overwhelming presence on the Steelers defense was making even hardcore believers of "the Madden curse" question their belief system, until, of course, a 262-pound Alge Crumpler fell on his leg the wrong way and knocked him out for the rest of the game (and a reported 3-6 weeks!). That Polamalu interception will undoubtedly be one of the 10-20 best plays we'll see all season, and toss in a few stellar tackles and defensed passes, and we saw 2 games worth of highlights in one half from Troy. So finally, the Steelers put a TD up on the board to break a scoreless tie and you're beginning to think they might have an edge at the half, but much to nobody's surprise, Kerry Collins and the quick-strike Titans offense needed just 34 seconds and a big play from a rookie receiver to respond with a six of their own to knot things up at the break. I litterally felt like I'd watched an entire football game by halftime. So the second half gets better. More great defense, some big hits, a near disaster with a botched punt return for Cortland Finnegan (he got it back though). Midway through the 4th the Titans snap the tie with a Bironas 45-yarder which I was POSITIVE he would make having already missed half as many FGs as he missed in all of 2008. The Steelers quickly answer back with a FG, but a strong hold on 3rd and 1 by a fundamentally sound and tenacious Tennessee defense prevents the go-ahead TD.

The Titans run the expected 4 plays and give Pitt the ball back with time to spare and 30 yards to FG range, and we see NBC run the predicatble graphic up on the screen reading something like "BEN ROETHLISBERGER - 17 game winning drives in 4th quarter or OT" and Collinsworth goes on about how much Big Ben has accomplished in four short seasons, blah blah blah, and we mentally slot the Steelers into the standings at 1-0. All according to plan, Hines Ward makes the big catch to move them into chip shot range, and... WHAT!??! Hines Ward, perhaps the last guys you'd ever expect to fuck up a simple fundamental like when you're in a tie game and you've got the ball at the opposition 5-yard line with 50 seconds to go, it's fairly important to protect the football, FUMBLES THE FOOTBALL, and we have OT. Nice strip by Michael Griffin of Nessee, but nevertheless, Hines can't let that happen and boy would he ever be the first one to tell you that. Even the game winning FG in OT was not a sure thing. On a night where Rob Bironas botched one FG and had another blocked, and Jeff Reed, by the grace of Madden, had his first knucleball errrrr field goal attempt wind through a maze of Titan arms and up barely over the crossbar, I was giving him little better than a 50/50 shot at nailing that 33-yarder. But, into the open air of the night at Heinz, Reed drilled it, and that ended one of the best games I've seen in ages. Much thanks to fellow pool mates Germann, Jarry, and Bretter for drinking in the Opening Night classic with me at Schanks. What a start to what promises to be a thrilling year." Nathan.
Tues, Dec 11 07 "Steelers 2007 NFL Playoff scenario direct from NFL Media! New Sports jersey Frames. The 1st shipment ever to Nth America. Order now. Available now for Christmas! Massive amounts of NFL MYKwebTV!" Myk Aussie

New Sports Jersey Frames! The 1st shipment ever to Nth America! Order now! Available now for Christmas! They are awesome! The jersey hangs great in these High quality Sports jersey display cases. For contact and ordering Click here

PITTSBURGH STEELERS 2007 NFL Playoff scenario direct from NFL Media.
Pittsburgh clinches AFC North Division: 1) PIT win + CLE loss. Pittsburgh clinches playoff berth:1) PIT win OR 2) PIT tie + BUF loss or tie + TEN loss or tie OR 3) BUF loss + DEN loss or tie + TEN loss

I hope you can join me and Moose in the new Massive Mates Club for hours of NFL, Sports, along with Comedy Babe TV Click here" Myk Aussie
Sat, Aug 19 06 "Moose's Patriots 06 preview! Lots of NFL MYKwebTV!" Myk
From Moose "Pittsburgh Stealers, Five and One in Six Super Bowls including Super Bowl XL. Coach: Bill Cowher who won't get an extension until after the 2006'07 season is over, the word just came down. QBs: Ben Roelisberger, Charley Batch. Key Players: FS Ryan Clark, RB Duce Staley, Ss Troy Polamalu, DE Brent Keisel, WR/KR Willie Reid, CB Anthony Smith, FB Dan Kreider.

Outlook, No more Alice in Wonderland-type situation. The Honeymoon is over. Cowher thought he deserved a raise, and I would have thought so too, after leading this team to a Super Bowl win with a QB who had the worst stats of any Super Bowl winning QB of all-time! Thank god WR/KR/QB Antwann Randall El threw the game winner! But now he's in Washington! It's the story of the Stealers off-season - one defection after another. DLm Kmo Von Oelhoffen [Big Island, Kona H.S.] to the Jets, FS Chris Hope to Minnesota. I could go on and on and to top it off, QB Ben Roelisberger drove his face into a car with his motorcycle driving in downtown Pittsburgh from one radio interview to another and he says he still won't wear a helmet. Everybody wants their well deserved raise but the cheapskate Stealers ownership is saying no way. That doesn't warrant a good situation toward the '06 season.

Thank god Polamalu is still around to hit people and cover the middle and they still have enough RBs to gain yards - as long as Willie Parker doesn't get hurt. Prediction: 7-9-0, no playoffs. The Stealers last year were a sort of a remarkable story winning four straight playoff road games including the Super Bowl, but they plenty of help from the Seahawks in the second half - not to mention the worst Officiating in Super Bowl history!
Enjoy the rings guys. They'll be the last you get for awhile and Cowher may be moving on in the next year or so too! Third in the AFC Norris, behind Cincinnati and Baltimore." Moose
"If you would like to add your comments about how you think the Steelers will go in 06 or comment on Moose's preview above please email me myk@mykaussie.com and I will add your report.
You can hear Moose weekly on Gabriel Morency's SportsRage Montreal Team 990 AM sports radio and on the Internet talking NFL Footy many Friday nights around 1am Eastern US and CDN time. I'm on late around 1.30-2am EST Friday or Monday nights as well talking sports in a comedy/crazy style. I think Gabriel Morency is the best sports radio guy in the World. To me he's like the Howard Stern of sports. I'm very confident you will like his show. To listen
Click here

Massive amounts of NFL TV! Several weeks ago I finished the New Massive Mates Club webWORLD. I hope you can join me in Mates Club for hours of NFL Sports, Comedy, Babe TV, your existing email link will get you to the new Mates Club Massive Menu or Click here" Myk
Updated Wed, June 14 06 "Big Ben Roethlisberger won't be eating any Burgers any time soon! Big Ben should drink some Pure Romo Nutrition! Ben Roethlisberger the reigning Super Bowl Quarter Back of the Pittsburgh Steelers was seriously injured in a motorcycle accident on Tuesday. He was not wearing a helmet! Designing Electric Wheelchairs in South Australia! Mates Club NFL TV is Massive!" Myk Aussie

Big Ben Roethlisberger won't be eating any Burgers any time soon, he'll be drinking Milk and Protein drinks out of a straw!



Big Ben should drink this seeing he can't eat for awhile. Bill Romanowski and Thomas Incledon PhD, their "Pure Romo Nutrition" is the ultimate combination of scientific research and brain enhancement. I've used it, it's great and it tastes great as well. Click here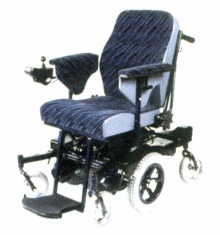 One of the Rollerchair models. Big Ben is very lucky he is not permanently in one of these!

Big Ben was not wearing a helmet and was hit by a car in which a 62 year old lady was driving. The doctors spent 7 hours yesterday operating on Ben as he received a broken jaw, broken teeth, a 9 inch cut on his head and knee injuries. Wow! This is insane, why was Ben not wearing a helmet? Well apparently in Pennsylvania one does not have to wear a helmet when riding a motorcycle. Now that's a crazy stupid law right there! I saw a TV interview where Ban said he gets a better free type feeling riding without a helmet. Damn him, I am not a Steelers fan but I am a Ben Roethlisberger fan. He has done a amazing job at Quarter Back for the Steelers since coming into the league. I hope that we does recover and that we see him play this year.

This is especially to young guys and girls out there reading this! Before I started in Media 9 years ago I was a Mechanical Design Engineer and one of the places I worked was Rollerchair in South Australia. This was a excellent design job as I was helping design the best electric wheelchairs in Australia for people with handicaps and injuries. Some of the orders that came to me simply amazed me. I remember I had to design a electric wheelchair for a boy that was tiny. He had no arms and very tiny legs and he would have to crawl onto the foot part of the wheelchair and then via pneumatic cylinders he would be raised up to the seat where he would then climb onto and sit. This amazed me , I felt glad that I could design a wheelchair that would help him and I especially felt very lucky to have a healthy normal body.

My point here is "most" of the electric wheelchairs that we designed and made at Rollerchair were for motorcycle victims!

From the NFL Media today. FOR IMMEDIATE RELEASE June 12, 2006
Steelers President Art Rooney's Statement Regarding Ben Roethlisberger's Motorcycle Accident
"On behalf of everyone within the Steelers organization, I want to express my concern for Ben Roethlisberger. I am sure Ben knows that we are praying for his complete recovery. So far, we have been encouraged by the early reports from the medical team at Mercy Hospital.

"Our public relations staff will pass along any additional updates as we receive them from the hospital." Art Rooney, Steelers President

Massive amounts of NFL TV! Three weeks ago I finished the New Massive Mates Club webWORLD. I hope you can join me in Mates Club for hours of NFL Sports, Comedy, Babe TV, your existing email link will get you to the new Mates Club Massive Menu or Click here" Myk
Tues, Feb 7 06 "This hurts but congratulations to Steelers in winning Super Bowl XL 21 to 10 over the Seattle Seahawks! It was a great day here in Calgary but not a great game! Post game quotes direct from NFL Media!" Myk Aussie

Contd from Tues Feb 7 06 report on NFL webWORLD.

AN INTERVIEW WITH: COACH BILL COWHER

Q. You said you wanted nothing more than to give Dan Rooney the trophy. What did it feel like to give him the trophy?

COACH BILL COWHER: Very special. Just for the whole organization, for the City of
Pittsburgh. And to give it to him, he's what's great about the NFL. I'm very fortunate and blessed to work for organization and a man like that.

Q. Talk about the interception. And then the huge play after that.
COACH BILL COWHER: The one that went the other way?

Q. Well, that was big too, but you got the big one that stopped their momentum.
COACH BILL COWHER: You're talking about that one? He's a killer. It was a big play by
Ike. He actually dropped one earlier in the game. But our defense just, they just stepped up when they had to, they really did. I thought the biggest thing was the first half was we couldn't do anything on the field all the way through the second quarter and defensively they picked it up and they kept it in there when it was 3-0. We could have been real down. But we came out, and to be up 7-3, that was a big thing.

Q. Did that convince you to try to do the trick play?
COACH BILL COWHER: It was just a great time for it. It was a good call by the offense. And obviously it worked so it was a good call.

Q. This is not the first time he's done that, that pass?
COACH BILL COWHER: No, it's not. He's a special guy. It was a huge play. They covered it and he kind of escaped it. He's made big plays and then he makes a bootleg there on his
own and he makes a first down. We still played great. The play makers on offense and our
defense they played really strong down the stretch. And like I said, it's a special team.

Q. Talk about Jerome right now.
COACH BILL COWHER: Well, this means so much to the team because -- this is a blessing.
Jerome is a great guy. The way he played off the field, he brings so much class and professionalism to our team. If it is his last game, what a great way to go out. He's a Hall of Fame running back.

Q. (Inaudible).
COACH BILL COWHER: Yeah, I was pretty amazed when we came out. And we didn't realize that -- we didn't think we would have to lose the crowd, but we had some trouble early because it seems like the fans were so wound up that even when we had the ball, we still couldn't hear.
We had to call a verbal on the third down because we couldn't hear. Just because of the buzz and all the noise.

Q. (Inaudible).
COACH BILL COWHER: We had some third and longs. I thought he was better in the second half. Obviously there was one throw he would like to have back. But outside of that I thought he did some great things.

Q. (Inaudible).
COACH BILL COWHER: We talked about that eight weeks ago. We wiped the slate clean
and we kind of took a little of that old saying, one game at a time. But each week was a unique set of circumstances. But with that approach we gained some confidence and we started to have a pretty good team and the last win at Indy, I thought that probably helped us more than anything else, because it allowed us to prepare for the noise we had to deal with on the road in the playoffs.

Q. (Inaudible).
COACH BILL COWHER: I'm just happy for him. It was for him. He's a special guy and I'm happy for him, the city of Pittsburgh, and he's what's right about the National Football League.
I'm very fortunate and blessed to work for a guy like that. He's a very inspired individual. He looks at you and he makes you want to work as hard as you can to succeed.

Q. The Christopher Columbus speech, what was that about?

COACH BILL COWHER: Yeah, the old Christopher Columbus speech. Guys kind of like that. We talked about it the other day and I said we're going to get the periscopes instead of telescopes because we don't know if we're on a submarine or a ship. So I did a little twist to it
every now and then. But you know what, I think the purpose of it the meaning of it is to Columbus got on that boat and a lot of people told him not to go out there because they said the world was flat. And he just kept going and he found the new world. And that's what I told them. There's a lot of people telling you can't do it, but you know what, that doesn't mean youdon't go try. And like I said, history is not going to determine our fate, but our effort today made history. And that's what's special to me.

Q. Jerome said he was retiring, when did he speak to you, because he said he talked to the Rooneys last week.
COACH BILL COWHER: Yeah, you know what, because it's about the game of football, it wasn't about what happens afterwards.

Q. When did he tell you? When did he tell you?
COACH BILL COWHER: You know what, I just heard him on the program say that his last stop's going to be in Detroit. So I guess I was kind of deciphered meaning as it was his last game.

Q. You didn't have a conversation with him?
COACH BILL COWHER: No, no. You saw it. I just answer questions. It wasn't a meaningful conversation here yet. But he's a special man and I'm sure we'll talk soon.

Q. (Inaudible).
COACH BILL COWHER: It was very -- the one to Jerome, we wanted him to lead the team out. And we all came out as a team. Joey Porter thought that was important. And he told us, he told the team that that's what we're going to do.

Q. What do you think about the jersey switch?
COACH BILL COWHER: The jersey switch?

Q. The white.
COACH BILL COWHER: It was an away game. We didn't play at Heinz Field, so.

Q. Talk about the quarterbacks now. The biggest play comes from one of your wide receivers. What does this say about your offense?
COACH BILL COWHER: Well, we got some special players who have some special skills. That's the thing. We tried to utilize what they do best and he makes good decisions. And he knows how to block too. It was a good call at the right time and it always looks good if it works.

Q. (Inaudible).
COACH BILL COWHER: He had everything. It's a special group of guys. To see what we did to get here, you know, it was a bond that's created. And this team grew closer these last eight weeks. The road we took to get here with the away games and the fighting every day, you know, it's just, to me I'm happy for them. I'm happy for Mr. Rooney and happy for the city of Pittsburgh. And like I said, it's a very humbling experience right now.

Q. What was the difference in the end?
COACH BILL COWHER: You know what, we really didn't run the ball very good this post season. I was just talking about that. The running game got going for the second half and it really
kind of took care of that on the second play. But our quarterback played well, we had a great
balance in this post season. Defense stepped up. We were getting plays made. We were playing the best football at the right time of the year at the end
of the season.

Q. Do you think owners should be more patient with their coaches?

COACH BILL COWHER: I certainly think that in this business it's hard to sustain it. I think if
you have good people and people who you can trust, people who you can communicate with. And you got to just trust. We still have to win. We still have to win. We work in a performance-based business. I don't think I'm in a position to tell an owner what to do. They know the situation. I think patience is a virtue if you have the right person.

Q. It wasn't necessarily the Steelers best all around game they were saying, and in
fact you guys have played many better games than you did tonight, Ben said that, he said that this wasn't necessarily your best overall performance, but obviously it's the most
important win. Can you talk about how sometimes you don't have to play your best game to do it?
COACH BILL COWHER: There's no question. Like I said, we never go off track on offense. I thought defensively we played our tail off. But we made the plays on offense when we had to. Ben made plays when he had to. I just think it's a sign of a good football team when you
come out and not play your best football and still win the games. If we didn't have a bye week or weren't playing so well, but you know, just going through all of the logistics of getting the family here and the just the experience. You know, our guys gelled last week. And it was a heck of an experience. And we were able to top it off like this and that's very special.

Q. In your heart can you talk about what you're feeling right now?
COACH BILL COWHER: I'm just really happy for the players and coaches. I'm happy for
everybody else. Honestly, because when you say what the sacrifices they made and they have done everything I've asked them to do, and to see it pay off, that's special. And I'm happy for Mr. Rooney. I'm happy for the support and, you talk about a class guy. He's a very inspiring individual. And he's inspired me. It's a very humbling experience with him.

Q. (Inaudible).
COACH BILL COWHER: Detroit was great. Detroit was great. It's such a sports city. That's to me why I look at Detroit. You look at you get a chance to see the Pistons, the Red Wings who are playing the same night, Swin Cash, my favorite WNBA player. I got basketball in my
family, so that's big. And then obviously the Lions and the Tigers and Jim coming up here to coach the Tigers, he's a good friend of mine. I love Detroit. I think Detroit's a sports city. And they did a fantastic job here of plan playing host to us. So I heard nothing negative at all.

Q. Ben took some big chances, what did you say to Ben today?
COACH BILL COWHER: Ben's tough. He's resilient. Think about what he's done in two year's time. It's kind of mind-boggling really.

Q. (Inaudible).
COACH BILL COWHER: You win early and probably people, you buy yourself maybe a
couple down years. You got to have support. People like Kevin Colbert coming in, he's added a
lot of years to, he's added a lot of years to my career. And Mr. Rooney, and the assistant coaching staff, I can't say enough about them. And the players. It's an unselfish group of coaches and players, the best I've ever been around.

Q. (Inaudible).
COACH BILL COWHER: I don't know. Like I said, I don't know, this may not hit me for a
couple days. Probably when I'm sitting home some time with my family and away from all this,
that's when it will hit me.

Q. (Inaudible).
COACH BILL COWHER: Yeah, that was special. To be able to hand him that. Because he's a special man.

Q. When you huddled up with your girls and your wife, what were you saying to
them?

COACH BILL COWHER: Those four women are very important to me. They're the ones
that, they mean the most. I'm the head coach today, but I tell you what tomorrow I go back to
being an assistant coach. Because the head coach will be telling me what to do. I got a basketball game to go to tomorrow. Because the girls got to be back in school by 1 o'clock. So I'm going to watch my kids play ball and that's the way It should be and that's where I want to be.

Q. Do you remember what you said to them though exactly?

COACH BILL COWHER: I don't know. I really don't. It's been so much -- my kids were
talking to me, I know one said, daddy, we're world champions. And I thought like, well, yeah, I guess we are. It's just, I don't know, it was special to have them all there though.

Q. A lot of people are now going to say that this validates your career. What, to you,
what does this mean?
COACH BILL COWHER: This is not about me. It's about this team, it's about this ownership, it's about the coaches and players. I don't worry about what people say. I can't control that. I'm not in it for my validation. I'm in it because I really enjoy the group of players and the challenges that you get in trying to bring people together to see them experience this and they have been working so hard, that is very gratifying to me.

Q. The big play, the third downplay, was that just Ben and Hines having that kind of communication?

COACH BILL COWHER: Yeah, that's Ben. Sometimes he makes that throw and you
say, no, no, no. And then he made that one and it was yes, yes, yes. So he tests your patience with him. I just sit there and just go, I go with him, because he's a gamer. He's our guy. So.

Q. (Inaudible).
COACH BILL COWHER: It is special. Because it's a chance for this group to take a rich
tradition that we have had in Pittsburgh and that is special, but to say that I now have a little piece of that as well, can I say that.

Q. Does that make it sweeter?
COACH BILL COWHER: I don't know if it's sweeter. Any time you win something for the first time it's special.

Q. (Inaudible).
COACH BILL COWHER: We talked. Those are very sensitive issues. And I understood where everyone was at and I just try to keep talking through it with them. And I know how much he's meant to this organization and what he does. And he's out there every week. Yeah, there may be faster receivers, there may be guys with better hands, but I tell you what, I wouldn't want another receiver than Hines Ward. The way he plays the game, the passion, he's so competitive, he's smart. I love the guy.

Q. You say Ben tests your patience. What do you mean by that?

COACH BILL COWHER: Well, I don't know if he tests your patience, that's probably not the right word. You got to let him go. Sometimes you look at him and know he's fighting through it, but he'll come out of it. He's extremely mature for a guy in the second year. Sometimes you got to just keep that in mind. Yeah, he will make plays. The play that he bootlegged on, he did that by himself. No one did that. And he got the first down.

Q. How much can he improve?
COACH BILL COWHER: I think he's going to get better. I think he'll get better, he'll get
more comfortable in the offense, we'll start to give him more leeway to do things and the best is way ahead of him.
Mates unfortunatly I don't haveSuper Bowl XL MYKwebTV shjows but I have lots of Comedy based NFL Super Bowls MYKwebTV from Super Bowls 37, 38 and 39. Super Bowl 37, 38 Click here Super Bowl 39 Click here and lots lots more NFL Comedy and babes MYKwebTV at Me and Moose's Mates Club Click here " Myk Aussie

"New Cwoc Pammy and the real Pamela Grey Cup 05 TV Click here" Myk

Tues, Jan 31 06 "It was Media Day today at the Super Bowl! Quotes from Big Ben direct from the NFL Media! Super Bowls 37, 38 and 39 MYKwebTV!" Myk Aussie

NFL mates I have lots of NFL Super Bowls MYKwebTV from Super Bowls 37, 38 and 39.
Super Bowl 37, 38 Click here Super Bowl 39 Click here and lots lots more NFL Comedy and babes MYKwebTV at Me and Moose's Mates Club Click here

I have been at the past 3 Super Bowl Media Days. It is alot of fun. Unfortunately I was not there today but here is the report from NFL Media.

QB BEN ROETHLISBERGER (on playing receiver as a junior in high school and where he thought his life might be headed) "That was a long time ago. To play receiver in high school and not play quarterback until my senior year, I never thought I'd be in this situation. I always
wanted to be here and dreamt about it is a kid, but I never really thought it would actually happen."

(on promise to Jerome Bettis last year and if it seems surreal now) "I'm just glad I could keep it. I don't like to make a promise I can't keep. I told him that last year after the AFC Championship. I said, 'Bus, I promise I'll get you to the Super Bowl.' That was maybe something just to try and get him to come back. Luckily, I was able to keep that promise."

(on his development and if it was something he knew he'd be able to reach this fast) "I knew that we had a pretty special team coming into this year and I just had to play my part and get better and do better than I did last year. The development has been a big thing. I've come a long way. We've come a long way as a team and I think that is a credit to the coaching staff and the players. We believe in what we do."

(on the Seattle defense) "They deserve a lot of recognition. Watching their defense, they're fast, they're physical. They are always flying around and making plays. This very well could be our toughest test on offense."

(on possibility of being youngest to win the Super Bowl and if he's thought about that) "Nope, not at all. Going into this we don't like to look ahead. We stay focused on what we have to do. The fact is, I'm the second youngest to play and that's all that matters right now."


(on talking to Dan Marino who was the youngest to play) "We talked a couple of times this week. He called me and said, 'Listen, enjoy it and have fun there because you never know if it is going to come back.' He said that he thought he was going to make it back and he never got to play in it again. He told me to enjoy it but to take it serious enough because you want to win it since it could be your only time getting here."

(on having Joey Porter on his team) "It is great to have that type of leadership on defense. He's a vocal leader for this team. He's a guy who is always talking a big game and it is great because he can back it up with his play on the field. He's so much fun to watch out there on the field. I have to go against him in practice every once in a while and it is never fun."

(on Seattle's secondary) "They are opportunistic like the Bengals were. They are always around the ball. The ball bounces their way and they pick it off. They are always making plays. I think they are fast, very, very fast. I think it is going to be a challenge. I don't know that they are exactly like any secondary we've played, but they make the most of all of their opportunities."

(on how he views talking to the media) "This is the best part of it, talking to you guys. It is part of the territory. You have to accept it, especially being the quarterback you know that the cameras are pointing at you and that the media wants to talk to you. You just have to be smart and you know it comes with the territory."

(on what this means to Jerome Bettis to play this game in his hometown) "It means a lot. It means a lot to be able to bring Jerome back and we'd love to win it for him. It means a lot for a guy who is not only an ambassador for this team, he's an ambassador for the NFL, and he's just a great person and a great role model for people. So, the opportunity to bring him back
is awesome."

(on what he expects Bettis to say to the team before the game) "I'm going to tell him not to say too much because I don't want to start getting teary eyed. When Jerome starts talking you start getting teary eyed because of how much he means to you. We don't want to have a bunch of guys crying coming out of the locker room."

(on being favored to win this game after being the underdog all playoffs) "You know what - everyone wants to say you play the underdog card or the disrespect card. That's for the media, that's for you guys. We don't disrespect them and they are not favoring us. We are going out and playing football. This is just about two good football teams going against each other and this is going to be a good game."

(on Detroit being near his hometown of Findlay, Ohio) "Yeah, it's not too far from my hometown so it is kind of nice to come home. My first NFL game was a preseason in here (Ford Field). It is nice to be so close to home. My family will come in this weekend."

(on what he asked Marino) "I just asked him things like what did he do and how he enjoyed the experience because all of the attention and the media was on him. I asked him how to deal with it all and he gave me some words of wisdom."

(on what Marino said about game day) "He told me to stay focused and that I'd get butterflies and that I'd get nervous and that there would be a lot of anxious feelings and to make sure to keep that under control and not let it get the best of me early."

(on if he was nervous last year in the playoffs) "I was a little nervous. I wasn't as nervous as I probably thought I'd be. The thing was I probably went out there and tried to do too much. It was the first game of the playoffs and I was so nervous and excited and everything was going on and I probably let it get to me a little too much. I'm going to try and not let it happen this game."


(on dropping to eleventh in the 2004 Draft and if he was angry) "A little bit. Obviously that helps fuel the fire a little bit. It passes and you let it go and you move on."

(on dedicating the season to his grandfather) "There are quite a few things that you put into this game and the season. My grandfather passed this summer and is something that is motivating me. Jerome obviously is a motivator. Another thing is we still have troops overseas. I think people forget that there is a bigger picture than this football game. We are playing a game and they are serving our country and people forget about them a lot. I think people need to remember that there are thousands of troops over there. This game is dedicated to a lot of those guys who are over there waving their terrible towels, and just fans in general. A lot of love, thanks and respect go out from me and the rest of my teammates for them."

(on his thoughts of his grandfather) "I think about him a lot. Every day I think of him. His picture is in my locker and before and during every game I'm thinking about him. He never got to see a Steelers game live, but I'm lucky now because he gets front row seats to every game."

(on Seattle getting so many sacks) "You don't know where the pressure comes from. They bring it from all over. I think their leading guy only has nine or ten sacks. So many guys have one, two, three sacks because they bring pressure from all over
and that's going to be the challenge for us offensively - trying to figure out where they are coming from and how are we going to pick it up. I think making adjustments during the game is going to be key. Our offensive line and running backs will have to figure out where they are coming from in between series and halftime so we can make adjustments and hopefully not let them get to us again."

(more on Findlay and how it has changed from Browns to Steelers fans) "It's a great place to grow up. It's a smaller version of Pittsburgh. The transformation I've seen is awesome. Growing up everyone was a Browns fan around there and you go back there and you don't see very much orange and brown. You see a lot of black and gold and that's just awesome."

(on if he plans on going to Bettis' mom's house for dinner) "Absolutely. That's good cooking right there. I'm looking forward to just being at her house, having good food and enjoying the time with the guys and his family."

(on what Bill Cowher is saying to the team) "Coach is just reminding us to stay focused. He's got a lot of confidence in this team and that we know what to do to stay focused. He's just telling us to be smart."

(on if the team will really get down to business starting Wednesday) "Oh yeah, we are always serious. We like to have fun. We are a fun team but we'll get to business and get going."

(on it taking 13 years for Bettis to get here but only two for him) "That's a crazy thing that someone could play that long in the NFL and not get to a Super Bowl. Some guys never get to a Super Bowl and then like I said, there are people like Danny Marino who get there in their second year and don't get back. You don't take it for granted and you enjoy every opportunity of it."
Mates I have lots of NFL Super Bowls MYKwebTV from Super Bowls 37, 38 and 39.
Super Bowl 37, 38 Click here Super Bowl 39 Click here and lots lots more NFL Comedy and babes MYKwebTV at Me and Moose's Mates Club Click here " Myk Aussie

"New Cwoc Pammy and the real Pamela Grey Cup 05 TV Click here" Myk
Updated Tues Jan 24, 06 "Steelers and Seahawks to play in the XL Extra Large Super Bowl! Super Bowls 37, 38 and 39 MYKwebTV!" Myk Aussie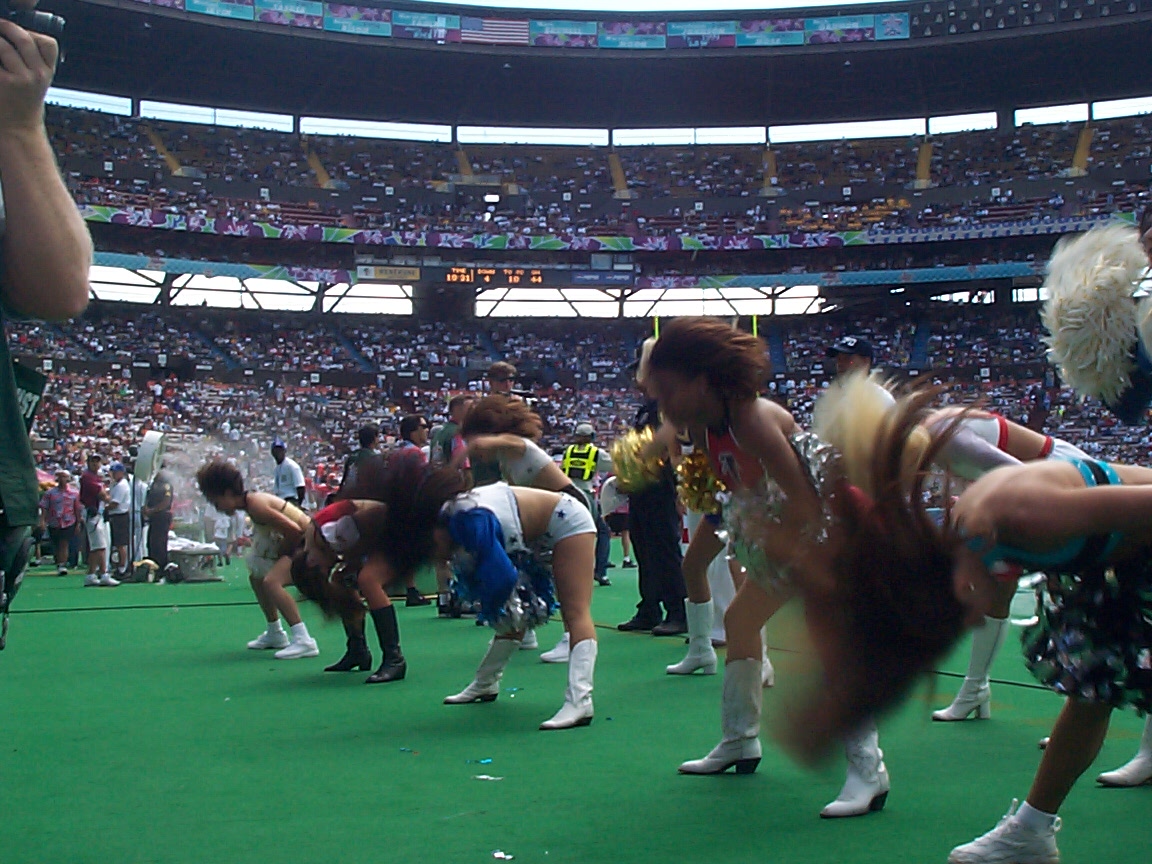 Even though the Steelers defeated my #1 team the Bronco's I think the Denver Bronco's have the best cheerleader outfits as we again saw "briefly" yesterday on CBS's coverage. Here is a great photo of the #1 NFL cheerleaders from each team that I took from a recent Pro Bowl.
NFL Championship game results. The Pittsburg Steelers deserved the 34 to 17 victory yesterday over my #1 team the Denver Bronco's! They simply outplayed the Broncos!
It will definitely by a XL Extra Large Super Bowl 40 as Jerome Bettis the Steelers HUGE Running Back will be playing! There will be lots of media talk over the next 2 weeks about the game to build it up but I believe the Steelers will be too good for the Seahawks and will end up winning the Super Bowl easily.
Mates I have lots of NFL Super Bowls MYKwebTV from Super Bowls 37, 38 and 39.
Super Bowl 37, 38 Click here Super Bowl 39 Click here and lots lots more NFL Comedy and babes MYKwebTV at Me and Moose's Mates Club Click here " Myk Aussie

"New Cwoc Pammy and the real Pamela Grey Cup 05 TV Click here" Myk
Thurs, Nov 11 04 "Steelers vs Browns "Shitta me pants" week 10!" Myk Aussie
From NFL Media
AFC'S OLDERST RIVALRY, clubs meet for 105th time, including 2 playoffs……

STEELERS: Club ranks No. 1 in NFL in both rush offense (160.8) & rush defense (81.0). Head coach BILL COWHER is 16-5 (.762) in career vs. Cle. Cowher is 7-1 (.875) vs. Browns' BUTCH DAVIS……Rookie QB BEN ROETHLISBERGER (No. 11) is native of Findlay, OH, 124 miles west of Cleveland. Rookie has 100.0+ pass rtg in 5 consecutive games w/ 8 TDs vs. 2 INTs in those 5. With win, sets record for most winning starts by rookie QB to begin career, surpassing MIKE KRUCZEK (Pitt., 6, 1976)……RB DUCE STALEY has 4 100s in past 5 games played. Rushed for 117 yds on 25 carries w/ 1 TD in Wk 5 meeting. RB JEROME BETTIS rushed for 149 yds vs. Phil. last week, his most since gaining 163 vs. Cle. on 11/11/01 (41 games ago). Bettis (12,631) needs 109 yds to surpass HOFer TONY DORSETT (12,739) to be NFL's 5th-leading rusher all-time…… Among players w/ 24+ catches, WR PLAXICO BURRESS has highest rec. avg. of 20.4 yards……Defense (261.6) tops in AFC. LB JAMES FARRIOR (3) tied for 2nd-most FRs by defensive player. Club tied w/ NE for AFC-high 24 sacks……

BROWNS: Club is 3-1 at home & aims for 1st 4-1 home start since 1994 when team was 11-5 & made playoffs. Offense has scored 21+ pts in 3 of past 4……In 4 home games, QB JEFF GARCIA has 7 TD passes & 2 rushing TDs vs. 3 INTs ……RBs WILLIAM GREEN & LEE SUGGS have combined for 134 & 142 rush yards in past 2 home games……In 1st 2 games w/ Browns after trade from Dallas, WR ANTONIO BRYANT has 6 catches for 69 yards (11.5 avg.). TEs AARON SHEA & STEVE HEIDEN combined for 138 receiving yards & 1 TD on 15 catches in past 2……In past 3, opponents' leading rusher averaging 62.0 yards/game. DE EBENEZER EKUBAN tied for 3rd among AFC DEs w/ 5.0 sacks. Club denying 1st down on 30.2 pct. of 3rd down tries, 2nd-best in AFC……K PHIL DAWSON has kicked club-record 26 FGs in row & is only kicker not to miss this season. Dawson has made 100 of 119 career FG tries, making him NFL's 2nd-most accurate of all-time, min. 100 FGs made. KR-WR RICHARD ALSTON recorded 93-yd KOR-TD last wk at Balt.

It is so cool to be the only Aussie that has regularly reported on the NFL for the past 5 years. Yep that's me, I have had NFL media passes at Super Bowl's, Pro Bowl's and other NFL games. Thus I am allowed into the NFL Media section and allowed to post their great reports on here. Much more coming over the coming weeks." Myk Aussie

Sept 04 "Cwoc Fanny Anny Thraxy's favorite NFL team! Moose's Pittsburgh Steelers report!" Myk Aussie
"The beautiful Fanny Anny Thraxy my MYKwebTV and Total-CFLwebTV star co-host loves the Steelers. You can see Anny in many of my shows over the past 3 years" Myk Aussie
"Pittsburgh, Team's alltime record: 420 wins, 429 losses, 19 ties. Coach: Bill Cowher. QBs: Ben Roethlisberger, Tommy Maddox, Canadian Brian St. Pierre and injured hometowner, Charley Batch. The Steelers have QB depth-a-plenty and could trade both St. Pierre and Maddox in the offseason, as long as Batch gets back healthy. When he was at his best in Detroit, he was a mobile threat. 34-year Steeler Assistant / RB Coach Dick Hoak deserves a lot of credit. No other position Coach in Pro Football has spent his entire career on the same team that he retired from as a player. What a good guy. And he likes Pittsburgh, too.

Duce Staley's acquisition makes that broken down Bus expendable or at least, mostly, puts him up on blocks in the garage. They shouldn't have cut Chris Fuamatu-Ma'afala last season. Believe me, it wasn't Hoak's idea. He was a gift to Jackson- ville that could come back to haunt Pittsbugh in the playoffs. Cowher is a Coach that has to be watched for a loonnggg time to be apprecated. Personally, I've never been a fan of his. But he does win a lot and mostly in the regular season. He isn't, unfortunately, much of a playoff Coach, something he inherits from his mentor, San Diego's Marty Schottenheimer, who gave him his first job. But the Steelers' meatheads in the front office re-upped him for another 4 seasons. At least he was smart enough to let Kordell (Slush) Stewart go to Chicago last year with that hefty paycheck. He's currently number 4 with the Ravens.

The two best players on Defence are two kanakas; DLm from Waipahu, Kimo VonOehlhoffen and CA. S Troy (My Boy) Polamalu, who could be a star for the next decade. P/H Josh (Balt. Stallions) Miller fled to Super Bowl Champ New England after hearing just about enough of Bill Cowher's mouth for this lifetime. RB/WR/KR/PR Antwann Randle EL IS THE MOST EXCITING player in the League this side of Dante Hall or Tim Dwight. He can play four positions well. Cowher has always had a good eye for versatile play- ers though. Stewart, when his head was on right, was good the first four years he played here. Pittsburgh will make the playoffs and ge smashed as they always do under Cowher. But Heinz Field will love Roethlisberger. Could I get one of those to go? Hold the onions and add a fried egg up top and mayo!" Moose
Myk and Cwoa's Cool Women Of America!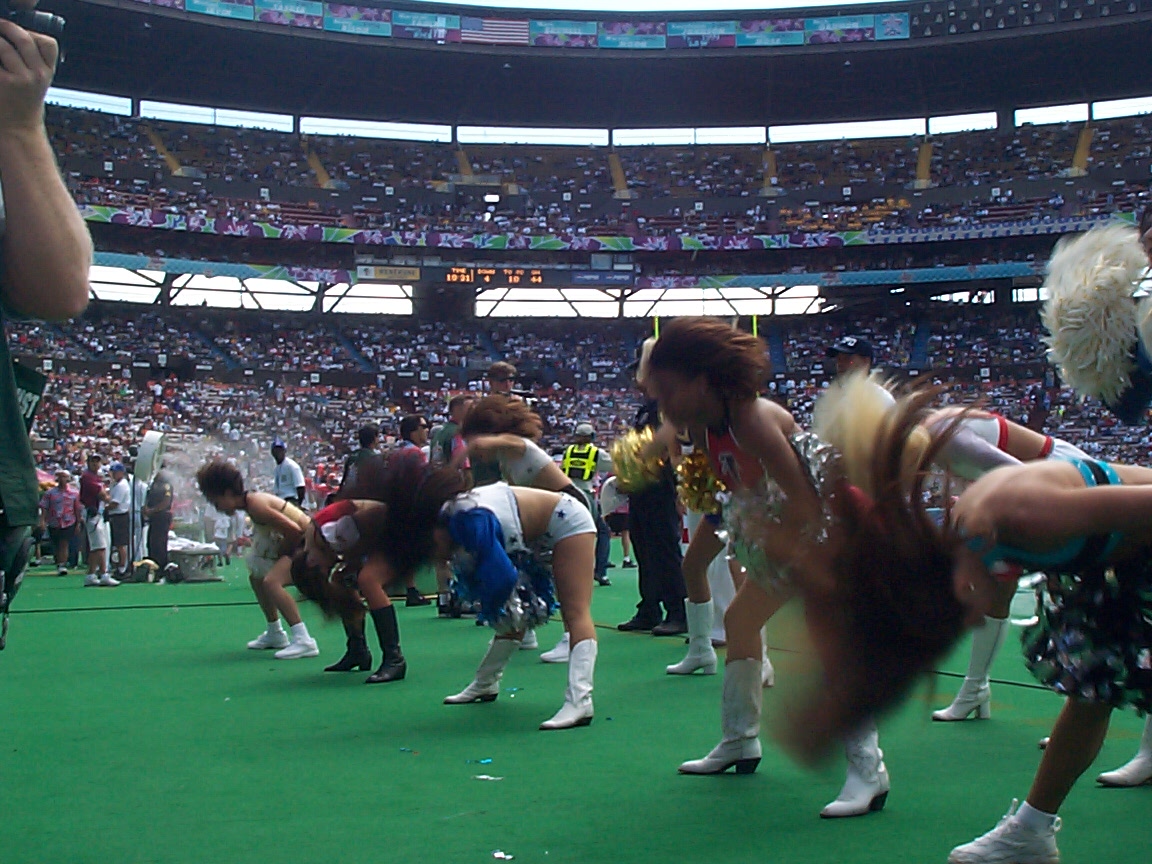 "Mates Melissa the Dallas Cowboys cheerleader in the Blue & White is my friend. The #1 Dallas Cowboys & Pro Bowl cheerleader Melissa came to Calgary for a tanning promotion not long after I met her at Pro Bowl 2002 week. I met up with Melissa briefly that day in Calgary. Melissa has been a "Myk's Mates Club member" for the past year enjoying my MYKwebTV & comedy webWORLD.
Myk and Cwoa's Click here
Lots more Myk and Cwoa's on Myk's Mates Club Click here

I have finished the New Massive Mates Club webWORLD. I hope you can join me in Mates Club for hours of NFL Sports, Comedy, Babe TV, your existing email link will get you to the new Mates Club Massive Menu or Click here" Myk