"You can also hear me often talking NFL many Friday nights on Gabriel Morency's Sports Rage now on morencysports.com. Fri 8-11pm Pacific CDN/US time. If you are new to MYKwebWORLD and you want to know what I do this is a great article Click here
May 06. I have finished the New Massive Mates Club webWORLD. I hope you can join me in Mates Club for hours of NFL Sports, Comedy, Babe TV, your existing email link will get you to the new Mates Club Massive Menu or Click here" Myk

Check out Myk at NFL MYKwebTV NFL Super Bowl NFL Pro Bowl MYKwebTV

Feb 06 "Weekly NFL reports on NFL webWORLD!" Myk Aussie

Check out the massive NFL webWORLD Click here" Myk

Tues Oct 18, 2011. "Carson Palmer is now a Raider! I am now thus a bit more of a Raider fan!

Why have I always liked NFL Carson Palmer? Oh thats right I got to sit with the Heisman Trophy just after he won it. For this NCAA MYKwebTV show and more Click here For the YouTube.com MYKwebTV show Click here

I don't ever really feel sorry for a star athlete making millions of dollars but I kind of did for Carson as the QB and the leader of the Bengals. There were many criminals/guys getting arrested on that team. Carson always seemed to be a great leader and nice guy." Myk Aussie
Updated Sat Oct 16, 10. "My three week 6 NFL bets includes the Raiders! In NFL week 5, Oakland Raiders have a great win at home against the San Diego Chargers, 35-27! Friday night Sept 17, I was talking NFL on Sports Rage with Gabriel Morency, Listen and watch now! Listen now. I got on The Jim Rome radio show Wed July 7 which has approx 4 million listeners and talked sports! Talking sports and often NFL on 5AA South Australian radio many weeks with Jeff Burzacott. Listen Live on the web! 153 of my 175+ Sports MYKwebTV and TotalCFLwebTV shows including lots of NFL are now on my YouTube.com Directors Channel!" Myk Aussie
Left: I'm on the sidelines with NFL Pro Bowl players and cheerleaders. This MYKwebTV show became part of the YouTube Partner Program recently when it reached 125,000 views. To watch this popular TV show on YouTube Click here Right: I'm at the Raiders media day at Super Bowl XXXVII in San Diego. Pictured is Raiders John Parella who I knew from the interview with Darren Bennett in the Chargers locker rooms when John was a Charger. For the MYKwebTV shows from Raiders media day and more from Super Bowl XXXVII Click here

Check out the massive NFL webWORLD for the above headline stories Click here
My three week 6 NFL bets includes the Raiders!

This week I have gone for 3 underdogs. What a very unpredictable NFL season it has been so far.

1) Washington Redskins +3.5 on Sportsinteraction.com

The Indianapolis Colts have had a average start to the season while the Redskins have played excellent at home, this game is in Washington. It is the +3.5 that made me decide on betting on the Redskins. Also several of the NFL experts on the NFL Network believe the Redskins will win this game. Should be a close game.

2) Baltimore Ravens +3 on Bodog.com

This should be a great game as the Ravens travel to New England to take on the Patriot. I think the Ravens will win in a close game.

3) Oakland Raiders +7 on Sportsbook.com

The Raiders, I'm betting on the Raiders? I must be loosing it! I don't think so, the +7 is very attractive. I actually think they will win the game as well. They are on the road, but not that far as they travel to take on the winless 49ers in San Fransisco." Myk Aussie

Sun Feb 3, 08 "New Sports jersey Frames. The 1st shipment ever to Nth America. Order now! Massive amounts of NFL MYKwebTV!" Myk Aussie

Raider fans sorry about the Steelers jersey below.

New Sports Jersey Frames! The 1st shipment ever to Nth America! Order now! Available now for Christmas! They are awesome! The jersey hangs great in these High quality Sports jersey display cases. For contact and ordering Click here
I hope you can join me and Moose in the new Massive Mates Club for hours of NFL, Sports, along with Comedy Babe TV Click here" Myk Aussie
Wed, Sept 11 07 "Jamarcus Russell the number 1 draft pick this year finally signs with Raiders, a whooping $61 Million 6 year deal, $30+ million guaranteed and he hasn't
even played a game yet! This is the riches deal ever for a rookie! Wow! Good on him I suppose but I wished he was at the Raiders training camp from day 1! Moose's picture from his recent trip to the Pro Football Hall Of Fame!" Myk


"John Madden Coach, Fred Bilentnikoff WR, Gerorge Blanda QB-K, the original Oakland Raiders team display at the the Pro Football Hall Of Fame!" Moose Salzer

Mon, Aug 21 06 "Moose's Raiders 06 preview! Lots of NFL MYKwebTV!" Myk

From Moose "Oakland Raiders, 47th year. One AFL title, Three of four in Super Bowls, one win in Los Angeles. 2005 Record: 4-12-0. Coach (back from 11 seasons ago!) Art T. Shell. QBs: Aaron Brooks (Yikes!), Marques Tuiasosopo, Walter Green. Other Key players: LB Henri Crockett, OLB Thomas Howard, S Mitchell Huff, K Sabastian Janakowski, DE Lance Johnstone, CB Duane Starks, DLm Warren Sapp. What next? It was a real pity to see 75 year old Al Davis in his walker at the Hall-of-Fame proceedings earlier this month but time waits for no man. He did give a great talk to intro Big John Madden (112 wins faster than any Coach in Pro Football history).

Gone from last years' 4-12-0 disaster, if you want to call them a team are: Coach/Offencive Coordinator Norv Turner (thank god!), QB Kerry Collins (could be a BIG mistake) and many more vets, as the Raidahs cleaned house. So after interviewing several semi-interested candidates, Davis picked 'One of their own', in Art Shell, who Davis says, "Never should have left" Well, Al, you FIRED him! Shell won 58% of his games and in the meantime, he Ast.H.Coached the Falcons to their only Super Bowl appearance and Coached the hated Chiefs (THE CHIEFS!) Offencive Line and Exect. Dir. NFLE. Shell doesn't have much to work with. WHEN YOU LOSE for Al Davis, you get a quick bus ticket, as Turner and Collins found out.

In comes a QB that nobody else wanted, Brooks who was awful for New Orlean last year and Tuiososopo, who was awful here in releif. Also young Ariz.St. Walter is still waiting his turn in the rotation. Hope is he isn't another Todd Marinovich! Let's see, the RBs are average, the WRs poor and the TE left for Jets. Hhmmm...

On to the Defence: What Defence? Warren Sapp, who yelled at Turner once too often on the sidelines last year 'cause Turner wouldn't let him play TE once in awhile, has ballooned to 311 lbs! The Special Teams have only reliable K Janikowski to bail them out. Predicted Finish; If Denver REALLY slips, they may escape the cellar of the AFC West, but remember, no matter how bad Denver gets this year, Davis screwed Mike Shanahan out of his job back in '89, too! Denver will have plenty of incentive to back Oakland into the corner and pummel them too! 6-10-0 would be a miracle." Moose

"If you would like to add your comments about how you think the Raiders will go in 06 or comment on Moose's preview above please email me myk@mykaussie.com and I will add your report.

You can hear Moose weekly on Gabriel Morency's SportsRage Montreal Team 990 AM sports radio and on the Internet talking NFL Footy many Friday nights around 1am Eastern US and CDN time. I'm on late around 1.30-2am EST Friday or Monday nights as well talking sports in a comedy/crazy style. I think Gabriel Morency is the best sports radio guy in the World. To me he's like the Howard Stern of sports. I'm very confident you will like his show. To listen
Click here

Massive amounts of NFL TV! Several weeks ago I finished the New Massive Mates Club webWORLD. I hope you can join me in Mates Club for hours of NFL Sports, Comedy, Babe TV, your existing email link will get you to the new Mates Club Massive Menu or Click here" Myk

Mon, Feb 13 06 " Raiders re hire Art Shell as Head Coach! Bill Romanowski's Book is
amazing! Raiders MYKwebTV!" Myk Aussie

Raiders fans Bill Romo's new book titled "My Life on the Edge, Living Dreams and Slaying Dragons is unbelievable. I'll be writing more on this real soon. I'll be writing more on this real soon. I have unreal Raiders MYKwebTV from Super Bowl Media Day in San Diego. Unfortunately the Raiders lost, I was rooting for them but the interviews with the Raiders star players including Romo was one of my best sports highlights ever. Click here

From Moose "Raiders finally hire a Head coach! Art Shell is gone as Director of NFL Europe. Going back to "finish what he started" as Coach of ancient Al Davis Raiders. It'll take more than Art, but it is a good move. Is it too late? We'll have to wait to see. Shell, after being fired from the Raiders in late '94, went on to help the Atlanta Falcons get into the Super Bow as Ast. H. Coach/Offencive Line Coach for Dan Reeves Falcons. Then he was Offencive Line Coach of Kansas City also before being moved in the NFL's from office. Good luck back in Oakland Art, and welcome back." Moose

"Comedy based Super Bowl and other NFL MYKwebTV shows! Over the coming weeks on Myk's Mates Club I will be re playing some of the Comedy based Super Bowl MYKwebTV shows that I have from my past 3 trips to the Super Bowl weeks. Click here

Unfortunately no Super Bowl XL MYKwebTV shows but I have lots of Comedy based NFL Super Bowls MYKwebTV from Super Bowls 37, 38 and 39. Super Bowl 37, 38 Click here Super Bowl 39 Click here and lots lots more NFL Comedy and babes MYKwebTV at Me and Moose's Mates Club Click here

"New Cwoc Pammy and the real Pamela Grey Cup 05 TV Click here" Myk Aussie

Tues Aug 16, 05 "Moose's Oakland Raiders NFL 05 preview!" Myk

Wow! The Raiders had a huge signing in the offseason as the best WR in the NFL Randy Moss left the Vikings for the Raiders. This may seem weird to many NFL fans but I'm a Bronco's #1 have always liked the Raiders. With Randy Moss there from the Vikings who have been my equal 2nd favorite team I will definitely be rooting for the Raiders in most games this season. Now I'm back in Vancouver I also hope to make a trip or two to San Fran to report on the Raiders along with visiting a company that backs the Java based Clipstream Video that you see throughout MYKwebWORLD and Total-CFL.com. I have met Warren Sapp at Pro Bowl along with backstage at the Jimmy Kimmel show along with also meeting John Parella when he was a Charger and many of the guys at Super Bowl 37 Media Day A extra special good luck to the Raiders now that Randy is there.

Have you watched the NFL Pro Bowl 03 MYKwebTV show in the small screen to the left above. I ask the Raiderette cheerleader if she kidnapped Barrett Robbins the week earlier at the Super Bowl. She couldn't believe I asked her that then she realized I was only joking. Funny stuff." Myk

From Moose "Oakland Raiders, 46th year, Coach (?) Norv Turner [for how long?!} QBs: Rich Gannon (can he come back?), Kerry Collins (have gun, will travel) and Marques Tuiasosopo, draftee Andrew Green. Other Key (?) players; DLm: Warren Sapp, Akbar Gbaja-Biamila, [John Parella, three Super Bowl losses with three teams, has retired], RBs: Zack Crockett, Tyrone Wheatley, K Sabastian (Seabass) Janikowski, WR: Ronald Curry and big recruit Randy Moss Outlook: Two ways to look at Da Raidahs in '05; Bad and Worse. Well…not as bad as the Giants, 49ers, and Dolphins, especially since Ricky (ZigZac) Williams is back, man. If Rich Gannon can play and has anything left in his 39-year-old QBing body, not bad, maybe 8-8-0 or 8-7-1. But if Mr. INT., Kerry Collins or injury-prone Tuiasosopo are pivoting this club – they're doomed.

Things looked so bleak in mini camp this spring, that newly acquired FB Rob Konrad, from Miami retired and Parella, Myk's mate, who reupped, did the same. The Raiders are on last legs, have a murderous schedule and are in a brutal Division. Kansas City cannot have all the injuries they did last year and Chargers and Broncos are just way better. Not to mention that the Jimmy Johnson Curse still haunts Turner, alleged Offencie Guru. No Jimmy Johnson protégé from the old Dallas Three Super Winners teams of the '90's has made it as a H. Coach on his own. The SECONDARY WILL BE IMPROVED with Woodson back but the Special Teams is average and won't help Green won't be ready until George W. Bush is ready to leave 1600 Penn. Ave. Predicted finish:

Last AFC West, 6-10-0" Moose

"Myk Aussie is the best NFL Cheerleaders interviewer Click here" Joe

Thurs, Nov 11 04 "Raiders update!" Myk Aussie

From NFL Media

OAKLAND (3-6): QB KERRY COLLINS has 230+ passing yards in past 3 games & is completing 55.4 pct. of 4th quarter passes (41 of 74)……RB TYRONE WHEATLEY has 3 rushing TDs in past 2 games. Wheatley is 5 for 5 in 3rd & 1 rush attempts. RB AMOS ZEREOUE has 3 TDs through 9 games; scored 2 TDs in all of 2003 w/ Steelers. Zereoue has catch in 8 consecutive games……WR JERRY PORTER has 4+ catches in 6 of 8 games. WR RONALD CURRY stands 6th in AFC w/ 13 catches on 3rd down w/ 2 TDs. WR DOUG GABRIEL averages 17.9 yards per catch on 19 receptions. TE DOUG JOLLEY has 147 rec. yards on 10 catches & 1 TD in past 3……Defense ranks 4th in AFC in rush yards allowed per attempt (3.7). D-linemen TED WASHINGTON, WARREN SAPP, & TYLER BRAYTON have started every game this season……P SHANE LECHLER leads NFL with 48.5 avg. on 37 punts. No punter in history has averaged 50.0 yards for season.

It is so cool to be the only Aussie that has regularly reported on the NFL for the past 5 years.
Yep that's me, I have had NFL media passes at Super Bowl's, Pro Bowl's and other NFL games. Thus I am allowed into the NFL Media section and allowed to post their great reports on here. Much more coming over the coming weeks." Myk Aussie

Tues Sept 14, 04 "Lots of Raiders MYKwebTV! Moose's Oakland Raider 04 preview!

Raider fans and yes even though I am a Bronco #1 but also a Raider fan as equal #2. I was the only Bronco "Donkey he called me" ever allowed into MikGaz Raider Nation Black Dungeon in Montreal. I have interviewed champ Bill Romanowski several times, met Warren Sapp at Pro Bowl and backstage at Jimmy Kimmel Live, been to several Pro Bowl and filmed Rich Gannon and Tim Brown is one of my very favorite NFL Players. Raider fans you will love my MYKwebTV especially from Super Bowl XXXV11 and Pro Bowl when I ask the Raider cheerleader if she was responsible for Barrett Robbins going missing at Super Bowl. Refer to the video to the left at the top.

Here's Moose's 04 Raiders preview


Oakland Raiders, AFC West, Coach: Norv Turner, QBs: Rich Gannon, Kerry Collins, Marques Tuiasosopo, (WR/DB) Ronald Curry (possibly the best High School Player ever out of Virginia). Last year's disasterous Raiders ended the season with the QBing contingent of Rick Mirer (now with desperate Detroit), Tee Martin (now with desperate Winnipeg of the CFL) & Doug Flutie's old buddy, Rob Johnson, who's out of Pro Football altogether. Gone is Coach Bill Callahan, who opined that his guys just weren't smart enough to win four games. He was correct, especially after courageous Rich Gannon and athletic Marques Tuiasosopo got knocked out for the year. Enter ex- New York Giant Super Bowl starter Kerry Collins, who also had mix- ed results as a pivot in New Orlean and Carolina. Collins got bumped so the Giants could sign ex-Saint Louis and Arena Football star Kurt Warner.

Enter big Ted Washington and Warren Sapp, DLm to help clog the middle of the line. Both are past their primes. Gone, to Tampa is Fairfax, Virginia's Charlie Garner. In comes new Coach Norv Turner, who never got things turned around in his six + almost seven seasons in Washington. The offencive line is the key and as long as the Raiders try to re-cy- cle Super Bowl AWOL Barret Robbins, they are trying to swim upstream. Barry Sims, Lincoln Kennedy, Adam True, Brad Badger are good, but fading away. Huggy's Bear's boy, Justin Fargas is fast but a fumble-prone back who should never be a starter on a good team, which the Raiders are not yet.

On the Defencive Line: John Parella, poor guy - he's lost three Super Bowls with three teams, teams with Sapp, Washing- ton and quick end Akbar Gbaja-Biamila (try saying that five times real fast). Chris Cooper adds depth, but not enough. The Raider are in a touch division since realignment; Denver and Kansas City are infinitely better and San Diego is much younger and has three good QBs. With Bil Romanowski, Hall-of-Fame bound after a great but controversial career (Five Super Bowl appearances, the only LB in NFL history to do it), the rest of the crew here are: Napoleon (There always seems to be a Napoleon on this team) Harris, Dwayne Rudd, who used to be very good with Minnesota and Donnie Green, these are the starters, god help the Raiders! The big decision in camp seemed to be where to permanently move talented perennial practice squad QB, Curry. He will play WR after the release of Tim Brown, who was reunited with Jon Gruden in Tampa Bay. The other Receivers are: Doug Jolly at TE, Romanowski's old punching bag Roland Williams.


The Raiders should have drafted better here. But then, Al Davis allegedly knows everything. The secondary could be a good Dept. with Ray Buchanan, Charles Woodson, who also can play WR, Derrick Gibson, Dennis Walker and other CB Nnamdi Asomugha (another member of the all name team). No matter which QB does the bulk of the playing (don't expect Gannon to be benched unless the team goes 0-3 or some- thing) they will be running for their lives. This team is old and even the Punting and Kicking needs an ungrade. They will break even, at 8-8-0 but fourth place in the Division is inevitable. Predicted Finish: 8-8-0. Fourth place AFC West. Sorry, MikGaz Raider Nation!" Moose

Myk and Cwoa's Cool Women Of America!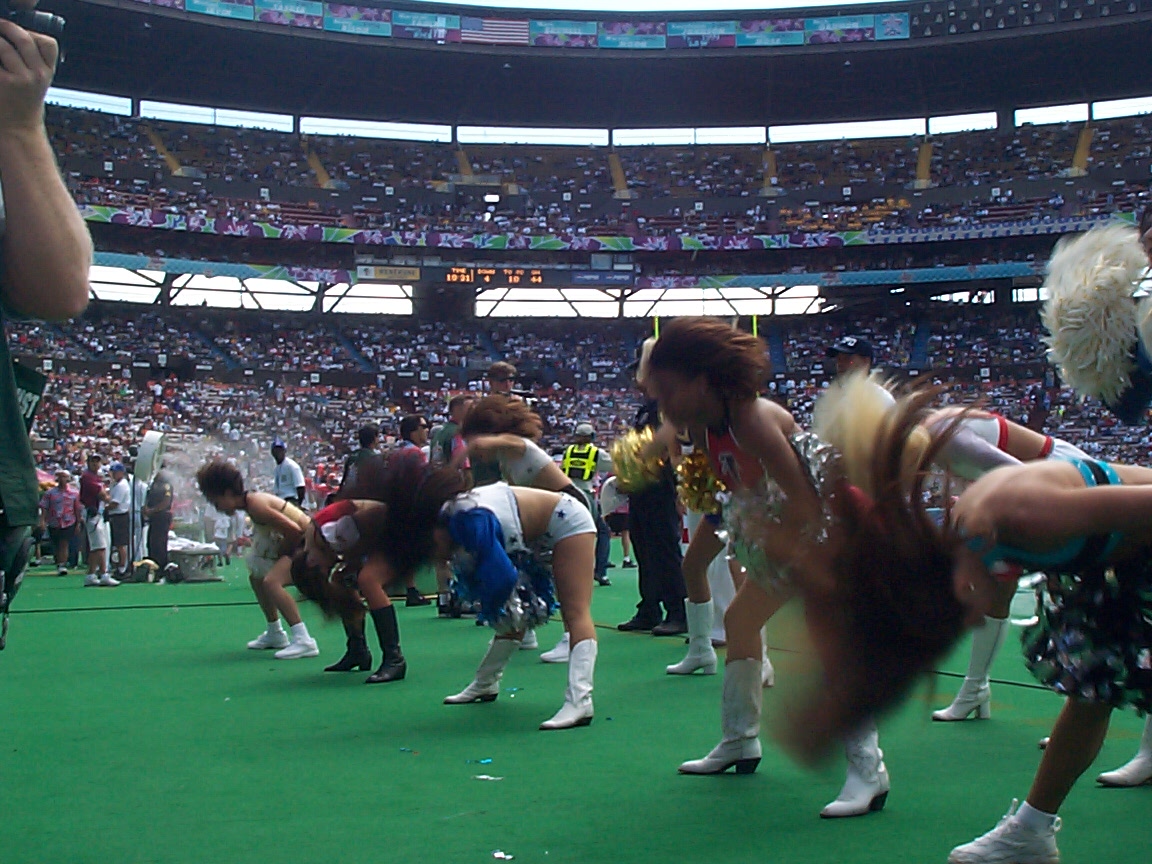 "I'm sure there is a Raiderette in there somewhere! Mates Melissa the Dallas Cowboys cheerleader in the Blue & White is my friend. The #1 Dallas Cowboys & Pro Bowl cheerleader Melissa came to Calgary for a tanning promotion not long after I met her at Pro Bowl 2002 week. I met up with Melissa briefly that day in Calgary. Melissa has been a "Myk's Mates Club member" for the past year enjoying my MYKwebTV & comedy webWORLD.
Myk and Cwoa's Click here
Lots more Myk and Cwoa's on Myk's Mates Club Click here


May 06. I have finished the New Massive Mates Club webWORLD. I hope you can join me in Mates Club for hours of NFL Sports, Comedy, Babe TV, your existing email link will get you to the new Mates Club Massive Menu or Click here" Myk