"You can also hear me often talking NFL many Friday nights on Gabriel Morency's Sports Rage now on morencysports.com. Fri 8-11pm Pacific CDN/US time. If you are new to MYKwebWORLD and you want to know what I do this is a great article Click here
I hope you can join me in Mates Club for hours of Sports, Comedy, Babe TV Click here" Myk
Check out Myk at NFL MYKwebTV NFL Super Bowl NFL Pro Bowl MYKwebTV
If you are new to MYKwebWORLD & want to know what I do this is a great article Click here

Sat Sept 25, 10. "In NFL week 3, I picked Vikings for 13 pts in the great tipping contest that I am in! Friday night Sept 17, I was talking NFL on Sports Rage with Gabriel Morency, Listen and watch now! Listen now. I got on The Jim Rome radio show Wed July 7 which has approx 4 million listeners and talked sports! Talking sports and often NFL on 5AA South Australian radio many weeks with Jeff Burzacott. Listen Live on the web! 153 of my 175+ Sports MYKwebTV and TotalCFLwebTV shows including lots of NFL are now on my YouTube.com Directors Channel!" Myk Aussie


Check out the massive NFL webWORLD for the above stories Click here
From Tuesday Sept 21. My week 2 bets report!

My bets were Vikings –5.5 at Sportsbook.com
Philadelphia Eagles –6 at Sportsinteraction.com
New Orleans Saints –6 at Bodog.com. I thus went 0-3 against the spread.

Miami Dolphins defeated Minnesota Vikings 14-10.

The Miami Dolphins are a excellent team, adding Brandon Marshall this year, the excellent wide receiver was a great decision. Their defense played very well against the, in 09 high powered Vikings offense lead by Legend Brett Favre.

I thought the Vikings was a safe bet at home. Not to be." Myk Aussie
Tues, Aug 25 09 "Brett Favre a Viking, Wow! I'm at a Packers vs Vikings game, MYKwebTV movie/doc!
Wow! It was weird to see Brett Favre in a number 4 Vikings jeresy in his 1st ever game with them. I've talked about this great
crazy night before on here but what a great TV show it is to highlight now as I'm at a Packers vs Vikings Monday Night Football
game filming Brett Favre on the sidelines and then in the Packers rooms wanting to interview him. The DVD version of my
movie/documentary will feature the 20-30 secs of game footage of Brett Favre at QB. If I can't get permission from the NFL
for this footage I will have to pay them for the footage. Over the weekend I re-edited the 12 minutes from this game for the
new version of the movie/documentary. Here is the MYKwebTV with some of this footage from a great crazy night Click here" Myk
Sun Feb 3, 08 "New Sports jersey Frames. The 1st shipment ever to Nth America. Order now! Massive amounts of NFL MYKwebTV!" Myk Aussie

Cardinals fans sorry about the Steelers jersey below.

New Sports Jersey Frames! The 1st shipment ever to Nth America! Order now! Available now for Christmas! They are awesome! The jersey hangs great in these High quality Sports jersey display cases. For contact and ordering Click here

I hope you can join me and Moose in the new Massive Mates Club for hours of NFL, Sports, along with Comedy Babe TV Click here" Myk Aussie

Thurs, Aug 3 06 " Moose's Vikings 06 preview!" Myk Aussie

Minnesota Vikings, 46th season. NFC Norris Division, 2005 Record: 9-7-0. Have lost all four Super Bowl games played in but won one NFL Championship in 1969 before losing to the Hank Stram lead Kansas City Chiefs in Super Bowl IV. New Coach (1st year Pro) Brad Childress. QBs: Brad Johnson, who is 1-0 in Super Bowl 37 with Tampa Bay, Mike McMahon Philadelphia, F/A, Shaun Hill, Tory Woodbury Bills & NFL E. Other Newcomers to watch: Centre/G Ryan Cook 2nd round pick New Mexico, LB Chad Greenway 1st round pick Iowa, CB Cedric Griffin 2nd round pick NCAA Champ Texas, K Ryan Longwell Green Bay, OG Steve Hutchinson Seattle, LB Ben Leber San Diego, FB Tony Richardson K.C, RB Chester Taylor F/A Baltimore, Safety Thomas 'Tank' Williams F/A Tennessee.

Outlook: So the 9-7-0 finish wasn't good enough to satisfy new egomaniac Owner Ziggi Wilf (who I erroneously called 'Palffy' last year in this column. Sorry, NHL on the brain I guess), and jettisoned was good-guy Coach and 14-year NFL TE Mike Tice, who the players played hard to save after the disastrous Boat ride incident (Tice, it should be noted WAS NOT there...). Wilf got a good replacement in Childress from the Eagles, who may be slip-sliding away anyway. Obviously Childress saw enough in 37-yr-old Johnson, who closed the season 7-2-0, last year, to keep him as starter and along w/ number 3 guy, Hill, strengthened this area by adding the more mobile McMahon.

Offence shouldn't be the problem, it's the Defense , so they added:
Williams at Safety and Leber at LB. Special Teams got a boost with the addition of former Green Bay K Longwell one of the League's most accurate. All of the free agents should start and the Vikings draft was one of the best in team history.

Predicted Finish: They will win the NFC Norris, er, ah North for two simple reasons; (1) They are better than any other team, right here, right now in this Division and, (B) They are better than anybody else (Detroit, Chicago, slumping Green Bay) than the other teams in the Division, right now. Predicted Finish: 10-6-0, first round playoff loss or win depending the seeding v. who they match up with." Moose

"If you would like to add your comments about how you think the Vikings will go in 06 or comment on Moose's preview above please email me myk@mykaussie.com and I will add your report.

You can hear Moose weekly on Gabriel Morency's SportsRage Montreal Team 990 AM sports radio and on the Internet talking NFL Footy many Friday nights around 1am Eastern US and CDN time. I'm on late around 1.30-2am EST Friday or Monday nights as well talking sports in a comedy/crazy style. I think Gabriel Morency is the best sports radio guy in the World. To me he's like the Howard Stern of sports. I'm very confident you will like his show. To listen
Click here

Massive amounts of NFL TV! Several weeks ago I finished the New Massive Mates Club webWORLD. I hope you can join me in Mates Club for hours of NFL Sports, Comedy, Babe TV, your existing email link will get you to the new Mates Club Massive Menu or Click here" Myk

Sunday July 31st 05 "Moose's NFL Minnesota Vikings 05 preview!" Myk Aussie


Ever since my wild trip to Minnesota for the NFL Monday night Vikings vs Packers game the Vikings have been one of my favorite NFL teams. We will miss Randy Moss there is no doubt about that. Lets hope Aussie punter Darren Bennett again has a good year with the Vikings.

From Moose Minnesota Vikings, 45th year. Coach: Big Mike Tice, 6'8", former 14year NFL TE.

QBs: Duante Culpepper, Shaun Hill and former Super Bowl winner from Tampa

Bay, Brad Johnson. (Number 4 man, Jason Fife, like Johnson and Hill did stints

with the NFL E's) Other Key players: Canadian WR Nate Burleson, who replaces

'whatshisname'-#84, TE-FB Jim Kleinsasser, WR Marcus Robinson (who like

Fife 'prepped' with the Rhein Fire), DLm Mike Horvan, RB Onterrio Smith (who

needs to learn how to spell his name right!), Centre Matt Birk, DLm: Pat and

Kevin Smith (no relations), RB Mike Bennett. If it seemed like I concentrated

quite a bit on QBs and RBs above, you're getting the picture. Not since the days

of Henry Peter 'Bud' Grant and Francis Asbury Tarkenton, have the Viking had

so much depth at the Offencive Skill postions! No, Culpepper will never be all

that Fran Tarkenton was at the pivot position, unless he can WIN A SUPER

BOWL (remember they ARE 0-4 in Super Bowls), but after the season he had

last year, I don't doubt his potentional any more! Culpepper 'only' had the

7th best season AN NFL QB EVER HAD, statistically, even with Moss dropping

more passes than ever and with Brett Favre's Packers seemingly headed to the

their first NFC Championship game in many moons (not Warren!) Along

came Tice' overachieving, 8-8-0 Vikes to knock Green Bay out of the playoffs

and cause Packer Coach Sherman to lose his G.M. and Offencive Coordinator

positions. Well, nobody should have to wear three hats these days anyway.

Tice' eerily calm demendure allowed the Vikes to put of with Moss stupidity

for one more season until they could make a run in the playoffs and Culpepper

was real leader last year. What a season he had! I know, I know, it was still an

8-8-0 season but it's what you do in the playoffs that counts – MORE! The

Offencive Line has never been as good as when big Korey Stringer died several

years ago and the Defencive Line needs to bulk up after losing some depth to

Free Agency. The three starters, Horvan, and the Williamses did very well

and will continue to play at a high level. Losing Jeff Russell at DB, two years

after he lead the NFC in INTs, with nine, won't help. But Punter Darren Bennett

(lead the NFC with punts inside the 20 and 10 yard lines), is solid. The same can't

be said for 23-year NFL vet Mort Andersen, formerly of Denmark. He's old as

dirt for an NFL kicker and needs to be replaced. How about Ola (65-yd range)

Kimrin?

The Vikings will have a very difficult time making the playoffs but a 9-7-0

or 9-6-1 record is attainable – as long as Atlanta and Tampa Bay, or Seattle

don't spoil the party. Give Tice, who knows this game well (when he's not

selling his Super Bowl tickets – maybe he KNEW Minnesota wouldn't be there?).

Prediction: 9-7-0, second place to Green Bay in NFC North. Tice for Coach of

the Year? Culpepper for M.V.P? Both possibilities!" Moose

"Myk Aussie is the best NFL Cheerleaders interviewer Click here" Joe

"Do you want me to show you a demo/presentation/Live TV show with me as Myk Aussie? I have it all set up with a magnificent view of the Vancouver Harbor in the background! Clipstream Live Video to the web! Do you need to broadcast a sporting event, work conference etc, I have it Click here Call me to discuss 1 604 609-7736 ext 240" Myk

Thurs Nov 11 04 "Vikings vs Packers week 10! One of my favorite rivalries" Myk Aussie


From NFL Media

MINNESOTA VIKINGS (5-3) at GREEN BAY PACKERS (4-4): One team coming off three wins (and a bye), one coming off two losses, including this past Monday night.

But this is Green Bay-Minnesota outside in the Wisconsin cold…a division game…and a "great rivalry," says quarterback BRETT FAVRE of the three-in-a-row Packers. That is true. The series, begun in 1961, is tied, 42-42-1, and has been split the past three seasons.

In spite of their two consecutive losses, the Vikes still rank as the NFL's top offense, averaging an explosive 414.0 yards per game with or without injured receiver RANDY MOSS. The key to that production, of course, is unpredictable quarterback DAUNTE CULPEPPER, the league's second-ranked passer (115.0) who has averaged almost 40 yards rushing against Green Bay (39.8).

Matchup to watch: A rejuvenated Green Bay DL, keyed by the recent return of NT GRADY JACKSON, against a rush attack that has averaged at least 4.0 yards per carry in 18 consecutive games.

It is so cool to be the only Aussie that has regularly reported on the NFL for the past 5 years. Yep that's me, I have had NFL media passes at Super Bowl's, Pro Bowl's and other NFL games. Thus I am allowed into the NFL Media section and allowed to post their great reports on here. Much more coming over the coming weeks." Myk Aussie

Wed Sept 8, 04 "Scott's Minnesota Vikings 04 Preview!" Myk Aussie

Minnesota Vikings
Overall Record: 313-244-9 - NFL Titles - 0
Super Bowl Appearances - 4 (0-4)
Lost to Kansas City 23-7 in Super Bowl IV
Lost to Miami 24-7 in Super Bowl VIII
Lost to Pittsburgh in Super Bowl IX
Lost to Oakland in Super Bowl XI

Coach: Mike Tice - 15-18 in 2 seasons.

2003 record: 9-7 (2nd in NFC North)

2003 review: After starting off 6-0, the Vikings finished weakly in the last nine games, going 3-6. The last play in the last regular season knocked out the Vikings. Their opponent, the Arizona Cardinals won on a last play 28 yd. TD pass from Josh McCown to win and knock out the Vikings. The Vikings were up 17-7 with about 5 minutes to go in the game. The Vikes became the first team since the 1978 Redskins to start the season 6-0 and miss the playoffs.

2004 outlook: Three years of very good drafts have produced a potential contender for the NFC crown. Their first round pick, Kenechi Udeze, should provide Purple Pride with a much needed pass rush. Antoine Winfield was signed from free agency from the Bills to be their shutdown corner. Changes were made in the defense in the offseason. The rather slow defense was exposed during the year, and became worse statistically as the season wore on. The biggest question mark is whether or not the collapse in 2003 will destroy their progress, or will it serve as a learning tool.

Strengths: Offense - Dante Culpepper was the highest rated qb in the NFL in 2003. His 11 interceptions shows that he is getting better with age, and should not be a tight end or LB. Gus Frerotte, when he is not ramming his head on the side of the wall in celebration, performed admirably when Culpepper was injured for a couple of games. Some believed that the offense worked better under the Gus Bus. However, Gus likes his role as a backup in their system.

The running back combo of speedy Onterrio Smith (suspended for the first 4 games), powerback Moe Williams, and good overall Michael Bennett is second only to the Packers in depth.

Receivers: One name, Randy Moss. He changes a game, and IS always a threat to go deep. He had 17 touchdowns last year, and could match it again this year.

Weakness: Defense: Although improved with younger and faster talent than 2003, the biggest question is if they can stop the opposition. If Udeze provides a good pass rush and Winfield shuts down the opposing receivers, the Vikings will be better in 2004. If not, look for a bunch of shootout games which are entertaining, but not a success builder.

Kicker: Aaron Elling was cut before the last pre-season game. Former Redskin kicker Brett Conway is now the kicker for the Vikings. He has a good percentage, but sometimes misses in big situations. A big improvement is acquiring Darren Bennett via free agency from the Chargers. The former Aussie rules football star was great with the Chargers for 9 years. That move is big upgrade from 03.

Prediction: 11-5 - 2004 NFC North Champs. - Lose in 2nd round. They have a little bit more speed on the edges than the Packers. If the D improves, they would be a darkhorse to make it in Jacksonville." Scott

Myk and Cwoa's Cool Women Of America!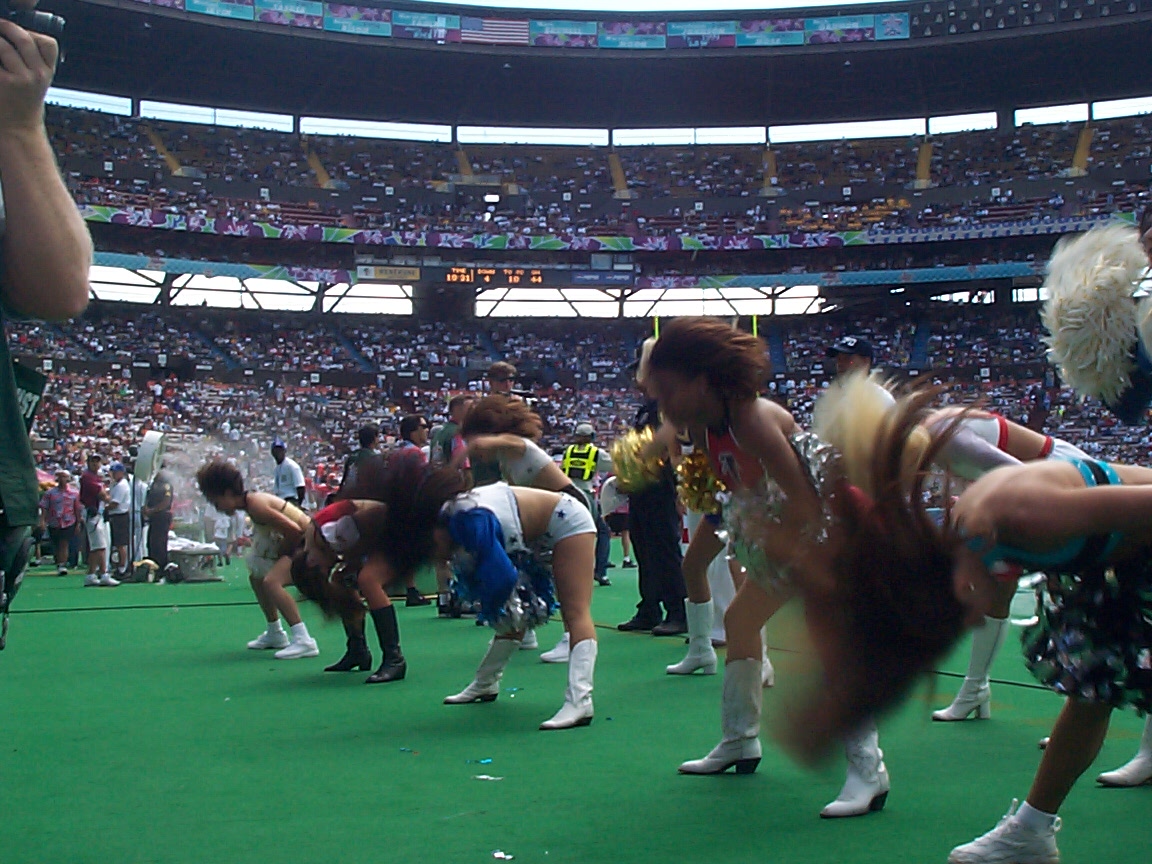 "Mates Melissa the Dallas Cowboys cheerleader in the Blue & White is my friend. The #1 Dallas Cowboys & Pro Bowl cheerleader Melissa came to Calgary for a tanning promotion not long after I met her at Pro Bowl 2002 week. I met up with Melissa briefly that day in Calgary. Melissa has been a "Myk's Mates Club member" for the past year enjoying my MYKwebTV & comedy webWORLD.
Myk and Cwoa's Click here
Lots more Myk and Cwoa's on Myk's Mates Club Click here

"Myk's Mates Club Total-CFL MYKwebTV"is massive Invest In Inet CFL MYKwebTV! Myk's Mates Club Click here