"You can also hear me often talking NFL many Friday nights on Gabriel Morency's Sports Rage now on morencysports.com. Fri 8-11pm Pacific CDN/US time. If you are new to MYKwebWORLD and you want to know what I do this is a great article Click here
May 06. I have finished the New Massive Mates Club webWORLD. I hope you can join me in Mates Club for hours of NFL Sports, Comedy, Babe TV, your existing email link will get you to the new Mates Club Massive Menu or Click here" Myk

Check out NFL MYKwebTV NFL Super Bowl NFL Pro Bowl MYKwebTV
Aug 06 "Weekly NFL reports on NFL webWORLD!
Check out the massive NFL webWORLD Click here " Myk Aussie

Monday Oct 4, 10. "I picked the Dolphins in tonight game against the Patriots! Friday night Sept 17 I was talking NFL on Sports Rage with Gabriel Morency, Listen and watch now! My NFL week 3 Arizona Cardinals bet! Listen now. I got on The Jim Rome radio show Wed July 7 which has approx 4 million listeners and talked sports! Talking sports and often NFL on 5AA South Australian radio many weeks with Jeff Burzacott. Listen Live on the web! 153 of my 175+ Sports MYKwebTV and TotalCFLwebTV shows including lots of NFL are now on my YouTube.com Directors Channel!" Myk Aussie


Check out the massive NFL webWORLD for the above stories Click here
From Tuesday Sept 21. My week 2 bets report!

My bets were Vikings –5.5 at Sportsbook.com
Philadelphia Eagles –6 at Sportsinteraction.com
New Orleans Saints –6 at Bodog.com. I thus went 0-3 against the spread.

Miami Dolphins defeated Minnesota Vikings 14-10.

The Miami Dolphins are a excellent team, adding Brandon Marshall this year, the excellent wide receiver was a great decision. Their defense played very well against the, in 09 high powered Vikings offense lead by Legend Brett Favre.

I thought the Vikings was a safe bet at home. Not to be.
From Fri Sept 17. My NFL week 2 bets and report!

Wow! NFL week 1 was, as predicted a tough week, with many of the so-called experts struggling! This week is again looking tough, with many games possibly going either way; the NFL draft system is definitely working!

As mentioned last week I am new to sports betting. For the 2nd week in a row, I'm placing $3 bets against the spread. In the coming weeks, I'll then look at betting on "under or over totals", which is one of the many other types of bets that you can lay.

1) Minnesota Vikings –5.5 at Sportsbook.com

2) Philadelphia Eagles –6 at Sportsinteraction.com

3) New Orleans Saints –6 at Bodog.com

Minnesota Vikings –5.5 at Sportsbook.com

Vikings play the Miami Dolphins at home. Even though the Dolphins had a good win last week against the Buffalo Bills (my one win, placed at Bodog.com) I believe the Vikings are a much better team, especially at home in their incredibly loud indoor stadium.

The Vikings have had three extra days as well to prepare (they played on the Thursday night opening game) and this should also help them. Vikings to win by a touchdown or more, thus I liked the best available spread of -5.5 on Sportsbook.com" Myk Aussie


Wed, Sept 11 07 "Moose's pictures from his recent trip to the Pro Football Hall Of Fame!" Myk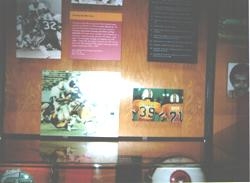 "Left: Larry Csonka, Jim Kick RBS Memphis Grizzlies (WFL '75) display on other leagues at Pro Football Hall Of Fame in Canton, Ohio. Right: Miami Dolphins display featuring Larry Csonka's jersey at the Pro Football Hall Of Fame." Moose Salzer
Sat, Aug 19 06 "Moose's Dolphins 06 preview! Lots of NFL MYKwebTV!" Myk
From Moose "Miami Dolphins, 41st year, 2-3 in Five Super Bowls. Best Team in history of Pro Football, 1972 17-0-0 Dolphins (Coach Don Shula, FB Larry Csonka, QB Bob Griese, RBs Jim Kiick, Eugene Morris, WRs Paul Warflield and Howard Twilley, TE Jim Mandich, DT Manny Fernandez, K Garo Yeprenium, et, al) 2005 Record: 9-7-0, no playoffs. Coach (still...) Nick Saban, QBs: Daunte Culpepper, Joey Harrington, Cleo Lemmon, Brock Berlin (NFL E_Berlin, believe it or not!).

Other Key players: RB Ronnie Brown, WR Chris Chambers, S Jaren Allen, CB Will Allen (where's Shawn Withy-Allen?), WR Derek Hagan, Ss Renaldo Hill, OT L.J. Shelton, LB Sedrick Hodge, CB Andre Goodman (Oakland). Where do we begin? I sure didn't expect Saban to still be around this long (more than one year), but he managed to get the cheapskate owner to pony up enough $$$ to get some better players in here and the Dolphins don't actually look that bad.

The Offencive line is the pits but the rest of this unit is pretty sound. Brown is the best Offencive back the Dolphins had since Larry Csonka retired back in Jan. 1980! (And amazingly enough, Zonk still leads the team in rushing [6,70O yds, of his career 8,500!)) At QB, after going through A.J. Feely, Gus Frerotte and Sage Rosenfels last year, they get Daunte Culpepper and Joey Harrington. It won't matter. Second in AFC East behind New England at 8-8-0. But at least no more Ricky Williams!" Moose
"If you would like to add your comments about how you think the Dolphins will go in 06 or comment on Moose's preview above please email me myk@mykaussie.com and I will add your report.
You can hear Moose weekly on Gabriel Morency's SportsRage Montreal Team 990 AM sports radio and on the Internet talking NFL Footy many Friday nights around 1am Eastern US and CDN time. I'm on late around 1.30-2am EST Friday or Monday nights as well talking sports in a comedy/crazy style. I think Gabriel Morency is the best sports radio guy in the World. To me he's like the Howard Stern of sports. I'm very confident you will like his show. To listen
Click here

Massive amounts of NFL TV! Several weeks ago I finished the New Massive Mates Club webWORLD. I hope you can join me in Mates Club for hours of NFL Sports, Comedy, Babe TV, your existing email link will get you to the new Mates Club Massive Menu or Click here" Myk
Mon, June 19 06 "Ricky Williams has a Huge last quarter to help the Toronto Argonauts defeat the Hamilton Tiger-Cats 27 to 17 in Rd 1 of the CFL, Canadian Football League! Ricky Williams on MYKwebTV! Mates Club NFL TV is Massive!" Myk Aussie

Ricky's 1st official game in the CFL was on Saturday in Toronto at the Skydome where the MLB Blue Jays also play. Ricky had a slow start to the game but his last quarter was very good. He ended up with 18 carries for 97 yards his longest being a 35 yard run in the last quarter. He also caught 2 passes for 24 yards which included a 18 yard run. I am very happy that Ricky had a great end to his 1st game after he struggled to break clear in the 1st half. He looked very happy in the last quarter and after the game as he chatted to his teammates on the sidelines.

One of my most popular MYKwebTV shows ever features Ricky Williams who is now playing at the Toronto Argonauts! For unreal MYKwebTV as I film Ricky Williams being presented with the MVP Award from a recent NFL Pro Bowl check out the small Java video TV screen on the side menu or for Full Screen in Media Player Click here

Massive amounts of NFL TV! Three weeks ago I finished the New Massive Mates Club webWORLD. I hope you can join me in Mates Club for hours of NFL Sports, Comedy, Babe TV, your existing email link will get you to the new Mates Club Massive Menu or Click here" Myk
Wed, March 15 06 "Duante Culpepper traded to the Dolphins! Lots of Boat cruises for him to enjoy in Miami!" Myk Aussie
Good luck to champ Vikings QB Duane Culpepper who was traded to the Miami Dolphins for a 2nd round pick. Duante has been one of my favorite NFL players over the past 5-6 years. I'll be following the Dolphins closely in 06 now and especially as Super Bowl is in Miami this upcoming season. I think it is a good thing that he is out of the Vikings especially after all the controversy of him being a apparent ringleader in the "Vikings players Sex Boat Cruise scandal" last season. Maybe Duante enjoyed it so much that was a reason for signing in Miami, lots of boat cruises for him to go on in and around Miami with the Hot sexy Cwoa babes. New to MYKwebWORLD a Cwoa is a Cool Woman Of America Click here
Thurs, Aug 18th 05 "Moose's NFL Miami Dolphins 05 preview!" Myk Aussie
Ricky Williams is back after a holiday in Australia living in his tent and reading along with exercise classes in California. I wish Ricky all the best this year, he has a lot to make up to his fans in Miami. You can see me filming Ricky Williams as he receives the best player of the
2003 Pro Bowl 203 MYKwebTV. What a great day that was as Moose and I were on the
sidelines for MYKwebTV" Myk
From Moose "Miami Dolphins, 40th year. Super Bowl record: 2-3 in Five S.B.'s. Coach: (??)
Nick Saban [see 49er Preview, more nepotism!]. QBs: Poor A.J. Feeley, Gus (the wall headbutting phenom) Frerotte, Sage Rosenfels (all three NFC East castoffs). Rastaferian-RB Ricky (Ziggy) Williams, the newest version of Lawrence Phillips, with dreadlocks, DE Saun Taylor, LBs: Tiana Seau, Jr., Zach Thomas. Saban is the son of former AFL/NFL/Ar.FL Coach, Lou. (see 49ers Preview for more DeJaVu). No, zero, cero, nein NFL Coaching experience. Probably the lowest paid Coach in the League. Or should be! There are six zillion more experienced guys walking around on planet earth with more Pro Coaching experience than
this guy, but the Dolphins give him the H.Coaching job. Figure that one out! Oh, yea.
To make sure the Fish finish last, Williams, Mr. 3.5 yards per carry, who has already gotten
two NFL Coaches fired, is back after a year sabbatical. Is is still too late to bring back Coach Don Shula, RBs Larry Csonka, Jim Kiick and Merc Morris?! This is by far the worst team in the NFL and getting EVEN worse all thetime. There is no talent. Anywhere. Except for has beens Thomas and Seau and DE Taylor. The poor QB will again be 'Beaten to a pulp' A.J. Feeley, who really isn't too bad. Let's review last season; Jim Bates becomes the first former Ar.FL player/ Ast. Coach to get a H.COACHING JOB IN THE NFL. After Dave Wannstedt, who COUNTED On Williams being the guy (obviously he's nowhere near as good as Zonk was,
but he WAS ALL THEY had), got fire all Bates did was lead Miami to a 3-2 record down the stretch. His reward: they LET HIS CONTRACT expire!!!!!!!!!!!!!!!! Then they hire nobody NCAA Coach Saban, son of Lou. Predicted Finish: 2-14-0, last AFC EAST." Moose
"Myk Aussie is the best NFL Cheerleaders interviewer Click here" Joe
"Do you want me to show you a demo/presentation/Live TV show with me as Myk Aussie? I have it all set up with a magnificent view of the Vancouver Harbor in the background! Clipstream Live Video to the web! Do you need to broadcast a sporting event, work conference etc, I have it Click here Call me to discuss 1 604 609-7736 ext 240" Myk
Fri, Nov 19 04 "Jason Clermont wins the Canadian Player of the Year, Jason can be seen on Lions Total-CFLwebTV! Jason was nearly a Dolphin in 2004 "
Congratulations to Jason Clermont what a star player he is and a friendly guy. He had a huge year after knocking back a contract from the Miami Dolphins that wasn't quiet right for him. I wished Jason all the best on Sunday after the game. Check out a interview I did with Jason earlier this year in Clipstream Video on BC Lions Total-CFLwebTV Click here" Myk Aussie
Thurs, Nov 11 04 "Dolphins update!" Myk Aussie
MIAMI (1-8): Club has sold-out 50 consecutive home games……JIM BATES takes over for
DAVE WANNSTEDT as club's head coach. Bates was team's defensive coordinator. Dolphins' defense ranks No. 7 in NFL (295.7)……Offense compiled 403 total yards in Wk 9 vs. Cards, most since gaining 436 on 12/9/02. QB JAY FIEDLER is 37-22 (.627) as starter……RBs TRAVIS MINOR (90) & SAMMY MORRIS (56) accounted for 146 rush yards in Wk. 9 vs. Arizona……WR CHRIS CHAMBERS has 2 100s in past 3. TE RANDY MC MICHAEL stands 4th in NFL among
TEs in catches (43) & 3rd in receiving yards (551). McMichael aims to surpass 1994 stats of
KEITH JACKSON to become Dolphins' single-season leading TE in catches (59) and yards (673). Defense has not allowed 300-yard passer in 23 games, longest active streak in NFL. LB ZACH THOMAS (120) has already registered 9th consecutive 100-tackle season & is on pace to surpass personal best 195 tackles (2002). Defense allowing AFC's lowest percentage of 3rd down conversions (28.2), 2nd-lowest in NFL.
It is so cool to be the only Aussie that has regularly reported on the NFL for the past 5 years.
Yep that's me, I have had NFL media passes at Super Bowl's, Pro Bowl's and other NFL games. Thus I am allowed into the NFL Media section and allowed to post their great reports on here. Much more coming over the coming weeks." Myk Aussie
Pro Football Weekly: NFL and Pro Football Video Picks with amazing coverage from Myk Aussie -The Pro Football Comedy Media Guy


"I have finished the New Massive Mates Club webWORLD. I hope you can join me in Mates Club for hours of NFL Sports, Comedy, Babe TV, your existing email link will get you to the new Mates Club Massive Menu or Click here" Myk
Myk and Cwoa's Cool Women Of America!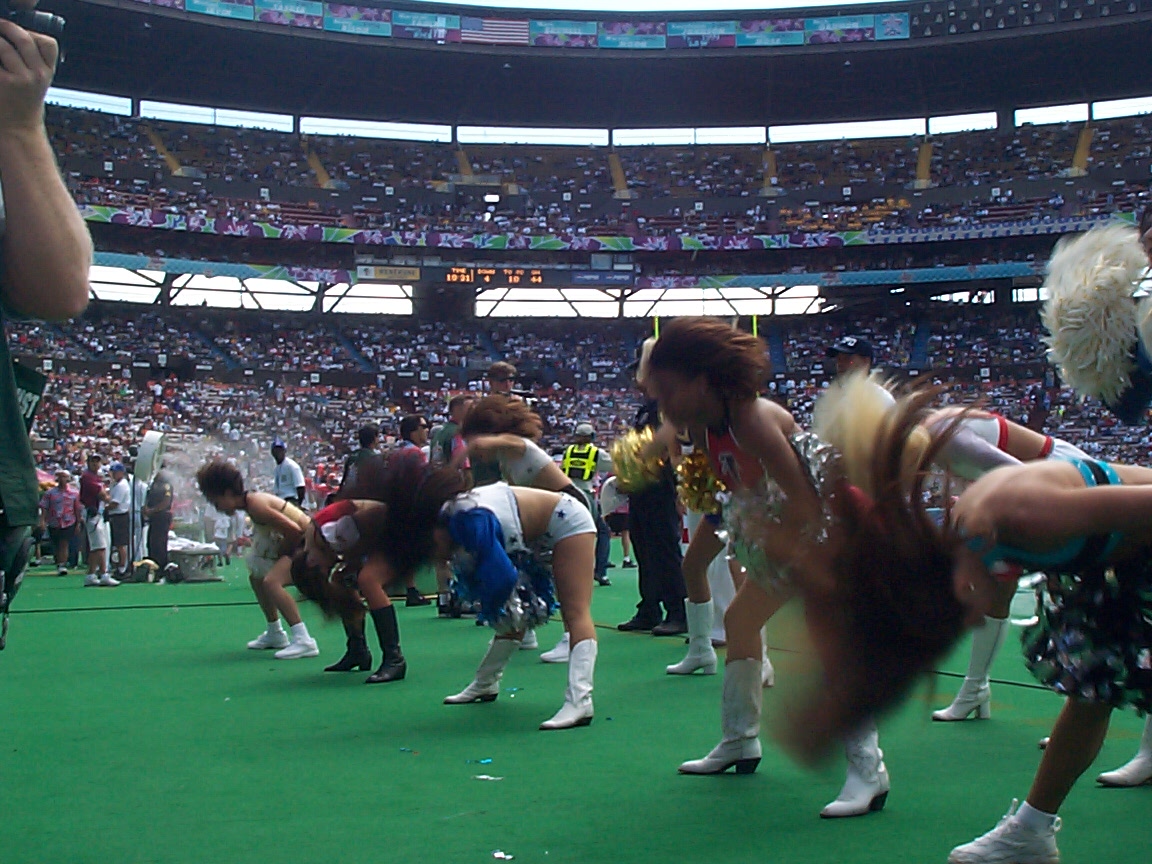 "Mates Melissa the Dallas Cowboys cheerleader in the Blue & White is my friend. The #1
Dallas Cowboys & Pro Bowl cheerleader Melissa came to Calgary for a tanning promotion not long after I met her at Pro Bowl 2002 week. I met up with Melissa briefly that day in Calgary. Melissa has been a "Myk's Mates Club member" for the past year enjoying my MYKwebTV & comedy webWORLD.