May 06. I have finished the New Massive Mates Club webWORLD. I hope you can join me in Mates Club for hours of NFL Sports, Comedy, Babe TV, your existing email link will get you to the new Mates Club Massive Menu or Click here" Myk

Check out NFL MYKwebTV NFL Super Bowl NFL Pro Bowl MYKwebTV

April 2011 "Weekly NFL reports on NFL webWORLD!" Myk Aussie
Check out the massive NFL webWORLD Click here" Myk Aussie

Sat Jan 15, 11 " I'm talking NFL and more Sports Hardcore style on Sports Rage with Champ host Gabriel Morency! 158 of my 175+ Sports MYKwebTV and TotalCFLwebTV shows including lots of NFL are now on my YouTube.com Directors Channel!" Myk Aussie


From Fri Jan 7, 11, I'm talking NFL and more sports Hardcore style on Sports Rage with Champ host Gabriel Morency. Click here
158 of my 175+ Sports MYKwebTV and TotalCFLwebTV shows including lots of NFL are now on my YouTube.com Directors Channel Click here " Myk
Sun Feb 3, 08 "New Sports jersey Frames. The 1st shipment ever to Nth America. Order now! Massive amounts of NFL MYKwebTV!" Myk Aussie

Chiefs fans sorry about the Steelers jersey below.

New Sports Jersey Frames! The 1st shipment ever to Nth America! Order now! Available now for Christmas! They are awesome! The jersey hangs great in these High quality Sports jersey display cases. For contact and ordering Click here
I hope you can join me and Moose in the new Massive Mates Club for hours of NFL, Sports, along with Comedy Babe TV Click here" Myk Aussie
Sat, Aug 19 06 "Moose's extensive Chiefs 06 preview! Casey Printers MYKwebTV!
Lots of NFL MYKwebTV!" Myk

Casey Printers MYKwebTV - I'm 1 on 1 with CFL 2004 MVP Casey Printers Champ BC Lions
QB. who is now a NFL Chief. A 5 minute Total-CFLwebTV show from "Casey's Kid's Camp"
April 2, 2005. Also featuring CFL Lions Champs Geroy Simon, Ryan Thelwell, Mark
Washington, Lyle Green and the future CFLers that braved the wet day in Sth Surrey.
Click here
From Moose "Kansas City Chiefs, 47th season. Three AFL titles, one as Dallas Texans and two as K.C. Chiefs, one of two in Super Bowls with the late Hall-of-Famer Hank Stram as Coach. 2005 Record: 10-6-0, no playoffs. Coach: Herm Edwards (why?), QBs: Trent Green (CFL), Casey Printers (CFL), Damon Huard [maybe...] and Jeff Smoker, trade with Saint Louis, their cross-state rival from NFC.

Other Key players: DT Ron Edwards, RB Larry Johnson, RB-FB Priest Holmes, RB Quinton Griffin (they ripped off Denver to get him!), DE Jared Allen, DLm Tamba Hali, S Bernie Pollard, DT James Reed, CB Lenny Walls, LB Kawicka Mitchell. Outlook: Gloomy. For the last four years Chiefs fans waited for that ole' Dick Vermeil magic, Holmes (then Johnson's) running and Green's arm to take them back to their first Super Bowl appearance in several decades. It never materialized. Partly, because they were in the same division as San Diego and Denver but with the Cahrgers moving up and Denver backsliding, Vermeil, 70, has decided to retire after more than three decades in Coaching. You can't blame him. He is one and one in two Super Bowls and is a cinch to make the Hall-of-Fame before he dies. He'll be the second ex-Chiefs Coach to make after the late Hank Stram.

Back to the current incarnation of the Chiefs. For some reason G.M., now V.P. Carl Peterson obsessed with getting (alleged) 'Defencive Genious' Edwards on board as Coach and what does Edwards do upon getting to K.C.? He trades fan favorite Canadian WR Marc Boerighter to Green Bay (where he'll be a welcome addition since leading WR Javon Walker signed with 'on their way down' Denver), then he forcably retires MLB/KS Mike Maslowski. Then they release popular but troubled CB Eric Warfield to Cleveland. Hell of a way for an intro, Herm. The Chiefs are going nowhere this year except they may scrape back to .500, 8-8-0. With the retirements of OLm WIllie Roaf, another probable Hall-of-Famer and steady Jon Welborn, this team won't rush for 2,670 yds like last year. Green can expect some competition from stud Printers, like Green anothe ex-CFL QB. Smoker was brought in recently from the Rams for insurance. Ex-Super Bowl backup and NFL E Champ game participant Huard is still around. You could say the Chiefs are loaded at QB but at WR without underutilized Boerighter (also a first rate 'gunner' on the coverage units) their is no quality depth. ex-Rams Eddie Kennison and Oz Hakim try to hold fort. TE Tony Gonzalez USED to be the best in the AFC but that mantle has passed to S.D.'s Antonio Gates.

Without Paul Warfield's son at DB, the secondary took a hit. Getting Edwards standby CB Ty Law, who moves in to S'll help. With Allen, Hali and Reed, the Chiefs should lead the Division in sacks. Allen should be a Pro Bowl candidate this year. At LB Mitchell holds fort with three newcomers. Prediction: Not good, unless you like .500. Losing Boerighter, Vermeil, Roaf, Welbourn, Warfield, Maslowski and backup QB Todd Collins, you gotta say "Ouch!", if you're a Chiefs fan. Edwards is a Coaching inigma. He almost attacked one of his Ast.C's, the Jets RB Coach (who is also black!) on the sidelines in their eventual WIN over the Chargers IN SAN DIEGO, in the playoffs several years ago.

He also stupidly sent CFL stud Ricky (3 Grey Cups) Ray back to Canada with the comment, "He's a nice Canadian QB..." Ah, Herm, he's American and from CA. I can't wait until he calls Printers, "A nice Canadian QB..." Does the term, 'Know your personnel' ring a bell, Herm?! Edwards is one of the most laidback Coaches during the Preseason and most fired up during games, which is the complete opposite from Vermeil. Is that why vets like Maslowski, Roaf and Welbourn panicked and retired? We'll see. With Green/Printers and Johnson/Holmes in the backfield, the Chiefs will cause opponents match up problems but not enough to make up for all the losses in personnel in the past off-season. Second in AFC West, 8-8-0. How long until Printers starts1" Moose
"Moose I hope Casey Printers makes the Chiefs as the Back up. He hasn't had that good a start but I believe he will come good. If you would like to add your comments about how
you think the Chiefs will go in 06 or comment on Moose's preview above please email me myk@mykaussie.com and I will add your report.
You can hear Moose weekly on Gabriel Morency's SportsRage Montreal Team 990 AM sports radio and on the Internet talking NFL Footy many Friday nights around 1am Eastern US and CDN time. I'm on late around 1.30-2am EST Friday or Monday nights as well talking sports
in a comedy/crazy style. I think Gabriel Morency is the best sports radio guy in the World. To me he's like the Howard Stern of sports. I'm very confident you will like his show. To listen
Click here

Massive amounts of NFL TV! Several weeks ago I finished the New Massive Mates Club webWORLD. I hope you can join me in Mates Club for hours of NFL Sports, Comedy, Babe TV, your existing email link will get you to the new Mates Club Massive Menu or Click here" Myk
Wed, June 21 06 "Kansas City signs Scott McCready!" Moose Salzer
The Kansas City Chiefs have signed five-year NFL E vet WR Scott McCready. McCready who was born in England and moved with his family to the United States at age nine, became the first British born player to win a Super Bowl ring several years ago while on the New England Patriots practice squad (2001-02). McCready has torn it up in the 'AAA's in Europe the last few seasons with: Scotland and Hamburg. He has the second highest number of catches in NFL E history with 178.

He is far off League 6-yr. vet Mario Bailey's all-time high of 299. (He trails 10-yr. NFL E vet Werner Hippler for games played by a good margin, too). McCready replaces former CFL standout Marc Boerigter, who left via free agency to the Green Bay Packers. Like Boerigter, McCready is 6'3" and 220 lbs." Moose
"I hope you can join me in Moose and my Mates Club for hours of Sports, Comedy, Babe TV Click here" Myk Aussie

Sat Jan 14, 06 "The CFL 04 MVP BC Lions Champ QB Casey Printers this week signed a contract with the Kansas City Chiefs!" Myk Aussie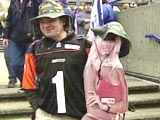 My new CFL BC Lions 05 jersey with Casey Printers #1 on the front. I'm at the CFL Grey Cup with Cwoc Pammy. I will continue to wear this jersey with pride and remember how great Casey was in 04 and in the games that he did start at QB for the Lions in 05. More on this coming this week especially to Myk's Mates Club. Good luck to Casey in the NFL. Here is a interview that I did with Casey at the start of the CFL 05 season at Casey's Kids Camp in Vancouver. Click here " Myk Aussie
Thurs, Nov 11 04 "Chiefs vs Saints week 10!" Myk Aussie

From NFL Media
CHIEFS: Head coach DICK VERMEIL is 9-2 (.818) in career vs. Saints……QB TRENT GREEN
threw for 369 yards last week & needs 1 more 300-yd game to surpass BILL KENNEY (15) for most by KC QB. Green has posted passer rating of 100.0+ in 4 games in row & has compiled 99.0+ passer rating in each of past 3 on road. Club has 28 pass plays of 20+ yards, 7th- most in NFL……In 4 road games, RB PRIEST HOLMES has 410 rush yards (102.5 avg.) & 6 rush TDs. Holmes (892) is NFL's leading rusher & has 14 more points (90) than next-closest player, including kickers. Has 15 TDs (14 rush, 1 rec.) & next-closest AFC player has 8. RB LARRY JOHNSON had career-high 10 carries last week……WR EDDIE KENNISON (104) & TE TONY GONZALEZ (123) both registered 100+ rec. yards last week. Gonzalez (52) is tied with HOFer DAVE CASPER for 4th-most TD catches by TE in league history & needs 3 TDs to surpass WESLEY WALLS (54) for 3rd-most…...S ERIC WARFIELD (4) tied for 4th-most INTs in AFC……

SAINTS: Play 3rd of 4 games in row vs. AFC West (W 31-26 at Oak; L 43-17 at SD; vs. Den, 11/21)……Head coach JIM HASLETT has 38 wins & needs 2 to become 2nd Saint coach with 40 (JIM MORA, 93)……QB AARON BROOKS has 7 career 300-yard passing games, 2nd-most in club history (ARCHIE MANNING, 9). Has thrown 4 INTs in 281 atts for 1.4 INT pct, 4th-best among starters. Has 1,177 career completions & needs 26 & to pass BOBBY HEBERT (1,202) for 2nd-most in club annals……RB DEUCE MC ALLISTER rushed for 63 yards last week, giving him 3,463 career, passing RUEBEN MAYES (3,408) for 3rd-most in team history. Has club-
best 18 career 100-yd rush games……WR JOE HORN spent 1st 4 NFL seasons with KC (1996-99), posting 53 receptions for 879 yds. Has 392 catches & 38 TDs with NO & needs 8 catches to become 2nd player in club annals with 400 (ERIC MARTIN, 532) & 2 TDs to become 3rd with 40 (DALTON HILLIARD, 53; Martin, 48). WR JEROME PATHON avgs. career-best 18.1 yds per catch (17 for 307)……DE CHARLES GRANT has 7.5 sacks & needs 2.5 for 2nd 10.0-sack year in row……K JOHN CARNEY has scored 1,490 points & needs 10 for 1,500.
It is so cool to be the only Aussie that has regularly reported on the NFL for the past 5 years. Yep that's me, I have had NFL media passes at Super Bowl's, Pro Bowl's and other NFL games. Thus I am allowed into the NFL Media section and allowed to post their great reports on here. Much more coming over the coming weeks." Myk Aussie

AFL Betting! NFL Betting! CFL Betting!
Check out "Myk's Mates Club" for AFL Betting, NFL Bettting, CFL Betting, Australian Rules Football Betting, AFL tips, AFL picks, NFL picks, CFL picks, AFL picks against the spread, NFL picks against the spread, CFL picks against the spread, Aussie Rules Footy tips, Australian Rules Football picks, Australian Rules Football picks against the spread. Click here

Sept 04 "Me Bronco's arch rival! Moose's Kansas City Chiefs report!" Myk Aussie
The Chiefs have a amazing offensive but again this year their defense is letting them down. The Chiefs are a arch rival of the Denver Bronco's my favorite team but they are a very exciting team to watch. Moose tipped them to go to the Super Bowl. I doubt it. "Kansas City, Team's alltime record: 306 wins, 262 losses, 12 ties. Coach: Dick Vermiel.

QBs: Trent Green (ex-CFL'r), Todd Collins, Damon Huard. The Chiefs made a couple of good moves in the off season by sending speedy former Arena League star Chris Horn to NFL E and signing former Hawai'i Arena star, Isaac White to two one year contracts. White played LB for Dennis Erickson at Oregon State, but is slated to start the year as a reserve DB. The Chiefs Carl Peterson has a good track record of getting quality Alternate Pro League players. Mike Maslowski, who's injury at long snapper and LB late last year had a devastating effect on the team's finish, Marc Boerighter (ex-CFL'r) and R-Kal Truluck (Ar.FL & CFL allstar) show how deep this team is! But Boe got a blow hoof (knee ligaments) and he will miss all the regular season at least.
There is an outside chance he will rejoin Chris Horn, Johnnie Morton and Eddie Kennison in time for the Chiefs to make a run at the title. It would help a lot if he were here. Factor in the 'Human Joy Stick', Dante (Small) Hall and the Chiefs should tear it up on Offence. TEs Tony Gonzalez, the best in the business, Kendall Gammon, an outstanding blocker and Billy Baber give the Chiefs great depth on Offence. Now about that Defence...Well, at least Pickle Boat-man Gunther Cunningham is back as Defencive Coordinator. But I still think the Chiefs need to switch to a 3-4 to take advantage of all the good LBs they have. The secondary is suspect as George W. Shrub's "re-EElection" but if they can just improve enough, this team will give Shanahan's Denver nightmares in the AFC West. I am sticking my neck out - but here goes. Since Dick Vermeil NEVER NOT TAKES (great grammar, Rich!) whatever team he's Coaching to the Super Bowl and since he doesn't have much time left - the Chiefs will either win the Super Bowl this year or next. May the Football Swami's converge in wisdom!" Moose
Myk and Cwoa's Cool Women Of America!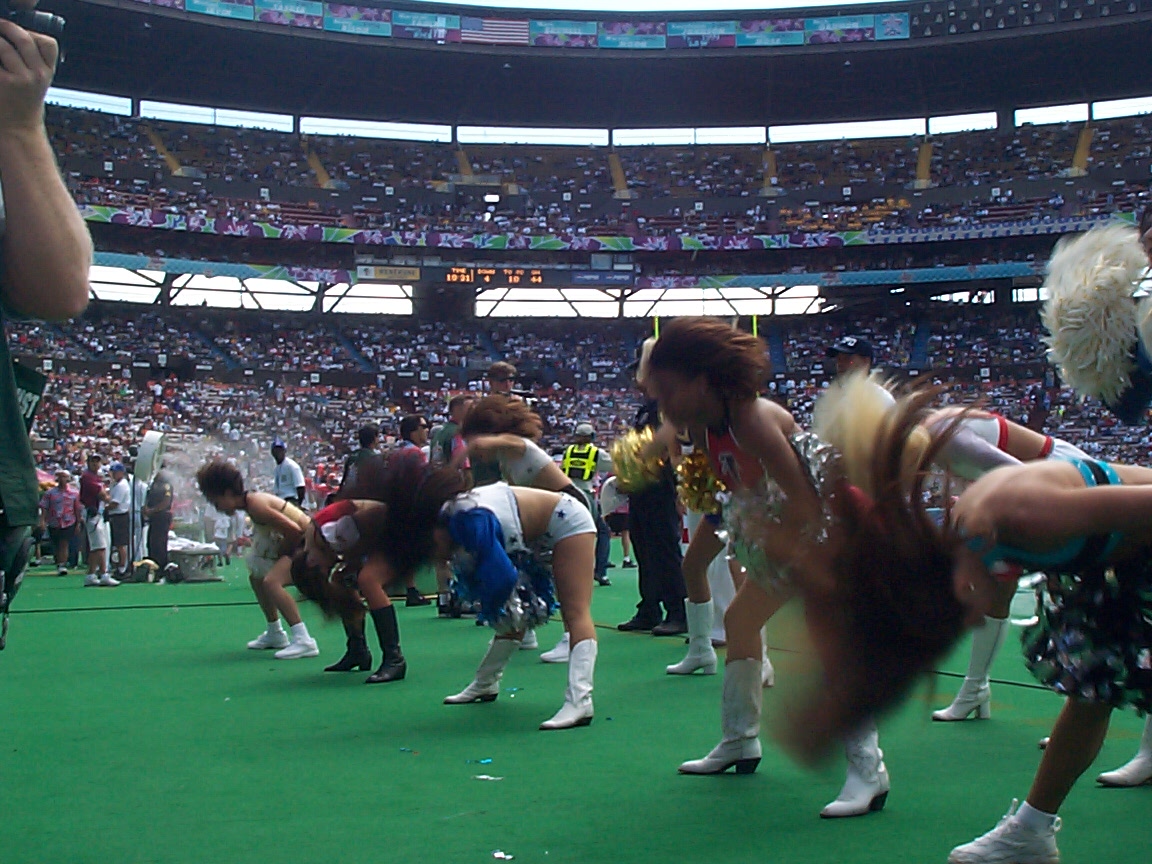 "Mates Melissa the Dallas Cowboys cheerleader in the Blue & White is my friend. The #1 Dallas Cowboys & Pro Bowl cheerleader Melissa came to Calgary for a tanning promotion not long after I met her at Pro Bowl 2002 week. I met up with Melissa briefly that day in Calgary. Melissa has been a "Myk's Mates Club member" for the past year enjoying my MYKwebTV & comedy webWORLD.
Myk and Cwoa's Click here
Lots more Myk and Cwoa's on Myk's Mates Club Click here

"Myk's Mates Club Total-CFL MYKwebTV"is massive Invest In Inet CFL MYKwebTV! Myk's Mates Club Click here