"You can also hear me often talking NFL many Friday nights on Gabriel Morency's Sports Rage now on morencysports.com. Fri 8-11pm Pacific CDN/US time. If you are new to MYKwebWORLD and you want to know what I do this is a great article Click here
May 06. I have finished the New Massive Mates Club webWORLD. I hope you can join me in Mates Club for hours of NFL Sports, Comedy, Babe TV, your existing email link will get you to the new Mates Club Massive Menu or Click here" Myk

Check out NFL MYKwebTV NFL Super Bowl NFL Pro Bowl MYKwebTV

"Massive MYKwebTV shows from Super Bowl XXXIV in Jacksonville Click here " Myk
Aug 06 "Weekly NFL reports on NFL webWORLD!
Check out the massive NFL webWORLD Click here " Myk Aussie

Tues Oct 5, 10. "Jaguars defeat Colts! Friday night Sept 17, I was talking NFL on Sports Rage with Gabriel Morency, Listen and watch now! Listen now. I got on The Jim Rome radio show Wed July 7 which has approx 4 million listeners and talked sports! Talking sports and often NFL on 5AA South Australian radio many weeks with Jeff Burzacott. Listen Live on the web! 153 of my 175+ Sports MYKwebTV and TotalCFLwebTV shows including lots of NFL are now on my YouTube.com Directors Channel!" Myk Aussie


Check out the massive NFL webWORLD for the above stories Click here
Jacksonville Jaguars defeated Indianapolis Colts 31 - 28 in overtime. I took the Colts at –7 on Sportsbook.com

This result really shocked me. The Colts are now 2-2, I have to accept that fact that they are now not a automatic pick most weeks. I had heard that the Jags played the Colts tough in the past, I should have listened to that fact. Well done by the Jags" Myk Aussie

Tues, Dec 11 07 "Jags 2007 NFL Playoff scenario direct from NFL Media! New Sports jersey Frames. The 1st shipment ever to Nth America. Order now. Available now for
Christmas! Massive amounts of NFL MYKwebTV!" Myk Aussie

JACKSONVILLE JAGUARS 2007 NFL Playoff scenario direct from NFL Media.
Jacksonville clinches playoff berth: 1) JAC win + TEN loss or tie OR 2) JAC tie + TEN loss + BUF loss or tie.

New Sports Jersey Frames! The 1st shipment ever to Nth America! Order now! Available now for Christmas! They are awesome! The jersey hangs great in these High quality Sports jersey display cases. For contact and ordering Click here
I hope you can join me and Moose in the new Massive Mates Club for hours of NFL, Sports, along with Comedy Babe TV Click here" Myk Aussie
Thurs, Aug 17 06 "Moose's extensive Jaguars 06 preview! Lots of NFL MYKwebTV!" Myk
Jacksonville Jaguars, 12th season. One of five teams along with Houston, Detroit, Arizona, Cleveland and New Orlean to have not made the Super Bowl yet. 2005 Record: 12-5-0, lost to New England in the 'wildcard' playoff game.

Coach: Jack Del Rio. OBs: Matt Jones, TE/QB, Quinn Gray, QB, Byron Leftwich (son of 18 year Ar.FL ref Daryl Leftwich), QB, David Garrard, RB Fred Taylor, SB-KR Chad Owens (one of four players from Hawai'i: along with Offencive Linemen: Vince Mauwai, Chris Naole, Wayne Hunter), WR-RB Maurice Jones-Drew, LB Nick Griesen, LB Clint Ingram, TE Brady Quinn, TE Medcades Lewis, OT Stockar McDougle, CB Brian Williams, S-ST'r Nick Sorenson, OT Mike Williams.

Out look: Very good and primed to win the division for only the second time in club history. Even with all-star WR Jimmy Smith retiring after 13 very good years w/Jax/Dallas (872 catches AND NO DROPS, are listening Randy Moss, Jeremy Stevens?!), this team is still loaded. With the best set of Dlm in the Southern AFC, including B.C.'s Rob Meier, one of 22 Canucks in the NFL, this teams strength will be Defence, which makes sense since Coach Del Rio, was an NFL LB for 11 seasons with K.C., Dallas, Minnesota and New Orlean.

Whoever plays QB this year (probably Leftwich, who has the worst looking 'drop' in Pro Football history (he looks like a stork with a hernia!), will have plenty good targets to throw to. Jones, a former QB who only got one series last year (2 of 3 for 1 TD) can play either WR-TE well. Add Owens, the former University of Hawai'i speed burner and Smith's loss will not be remembered past Oct. The two crucial games are of course versus talented but declining Indy. If the Jags win those two, they are playoff bound again. They should be every bit as good as last year, but they will not sneak up on anybody anymore since everybody knows they are sort of the Chicago of the AFC; Defence first, Offence and Special Teams second.

Unlike poor Brian Griese and the Bears, these guys have more team speed and Offence. Predicted Finish: 10-6-0 or 11-5-0, AFC South Champions, but will lose to Cincinnati in the playoffs." Moose
"If you would like to add your comments about how you think the Jags will go in 06 or comment on Moose's preview above please email me myk@mykaussie.com and I will add your report.
You can hear Moose weekly on Gabriel Morency's SportsRage Montreal Team 990 AM sports radio and on the Internet talking NFL Footy many Friday nights around 1am Eastern US and CDN time. I'm on late around 1.30-2am EST Friday or Monday nights as well talking sports in a comedy/crazy style. I think Gabriel Morency is the best sports radio guy in the World. To me he's like the Howard Stern of sports. I'm very confident you will like his show. To listen
Click here

Massive amounts of NFL TV! Several weeks ago I finished the New Massive Mates Club webWORLD. I hope you can join me in Mates Club for hours of NFL Sports, Comedy, Babe TV, your existing email link will get you to the new Mates Club Massive Menu or Click here" Myk
Fri, Jan 7 05 "I'm heading to Super Bowl, anyone want to help and
be on Super Bowl MYKwebTV!"
I'll be talking a lot about the playoffs tonight on SportsRage the best Sports radio show in the World. Hope you can listen as per above. It's a great show and Friday night is Freak Show Friday.
I'm heading to Super Bowl! Does anyone know anyone in Jacksonville that wants to be on upcoming Super Bowl MYKwebTV shows? My email today to Super Bowl Fan Housing.
To Super Bowl Fan Housing
I was recently confirmed a NFL Super Bowl Media pass, this will be my 3rd Super Bowl. Based in Western Canada I have been the only Australian regularly reporting on the NFL the past 5 years.
I will be on my own most of the week at Super Bowl and am having trouble with accommodation. Two weeks ago I checked and it was $160 a night for the cheapest hotel and it was 40 miles away. That's too far away and too much. At this stage I am flying to Virginia and driving to Jacksonville in my friends van.
This gives me a choice of sleeping in a van and showering at a gym or truck stop if necessary or just swimming in the ocean in the morning. Seriously, us Aussies don't mind roughing it if we have to. Would make for a interesting movie/MYKwebTV show I suppose.
Can you please help as I am very successful but will not pay $160 a night to be 40 miles away. Is there any shared accommodation available anywhere? I can offer to promote a business or the individual fans involved on my popular MYKwebTV show in exchange. ie Many fans would enjoy being part of my Super Bowl MYKwebTV Comedy based shows. Hope to hear back. Regards Myk Aussie
Whether I am on the beach, in my van, at a ladies place or wherever I know I will be having a fun time. If you have any questions at all or know of anyone that may be interested myk@mykaussie.com or Ph: 403 870-5578 me Canuck #" Myk Aussie
Nov 04 "Weekly NFL reports on NFL webWORLD!" Myk Aussie
Check out the massive NFL webWORLD Click here

If you are a NFL fan or official do you want to promote your favorite NFL team to the World via MYKwebWORLD and MYKwebTV. I am already talking to several NFL team officials. Email me for NFL 04 season details myk@mykaussie.com " Myk Aussie
Thurs, Nov 11 04 "Lions vs Jag's week 10!" Myk Aussie
From NFL Media
LIONS: Club leads NFL with +11 turnover ratio after finishing even in '03. Offense has 68.8
red zone TD pct. (16 trips, 11 TDs), 5th in NFL……QB JOEY HARRINGTON has posted 90.0+ passer rating in 3 of past 5 games. Has 13 TD passes & needs 4 to equal career-best 17 in '03. Has 106.0 4th-quarter passer rating (43-66, 506 yards, 2 INT) & ties for 2nd in NFL with 6 4th quarter TD passes……Rookie 1st-round WR ROY WILLIAMS (No. 7) leads rookies with 5 TDs & avgs. 1 TD every 5.4 receptions. Needs 2 TD catches to tie WILLIE GREEN (7, '91) for club rookie mark……WR AZ-ZAHIR HAKIM leads clubs with 16.3 yards per catch avg. (24-391). Had 7 catches for 120 yards last week…D-line has posted 19.0 of club's 23.0 sacks……DE
JAMES HALL leads club with career-high 5.5 sacks……Rookie 2nd-round LB TEDDY LEHMAN has started all 8 games……CB FERNANDO BRYANT spent 1st 5 seasons with Jags (1999-03), starting 71 of his 72 games……KR EDDIE DRUMMOND ranks 3rd in NFC with 25.7-yard KR avg. K JASON HANSON has played in 200 games & needs 1 to pass WAYNE WALKER (200) for most in team history......

JAGUARS: Team returns from bye. Club is 5-3 after 8 games for 1st time since 1999 (7-1). Third-year QB DAVID GARRARD has completed 34 of 60 (56.7 pct.) career passes, including 2 of 2 in Wk. 7 for 28 yards. Has 1 career NFL start. Threw school-record 60 TDs in 44 games at East Carolina……RB FRED TAYLOR (510) is on pace for 4th 1,000-yard rushing season in past 5 years. Rookie RB GREG JONES (No. 55) is 3-for-3 on converting 3rd & 1 rush attempts into 1st downs……WR JIMMY SMITH leads NFL w/ 13 receptions of 20+ yards & has 100+ rec. yards in 3 of past 4. WR TROY EDWARDS leads club with 10 catches on 3rd down. Offense is 7 of 12 (58.3 pct.) on 4th down conversion tries……LB MIKE PETERSON has led club in tackles 8 games in row, tyingclub record (HARDY NICKERSON, 2001-02). S DONOVIN DARIUS leads NFL defensive players with 4 FRs. Jaguars are No. 2 in NFL in KO coverage, allowing 17.8 yards per return. Opponents' avg. drive start after kickoff is 22.6, poorest field position in AFC. It is so cool to be the only Aussie that has regularly reported on the NFL for the past 5 years. Yep that's me, I have had NFL media passes at Super Bowl's, Pro Bowl's and other NFL
games. Thus I am allowed into the NFL Media section and allowed to post their great reports on here. Much more coming over the coming weeks." Myk Aussie
Mon, Nov 8 04 "The home city of Super Bowl 39! Moose and I will be there, Can't wait! Moose's Jacksonville Jaguars report!" Myk Aussie
"Jacksonville, Team's alltime record: 75 wins, 109 losses. Coach: Jack Del Rio. QBs rapidly developing Brian Leftwich (who's father has been an official in the Arena League since '87), David Garrard, Doug Johson. Other newcomers that should help include: CB Juran Bolden, from Atlanta, who helped Winnipeg get in the Grey Cup in '01, K Jeff Chandler, G Mike Compton, LB Greg Favors, S Deion Grant, LB Tommy Hendricks, T Ephraim Salaam, CB Lewis Saunders, B Dwayne Washington, TE Todd Yoder.

Three kanakas factor huge into any playoff implications this year for the Jaguars, who play in Alltel stadium, home of the Super Bowl in Feb. 2004; FB-RB Chris Fuamatu-Ma'afala, and OLm Vince Manuwai and Chris Naole. QB Byron Lefwich has one of the worst looking "drops" I've ever seen in watching Pro Football for 30 years. If he stays healthy this year it will be a mircle. Backups Doug Johnson, the ex-Falcon washout and David (Tank) Garrard are above average. WR Matthew Hatchette looks to be a shortimer and he doesn't get much help from Troy Edwards and Jimmy Smith, who used to be lefty Mark Brunnel's guy, when he was the QB. Candian DE Rob Meier will have a breakthrough year and the rest of the D-line; Lionel Barnes, Javor Mills and Paul Spicer are about to blowup big time. Del Rio is a very good young Coach, who coaches the way he played - all out!

Joe Tuipala, Tony Gilbert, Akin Ayodele and Courtland Bullard are good young linebackers with above average speed but need to tackle better. The Defencive secondary is loaded with Blue Adams, Deke Cooper, NFL Europe's alltime lead- er in INTs., Donovin Darious and Nick Sorenson. K Seth Marler is a former Arena Leaguer known for accuracy. P Chris Hanson is the younger brother of Detroit Lion K Jason Hanson and is going to the Pro Bowl within a year or two. I like this team but only if Leftwich can stay healthy, lose some weight and get a better drop to pass. If he gets hurt they could be in trouble. I'd like to see Del Rio continue to work with these kids. Thye need one more speed player to make the playoffs though. 9-7-0 but no playoffs." Moose
Myk and Cwoa's Cool Women Of America!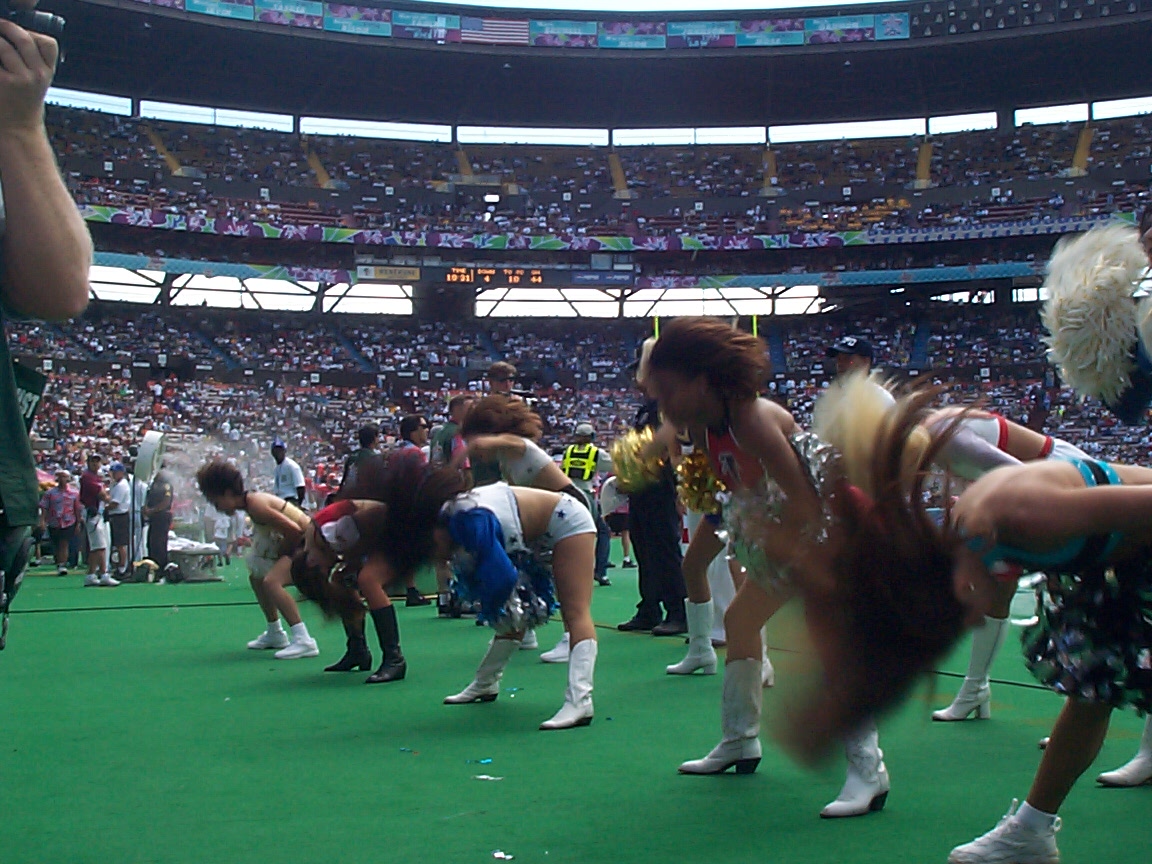 "Mates Melissa the Dallas Cowboys cheerleader in the Blue & White is my friend. The #1 Dallas Cowboys & Pro Bowl cheerleader Melissa came to Calgary for a tanning promotion not long after I met her at Pro Bowl 2002 week. I met up with Melissa briefly that day in Calgary. Melissa has been a "Myk's Mates Club member" for the past year enjoying my MYKwebTV & comedy webWORLD
Pro Football Weekly: NFL and Pro Football Video Picks with amazing coverage from Myk Aussie -The Pro Football Comedy Media Guy


"I have finished the New Massive Mates Club webWORLD. I hope you can join me in Mates Club for hours of NFL Sports, Comedy, Babe TV, your existing email link will get you to the new Mates Club Massive Menu or Click here" Myk