"You can also hear me often talking NFL many Friday nights on Gabriel Morency's Sports Rage now on morencysports.com. Fri 8-11pm Pacific CDN/US time. If you are new to MYKwebWORLD and you want to know what I do this is a great article Click here" Myk
I hope you can join me in Mates Club for hours of Sports, Comedy, Babe TV Click here" Myk

Check out NFL MYKwebTV NFL Super Bowl NFL Pro Bowl MYKwebTV

"Weekly NFL reports on NFL webWORLD!"
Check out the massive NFL webWORLD Click here " Myk Aussie

Sat Sept 25, 10. "Bengals is one of my week 3 bets! Week 3 bets and report! Friday night Sept 17 I was talking NFL on Sports Rage with Gabriel Morency, Listen and watch now! Listen now. I got on The Jim Rome radio show Wed July 7 which has approx 4 million listeners and talked sports! Talking sports and often NFL on 5AA South Australian radio many weeks with Jeff Burzacott. Listen Live on the web! 153 of my 175+ Sports MYKwebTV and TotalCFLwebTV shows including lots of NFL are now on my YouTube.com Directors Channel!" Myk Aussie


Check out the massive NFL webWORLD for the above stories Click here

Cincinnati Bengal's -3 at Sportsbook.com

Bengal's play the Panthers in Carolina. The Panthers seem to be an average team and this week they are starting rookie quarterback Jimmy Clausen. I really believe the Bengal's will win this game by more than 3 points.

Of the current 3 betting sites that I am using, Sportsbook.com gave the best odds on this game at -3 compared to -3.5 with Bodog.com and Sportsinteraction.com." Myk Aussie
Sun Feb 3, 08 "New Sports jersey Frames. The 1st shipment ever to Nth America. Order now! Massive amounts of NFL MYKwebTV!" Myk Aussie

Bengals fans sorry about the Steelers jersey below.

New Sports Jersey Frames! The 1st shipment ever to Nth America! Order now! Available now for Christmas! They are awesome! The jersey hangs great in these High quality Sports jersey display cases. For contact and ordering Click here
I hope you can join me and Moose in the new Massive Mates Club for hours of NFL, Sports, along with Comedy Babe TV Click here" Myk Aussie
Sat, Aug 12 06 "Moose's extensive Bengals 06 preview! Lots of NFL MYKwebTV!" Myk
From Moose "Cincinnati Bengals, 38th season. Have lost two Super Bowls, 1988, 1982. 2005 Record: 11-6-0. lost to Pittsburgh when Kimo Von Oelhoffen blew out Carson Palmer's knee, following a beautiful 66-yd completion in loss to eventual Champion Pittsburgh. Coach: Marvin Lewis. QBs: Carson Palmer, Craig Krenzel, Doug Johnson and Anthony Wright. Other Key players: DB Dexter Jackson, former Super Bowl M.V.P. from Tampa Bay, DT Sam Adams (now that's a patriotic name), QB3 Wright from Ravens. The Bengals will win their division, the AFC North for the first time because the fluke of QB Palmer tearing his knee ligaments will NOT happen again. This team was one of the hottest down the stretch last season and has better depth on Offence even though longtime backup/former starter Jon Kitna has flown the coop to Detroit via free agency. With Johnson, Wright and Krenzel, ex-of THE Ohio St onboard, it won't matter. With Rudi Johnson at RB and the backups of: Chris Perry, Jeremi (what's with these guys all with 'i's on the end of their first names?) Johnson, no, not Doug's brother, there is plenty of depth. The biggest loss in the Bengals off-season, was: TE Matt Schobel, who has two other brothers in the NFL who are DEs. Replacing him are ex-Buffalo DE Conni Ritzmann, Reggie Kelly, Brad Saint Louis and Ronnie Ghent. This team is TE heavy to help the running game, to say the least. Chad Johnson the team's third Johnson, so to speak, is the second best WR in the game to Marvin Harrison of the Colts. It would have been a joy to watch him in the Super Bow last year, and the Bengals would have made it had not the unfortunate injury to Palmer not stopped them.

The Offencive Line is one of the best with Wilie Anderson, Stacy Andrews, Eric Ghiaciu, Steve Viera and Eric Steinbach. The Defence failed to get the afore mentioned Von Oelhoffen, back (he spent his first six years here) when he left for the Jets, so they still have DE Justin Smith, a veritble clone of K.C.'s Jared Allen, Rob Geathers, son of former NFL'r 'Jumpy' Geathers, Jon Thornton and Matt Fanene. This is an area of concern if someone gets hurt and they could have used Von Oelhoffen, as ironic as that might have been. The LBing corps consists of: Caleb Miller, Brian Simmons, Dave Pollack and Hannibal Navies, a former Green Bay starter and Super Bowl player.

The Secondary is the best area othe than QB, RB with: Kevin Kaesviaharn, an ex-Ar.FL/XFL star, now in at S, Deltha O'Neal the ex-Bronco, Tony Bua, Pat Body and Tory James. This area is a real strength that will be tested by Pittsburgh and Baltimore in their quest ot win the division. Special Teams is first rate with K Shayne Graham and P Kyle Larson. Coverage is average but returns are good with several fast young backup RBs and WRs to choose from with T.J. Houshmandzadeh now firmly at WR.

Prediction: First, 11-5-0 in the AFC North. Coach Marvin Lewis team has all the parts in place and Palmer is actually ahead of schedule for his knee rehab. He's at 88% right now and could be 100% by Halloween and they should be up 2.5 games on Pittsburgh and 1-1.5 on Baltimore by then. The Bengals WILL be in the AFC Championship game, probably versus Patriots in Jan and all will be able to see the match up we missed last year; Tom Brady v. Carson Palmer. Way to go on the comeback, Carson, you've come a long way in three NFL seasons!" Moose
"If you would like to add your comments about how you think the Bengals will go in 06 or comment on Moose's preview above please email me myk@mykaussie.com and I will add your report.
You can hear Moose weekly on Gabriel Morency's SportsRage Montreal Team 990 AM sports radio and on the Internet talking NFL Footy many Friday nights around 1am Eastern US and CDN time. I'm on late around 1.30-2am EST Friday or Monday nights as well talking sports in a comedy/crazy style. I think Gabriel Morency is the best sports radio guy in the World. To me he's like the Howard Stern of sports. I'm very confident you will like his show. To listen Click here

Massive amounts of NFL TV! Several weeks ago I finished the New Massive Mates Club webWORLD. I hope you can join me in Mates Club for hours of NFL Sports, Comedy, Babe TV, your existing email link will get you to the new Mates Club Massive Menu or Click here" Myk
Thurs, Nov 11 04 "Bengals vs Redskins week 10!" Myk Aussie
From NFL Media
TEAMS MEET IN WASHINGTON for 1st time in 19 years (1985)……

BENGALS: Club has won 2 of past 3…...Head coach MARVIN LEWIS was Redskins assistant head coach & defensive coordinator in 2002……QB CARSON PALMER posted 94.8 passer rating last week & 1st career rushing TD in win vs. Dallas. Palmer has 50+ yard completion 3 games in row……RB RUDI JOHNSON has 95+ rush yards in 4 of past 6. In past 5 vs. NFC, Johnson has 4.7-yard per carry avg. (93 for 434) w/ 4 TDs…...In past 3, WR CHAD JOHNSON has 21 catches for 290 yards & 1 TD. TE MATT SCHOBEL had career-long 76-yard catch (TD) last week……Club owns +7 turnover ratio, 4th-best in AFC……Rookie S MADIEU WILLIAMS (No. 56) attended Maryland & grew up in Lanham, MD, 5 miles from FedEx Field. Williams has INT in 2 games in row & is tied for 2nd on club w/ 32 tackles. CB TORY JAMES has 4 INTs in past 4 games & leads NFL w/ 5…… K SHAYNE GRAHAM was 4-for-4 in FG tries last week & is tied for 2nd-most points (68) among AFC kickers……

REDSKINS: Head coach JOE GIBBS has 30-15 (.667) record vs. AFC opponents……QB MARK BRUNELL has 103.4 passer rating in past 8 games vs. Bengals (136 of 218, 1,500 yards), tossing 16 TD passes vs. 2 INTs & posting 7-1 record. Had career-best 4 TD passes vs. Cin on 11/29/98.……RB CLINTON PORTIS has rushed for 810 yards & is on pace for club-record 1,620 yards. Rushed for 120 yards (24 carries) including 2 TDs, in only career game vs. Bengals (9/7/03, w/Den). Ranks 3rd in NFC with 961 yards from scrimmage (810 rush, 151 rec)……WR LAVERANUES COLES has 5 catches of 20+ yards & 29 1st downs. WR ROD GARNDER leads team with 5 TDs & ranks 2nd on club with 26 catches for 383 yards……Rookie 3rd-round TE CHRIS COOLEY leads all rookie TEs with 2 TD catches……Defense ranks 1st overall (261.0), 3rd vs. run (84.0) & 5th vs. pass (177.0). Opponents converting 26.8 pct. on 3rd downs (30 of 112), lowest pct. in NFL……CB SHAWN SPRINGS has notched career-high 3.0 sacks & ties for NFL lead among DBs. CB WALT HARRIS scored on 13-yard blocked PR vs. Det.
It is so cool to be the only Aussie that has regularly reported on the NFL for the past 5 years. Yep that's me, I have had NFL media passes at Super Bowl's, Pro Bowl's and other NFL games. Thus I am allowed into the NFL Media section and allowed to post their great reports on here. Much more coming over the coming weeks." Myk Aussie
Oct 5, 04 "A Jon Kitna Fan site!"
The former Seahawk is currently the back yup at the Bengals but I was advised recently by the owner of
this new fan site. Great stuff. Click here " Myk Aussie
Sept 18, 04 "Moose's Cincinnati Bengals 04 preview!" Myk Aussie
"Cincinnati, Team's alltime record: 210 wins, 257 losses, 1 tie., Super Bowl Record: Two Losses in two
Super Bowls. Coach: Marvin Lewis. QBs: Carson Palmer, Jon Kitna, Chad McCown. The Bengals are
Bungles no more. They turned the corner bigtime last year under the fine direction of H.Coach Lewis
and his staff. They even are feeling so good about themselves they are bringing ex-Washington and
Tampa Bay RB Skip Hicks to camp after he spent the spring playing in the 'AAA's in NFL E. He'll get
carries behind underrated Rudi Johnson since com- plaining Corey Dillon got shipped to New England
in the off season, a good move for both clubs.

There could be some trouble brewing if they don't get off to a flying start. In the offseason, they
infuriated the fans by benching crowd favorite, Kitna, after his 26 TD season by GIVING the starting
job to last years third-string, former first round choice, Palmer. He does a have a stronger arm than
Kitna or the retired Shane Matthews. Since Dave Shula's first season in '92, the Bengals have started
Boomer Esiason, Dave Klingler, Donnie Hollas, Jeff Blake, Paul Justin, Neil O'Donnell, Jay Schroeder,
Akili Smith, Scott Mitchell, Gus Frerotte and Kitna at QB before Palmer. That has to be some kind of
record. At WR the 8-8-0 Bengals of last year go with Pete Warrick and Chad Johnson with Hash (who can pronounce the rest of that mess?) as the top sub. The TE is Reggie Kelly, who is underrated.

The nice story of last year was not just the (finally!) development of Kitna, who won the NFL E Bowl in
'97 for Barcelona, but also the WR who sleeps at the train- ing facility and wants to be th best ever, in
the future, Johnson. But the Offencive line must match last year's play: Levi Jones, Eric Steinbach, Rich Braham, Bobbie Williams and Willie Anderson. On the Defencive side of the ball, teh Bengals must get
better pass rushing to contend in a tough Division; Duance Clemons, John Thornton, Tony Williams and ultraquick Justin Smith will do just that. Backed by LBs Nate Webster, Brain Williams, and under- rated
Kevin Hardy nedd to do a better job of coverage but are a good tackling group. The secondary and
Special Teams need to be better tacklers and stop giving up so much return yardage. Deltha O'Neil, Tory James, Roger Beckett (no relation) and Kim Herring are great names but need to play better in big
games. The kicking game is capably handled by: P Kyle Larson and K Shayne Graham, no Doug
Pelfrey in his prime. Predicted finish: 9-7-0, second in AFC North but no playoffs." Moose
Myk and Cwoa's Cool Women Of America!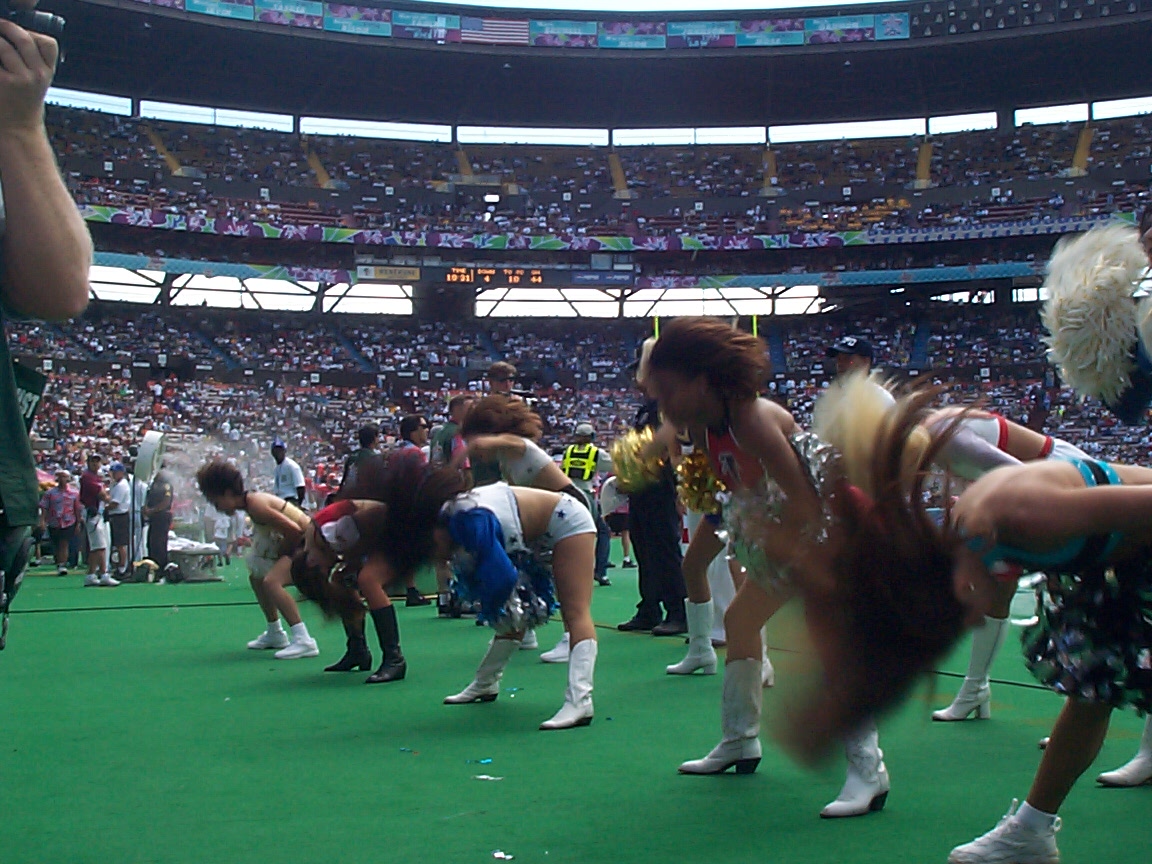 "Mates Melissa the Dallas Cowboys cheerleader in the Blue & White is my friend. The #1 Dallas Cowboys
& Pro Bowl cheerleader Melissa came to Calgary for a tanning promotion not long after I met her at Pro Bowl 2002 week. I met up with Melissa briefly that day in Calgary. Melissa has been a "Myk's Mates Club member" for the past year enjoying my MYKwebTV & comedy webWORLD.
Myk and Cwoa's Click here
Lots more Myk and Cwoa's on Myk's Mates Club Click here

I hope you can join me in Mates Club for hours of Sports, Comedy, Babe TV Click here" Myk