Back to Total-CFL & MYKwebWORLD e-Store webTV Click here

Total-CFL & MYKwebWORLD Unique products e-Store

Click here for Page 1 Page 3 Page 4 Page 5 Page 6 Page 8





"Bill Romanowski and Thomas Incledon PhD, their "Pure Romo Nutrition". I use it, it's great and it tastes great as well Click here " Myk
50) Mike Modano NHL Dallas Stars jersey! Moose I think Oiler Babe will drive down to Jarome Iginla Town buy this off me & rip it up! Mike Modano is a absolute Star for the Stars! I welcome Oiler Fans to invest in this jersey & do whatever they want with it. Better still any Mike Modano or Dallas Star fans out there let me know. Better you guys grabbing it than Oiler Babe ripping it up! New May 3 Oiler Babe still missing! Crazy Cwoc!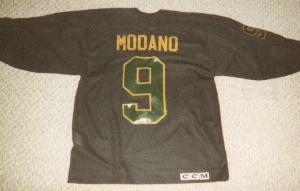 Invest Now!! $75 US, $103 CDN Reduced $60 US, $84 CDN or for details on sending me cash, bank cheque or other items email myk@mykaussie.com or Ph 403 870-5578 CDN #
51)

Wow ! Stampeders Outriders 2000 cheerleader calendar to be given away on the new Total-CFLwebWORLD.
Introducing Cwoc Tania the Best Cwoc around she tells me! Tania looks unbelievable in this great picture from the Outriders calendar! Tania is a friend of mine here in Stampeder town. Thanks for letting me use this great pic of yours. June, Cwoc Tania coming to Total-CFLwebTV. Me one & only calendar will be given away to a guy on the new Total-CFLwebWORLD. Sorry Cwoc loving Women Of Canada this is for one of me mates! For details on how you can win this Click here" Myk Aussie

For e-Store webTV of Myk & Duncan talking about Outriders Pt 1 Click here

53) Me AFL brand new Aussie Rules footy! Wow this has been signed by many CFL champs including members of the Montreal Alouettes Grey Cup 2002 team straight after their win, Edmonton Eskimo champs the same night, Marcus Crandell, Duncan Crazy Kicker O'Mahony now a Lion, Cwoc Oiler Babe, Chris Walby, Moose Mr Nth American Football, Plungerhead Blue Bombers # 1 fan, Cwoc Fanny Anny Thraxy etc etc
June 6, 04 Oops sorry guys can't sell this one! It means way too much to me.

Hope you enjoyed me Total-CFL.com and MYKwebWORLD unique products e-store & Total-CFLwebTV and even better you made an investment or 2 or 3.
Email me myk@mykaussie.com or Ph 011 1403 870-5578 if you have any questions at all. See ya later" Myk Aussie

Total-CFL & MYKwebWORLD Unique products e-Store

Click here for Page 1 Page 3 Page 4 Page 5 Page 6 Page 8

Back to Total-CFL & MYKwebWORLD e-Store webTV Click here
Home Page of MYKwebWORLD Home Page of Total-CFL.com
Disclaimer: Total-CFL and MYKwebWORLD products will NOT EVER be signed by current NFL and CFL players & sold. This is as per part of Myk Aussie and Moose's NFL media passes. CFL I'm not sure on but I'm not doing it because it is not the right thing to do. Pictures used on Total-CFLwebWORLD have been granted permission by the person involved." Andrew Harrison, MYKwebWORLD Manager