You can also hear me often talking NFL many Friday nights on Gabriel Morency's Sports Rage now on morencysports.com. Fri 8-11pm Pacific CDN/US time. If you are new to MYKwebWORLD and you want to know what I do this is a great article Click here" Myk
I hope you can join me in Mates Club for hours of Sports, Comedy, Babe TV Click here" Myk

Check out Myk at NFL MYKwebTV NFL Super Bowl NFL Pro Bowl MYKwebTV

Mon Oct 11, 10. "It was a great win by the Ravens over the Broncos in week 5! In NFL week 5, I picked and bet on the Broncos against the spread! Friday night Sept 17, I was talking NFL on Sports Rage with Gabriel Morency, Listen and watch now! Listen now. I got on The Jim Rome radio show Wed July 7 which has approx 4 million listeners and talked sports! Talking sports and often NFL on 5AA South Australian radio many weeks with Jeff Burzacott. Listen Live on the web! 153 of my 175+ Sports MYKwebTV and TotalCFLwebTV shows including lots of NFL are now on my YouTube.com Directors Channel!" Myk Aussie



Left: I'm on the sidelines with NFL Pro Bowl players and cheerleaders including the #1 Ravens cheerleader. This MYKwebTV show became part of the YouTube Partner Program recently when it reached 125,000 views. To watch this popular TV show on YouTube Click here
Check out the massive NFL webWORLD for the above headline stories Click here

NFL week 5 there were again some big upsets!
I went 1-2 with the three bets that I placed.

The Ravens were way too good for the Broncos, winning easily 31-17. They could possibily, currently be the best team in the NFL. I didn't think the Broncos would win but I thought they were a chance. I thought they would have covered the 7 point spread.
From Sat Oct 9. My three week 5 NFL bets!
This week I have gone for a underdog and two favourites that I believe should win reasonably easy. That said what a very unpredictable NFL season it has been so far.

1) Denver Broncos +7 on Sportsinteraction.com
The Broncos had a great win last week again the Titans in Tennessee. This week I don't think they will win (although I hope they do) but I don't believe the Baltimore Ravens will win by more than 7 points. Broncos quarterback Kyle Orton is having a great start to the season, but he needs to score more touchdowns in the red zone. The Broncos offense will have to be playing well against the tough Ravens defense but I believe they are up to it. The Ravens offense against the Broncos defense should also be a interesting battle.

My 2010 NFL week 5 picks in Nasty Nates 2010 Trans Canada Football Pool, a amazing NFL tipping contest coming Friday. Can I repeat in 2010 as the winner of this great competition, I've had a rough start! Picks against the spread!

I had a very average week 4 going 8-6 straight up. Against the spread I went a horrible 5-8. In this competition the team that I am most confident in winning, I give 14 points all the way down to the team I think will win, but am least confident about I give 1 point.

This weeks NFL picks are; 14 New Orleans Saints, 13 Indianaplois Colts, 12 San Diego Chargers, 11 Cincinnati Bengal's, 10 Atlanta Falcons, 9 Dallas Cowboys, 8 Houston Texans, 7 Green Bay Packers, 6 New York Jets, 5 Jacksonville Jaguars, 4 Baltimore Ravens, 3 Detroit Lions, 2 Carolina Panthers, 1 San Fransisco 49ers.
Against the spread. I used Sportsinteraction.com spreads this week. I'm going for all of the above picks straight up and against the spread except for 1) The Denver Broncos at +7 vs the Baltimore Ravens 2) Minnesota Vikings at +4 vs New York Jets 3) Tennessee Titans at +7 vs Dallas Cowboys 4) Philadelphia Eagles vs San Fransisco 49ers +3.5." Myk Aussie

Sun Feb 3, 08 "New Sports jersey Frames. The 1st shipment ever to Nth America. Order now! Massive amounts of NFL MYKwebTV!" Myk Aussie

Ravens fans sorry about the Steelers jersey below.

New Sports Jersey Frames! The 1st shipment ever to Nth America! Order now! Available now for Christmas! They are awesome! The jersey hangs great in these High quality Sports jersey display cases. For contact and ordering Click here
I hope you can join me and Moose in the new Massive Mates Club for hours of NFL, Sports, along with Comedy Babe TV Click here" Myk Aussie
Sat, Aug 12 06 "Moose's extensive Ravens 06 preview! Lots of NFL MYKwebTV!" Myk
From Moose "Baltimore Ravens, 12th season, One Super Bowl in only appearance, 2001. 2005 Record: 6-10-0. Coach: Brian Billick. QBs: Steve (Air) McNair, from Tennessee, Brian St. Pierre, Kyle Boller. Other Key Players: RB Mike Anderson from Denver, Center rookie from Oklahoma Chris Chester, DE Trevor Price Denver, DLm Hatoga Ngat, Oregon, P Leo Araguz (NFLE/Raidahs). Outlook: Quick Football Fan - name the only city in North America that has had four Pro Football Champions in three different Leagues in a thirty year period. Give Up? Baltimore; the Colts in '71 (NFL), Ravens in '01 (NFL), the Stallions '95 (CFL) and Stars (they really played in College Park, U. MD), '85 (USFL). Admit it- you didn't know that. Why is that important? Because time, and history are now Coach Billick's friend once again. When the Owner ask Billick what he need in the offseason to turn this quickly eroding team around, Billick told them; A QB, a real QB. Not Boller. Even Chris Redmond (again, again, again). Nor Kordell Stewart. Nor Anthony Wright. But a real QB. They got one of the top 50 of all time in McNair, who was chased out of Tennessee. Good for the Ravens. Not so good, yet for the Titans.

With McNair throwing to TE Todd Heap and WRs Dee Williams and Mark Clayton, Jr. and Derrick Mason, once one of his favorite targets in Music City it'll ALLLLLLLL be different this time around. The Ravens are now well stocked at pivot as well with Canadian St. Pierre and former starter Boller still in the fold. Don't be surprised if St. Pierre gets the first call if the unthinkable happens and McNair get hurt again. McNair has been in two AFC Championships and won one and barely lost a Super Bowl to Kurt Warner and the Rams in '00. He's still got it. Most of it.

The RBs are very good also in jailbird Jamal Lewis, newcomer Anderson from 'eNVER (where's the 'D'?), who can play both FB/RB. Alan Picard is a good FB also. At Offencvie Line, the big, strong mobile guys get better all the time. Starters are between the following seven: Jason Brown, Keydrick Vincent, Thatcher Szalay, Ed Mulitoalo (HI), Mike Katula and Mike Flynn, a former starter with Green Bay. The Defencive Line got a good replacement for the Carolina bound NG Ma'ake Kemoteau in draft pick Nagata, Also onboard to wreck havoc on opposing O-lines are: Justin Bannan, Jarrett Johnson, Pryce and Terrell Suggs. At LB, he needs not much intro: Ray (Mad Dog) Lewis and his mates, Dennis Haley, Zac Woodfin, Bart Scott and Ro' Green. The Secondary is loaded too, with Ed Reed, Corey Ivy, Zach Norton, Chris McAlister and Robb Butler.

On Special Teams Araguz was need as a pickup since Zastadill flew the coop to Clevland. K Matt Sover, the last original Raven from '96 is on last legs. Backup K/P or H Aaron Elling is a good one in the wings who needs NFL E time to prep. Predicted Finish: The Ravens got many good pickups in the offseason but obviously McNair is the guy to make it all work. Billick will ride herd on him to learn the system and he should have two good years left in him and by then either St. Pierre, from QC or former starter Boller will be ready - again. 10-6-0, Second in AFC North, behind Cincinnati and in the playoffs were they could scrape by with one win." Moose
"If you would like to add your comments about how you think the Ravens will go in 06 or comment on Moose's preview above please email me myk@mykaussie.com and I will add your report.
You can hear Moose weekly on Gabriel Morency's SportsRage Montreal Team 990 AM sports radio and on the Internet talking NFL Footy many Friday nights around 1am Eastern US and CDN time. I'm on late around 1.30-2am EST Friday or Monday nights as well talking sports in a comedy/crazy style. I think Gabriel Morency is the best sports radio guy in the World. To me he's like the Howard Stern of sports. I'm very confident you will like his show. To listen Click here

Massive amounts of NFL TV! Several weeks ago I finished the New Massive Mates Club webWORLD. I hope you can join me in Mates Club for hours of NFL Sports, Comedy, Babe TV, your existing email link will get you to the new Mates Club Massive Menu or Click here" Myk
Thurs, Nov 11 04 "Ravens vs Jets week 10!" Myk Aussie
From NFL Media
BALTIMORE RAVENS (5-3) at NEW YORK JETS (6-2): An ol' time ground-game in the making?
Could be, for several reasons. First, the teams are two of nine NFL clubs that show a run-oriented offense, running more than they pass. Two, Ravens running back JAMAL LEWIS says he wants more carries, and head coach BRIAN BILLICK says he wants to accommodate him. "He needs the ball more," says Billick. "Anytime he doesn't have the ball 25 times, it's something we've got to go back and check."
Finally, although no team can eschew a balanced offense, the Jets might depend even more on workorse running back CURTIS MARTIN – the NFL's third leading rusher (865 yards) – to take some of the burden off quarterback QUINCY CARTER, starting his first game with the club in place of the injured CHAD PENNINGTON. Seven of Martin's top 11 rushing performances have come in cold-weather November.
Matchup to watch: The Jets' Carter against S ED REED, he of the NFL record 106-yard interception TD return last week. The three-year veteran has 16 pickoffs in 39 career games.
It is so cool to be the only Aussie that has regularly reported on the NFL for the past 5 years. Yep that's me, I have had NFL media passes at Super Bowl's, Pro Bowl's and other NFL games. Thus I am allowed into the NFL Media section and allowed to post their great reports on here. Much more coming over the coming weeks." Myk Aussie
Sept 18, 04 "Moose's Baltimore Ravens 04 preview!" Myk Aussie
"Baltimore, Team's alltime record: 16 wins, 31 losses, 1 tie. Super Bowl Rec: 1-0 in Super Bowl XXXV, 34-7 over the New York Giants. Coach: Brain Billick. QBs: Anthony Wright (injured to open the season), Chris Boller, Kordell (Slush) Stewart. Has it really been three years since the Ravens shocked the Football world with their convincing Super Bowl demolition of the Kerry Collins lead New York Giants? And just o show the Giants they held no hard feelings the Ravens even threw a lifeline to ex-Giants H.Coach Jim Fassel, the ex-WFL Honolulu Hawai'ians Coach/QB by hiring him as Ast. H.Coach/Co- Offencive Coordinator. They may need it.

The Ravens went threw three QBs last year until number three guy, Wright (no relation), a former washout with Pittsburgh and Dallas became the guy down the strech following Kyle Boller's injury. This year the foots in the other shoe, as Boller is back and Wright, who is more experienced and more athletic, will start the season on the injured reserve. In comes Kordell (Slush) Stewart, a washout in the windy city, to try and recapture his two-time Pro Bowl status. Stewart is valuable to have around since he has played five different posi- tions (not the kind of word to use with Kordell with his assumed proclivites...). Slush should be used at WR, as far from the offensive huddle as possible but may see some action if Boller doesn't come back fully and starts to regress. At RB there isn't a more sad case in the League as one of the best, Jamal Lewis, a 288-yd'r in a game (NFL record) gets ready to go to jail this fall for cocaine distribution charges in Oct. By then it may not matter.

Remember Ray Lewis, third best LB'r in the League, who's now sort of injury-prone, got off on a murder charge after the Super Bowl. If Billick can keep this mess together, he deserves Coach of the Year honours! The Starters for the Ravens to start the season are: QB Boller, RB - J. Lewis, FB - Alan Ricard, OLm - Orlando Brown, Jonathan Ogden, Bennie Anderson, Casey Rabach and Edwin Mulatolo. At TE it's Todd Heap and WRs are: Travis Taylor, Kevin Johnson. On the Defencive side of the bal the Ravens start; DLm - Tony Weaver, Kelly Gregg and Marques Douglas in the 3-4 set. Besides R. Lewis, the best tackling linebacker in the League, when healthy, the Ravens relie on Terrell Suggs, Ed Hartwell and Adalius Thomas.

The secondary is still one of the best in the business with Deion Sandes, Rod Woodson (back after his release from Oakland), Gary Baxter (no relation), Ed Reed and Will Demps. Cleveland Browns holdover Matt Stover is still the most accurate kicker in NFL history and Punter Dave Zastudil is better than averge. But no good returnmen are here yet and the coverage is not above average. Prediction: This is a strangely good team most times but mared by inconsistency in the playoffs despite that frightening defence and beset by controversies off the field. I think they will finish 8-8-0 and out of the playoffs, third in the AFC North." Moose
Myk and Cwoa's Cool Women Of America!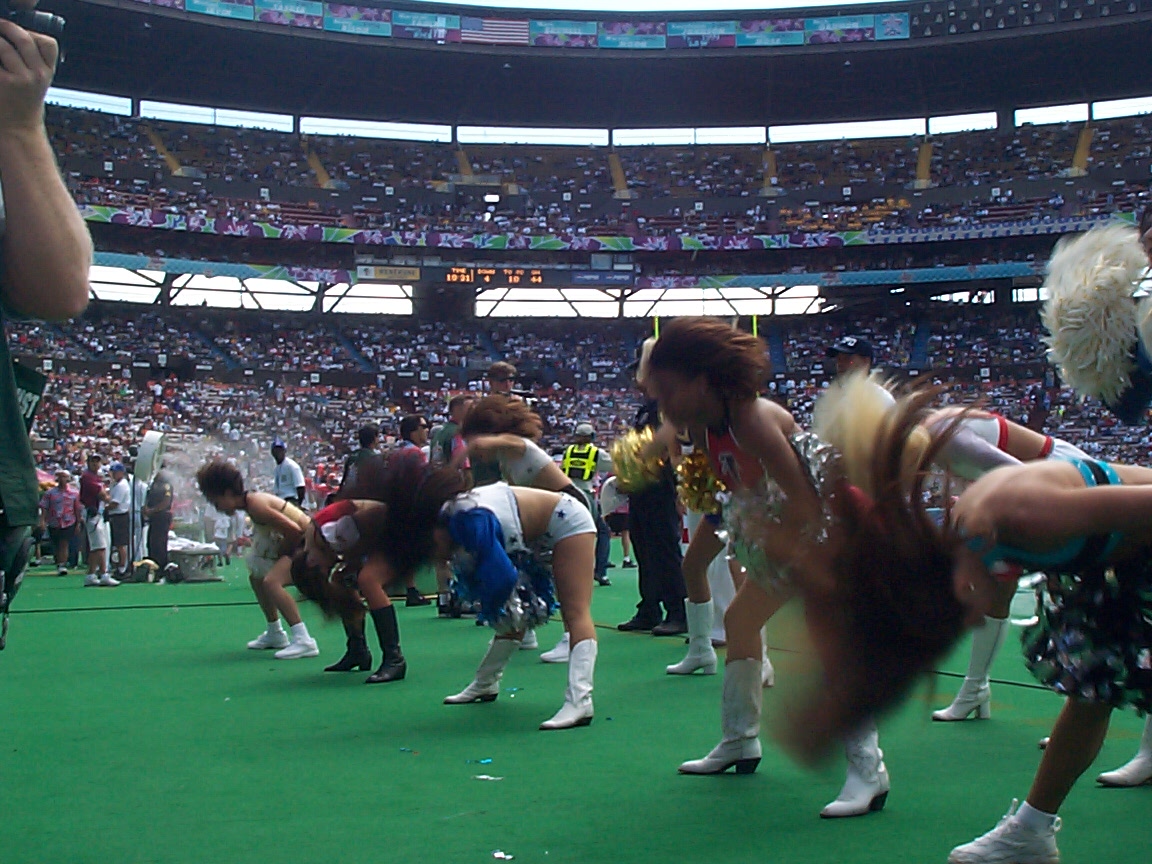 "Mates Melissa the Dallas Cowboys cheerleader in the Blue & White is my friend. The #1 Dallas Cowboys & Pro Bowl cheerleader Melissa came to Calgary for a tanning promotion not long after I met her at Pro Bowl 2002 week. I met up with Melissa briefly that day in Calgary. Melissa has been a "Myk's Mates Club member" for the past year enjoying my MYKwebTV & comedy webWORLD.
Myk and Cwoa's Click here
Lots more Myk and Cwoa's on Myk's Mates Club Click here
I hope you can join me in Mates Club for hours of Sports, Comedy, Babe TV Click here" Myk